It's not pizza: A Michelin chef wants Singaporeans to taste his mum's square pies
Why is fine dining restaurant Lerouy serving a 'humble' dish eaten with your hands? Chef Christophe shares the story behind his family's recipe for Flammkuchen, a specialty of France's Alsace region.
When it's business as usual at Lerouy, you'd typically sit at the counter that winds around an open kitchen, taking in all the activity that goes into your degustation menu, while chef Christophe Lerouy places dish after perfectly executed dish in front of you.
But what recourse do fine dining chefs have when cleared-out dining rooms mean they can no longer entertain their guests with a holistic food experience?
For Chef Lerouy, the answer is to go back to his roots. The 37-year-old, who grew up in France's northeastern Alsace region, decided to roll out a "circuit breaker" menu focusing on a traditional Alsatian specialty: Flammkuchen.
The rustic dish of hot bacon, onion and creme fraiche piled on a base of thin, charred dough dates back to far before the French-German border was established, and its German name translates to "pie baked by fire". In the Alsatian dialect it is called Flammekueche, while in French-speaking regions, it's also known as tarte flambee.
Why has Lerouy, decorated with a Michelin star last year, chosen such deliciously peasanty fare requiring you to sit around a cardboard box and dig into the food with your hands?
Although "it is hard to come into the restaurant each day and see it empty and quiet… I believe in thinking positively and keeping my spirit up, for me and my staff," the chef said. 
"It is very difficult to serve the full Lerouy experience with a takeaway menu, so we decided to do something slightly more casual and accessible for everybody. At the same time, I thought it would be good to share my roots (with a dish) from where I grew up."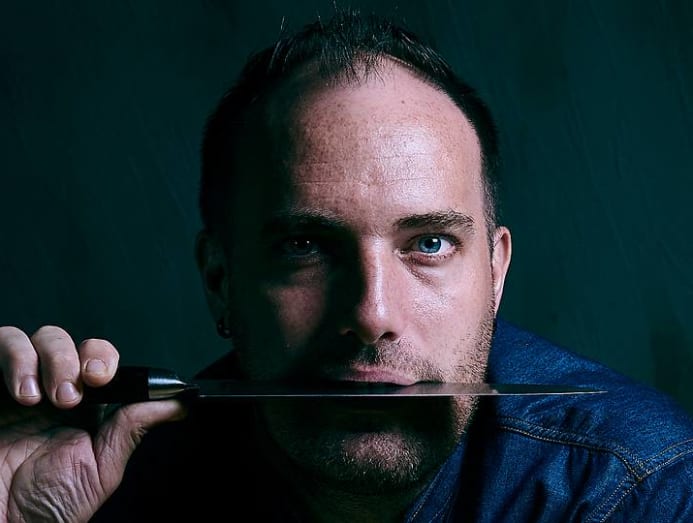 Flammkuchen is a very personal dish for Lerouy, who explained, "I was born into my parents' restaurant business, which was also home to my family, in Orschwiller, Alsace. My mum was a chef in our Alsatian family restaurant, and she did all the local Alsatian dishes, including the Flammekueche, in the restaurant. And yes, I took the family recipe from her."
But the impetus for introducing this out-of-left-field menu, he revealed, was inspired by another woman, who's equally special. "The idea of doing Flammekueche in Lerouy came from my Singaporean wife," he told us.
"When she was living in Alsace, she loved Flammekueche a lot because of the smoked bacon smell and the onions. That gave me the idea to make this for a circuit breaker menu."
Of course, he's also put his own touches into the menu. While it offers traditional soul-satisfying Flammkuchen of bacon, onion, cream and cheese – don't mess with what ain't broke – there are also fancier and even Asian-inspired options such as iberico pork jowl, gambas with chilli and teriyaki wagyu short ribs.
To make Flammkuchen, you need an oven that burns like mad and an impeccable sense of timing; it takes only a few minutes to cook, and pulling it out at just the right moment is key. 
The edges of the crust, which isn't crackly like a thin-crust pizza here but more of a doughy crust with some bounce in the bite, develop a beautiful char that sets off the richness of the fat in the toppings, while the whole thing is tangy with the sweetness of soft onion.
While Lerouy also offers signature dishes and wine for takeaway and delivery, and plans to offer a carte blanche menu starting next month "due to high demand", the Flammkuchen won't be going anywhere anytime soon.
It's been well received, he says, and it hasn't mattered that not everyone is familiar with the concept of Flammkuchen. "Singaporeans love it. They also compare it to a pizza – but we just need to explain to them the origin of it."
He added, "I am also proud to introduce this humble food to them."
And, meanwhile, "For fine dining, we will manage to do it again someday when everything goes back to normal… We will be happy to have our regulars and customers and to serve them in the restaurant again."
To order, visit www.lerouy.com.