Popular China Street Fritters ngoh hiang stall at Maxwell Food Centre is closing after 81 years
The owner said a hawker from China will be taking over his stall unit – and he's open to reopening at some point elsewhere.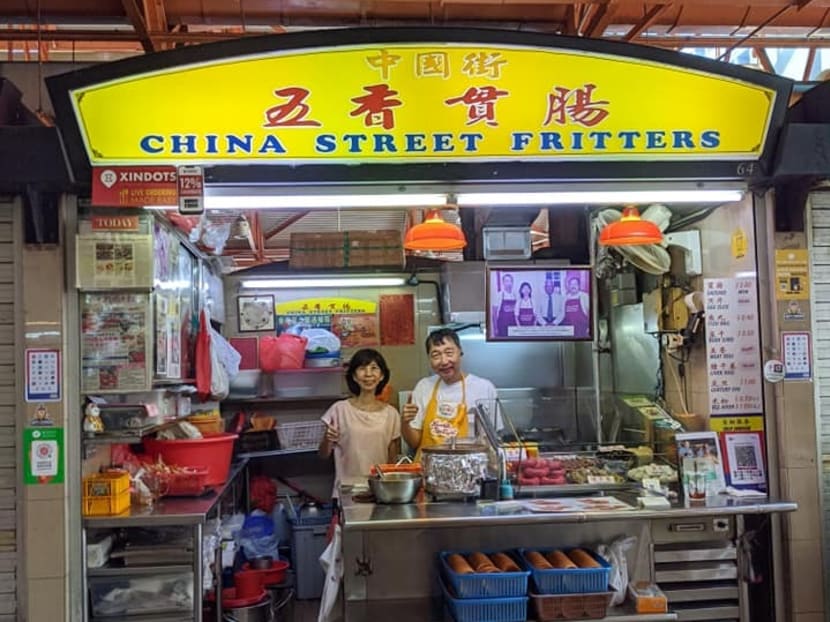 For the past few years, the fate of popular Maxwell Food Centre hawker stall China Street Fritters has been very uncertain. It started with the Ng family, who runs the business together, asking for S$1 million for their recipes.
The longtime stall is famous for its handmade Hokkien ngoh hiang, liver rolls, sausages and egg rolls.
The reason for selling their recipes was that hawker Ng Kok Hua, 66, his wife and his three siblings had all wanted to retire to nurse their ailing health. But there were no takers for their offer, and they announced that they were closing their stall in March 2022.
Just a month later, the family suddenly reversed their decision and continued operating, albeit with shorter hours. Speaking to 8days.sg, Ng revealed that he had changed his mind because of his diehard customers. "I got scolded," he laughed. "One customer said, 'How can you close just like that? We have been patronising your stall for four generations!'"
CLOSING FOR REAL THIS TIME
It has since been a year, and the Ngs have finally decided to bite the bullet and retire. The backbreaking work of making Hokkien fritters took a huge toll on them, and they could no longer put off seeking medical help.
Ng told 8days.sg: "I went for an eye check-up and the doctor found a black spot in my eye. If it continues to grow, I may become blind. So I'm going for surgery this month."
His older sister, who worked alongside him, retired a while back. "She's in her 70s and her legs have no strength," Ng said. His wife is also suffering from leg ailments due to hawking. "It's tiring to work. Our food is all handmade and there are many steps required to make it," he noted. "Hawkers retire mainly for two reasons, either they pass away or they fall ill."
He had been planning to quietly close his stall on Jul 2. He did not want attention as he was terrified that customers would throng his stall before its closure. "It is very hard for us to serve a lot of customers when our health is already not good. I don't want to disappoint anyone who comes here to queue," he shared.
So folks, manage your expectations and don't tekan him for orders if his food runs out okay?
FOUND ANOTHER TENANT TO TAKE OVER
Ng's father started China Street Fritters as a street-side stall in 1942. It has been been operating at Maxwell Food Centre since 1987, and before that, "over 16 years" at its namesake China Street. Second-gen owner Ng has already found another hawker to take over his rented stall.
"My stall is from the pioneer generation of hawkers, so we can transfer it to another tenant. The people taking over are from China, but they have not decided on what they are selling," he said.
As a first-gen hawker stall, China Street Fritters' rent is not as high as what new hawkers are paying via a bidding system. But Ng disclosed that he is still suffering financially from the COVID-19 pandemic, as his operating expenses are higher than the average hawker's.
Other than the stall itself, he also rents a central kitchen to make his fritters and transports them to Maxwell using a van. When his rent rates all went up, he decided that it was not worth it to continue operating.
"With all these expenses, we are paying as much as a bidded stall monthly. Our profit margin is very low, because we also use (pricier) quality ingredients. We need to recover financially, but it has been very hard," he explained.
POTENTIAL DEALS FOR RECIPE SALE KEEP FALLING THROUGH
He has since lowered the asking price for his recipes to S$500,000, a "goodwill sum" he considers reasonable to cater for his own retirement and for his four family members helping him. But talks with potential buyers – which included a few companies – have repeatedly fallen through.
Ng pointed out that there were several deterring factors, like the declining popularity of his traditional fritters. "Our food is not for everyone – the youth can't appreciate it and old people may not be able to fork out a lot for handmade ngoh hiang," he observed.
"Some potential buyers who took a look felt it wasn't worth it to pay for the recipe. There are just too many steps to make (the fritters), and most customers aren't that fussy (about the quality) anyway."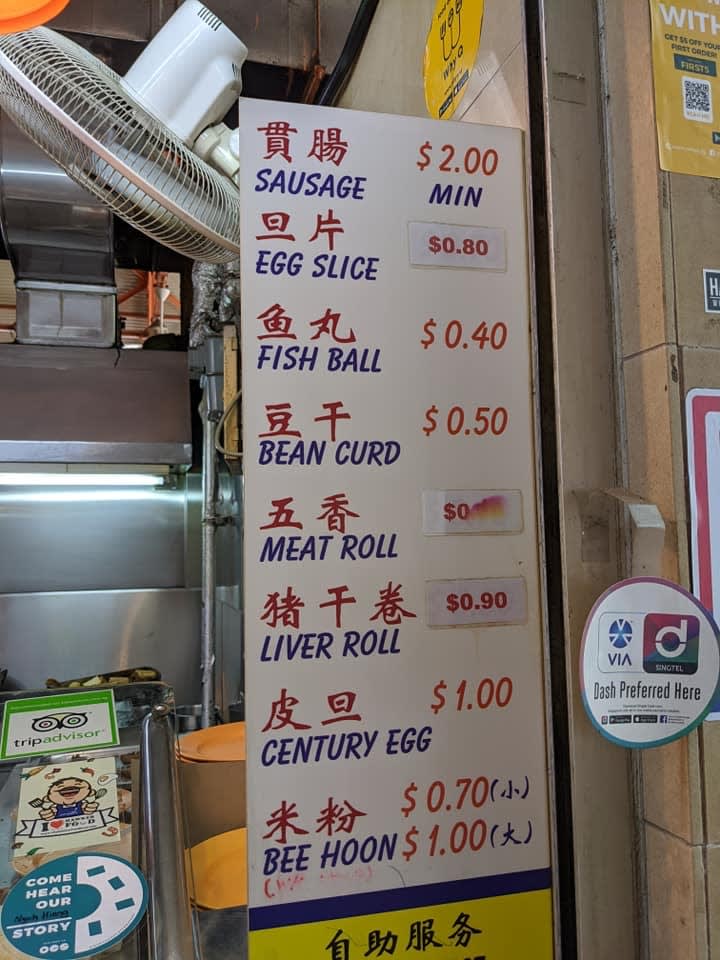 His children have declined to take over his business. "They won't reconsider 'cos they are really not interested. And we have been slogging for so many years, we don't want to see our kids go through the same thing. It's not ideal to work here when they have a university education," Ng pointed out.
But he acknowledged that "a lot" of traditional dishes in Singapore are disappearing because the younger generations do not want to join the trade. The rare exception being Xin Sheng Ngoh Hiong Prawn Cracker at Taman Jurong, now run by a third-gen 33-year-old hawker. "We try to preserve the tradition, but no choice lah. We have to let go one day," Ng said.
MAY REOPEN IN THE FUTURE
Ng is still open to recipe buyers and negotiating his asking price. "I don't have to stick to my price, they can offer," he said. "But we have to consider many things, like whether they are sincere about taking over and whether they have experience in F&B. If they give up halfway, it will spoil our legacy."
He plans to reopen his stall elsewhere if his health ever improves. He said: "I have been working since I was 16, so it has been 50 years. I feel a huge sense of satisfaction when I see my customers span generations. Some of them bring their kids and parents to my stall and ask if I remember them."
He estimated that he will take "three to six months" to recuperate, after which he will assess his condition and possibly look for another location to set up shop selling the less taxing economical bee hoon.
"Maybe in the industrial area, because the rent is not as expensive there compared to coffeeshops," he said. "But we will shorten our operating hours so it is easier on us." 
China Street Fritters' last day of operations on Jul 2, 2023. #01-64 Maxwell Food Centre, 1 Kadayanallur St, S069184. Tel: 9239-6464. Open four days a week (not fixed), 12pm-7.30pm. Call ahead to enquire. More details here.  
This story was originally published in 8Days.