Michelin Guide Singapore 2019: Les Amis and Odette get their three stars
44 restaurants received their Michelin stars this year. Who levelled up and who got dropped from the list?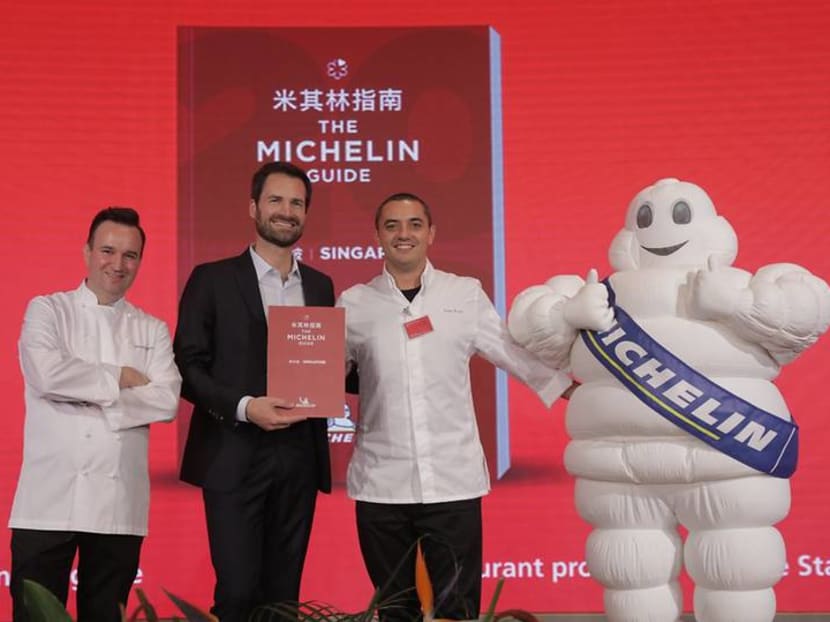 It's official: Singapore now has two new three Michelin-star restaurants, after Les Amis and Odette were named top dogs when the 2019 Singapore Michelin Star list was announced on Tuesday night (Sep 17).
It's been a long time coming, after the city-state lost three Michelin-star establishment Joel Robuchon Restaurant in 2018, when it shuttered.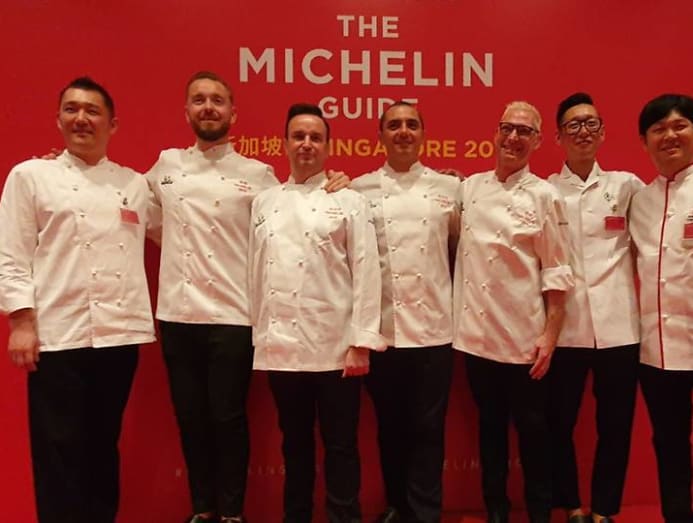 Naturally, expectations were high for the previously two Michelin-star recipient Odette, which placed 18th on the World's 50 Best Restaurants awards, held for the first time in Singapore in June.

The Michelin Guide gala dinner was held at the Grand Ballroom of Capella Singapore to celebrate the launch of the Michelin Guide Singapore 2019, now in its fourth edition. 
This year, 44 restaurants received stars, up from 39 last year.

Like Odette, Les Amis also gained an extra star. Likewise, Saint Pierre, who moved up the ladder, joining Zen as the new entrants in the two-star category.
"I'm 45. I started at the age of 16. This award is the biggest achievement a chef can get," shared Les Amis' executive chef, Sebastien Lepinoy. "Everyone knows that the Michelin is a real barometer. What's very important is that if you get three Michelin stars in Singapore, you're the same as a three Michelin-star restaurant in London, Paris, New York or Tokyo."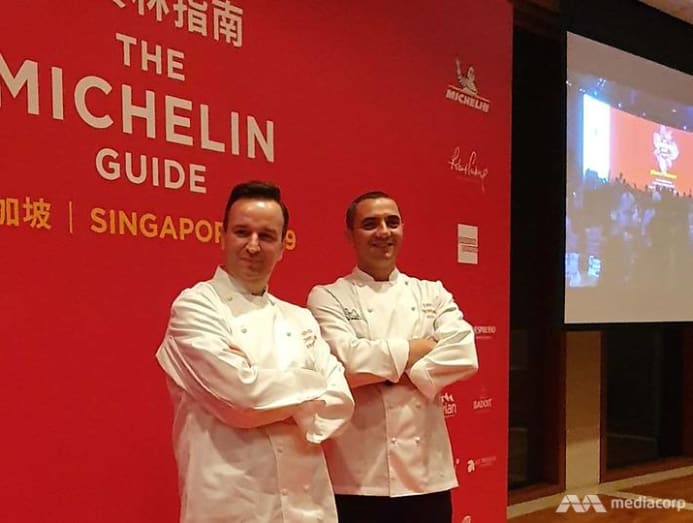 For Odette's chef and co-owner Julien Royer, it's just the beginning. "We're a new three-star restaurant. So we have to take pride in ourselves and deliver to our many customers from now on, as we have always done, but even better now.
He added: "It's a unique day. It's not going to happen many times in the life of a chef. Three stars is really when you're at the top of your game. I still can't believe it and I'm speechless. But we've been working many years for that. My team has been an amazing support to achieve this award. I really want to give that to them, because they are the ones to make the show happen."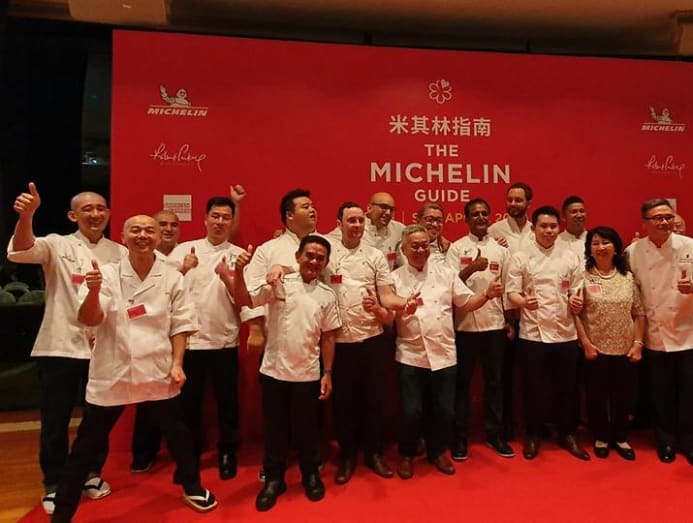 A total of 37 establishments either received or retained their one star, which included seven new entrants and two that were promoted. The latter included Buona Terra and Terra, which were both awarded the Plate Michelin in the 2018 guide. 
The seven new entrants included Meta, which had relocated; and Cheek and Vianney Massot, which are considered new restaurants with concepts different from previous reincarnations Cheek By Jowl and Bacchanalia, respectively, which had one star each.

Dropped from the one-star list were Crystal Jade Golden Palace and Whitegrass, which had closed and reopened under a new chef.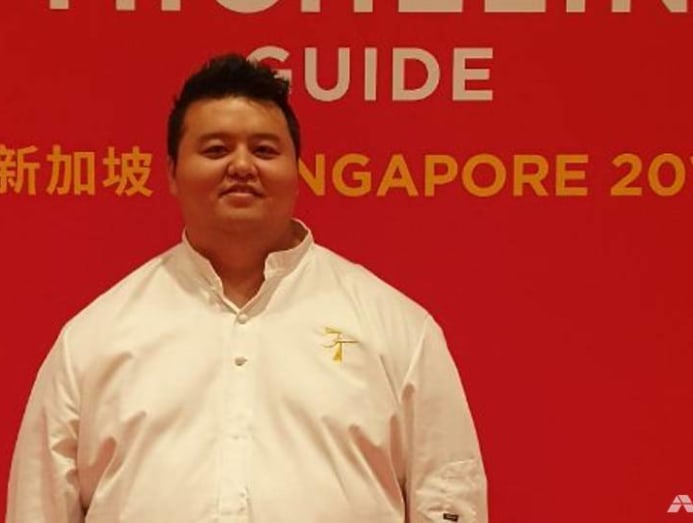 "This is the fourth year we're winning. I feel very honoured," said Chef Jason Tan of Corner House, which retained its one star. "The restaurant has only been open for five years. I attribute the success to the whole team. It's not just a one-man effort."
He added: "There is pressure every year. But the pressure is self-pressure. In terms of customer service. (You need) self-discipline to maintain the level of food, precision,  and customer service."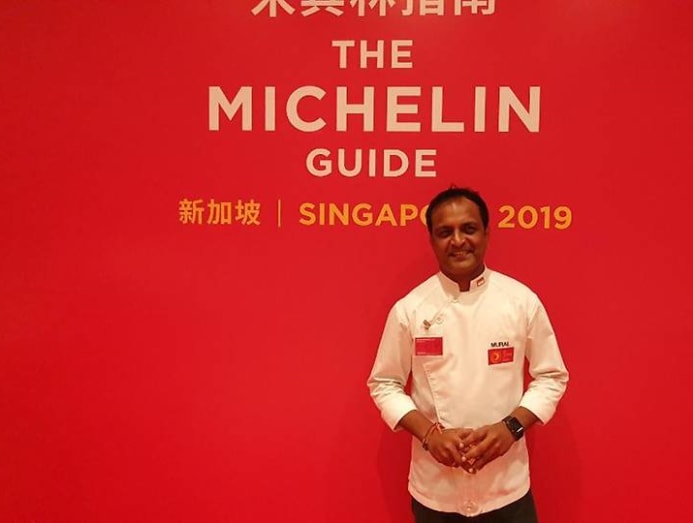 Meanwhile, Chef Manjunath Mural of The Song Of India, which also retained its star, said: "Everyone knows that earning a Michelin and retaining a Michelin are two different things. Retaining always feels as good as winning."
With sustainability being the evening's theme, chefs involved in the dinner preparation were tasked to obtain ingredients from trusted suppliers and organisations that practice ethical and sustainable farming. They were also asked to be mindful about reducing food wastage.
Among the chefs who took part in creating the dinner, called Kitchens Of Progression, were Singapore's Beppe de Vito of one Michelin-star Braci; Joshua Brown and Greg Bess of one Michelin-star Cut by Wolfgang Puck; and Sebastien Lepinoy of Les Amis.
All the establishments chosen, according to Michelin Guides, were visited and judged independently.
Over the past year, anonymous Michelin inspectors went around the island rating local establishments based on five criteria: Quality of ingredients used; mastery of cooking techniques and flavours; projection of the chef's personality in his or her cuisine; value for money; and consistency – both over time and across the entire menu.
Here's the official Michelin Guide Singapore 2019 list.
ONE MICHELIN STAR RECIPIENTS
New entrants:
Basque Kitchen by Aitor
Buona Terra
Cheek Bistro (formerly Cheek By Jowl)
Restaurant JAG
Lerouy
Meta
Table 65
Terra
Vianney Massot (formerly Bacchanalia)
***
Alma by Juan Amador
Beni
Braci
Burnt Ends
Candlenut
Chef Kang's
Corner House
Cut
Garibaldi
Hill Street Tai Hwa Pork Noodle
Iggy's
Imperial Treasure Fine Teochew Cuisine (Orchard)
Jaan
Jiang-Nan Chun
Labyrinth
Lei Garden
Liao Fan Hong Kong Soya Sauce Chicken Rice & Noodle
Ma Cuisine
Nouri
Putien (Kitchener Road)
Rhubarb
Shinji by Kanesaka (Bras Basah Rd)
Shinji by Kanesaka (Tanglin Road)
Summer Palace
Summer Pavilion
Sushi Ichi
Sushi Kimura
The Song of India
TWO MICHELIN STAR RECIPIENTS
New entrants:
Saint Pierre
Zen
***
Shisen Hanten
Shoukouwa
Waku Ghin
THREE MICHELIN STAR RECIPIENTS
New entrants:
Les Amis
Odette