Elderly min jiang kueh hawkers open stall at 3.30am at Tanglin Halt Food Centre
Husband-and-wife hawkers Deng Qiang Xian and Lin Mei Shu even make their own natural yeast, which is added to their min jiang kueh batter to create extra flavour and an old-school chewy texture for their pancakes. (Photo: Yip Jieying)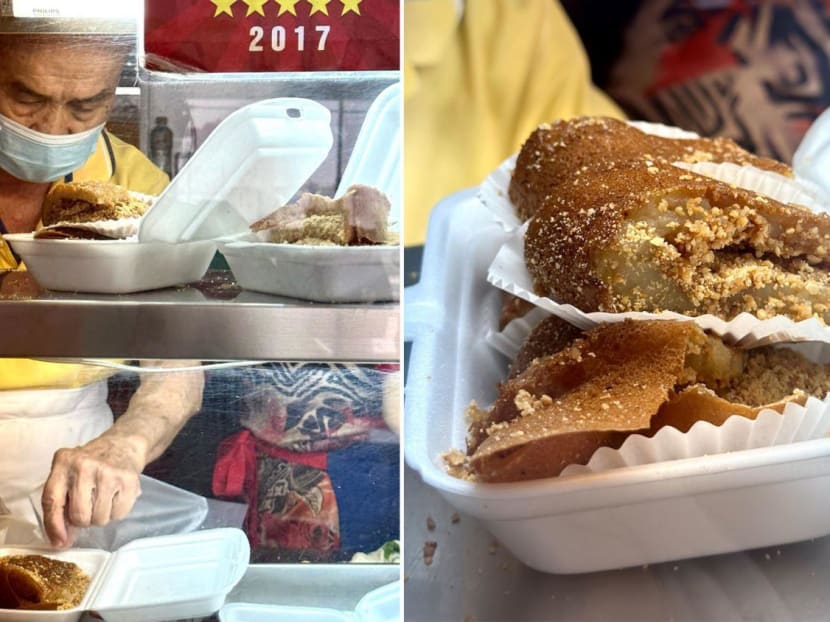 It sounds like a charming scene out of a fairytale – a cute elderly couple in their 70s, busy churning pancake batter at midnight. Since the '80s, husband-and-wife Deng Qiang Xian and Lin Mei Shu have been making and selling min jiang kueh out of their hawker stall called Tanglin Halt Original Peanut Pan Cake, which is still located at Tanglin Halt Food Centre.
THEY OPEN AT 3.30AM
While min jiang kueh stalls are pretty common in Singapore, the Dengs' business stands out for two reasons. Firstly, they open at 3.30am and end their operations sometime around 11.30am. Due to their advanced age, they rest on Mondays, Wednesdays and Fridays.
Why open at 3.30am? "Aiyah, by the time we finish working it is around midnight, might as well open [our stall]," the hawker uncle replied cheerfully.
UNUSUAL WORKING HOURS
To understand what Uncle Deng meant, you have to catch up on the other reason why his stall is so unique. The couple painstakingly make their own natural yeast, which is added to their min jiang kueh batter to create extra flavour and an old-school chewy texture for their pancakes.
According to the uncle, he starts the yeast-making at 6pm. He does not divulge the process, but tells us that it contains a starter inherited from his father-in-law, who originally opened the min jiang kueh stall at Margaret Drive in the '60s before Uncle Deng and his wife took over.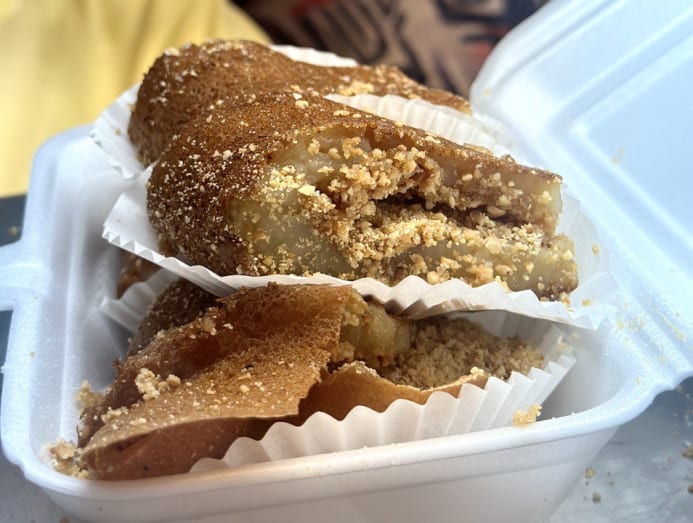 THE MENU
The couple's signature flavour is their peanut pancake ($0.90 a slice), though they also offer other uncommon flavours like yam paste pancake ($1.30), pandan leaf green bean paste ($1), black sesame peanut pancake ($1.30) and salted bean paste pancake ($1). 
The vegetarian-friendly min jiang kueh is served in an unusual way too; the auntie saws up a huge pancake into pieces and plonks each slice on a cupcake liner instead of the usual plastic bag. If you are buying multiple pieces, she piles all the min jiang kueh into a styrofoam box for you.
OLD-SCHOOL PANCAKE
When we dropped by at around 11am, there was only peanut pancake left. The early birds clearly get the fat worms here. We toasted our takeaway min jiang kueh a little to make the crust (an exceptionally golden brown) crispier. But we found the pancake's texture an acquired taste. It is soft, almost gooey, but packed generously with very fragrant sugary crushed peanuts. Still, we urge you to give this min jiang kueh a try; the art of making this traditional pancake is a dying trade in modern Singapore.

Tanglin Halt Original Peanut Pan Cake is at 48A Tanglin Halt Rd, Singapore 148813. Open daily except Monday, Wednesday & Friday, 3.30am to 11.30am or till sold out.
This story was originally published in 8Days.