Would you pay S$250 for Singapore's most expensive burger – for a good cause?
Profits from Lombardo's Burger's decadent new offering, which comes in 24-karat gold leaf-covered buns, will go to The Children's Charities Association of Singapore. Check out our video below.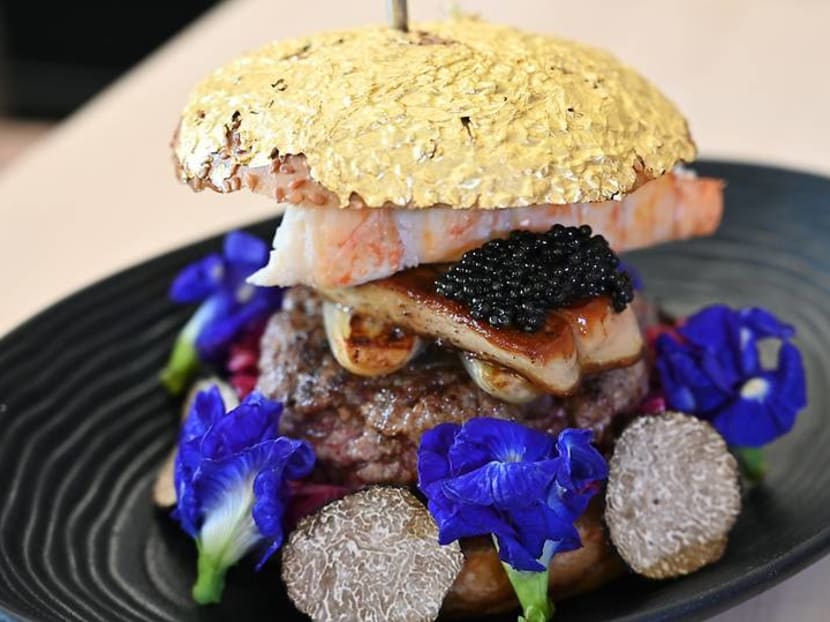 How much would you pay for a burger? S$20? How about a whopping S$250?
The name of the burger is The Most Expensive Burger in Singapore and it is a sight to behold: A freshly-baked bun covered in 24-karat gold leaf, encasing a 200g patty of seared Japanese Kobe wagyu beef, topped with a butter-poached lobster tail, pan-seared foie gras, complete with banana shallots braised with champagne, sliced (not shaved) Italian truffle, spicy red cabbage compote and a generous spoonful of caviar.
And it's only available at new eatery Lombardo's Burger at Duxton Road from Oct 11 to 21.
Completely decadent and over-the-top? Perhaps. But it's all for a good cause. Profits from this extravagant burger will be donated to The Children's Charities Association of Singapore, specifically to help raise awareness of the challenges faced by children with disabilities.

Head chef and founder Martijn Verdonk felt that it was important to start his newly-minted business here on the right foot. 
"We are grateful for this opportunity to be here in Singapore, and we want to start our relationship with the people in Singapore right by first giving back to them," he said. 

This isn't the first time Verdonk is grilling his famous burgers for a cause. Seven years ago, he created a similar (albeit less indulgent) one to raise money for the homeless in Amsterdam.

Lombardo's Burger Singapore is the first international franchise of Verdonk's popular eatery that started wowing customers in Amsterdam almost a decade ago. 

The burger joint which started with just two burgers on its menu has since garnered legions of fans and over 2,000 five-star reviews on TripAdvisor. It also has been consistently voted as the best burger in Amsterdam.

With Singapore cemented as Lombardo's first foray outside of Holland, Verdonk wanted to inject some local flavour to his regular menu. Which is why he created the Singapore Fling burger (S$35) which sees a wagyu beef patty topped with spicy crab meat, melted cheddar, and Lombardo's homemade burger sauce.

"We love the food culture here in Singapore, and we know that Singaporeans take their food very seriously," said Verdonk. "So we are confident they will know an excellent burger when they taste one".

Lombardo's Burger Singapore at 15 Duxton Road officially opens on (Friday) Oct 11.