Daughter takes over famed Mr & Mrs Mohgan's Crispy Prata stall to fulfil father's last wish
The SMU accountancy graduate says she is "proud" of her father for putting her and her sister through university as a prata hawker, and has now taken over the business because she made a promise to her father. 
Mr & Mrs Mohgan's Crispy Prata is a famous name in Joo Chiat. Customers from all over Singapore flock to this hawker stall, willingly waiting for up to 90 minutes to get their fix for the couple's exceptionally crispy flatbreads.
In March last year, Somasundram Mohgan died after suffering a heart attack. He was 56. After taking a break for six days, Saroja Mohgan, 56, returned to work helming the stall without her husband.
"The first day I came back, I couldn't stand here. But I can't stay at home. I keep on thinking of him," she told 8days.sg solemnly.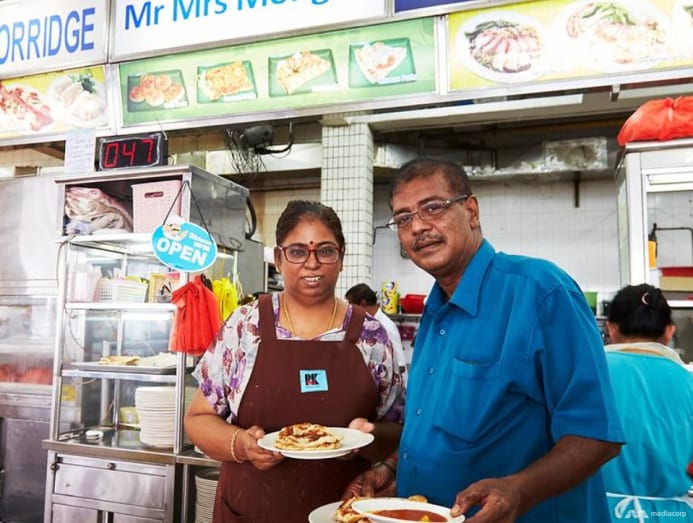 She distinctly remembered one of her last conversations with Mr Mohgan, who had been struggling with poor health. He urged her to continue running his business in the event that he passed on. Mrs Mohgan recalled: "He told me, 'If the time comes when you cannot cope, or you are not feeling well, then you do something about the shop lah. But for now you have to take care of the shop, take care of my customers.'"
MR MOHGAN'S DAUGHTER IS SUCCEEDING HER PARENTS
The Mohgans have two university-educated daughters, who are now 25 and 22. When 8days.sg asked Mrs Mohgan in 2022 if she planned to pass down her stall to her kids, she replied that they "have their own careers" and were not interested in working as hawkers.
But a year on, things have changed. Mr and Mrs Mohgan's oldest daughter Mona, who graduated from SMU with an accountancy degree and is now working as a financial advisor, is taking over her parents' shop. She currently helps her mum with making prata and serving customers at their stall, which typically operates from 6.30am and sells out at around 1pm.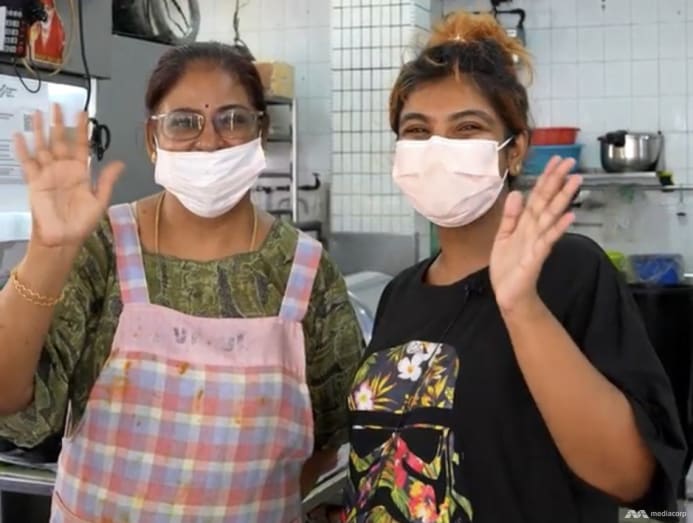 What changed Mona's mind was a promise she made to her dad before his passing, about succeeding him. She shared: "I have no interest [in running a prata stall], but my dad passed away and I had promised him lah. He was in and out of the hospital for a while and we had that conversation. He said, 'You take over the shop so mum will feel better.' She is getting old, so we cannot expect her to be active from 6.30am to 1pm."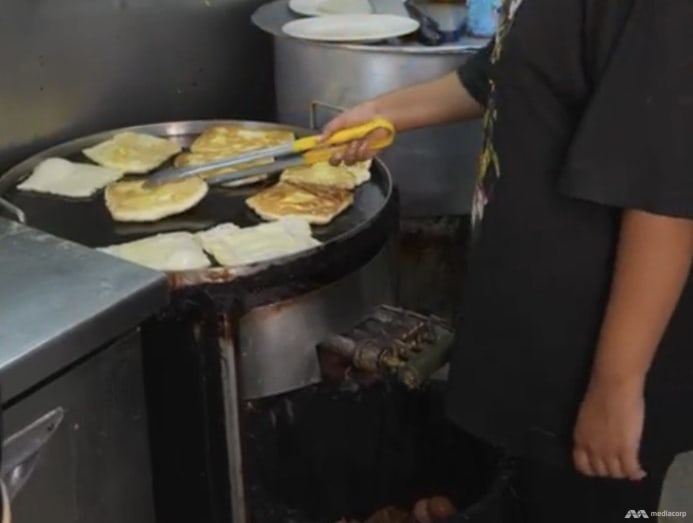 Mona expressed relief that her financial advisor job has flexible hours, so she did not have to give up her own career to fulfil her parents' wishes. She works at the prata stall in the morning, and meets clients in the evening. "The hours are not so bad. My appointments are usually in the evenings from 5pm, and by 9pm I can go home. Wednesday is my 'off' day," she shared.
She is upfront about the fact that she is now juggling two jobs partially out of a sense of duty. "Because I made a promise to my dad, so I came back. He had never asked me for anything (but this). If he didn't ask me, I wouldn't have done it. How I take it is that it's just a half-day thing, so it's not too hard. If the hours are longer, I think I wouldn't have taken over because it would conflict with my career," said Mona.
But she maintains that she is "happy" working at the stall. She explained: "It's a memory of my dad. I feel honoured to continue his legacy. I'm wowed and proud that my sister and I could study in university just by (my dad) making prata. I don't know if I can (expand) this stall, like having our own coffeeshop, but at least this place didn't just end when my dad died."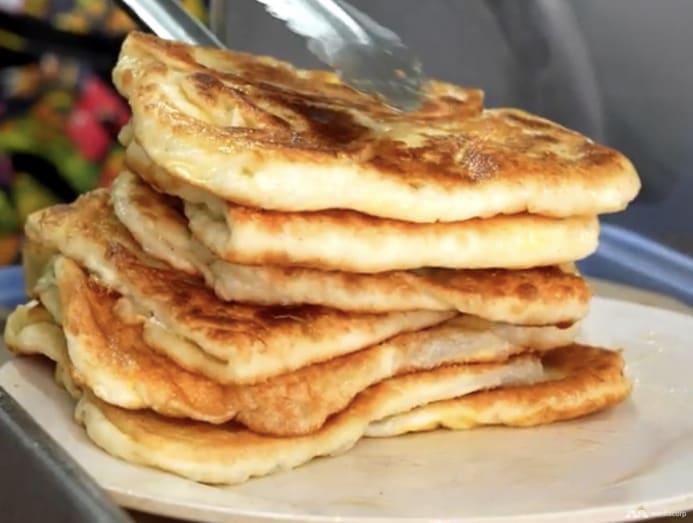 ON TAKING OVER HER PARENTS' LEGACY
Before she took over her parents' job, Mona was not inclined to learn how to make prata. "I didn't want to learn. I thought I didn't need to," she said simply. But Mr and Mrs Mohgan were adamant that their children get some hands-on experience. Mona recalled: "When my sister and I were young, we were forced to help out at the shop. So from a young age we knew how the shop operates, and when I went back I knew what to expect."
Mr Mohgan also taught his daughters the basics of making prata. "He imparted to me his special technique to make sure the prata is fluffy. After that I slowly practised and figured things out on my own," Mona said. "I have sort of taken over now. I can do everything."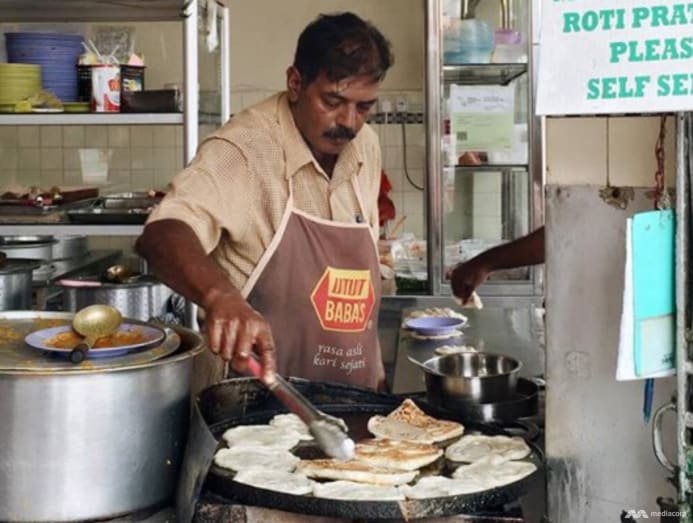 Mrs Mohgan still works at the stall alongside her daughter and one worker. Mona explained: "My mum doesn't want to retire so soon. She is afraid that her brain will slow down if she stays home. But if she feels like taking a day off, she can go for it. She's at peace (with me working here) because she knows there is someone in the family running the shop."
Mona's sister is studying psychology at NUS, though there are no immediate plans for her to also become a second-generation prata hawker. "Maybe one day she will join? Initially I also said no," Mona laughed.
She plans to tackle issues like the long waiting time for pratas, and improving the accessibility of her shop by opening more outlets. "Some people really travel so far from Jurong East," she noted. "Ideally I want to move to our own coffeeshop so we can hire more manpower, because now our coffeeshop has an overall quota for all stalls. If we have more workers, we can shorten the waiting time on weekends."
Mona's friends suggested that she also start selling dishes like mee goreng if she finds a bigger shop space. "But I'm afraid if we do that, the quality of our prata will go down. We are known for our prata," she noted.
Mr & Mrs Mohgan is located at 300 Joo Chiat Road, Singapore 427551. Open daily except Wed, 6.30am to 1.30pm (or till dough runs out, usually around 1pm).
This story was originally published in 8Days.