At this durian cafe in Jalan Besar, you can enjoy durian high tea, fried durian and more
Ms Durian, established by the daughter of 717 Trading's founder, also has a pet-friendly al fresco area and a little standalone stall where the fruit is available when in season.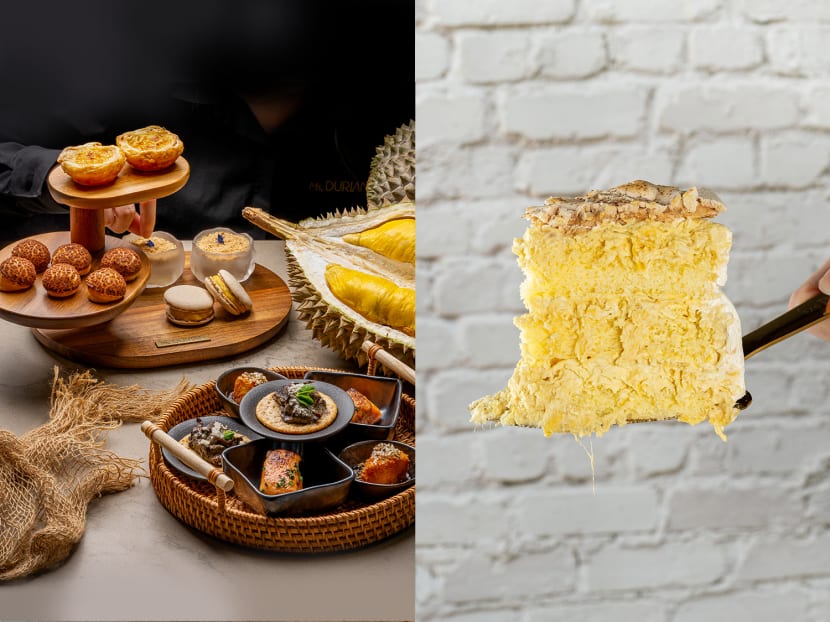 Two durian trees do not a plantation make, but you do feel a little like you're far from the madding crowd at Ms Durian, a specialty durian pastry cafe in the Jalan Besar area that also serves brunch, high tea, cocktails and even durian coffee.
The cafe opened in February in a standalone building that was a police post in the 1980s. It's situated a mere three-minute walk from the Jalan Besar MRT station, but the cafe's grounds, with a lush al fresco area and double-height ceilings in the indoor dining area, offer a respite from the bustle of the city.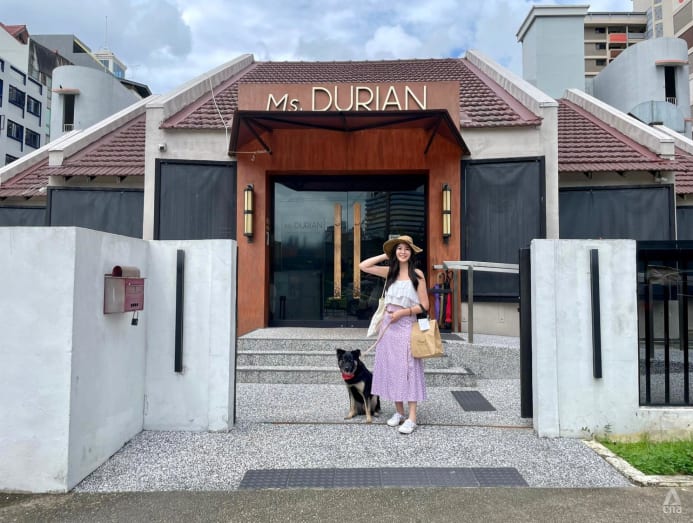 You'll find all manner of durian sweets here, from whisky durian cake to durian coconut milk pudding, durian choux au craquelin, durian cheese mousse, durian macarons, durian tiramisu and fried durian. For durian noobs, the cafe has a durian intensity indication on its sweets that helps you figure out where you should begin. And for durian haters, well, there are savoury items, coffee and hot chocolate.
Owner Ling Goh, 36, is the scion of a durian family: Her father is the founder of the famous 717 Trading, which imports and sells durians and also owns durian pastry outlets Durian Mpire By 717 Trading. From the age of seven, she was helping out at the stall picking discarded rubber bands off the floor, graduating to serving coconuts to guests and much later, in secondary school, working in the kitchen or selling pastries at the counter.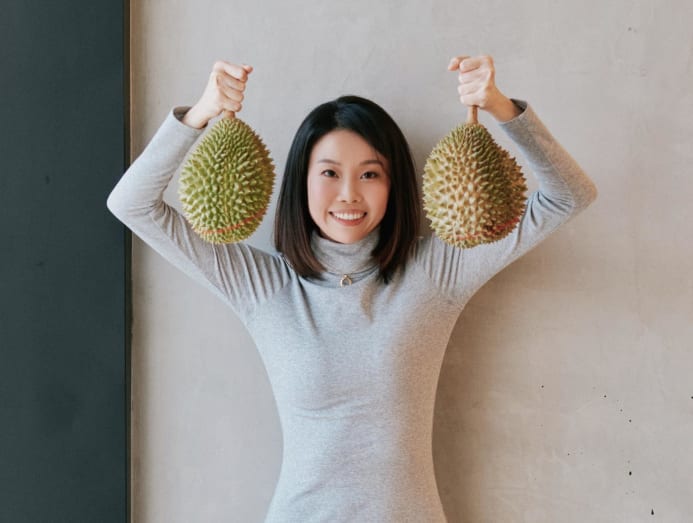 "My dad loves durian. He always says, 'Have durian for breakfast'," Goh said with a laugh. "He had seven children – I'm the fifth – and he always tells people it's because he eats a lot of durian. When we were kids, he would drive the family for hours to Malaysia to visit plantations. We didn't know what the grown-ups were doing, but it was fun."
Still, Goh never intended to go into the durian business herself. She spent 10 years as a real estate agent before deciding to venture into F&B.
"I just felt that durian pastries were very under-explored," she said. "The way my dad makes his durian pastries is a bit more traditional. They put a lot of designs on cakes, like for Mother's Day, they draw a mum on the cake. I felt like durian could be made into more varieties of confectionery. I thought, 'I'm going to bake my pastries fresh, and I'm not going to use any colouring.' So, my cakes are super plain, zero design – but that's how I like it."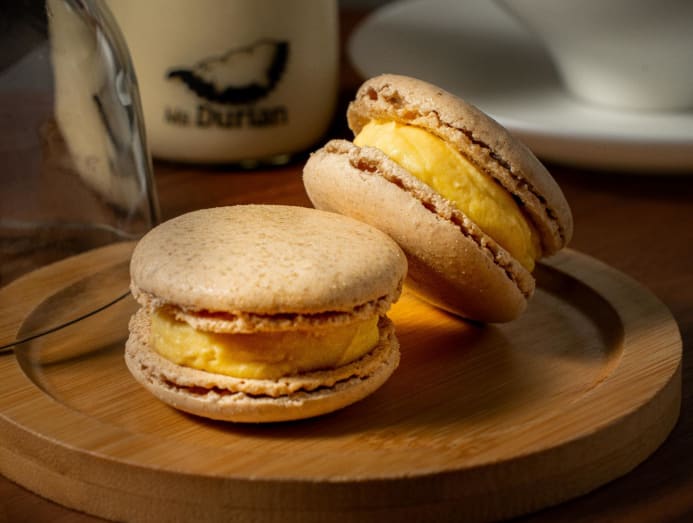 Without formal training in pastry, Goh approached a few consultants to help her develop her products, but found that they were not particularly familiar with durian. "In the end, my consultant was my dad. He taught me operations, how to bake cakes and tarts, why this and that happens. I learned mostly from my dad's kitchen – how to maintain the quality of the durian, how to store it, what happens when you treat durian with heat. That was information I couldn't get outside."
 
After she found the property, "The place was so lovely, I decided to do afternoon tea. That was the experience I loved when I was in real estate. My girl friends and I would go and chill for two hours, chit chat, have high tea. Guys don't understand that!"
The Afternoon Tea Set (S$25 per pax, minimum order of two sets) has four Mao Shan Wang durian pastries at different intensities: Fried durian (2/5), its flavour inspired by the old-school durian cake candy that comes wrapped in a tube; Baby MSW Craquelines (3/5); durian macarons (4/5); and durian cheese mousse (5/5). The set includes a pot of tea – the delicious lemongrass pandan tea is homemade from fresh ingredients and designed to pair well with durian flavours.
If you're a little hungrier, there's the High Tea Set, available Thursdays to Mondays at 1pm and 3pm (S$45/pax, minimum order of two sets). In addition to five durian pastries, it comes with three savoury small plates, a tea pairing and a choice of drink.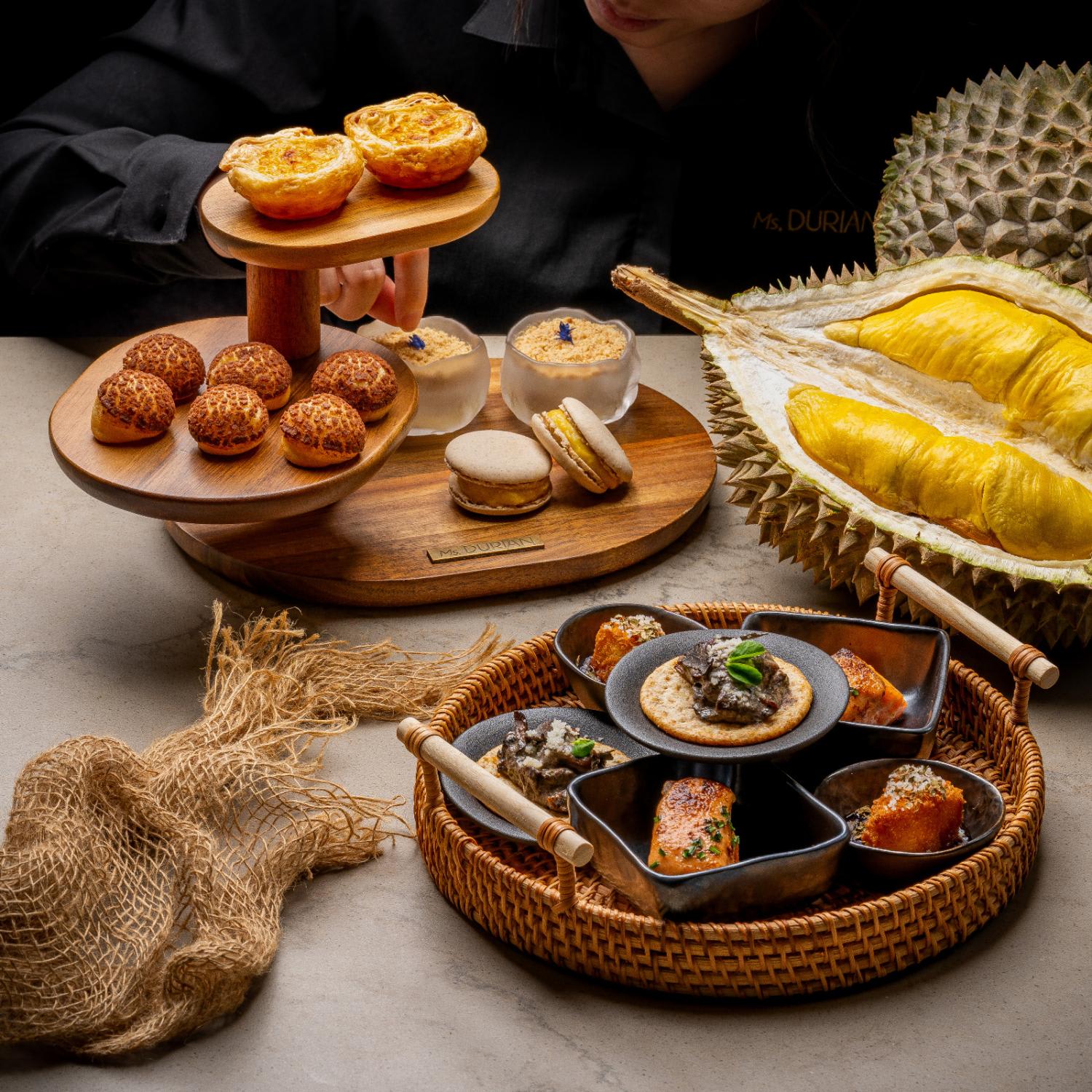 Friday to Sunday evenings from 6pm, there's the Sweeter Course (S$60 per pax, minimum order of two sets), which includes four durian treats and a tea-infused cocktail pairing.
There's also an all-day brunch menu with items like Smoked Duck Eggs Benny (S$22), Pan-seared Sashimi Grade Salmon (S$29), Fried Brie with Berry Compote (S$18) and Truffle Tater Tots (S$14). Even the vegetables like broccoli and white corn are all grilled fresh, Goh added.
Of course, the pastries are also available a la carte along with a host of other things. The Durian Coffee (S$12.50) is a crowd hit – a cold drip coffee infused with Mao Shan Wang durian. It's a blend that took four months to get right, Goh revealed. "Initially we used espresso, but we realised it alters the taste of the durian. With cold drip coffee, we get the flavours out, then take out the fibres so it's like a smooth and creamy latte."
There's also Durian Ice Blended, a drink created for beginners who want to try durian. "We realised we are very near some hotels… (For tourists) we recommend something less intense, and then they can work their way up. It's very interesting talking to them. After they try it, they might say, 'I think I don't hate durian, but I don't know if I like it.'"
The durian whisky cake is one of Ms Durian's most popular bakes. "We wanted to mimic the bittersweetness of the real durian, so we tried many different kinds of whisky to get the smoky notes," Goh said. Sponge cake is infused with whisky for three days, then layered with pure durian to form the cake.
"When we were doing the trial, we let our neighbour try the cake. The neighbour came back with a red face," Goh laughed. "One customer, an auntie, said she felt a bit giddy after eating it and lay down on a chair for one hour." Even though the alcohol content might be strong for some, "People love it because it's something very different. There are different layers of taste in it."
The success of the whisky cake gave Goh the idea of tea-based cocktail pairings and even a set of durian cocktails that will be rolled out soon. "People don't usually pair durian and alcohol – or durian and coffee – because both have strong flavour profiles. That's something we managed to overcome – to balance the flavours," Goh said.
Within the pet-friendly compound are two young Mao Shan Wang trees that have yet to bear fruit. As they grow, Goh looks forward to hosting durian parties with her older brother, who, like their father, is in the business of selling durians; flea markets in tribute to nearby Sungei Road; and maybe even a little museum dedicated to the king of fruits.
Ms Durian is at 11 Kelantan Road.