Hungry girl goes on blind dates with meatless burgers – should she follow her conscience or heart?
Plant-based burgers made with Impossible and Beyond "meat" are all the rage now, so CNA Lifestyle had to see if any of them could win us over.
I am a hungry girl whose heart longs for the perfect burger. I've searched far and wide for The One that will fill the emptiness inside. Thus far, true burger love has eluded me. But hope springs eternal in the human stomach.
Since I was a little girl, I'd always envisioned the burger of my dreams as comprising a beefy, juicy hunk of red, red meat. But it's begun to occur to me that perhaps I've been young, naïve and reckless.
 
Maybe I should finally listen to my mother, who nags almost daily: "Don't eat so much meat. It's not good for you."
Plus, it's trendy now to avoid meat, with proponents of vegan, vegetarian and flexitarian diets arguing that doing so will help our beleaguered environment, and tossing the word "sustainability" around like it grows on trees.
And since meatless burgers made with plant-based patties – using either Beyond or Impossible meat – have started mushrooming all over town, I've been forced to confront the possibility that maybe, just maybe, my soulmate isn't a meathead, after all.
At any rate, I owe it to myself – and my mother and Planet Earth and all the cute little moo-cows – to give these meatless burgers a chance, right? I'll never know unless I swipe right where my instincts would normally tell me to swipe left.
Okay. Gulp. Here goes nothing. Wish me luck, mustard and napkins.
MEZZA9'S BEYOND BURGER
S$26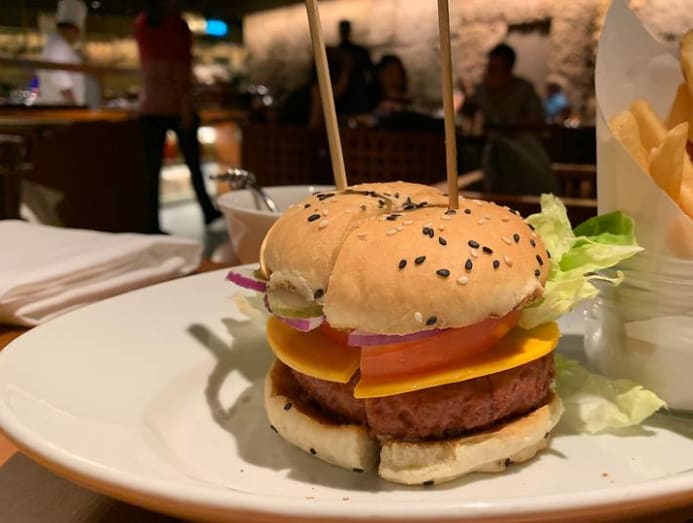 This burger became available for the taking with much fanfare late last year, but never registered on my radar because it really wasn't my type. It's made with Beyond meat, dairy-free cheddar cheese and plant-based mayonnaise, as well as pickle, tomato and onion, on a dairy-free brioche bun.
When it joins me at the table, the first thing that strikes me is how little it is.
I know, I know – it's not about size. But, well, I am forking out 26 buckaroos for one night of – I hope – pleasure.
The second thing that strikes me is the aroma. It smells exactly like canned luncheon meat. My stomach lurches in confusion, because isn't this patty supposed to simulate beef? It's like smelling Chanel No 5 on a lumberjack. In addition, the square of cheese isn't melted and the bun looks pretty dry.
I'm trepidatious. And when I take a bite, I have to concentrate on making sure the polite smile stays plastered on my face. The patty is cooked but just barely. It has a mealy, meatloaf-y texture that doesn't turn me on, to say the least. And the bun is so over-toasted, it makes a thunking sound when tapped against the plate. In spite of that, the entire burger is kind of cold, making me think it's been sitting out for a while, avoiding me, too.
It's a disaster of a date – the kind you have to immediately call all your friends to moan about – that comes abruptly to a premature end. I leave so disheartened, I have to go get sushi to feel better.
WOLF BURGERS' FUTURE BURGER
S$16.90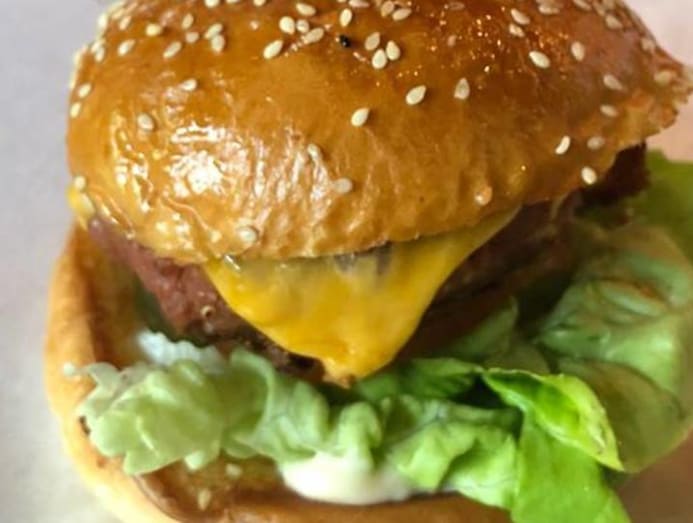 After that experience, I have to drag myself unwillingly out to meet the next burger made with Beyond meat, at Wolf Burgers. I've never felt so unenthusiastic about a rendezvous with food before, and I hope it doesn't show on my face. After all, it's not the meatless meat that's at fault – it's meat-loving me.
But the Future Burger, which comes with lettuce, tomato and mayonnaise on a sesame seed bun, turns out to have a trick or two up its sleeve. It's actually quite edible. Its buns are golden, crisp and fluffy. And most importantly, the meatless patty is properly charred around the edges, with the cheese melted all over it.
Would it be advisable for me to enter into an exclusive relationship with this burger? I make a careful list of pros and cons, like all the dating gurus say you should. Pros: It reminds me little less of canned Purina. Cons: It still reminds me of canned Purina.
I manage to eat only a third of it, and have to go get jamon croquettes to feel better.
OMAKASE BURGER'S IMPOSSIBLE CHEESEBURGER
S$18.90++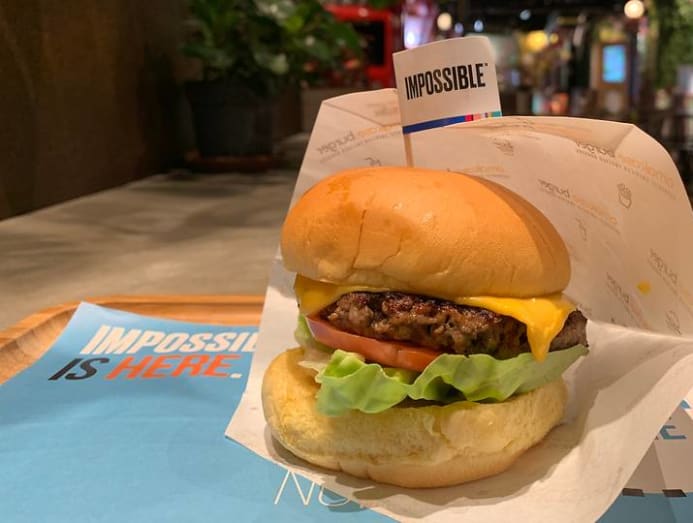 By this time, I'm feeling pretty dead inside. But then I bite into this burger, and my soul revives.
It still doesn't taste quite like beef to me – more like a slightly vegetal mix of mushroom and soy – but the Impossible patty has been doused in Omakase Burger's secret sauce and grilled until it's charred on the outside, tender on the inside. It's also got a strong peppery heat. The whole thing produces a decidedly Asian-tasting effect, with the sauce really bringing out the soy flavours of the patty. It's balanced out by gooey cheese and lifted up by the perfect potato buns.
Okay. This burger and I get along. We see eye to eye. We appreciate each other's qualities. Now for the big question: Could I settle down with this burger?
Well, sure – it would probably be solid and dependable, hold down a 9 to 5 job, pay our taxes by Giro and set automated calendar reminders for our anniversary. But there'd be something missing. What could that be? Oh, yeah. Sex appeal.
I can't guarantee I won't cheat on this burger with the first beef burger to come along. And indeed, that same day, I eat another Omakase burger to feel better – a beef one, this time. I still regret nothing.
FATPAPAS' THE IMPOSSIBLE CHEESE BURGER
S$18++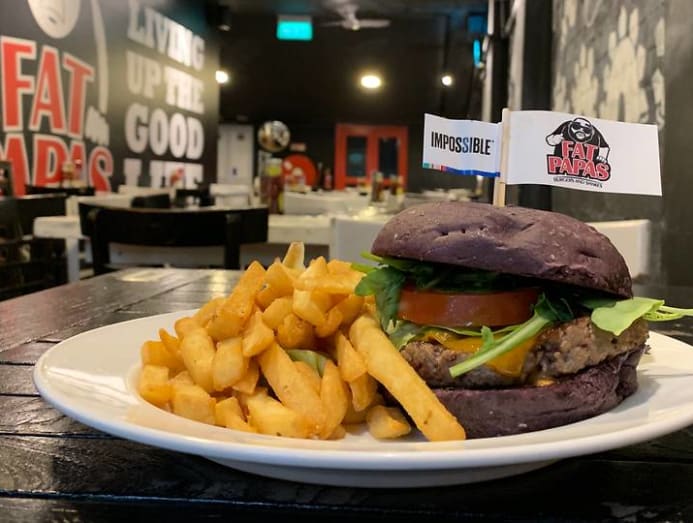 This very sizeable burger shows up looking a little purple in the face. I enquire about why the bun is purple (purple sweet potato, perhaps?) but nobody knows (although service is otherwise excellent). Finally, the fourth server I ask says it is thanks to the yam extract in the carbolite and chia seed buns. He sounds reasonably confident, so I take his word for it.
The burger is so solidly built – with aged cheddar, arugula, tomato and smoked chipotle sauce – that I have to use a knife and fork, like a lady.
From the first bite, there's instant, palpitating attraction, mixed with surprise and relief. This date is almost too good to be true. Here is a really tasty burger that boasts a well cooked and perfectly seasoned patty. But it's the arugula that makes all the difference, I think to myself – it really masks the taste of the Impossible patty, which is still a little mushroomy to me. And so does the chipotle sauce, which is strong, smoky and spicy.
I stop myself right there. This burger and I might be able to ride off into the sunset – but would it just be a cover-up? Would I be denying my true desires? Would we be living a lie? Would we be Dick Lee and Jacintha Abisheganaden?
I don't trust myself to answer this question, so I decide that for now, I need to keep seeing other burgers.
THREE BUNS' IMPOSSIBLE CHEDDA BURGER
S$23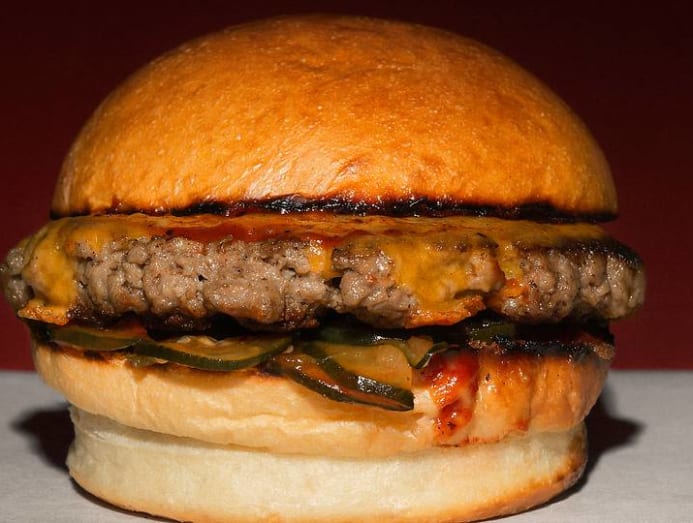 They say you shouldn't judge your dates by what they're wearing, but that's not the case when it comes to burgers.
The Impossible patty here comes all spiffily dressed up in double ketchup, cheese, onion puree and pickle, in a toasted demi-brioche bun.
This combination is very clever: It does so much to disguise the slightly vegetal taste of the patty, resulting in a burger that really could almost pass for beef.
Still, it's not as juicy as it could be – and it definitely lacks a beef patty's distinctive taste of iron.
Sure, maybe I could see myself walking down the aisle with this burger. But when the priest de cuisine asks, 'If any man know of any reason why this woman should not eat this burger, speak now or forever hold your pickle', and a real beef burger should burst through the church doors riding on a Harley, well, I'm pretty sure I'd become a runaway fast-food bride.
What's a girl to do? The heart wants what the stomach wants. And this heart evidently wants carnal pleasures, which means burgers made with blood-red meat – additives, cholesterol, cow farts and all. In my effort to save the earth, I'll just eat more salads instead of mock-meat burgers, I guess. But hey – I'm sure they'll make some other healthy, mindful, socially conscious girl very, very happy. As for me – I'm still searching for that perfect burger.
My quest for the perfect burger continues. If you know of a new burger in town that I just have to meet, write and let me know: CNAlifestyle [at] mediacorp.com.sg.