Ribs, soju, hoddeok: Nae:um chef Louis Han's spring menu is inspired by family's K-barbecues
On the Michelin-starred Korean-inspired fine dining restaurant's new spring menu, driven by the chef's nostalgic memories of the epic cookouts that took place at his home in Seoul, you'll find elegant renditions of ubiquitous home barbecue staples like cold radish water kimchi, grilled beef and melon punch.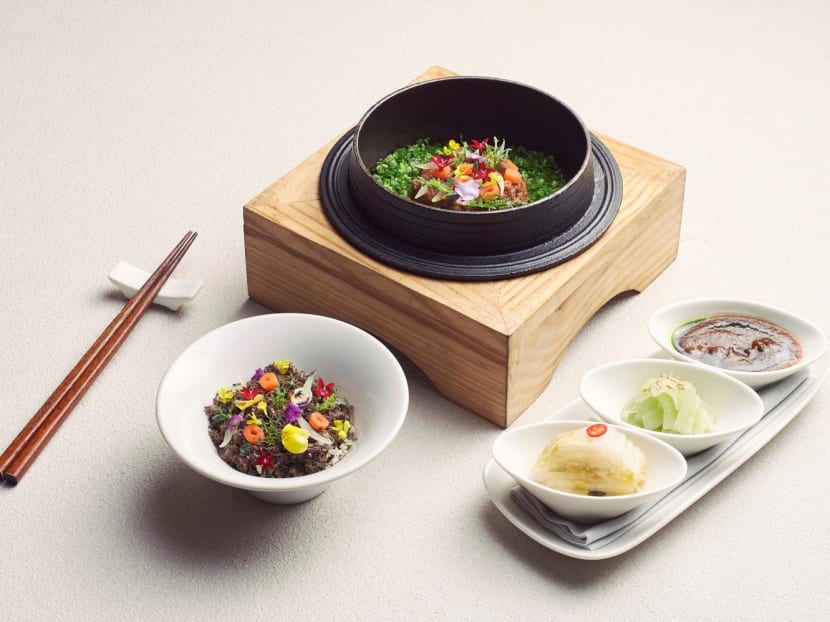 There is a special kind of magic in the Korean barbecue we are generally familiar with: Sliced meat sizzling on a crusty grill; banchan and sauces covering every inch of table; a Febreze-necessitating odour in your clothes and hair.  
But that's not what chef Louis Han of one-Michelin-starred Nae:um thinks of when it comes to K-BBQ. Instead, it's the front yard cookouts he enjoyed all his life in his native Seoul: Uproarious family-and-friends affairs flowing with soju and melon punch, where no occasion other than the balmy weather of the spring and summer seasons was needed for a celebration.
That's the kind of emotion he hopes to translate in his new spring menu at Nae:um, titled Episode 5: Front Yard Barbecue – a dream of a home where the bossam roam, where the banchan and the dakgalbi play.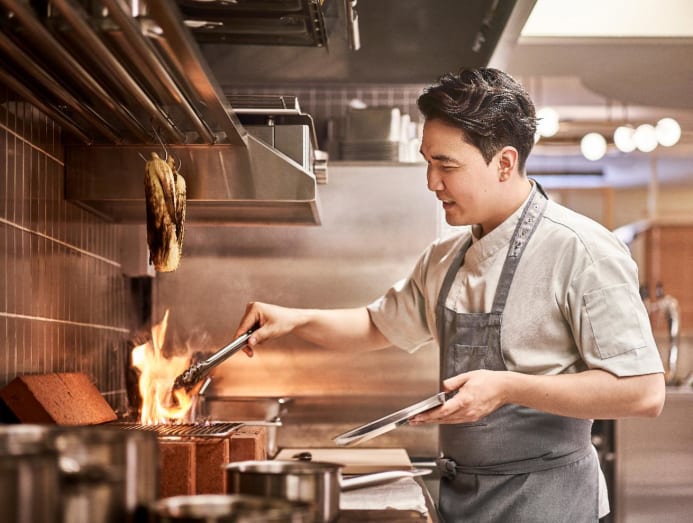 The idea for this new menu came as "I was thinking of what I like to do during the spring and summer seasons, which is camping and barbecue," said Han, who was born and bred in Seoul and takes the city's sophisticated global-ness as his cuisine inspiration.
"Also, the longer I'm away, the more I miss home; so I wanted to do something in relation to my house and came up with the 'front yard barbecue' theme," said the 33-year-old, who has worked in Singapore for many years with Meta's Chef Sun Kim and as head chef of the now-closed Kimme. "Each time I decide on an episode, I put my emotions into it, as I did with this menu theme."
At barbecues at his family home in Seoul, "there's always a spread of grilled meats, cold dishes to cut the oiliness and fattiness of the meats, 'banchan' sides dishes including my favourite kimchi, and fruits. Alcohol like soju will make an appearance, but only my sister and I drink together." And one of his must-haves, he shared, is kimchi grilled in pork fat.
His grandmother is the force behind the cooking, preparing the ingredients the day before and presiding over the barbecue. "My grandmother and mum have their beef well done, but my sister and I like a medium doneness, so I grill a separate portion just for us," he said.
"Koreans eat fast, so our barbecues usually take no longer than two hours!"
One of his best memories is of 14 of his friends coming over for a party, nearly 10 years ago. "They had different professions, from chefs to hair stylists and bankers. They each brought a bottle of wine and paid an 'entrance fee' of 30 dollars, just to cover the cost of the barbecue." Although they started out not knowing one another, "they became friends and still hang out. Funnily, on that day, I fell asleep, and the rest continued to drink through the night. When I woke up, they had left and everything was clean and back where it was before."
At Nae:um, a Front Yard Barbecue starts with a trayscape of snacks that revolves around Han's nostalgia about his family home, where kimchi and bean and chilli paste fermented in traditional earthenware pots in the garden.
Instead of funky fermented vegetables, though, diners get a taste of green peas smoked over applewood, garnished with charred pickled shallots, citrus jelly, lemon zest and dill; Shima-aji or Striped Jack tartare marinated with pickled chilli and fermented daikon atop a kimchi-tomato meringue; and 'milssam', a Korean crepe wrapping up Bulgogi Wagyu beef, sauteed bell peppers and shiso leaf, topped with pine nut cream and caviar.  
Then, dongchimi or radish water kimchi, traditionally served with barbecued meats as a refreshing element, gets a fine dining glow-up. Han's winning interpretation of his grandmother's cold soup features Obsiblue prawns, sea urchin, cured eggplant, kimchi and a chimichurri sauce of seasonal mountain herbs and grated mung bean jelly, all hiding under a silky mantle made of Hokkaido scallop.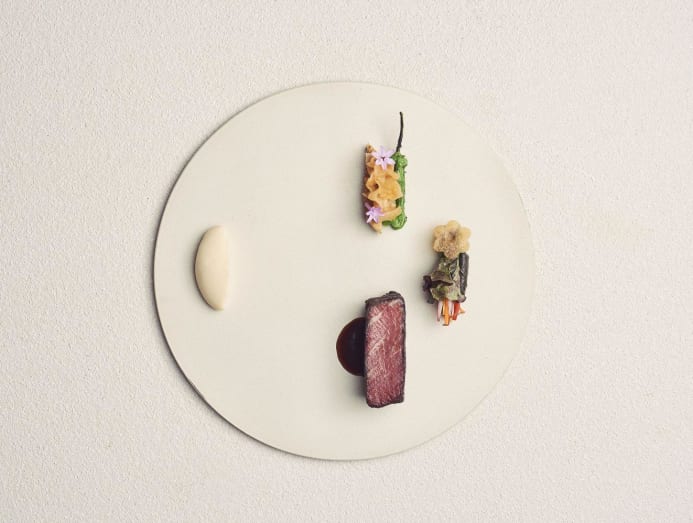 There's of course no shortage of elegantly charcoal-grilled elements, which include a dish of bonito tuna served with gooseberries, watermelon cucumber, wintermelon, ginger flower, pickled leeks, herbs and edible flowers; red mullet served with parsnip puree, chargrilled canola blossoms, finely diced russet potatoes and fermented bean foam; and the main of beef, a Wagyu tenderloin marinated in a galbi sauce, grilled over binchotan and served with Han's take on traditional barbecue accompaniments such as pickled sweet potato leaf, grilled king oyster mushroom, shishito peppers and daikon salad.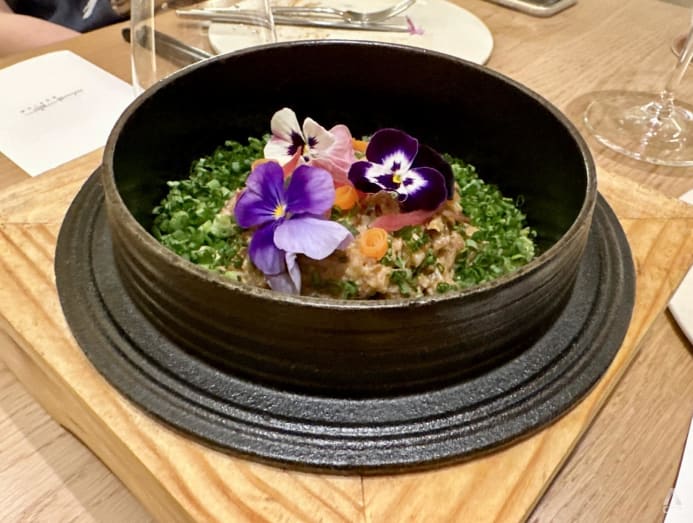 And, needless to say, it wouldn't be a Korean barbecue without a rice course – but the ubiquitous metal bowl of steaming white rice is reimagined here as a doeji-galbi bap or pork rib rice, featuring pulled Duroc pork rib braised and marinated with soy sauce, apple, pear, onions, potatoes and chilli; served atop a mix of barley, short white rice and brown rice, garnished with pickled onions, carrots, edible flowers and black truffle, and served with house-made pickles on the side.
Dessert is inspired by another mainstay at his home barbecues: 'Melon lime punch', a sorbet of fruit and mint on top of soju and lemon juice granita, with vanilla yogurt mousse, basil oil, aloe vera and roasted cashews.
Opt for the Signature menu and you'll also have Nae:um's classic dishes presented in different iterations with each seasonal change: Somyeon or Korean buckwheat noodles served with grilled Kurobuta black pork belly and cured tobiko sauce; and a dessert inspired by hoddeok, a popular street snack of cinnamon and brown sugar in a fried rice flour pancake – Han's version involves jujube ice cream, Medjool dates, puffed multigrain and charcoal tuile.
"Barbecue can be versatile, so I was actually worried that people might think that this is not the kind of barbecue they have experienced or have in mind," he mused. But, "This theme is inspired by my personal memories of barbecues in Korea, and not barbecue in general. Some expect the dishes to be seared, smoky and heavy in flavour, but my dishes may not be all that as they are from my memories of what I eat at my own home barbecues."
It's a menu full of nostalgia for the chef, who told us that he misses cooking outdoors in Korea during spells of good weather. "I used to like camping, and I would go to the mountains and cook whatever I had on hand in areas where cooking was allowed. I would gather stones to make a small 'oven' and get wood to start a fire to cook simple food.
"In Singapore, I occasionally organise barbecue sessions with my team at my place, and I still do it like a Korean barbecue – with kimchi, a lot of Korean-style salads and side dishes. Some of my team members bring their own sambal or achar, and the barbecue becomes very international."
Nae:um is at 161 Telok Ayer Street. Classic and Signature tasting menus are S$198++ for six courses and S$258++ for eight courses respectively.