Want a truly multi-cultural National Day meal? Try some 16-day dry-aged duck, thosai, kuzhi paniyaram and kueh
Chef Damian D'Silva of Rempapa is partnering with chef Marvas Ng of Path and Masterchef contestant Vasunthara "Vasun" Ramasamy for a special four-hands set dinner and set lunch respectively, to celebrate Singapore's 57th birthday. 
Widely regarded as the 'grandfather of Singapore heritage cuisine', Chef Damian D'Silva lives up to the name not only as a passionate main judge on TV show MasterChef Singapore, but also as the heart and soul of beloved traditional Singaporean recipes found at his restaurant Rempapa.
The 66-year-old has long been the champion of national food culture and cementing bonds between ethnicities. Which is why it should come as no surprise that D'Silva is partnering up with two other Singaporean chefs for a special four-hands set dinner and lunch to commemorate Singapore's 57th National day.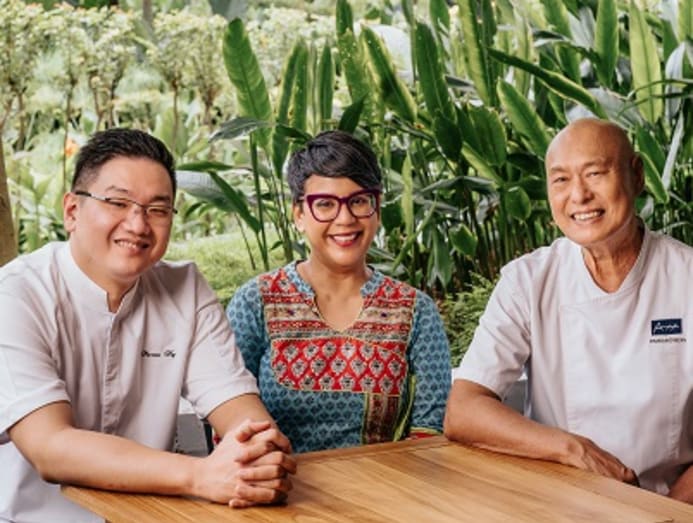 This is Rempapa's first multi-cultural collaboration and will feature chef Marvas Ng of Path and MasterChef Season 2 contestant Vasunthara "Vasun" Ramasamy, who together with D'Silva, are collectively determined to deliver the "Singapore soul on a plate".
D'Silva will team up with the respective guest chef to present a variety of dishes – some prepared using modern techniques, some steeped in lost traditions.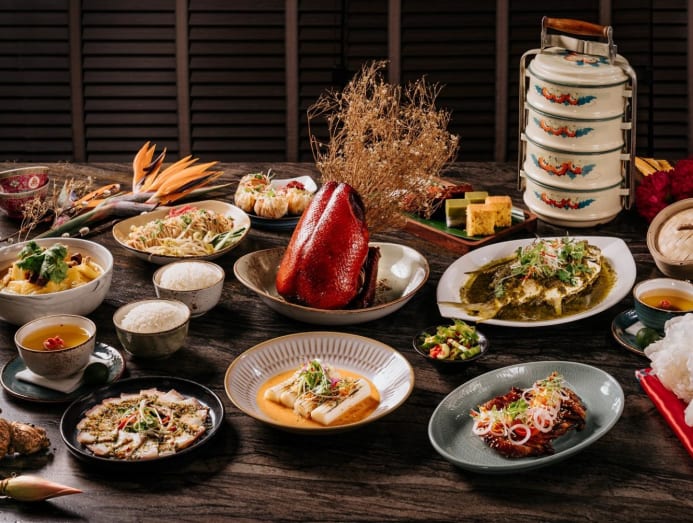 The first is a communal Chinese set dinner (S$168++ per pax for a minimum of four diners) with Ng, who is known for his uncanny coupling of Asian recipes executed with his French and European cuisine training.
The set will offer two dishes from D'Silva, two from Ng, and two collaborated dishes, in addition to two snacks and desserts.
Highlights include Ng's 16-day dry-aged duck served with caramel jus and Iberico pork jowl with tomato salsa and smashed cucumber salad; Rempapa's slow-cooked belly pork with Ah Seng Sauce and Chi Pao Kai, a beautifully rich Collagen Soup, slow-cooked for 12 hours and a deliciously piquant steamed golden pomfret with herbaceous sauce.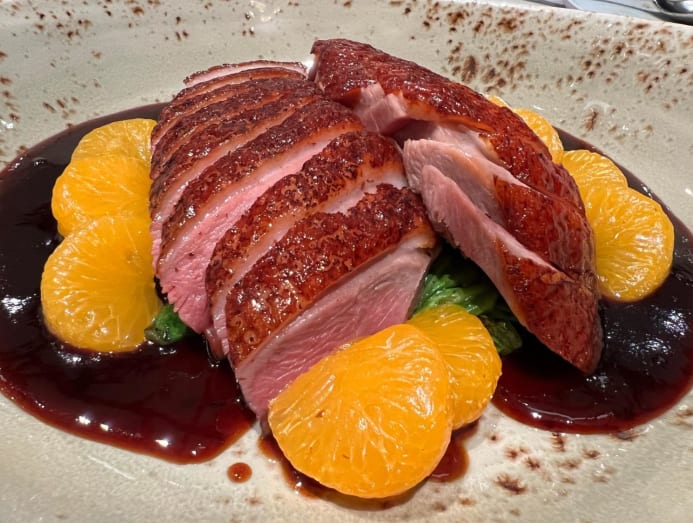 Inspired by the traditional Chinese roast duck, this version is marinated in smoked brine for five hours, drenched in 'crispy skin water' made out of light soy, hoisin, maltose and red vinegar, dry-aged for 16 to 19 days and then slow-cooked over binchotan and bathed with hot oil to achieve crisp on the skin.
The collaborative dishes are asparagus with house-made sambal juliana beurre blanc, and the bonafide standout- the chilled angel hair pasta with "Majiang" sauce.
For the special heritage South Indian set lunch (S$68++ per person; minimum four people), D'Silva will be working with Vasun who runs private dining sessions. This Indian feast comprises Vasun's three thosai and three chutneys (recognised as one of the best by those in the know), while D'Silva will offer three side dishes.
A definite winner is the kuzhi paniyaram (crisp fermented rice dumplings studded with ginger, coriander, and green chilli) – well-known snack in the Chettinad region – topped off with green coconut chutney. Offered on the side is peanut podi – this specialty from Andhra Pradesh is made with two types of chillies, white sesame seeds, roasted peanuts, jaggery, asafoetida, and toasted dried coconut meat.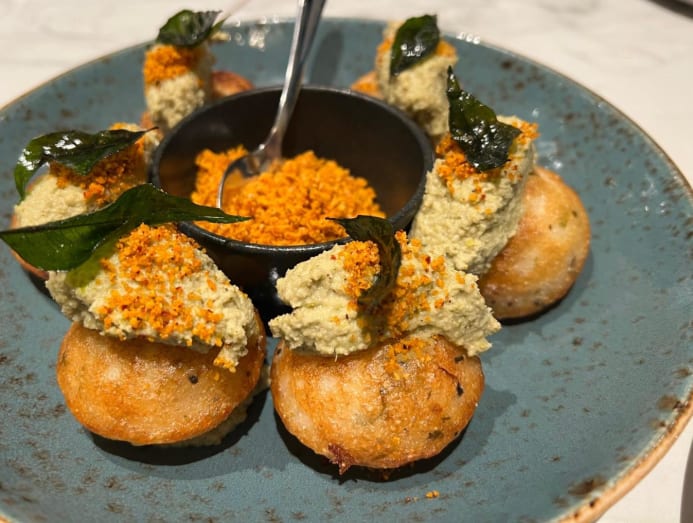 The thosai is exceptional: The golden brown masala thosai is made with parboiled rice and Vasun's personal blend of dried lentils, then stuffed with a flavoursome potato paly; while the egg podi thosai is served as an accompaniment to Rempapa's delicious Sri Lankan chicken curry.
There are also Vasun's three chutneys – the green coconut chutney, tangy tomato thokku, and the vibrant Tamil Nadu-style kaara chutney – that offer layers of texture and flavour to accompany the thosai.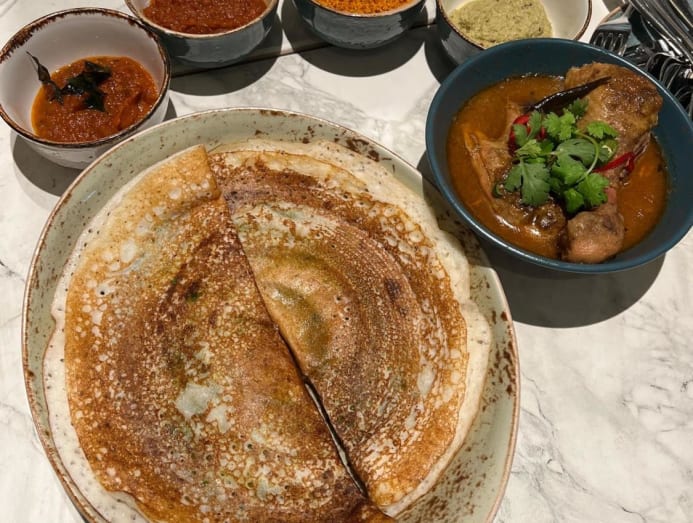 The extra two side dishes from Rempapa is the moreish flavourful dhal tadka and quintessential Sri Lankan condiment coconut sambol.
All set meals are rounded off with an assortment of D'Silva's popular kuehs.
In addition, Rempapa is offering a special multi-cultural takeaway kueh box (S$22) boasting traditional sweet treats from Chinese, Indian, Eurasian, Malay and Peranakan cuisines from Aug 6 to 9 Aug, all in celebration of our nation's birthday.
Rempapa x Path Chinese set dinner
6 August 2022, 6pm-10.30pm
S$168++ per person, minimum four people
Includes two snacks, six communal sharing main dishes, and two desserts
Rempapa x Vasun Heritage South Indian set lunch
13 August 2022, 11am to 3pm
S$68++ per person; minimum four people
Communal sharing dishes of three thosai, three chutneys, three sides, and one dessert
Visit Rempapa for more info.