Al fresco brunch and Australian farm produce at new Aussie-style grocery in Jurong
Surrey Hills Grocer is a lifestyle destination that brings sustainable produce from Australian farms to a perhaps unexpected location: Joo Koon. There's also a cafe with – what else? – avo toast, Proud Mary coffee and other brunch favourites.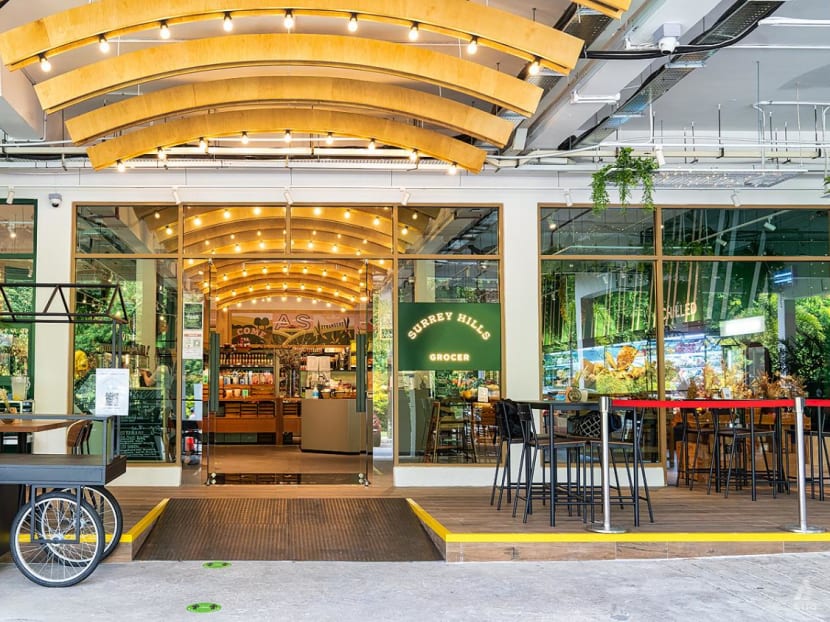 "If you ate today, thank a farmer" is the motto of new Australian-inspired gourmet grocer and cafe Surrey Hills, which prides itself on sustainable sourcing.
Tucked away in the Arena Country Club in Joo Koon, this cozy Aussie-style space runs on a direct-to-source business model, inspired by owner Pang Gek Teng's experience in Australia.
The 33-year-old ex-banker had initially intended to take a break in Australia after leaving her corporate job but ended up staying in Melbourne for five years, even starting her own grain bowl business, Surch in Melbourne. The business expanded into a three-chain outlet and was later bought over by an Australian company.
The gourmet grocery and cafe, named after Melbourne's Surrey Hills town where she lived before returning to Singapore due to the pandemic, is Pang's latest project.
 
They've just opened their doors to shoppers, but already have plans for a pop-up farmers' market and a collaboration with local ice cream brand Creamier featuring exclusive flavours made from Australian dairy products air-flown from farms, as well as dog-friendly ice cream.
For the time-pressed, Surrey Hills is also a drive-through grocer – their "direct-to-boot" concept allows customers to place orders online and have goods loaded into their car boots. There's also islandwide delivery for a fee.
But if you're hankering after a novel lifestyle experience – especially if you live in the west – here are five more things that might entice you to check the place out.
1. ALL-IN-ONE GOURMET GROCER
Stepping in, the first thing you notice are the tangy smells of yuzu and grapefruit coupled with the sweet smell of white tea, sourced directly from farms. The store has offerings ranging from everyday fresh produce to personal care products colour-coded and neatly displayed on shelves.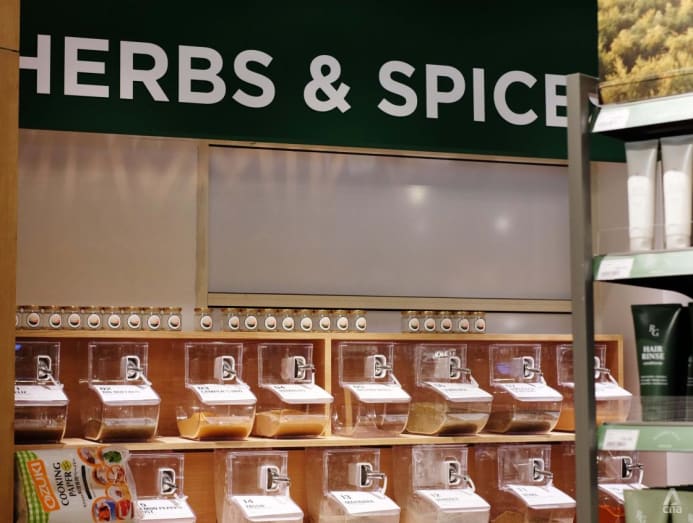 With the concept of farm-to-table, all products are directly imported from Australia or locally sourced. 90 per cent of the Australian brands in the store are exclusive to the grocery, like handcrafted premium chocolate brand Koko Black, and Rich Glen, a family-run olive oil-based brand that also makes skincare essentials. Other Australian products stocked include Yarra Valley preserves and Ripple Effect Tea Co.'s seasonal selection of handcrafted teas. And local aeroponic farm Straits Agriculture supplies vegetables and fruits exclusively to Surrey Hills Grocer.
The store also imports meat and dairy products such as cage-free New Zealand and Australian eggs, and a range of Australian yogurts and cheeses, with new stock arriving each week.
Items at Surrey Hills are sourced directly from farms and producers and benchmarked against their retail prices in Australia. With fewer middlemen and more supply chain transparency, Pang aims to provide an affordable shopping experience while doing right by farmers and producers.
2. FLOWERS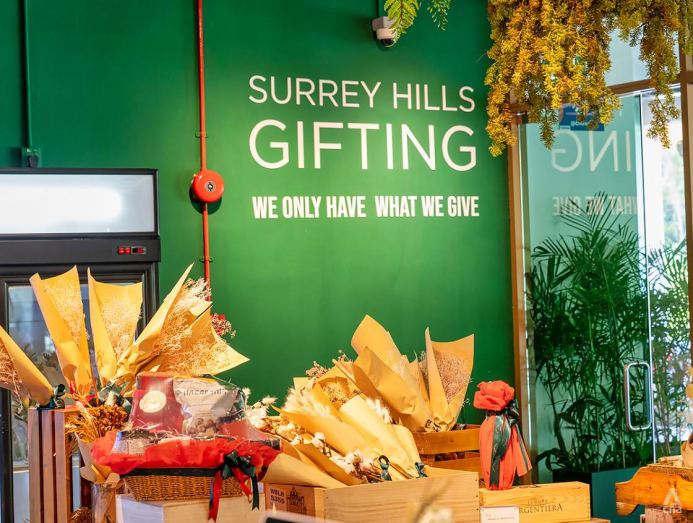 Visitors are welcomed by a display of flowers right at the door. Fresh from the farms, the blooms are from The Flower Factory, a local family-owned florist. Shoppers can choose from an array of seasonal flowers from New Zealand, Australia and Singapore, which make lovely gifts or statement decor pieces for the home.  
3. WINE
Walking down the spacious aisles, the next thing that catches your attention is the wine collection. With Singapore's largest selection of Australian wines in one place, bottles are sourced directly from the Australian vineyards, and you won't find these labels in other supermarkets. Of course, you can also find well-known favourites such as Contessa Rosa.
4. HERBS AND SPICES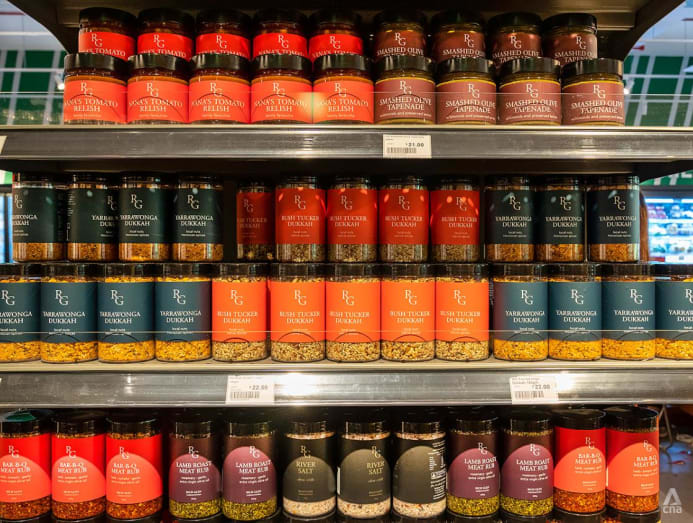 One of the main highlights is the spice section, featuring 24 different blends of spices curated based on Pang's Surrey Hills memories. Her idea was for the blends to reduce the hassle of making a steak dinner or having a barbecue night. The selection ranges from Camer's BBQ and Surfers Paradise blends to the Lawrence steak rub from Lawry's Prime Rib founder Lawrence L Frank's recipe, and Surrey Hill's own The Surrey Blend, an all-in-one blend for all types of dishes.
5. BRUNCH-STYLE CAFE  
If you get hungry from all that shopping, or you're just looking for a new place to hang out, Surrey Hills Cafe offers a 38-seat, pet-friendly dining area and a breezy al fresco experience. With a minimalist design and nature-forward vibe, the space celebrates Australian brunch culture.
The cafe says the menu was created in consultation with an Australian chef from a Michelin-starred restaurant in Singapore (although they won't say who). Expect brunch favourites like avo toast with whipped ricotta and vegemite (S$19), steak sandwiches (S$25) and crayfish eggs Benedict (S$24).
Cafe aficionados will appreciate that the place serves coffee brewed from beans supplied by well-known Australian coffee brand Proud Mary, which also prides itself on sustainable sourcing. And there's also a bakery offering pastries and cakes. Coffee break, anyone?