Le Matin patisserie opens at ION Orchard with bistro-style food like mussels, waffles and pie
The patisserie by chef Mohamad Al-Matin has a new home, along with cozy seating, a sleeker new logo and plenty of new menu items. It opens Feb 1.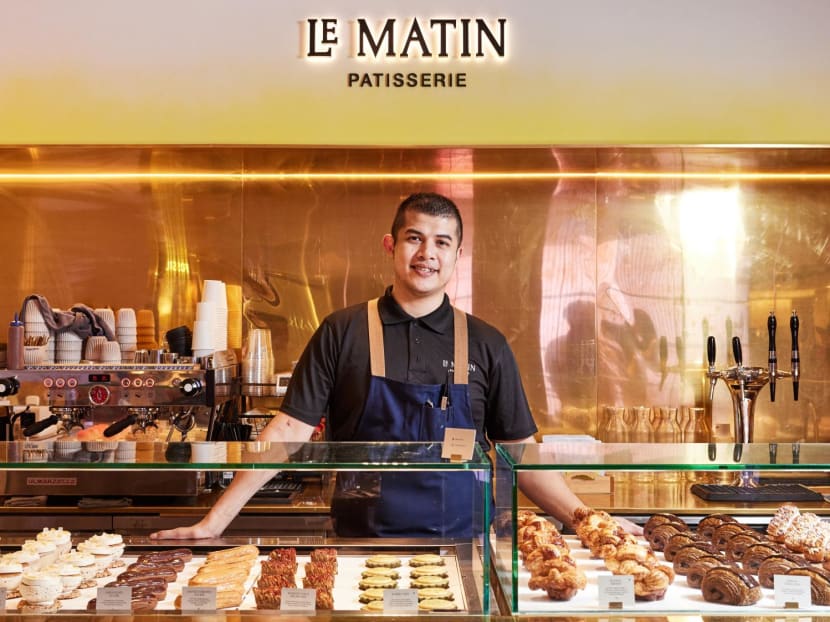 Le Matin, known for covetable croissants, cakes and other pastries, now has a spanking new cafe at ION Orchard. The 37-seat space, tempting passers-by in with its big, shiny pastry display case, offers not just the bakes it is famous for, but also brunch, dinner and sit-down desserts to linger over. Not too shabby at all, for a bakeshop that started out as a one-man pandemic business.
Chef Mohamad Al-Matin's training may be in fine dining – he was a pastry sous chef at Noma for two years, and is a Restaurant Andre alumni – but here, his aim is to bring the quintessential French bistro experience to the heart of Orchard Road.
"When I was in Paris, I went for moules marinieres, French onion soup – typical bistro food. It's what I wanted to bring here," he said.
With the closure of the Le Matin cafe at Robinson Road and the cessation of sales at its original Raeburn Park outlet, this new location offers the opportunity to expand his offerings and reach a new group of hungry people.
"It's a French patisserie, I didn't think people were gonna be eating croissants at night, so we came up with a small menu," he said. The food is "whatever I like to eat, my style, my way, and I hope that people like it".
Brunch plates are "my usual playful take" on how pastries can pair well with steak, seafood and more.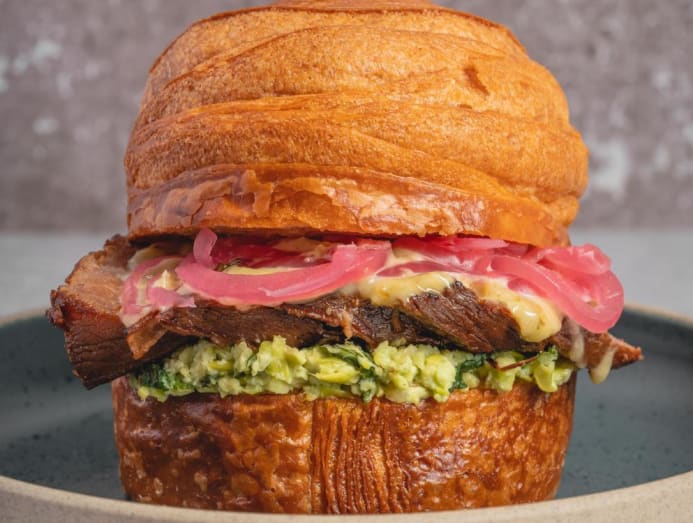 The Chutoro Brioche Feuilletee (S$38), for example, features just-seared tuna with sea urchin butter, edamame mash, wasabi yuzu mayo and pickled red onions.
And the Crab, Caviar & Waffles (S$24) is a dish of fancied-up comfort food: Scandinavian seafood butter waffles and a big dollop of crab claw tartare with lemon thyme, chives and shallots, topped with caviar and served with a taramasalata dip.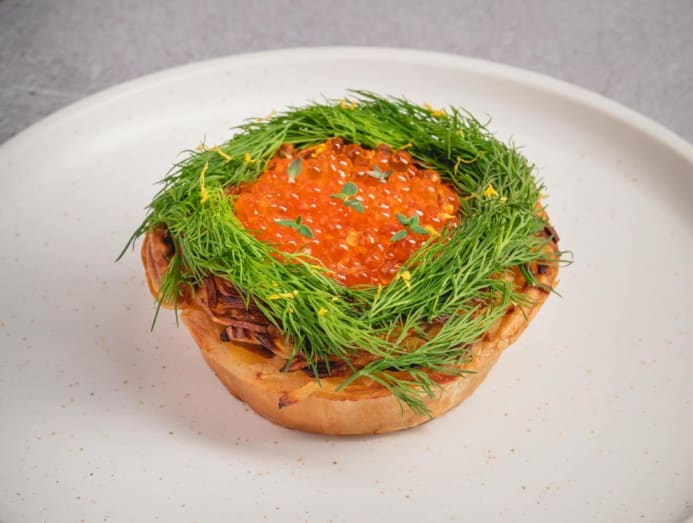 Favourites like the Seafood Pot Pie (S$24) are still here, with its crisp and creamy bites of snapper, salmon belly, tiger prawn, scallop, mussels and clams with bechamel and mashed potatoes, garlic rosti and a crowning of trout roe.
The cafe also serves a list of wines and cider, coffee brewed with an exclusive blend created in collaboration with Nylon Coffee Roasters, and a collection of house-made kombuchas.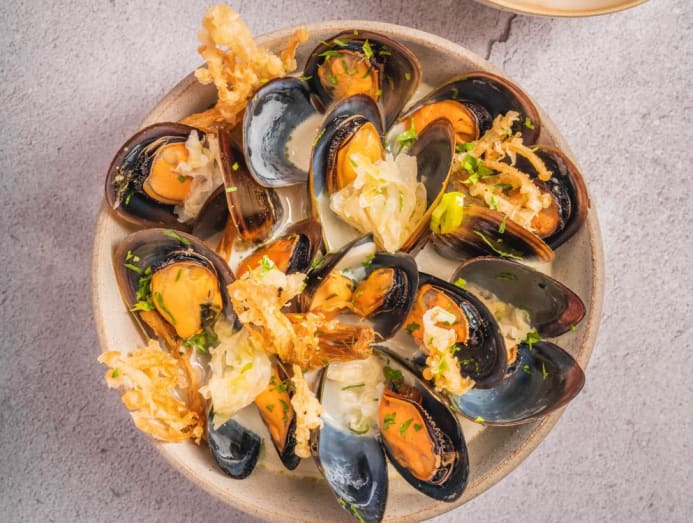 If you're popping by for dinner, dishes to choose from include white wine-poached blue mussels, enoki fritters and parsley oil served with toasted brioche (S$28); roasted free-range chicken leg with truffle mushroom orzo, sauteed kale and chicken jus (S$32); and steak tartare with smoked egg yolk, rose aioli, horseradish mustard and sourdough (S$28).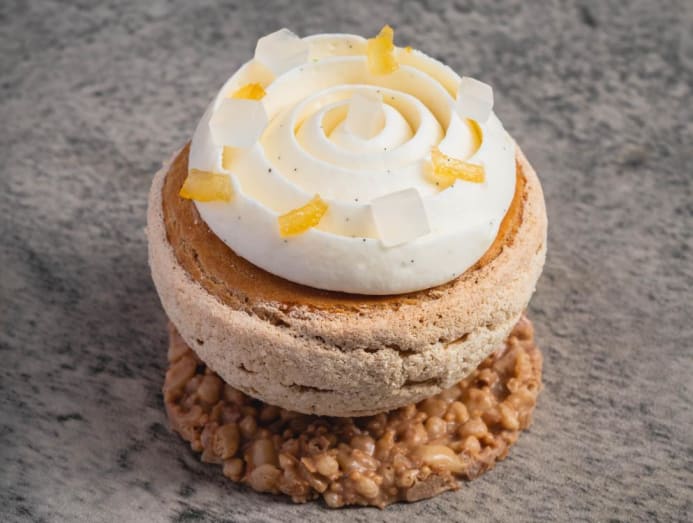 There are new sweets, too, like a Roasted Hay & Pecan Tart (S$9) and a Sake Lees & Macadamia Choux Bun (S$14).
The playfulness continues with desserts such as a cheesecake labelled "Fromage de vos Reves" or "the cheese of your dreams" (S$21), comprising Brillat-Savarin mousse, reblochon cremeux, comte sponge, milk crumble glaze and creme fraiche ice cream. This dish is an homage to chef Andre Chiang of Restaurant Andre, who served a version of a camembert dessert wrapped with a milk skin, Matin shared.
"Many people know that I worked as a pastry chef in fine dining for a very long time and I'm comfortable with doing desserts, so I just want to showcase a few, but in a simple style," he said. But, "I don't like to call them 'plated' – it's too much of a culinary school term. To me, desserts are desserts, cakes are cakes, tarts are tarts."
With a "more global" crowd at ION Orchard, Matin hopes to "reach out to a bigger audience" and "show the people who have not heard of me before what I have done and what I can do."
The dream, though, is still, as he has always shared, to also have "a quaint little patisserie" in a three-storey shophouse "where people can bring their dogs and kids", and this cafe is a big step in the right direction.
Le Matin Patisserie opens Feb 1 at ION Orchard, #B2-49, 2 Orchard Turn. It serves pastries all day for dine-in and takeaway, brunch from 11am to 3pm (last order 2.30pm) and dinner and desserts from 6pm to 10pm (last order 9.30pm).