After Miznon's casual pitas, the new North Miznon offers Israeli food with flair
Hot on the success of the first Miznon, Israeli MasterChef judge Eyal Shani offers something a little more elaborate but no less fun just a few steps away at his new restaurant.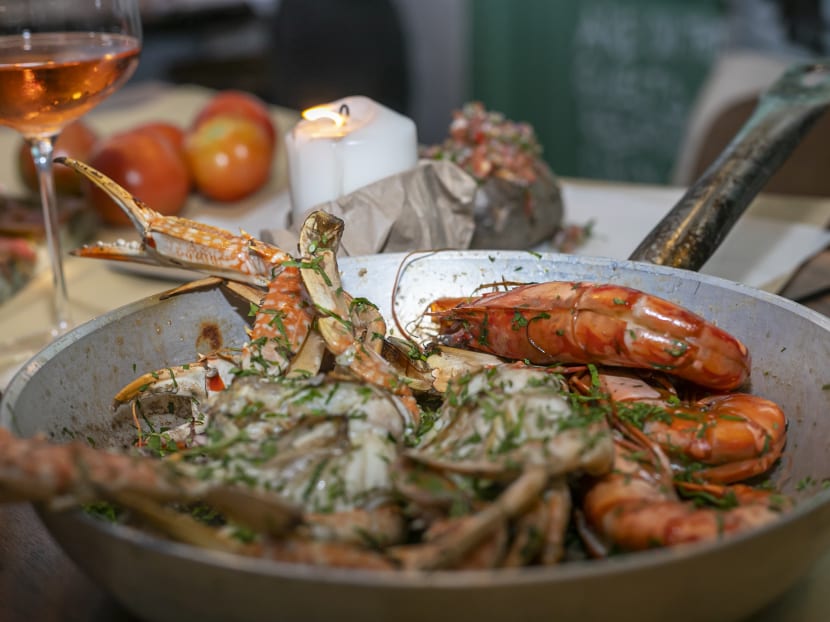 In the year or so since it's been open, casual Israeli pita-focused eatery Miznon has amassed a lot of fans, as can be seen from the lines that form outside its Stanley Street restaurant.
So it's no surprise that they've opened a new concept, also by Israeli MasterChef judge Eyal Shani.
Located just a few steps away at Amoy Street, North Miznon, which also has outlets in Tel Aviv, New York City and Vienna, is a slightly more grown-up, dressed-up space.
Instead of eat-with-your-hands, grab-and-go pitas, North serves up dishes that are good for sitting down and sharing over a bottle of wine or some Israel-inspired cocktails.
A dish of wild grouper and Mediterranean vegetables, for instance, comes to the table with flames dancing in the pan.
And the beautifully arrayed seafood platter of crabs, prawns and squids looks almost smug in the knowledge that it will have everyone at the table reaching for their phones to snap a photo.
While some of the dishes may look fancy-fine – sirloin roast beef carpaccio or giant octopus carpaccio served on a large rock, anyone? – the food is, at its heart, compellingly simple and heartfelt.
Chef Eyal Shani, while he was here in Singapore for a few days to help kick off the restaurant, made it a point to visit wet markets such as Tekka and Tiong Bahru in search of the freshest local produce, then created dishes as inspiration hit.
The results are nothing to sneer at. A whole head of Indian cabbage, slow-roasted in its own juices until fall-apart tender and served simply with a spoonful of sour cream, turned out to be my personal favourite – and I don't even really like vegetables.
But it's really the treatment of vegetables that stands out here, as you can tell from one of the signature dishes: Naked Heirloom Tomato Mosaic sliced thinly and arranged on a slab of marbled rock, carpaccio-style; drizzled with olive oil and sprinkled with salt. The tomato is Shani's absolute favourite food and life obsession – even his Instagram handle is "Eyaltomato".
While the food is delightful, the perhaps even greater talent of the Miznon people lies in creating an atmosphere of warmth, buzz and conviviality.
The brightly-lit open kitchen, presided over by head chef Or Hakmimi, shares its bustle of activity with the whole dining room by way of a clanging bell.  
And every now and then, a fresh tray of on-the-house signature focaccia with tomatoes, onions and green chillies is carried out and – not sliced but chopped into portions with a cleaver, for that local touch. This is Shani's idea – he was inspired when he watched a hawker chopping up chicken at Maxwell Food Centre.
Grab the focaccia even if you're full – you don't want to miss the pleasure of mopping up leftover sauces with it.
Dessert is so laid-back, it will take you right back to your kindergarten days: Get the Cardboard platter to share, which is literally a portion of each of Miznon's desserts haphazardly piled onto a piece of cardboard. There's Malabi, an Israeli milk pudding in fresh strawberry sauce; creme caramel; gluten-free chocolate cake; and a deliciously spiced "ants' nest cake with Queen Hajar shiny glaze", a dark honeycomb slice with notes of caramel and ginger.
It will certainly encourage you to linger and enjoy the atmosphere.
North Miznon is at 110 Amoy Street. It's currently only serving dinner, but will open for lunch at a later date.