We made the New York Times' 'Singaporean chicken curry' so you don't have to
CNA's Ainslee Asokan made the dish from the New York Times' recipe and got her 86-year-old grandmother to taste test the result. Here's her verdict.
You would have seen memes and snarky takedowns of the "Singaporean chicken curry" from the New York Times after the US-based news outlet posted an Instagram video tutorial on how to make the dish, based on a recipe originally from a Singaporean of Indian and Vietnamese descent. 
In the video, the curry resembled a grey slurry with pale chicken, visibly missing the vibrant colours that curries usually have. The accompanying recipe also called for the likes of pandan leaves and chicken stock – ingredients not typically associated with the South Indian curry enjoyed in this Singaporean household – and omitted certain ingredients like curry leaves.
We decided to try the New York Times recipe ourselves and let my 86-year-old Indian grandmother (i.e. your typical Asian grandmother who believes steadfastly in her own cooking) give her verdict on the curry. 
Full disclaimer: I am not an experienced cook. I can cook simple meals so I'm not in a constant state of hunger, and I grew up in a South Indian household, watching my grandmother and mother cook chicken curry as a staple dish often accompanied with rice.
Here's the recipe we followed:
Ingredients:
6 skin-on, bone-in chicken thighs (1.5kg)

2 tablespoons lime juice

2 tablespoons minced garlic

2 tablespoons minced ginger (we used grated ginger to allow the flavours to incorporate itself better)

2 ½ teaspoons ground white pepper

 Fine salt

¼ cup ghee or canola oil (we opted for canola oil)

1 medium red onion, thinly sliced

1 cinnamon stick, preferably Indian

3 cardamom pods

1 whole star anise

4 whole cloves

4 fresh or 8 thawed frozen pandan leaves, knotted

2 teaspoons Kashmiri chile powder or other ground red chile (we used chilli powder)

2 teaspoons ground coriander

1 teaspoon ground turmeric

1 teaspoon ground fennel

2 cups low-sodium chicken stock

¼ cup coconut milk

Nasi biryani

 or plain steamed basmati rice, for serving (we used regular, white rice)
Steps:
1. Pat the chicken thighs dry with paper towels and combine with the lime juice, 1 tablespoon garlic, 1 tablespoon ginger, 1½ teaspoons white pepper, and 1 ½ teaspoons salt in a large bowl. Mix well, cover and refrigerate for 40 minutes.
2. In a large wok or Dutch oven, heat the ghee over medium-high. When the ghee is hot and shimmering, wipe the marinade off the chicken and add the chicken in a single layer. Sear until light golden brown, 3 to 4 minutes on each side. Remove the chicken to a plate and set aside. 
3. Reduce the heat to medium-low and add the onion, remaining 1 tablespoon garlic and 1 tablespoon ginger. Cook, stirring occasionally, until the onion is soft and translucent, about 5 minutes. Add the cinnamon, cardamom, star anise and cloves, and cook, stirring, until fragrant, about 1 minute. Add the pandan leaves, chile powder, ground coriander, ground turmeric, ground fennel and remaining 1 teaspoon white pepper, and stir until it smells lovely, about 10 seconds.
4. Add the chicken and stir until it is completely coated with the aromatics. Pour in the chicken broth, and bring the mixture to a near boil. Reduce the heat to low, cover and gently simmer until the chicken is tender and cooked through, 15 to 18 minutes. Stir in the coconut milk and simmer briskly to concentrate the flavors, 5 to 8 minutes. Add salt to taste. Turn off the heat and serve with nasi biryani or basmati rice.
COOKING THE DISH
When I announced to my family that I was going to try the recipe, it was met by my mother with some curiosity (at the mention of pandan leaves) which turned into incredulity (when I said it called for chicken stock).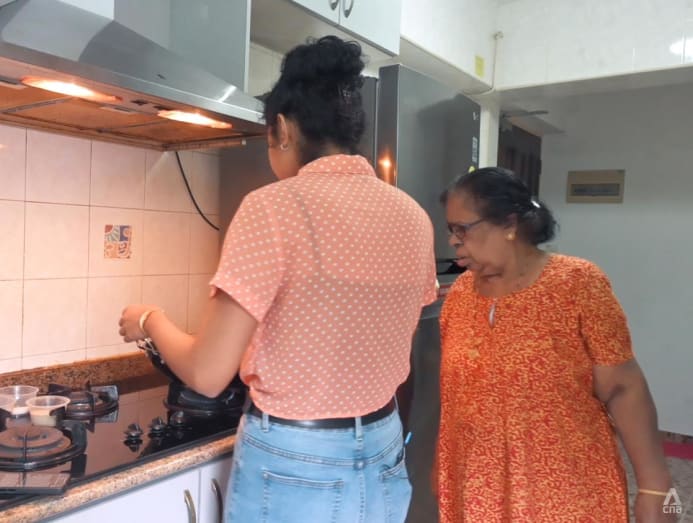 You see, in our South Indian household, instead of chicken stock and coconut milk, we rely largely on the moisture from a ginger-garlic paste, onions, natural juices from the chicken and a small amount of water to form the gravy. And in place of pandan leaves, we tend to use curry leaves instead.
And as I started preparing the dish, my grandmother found it odd I was cooking the chicken first as she normally prepared the base and then added the chicken towards the end. The lack of masala or curry powder, and curry leaves was also jarring to her – but she was prepared to keep an open mind.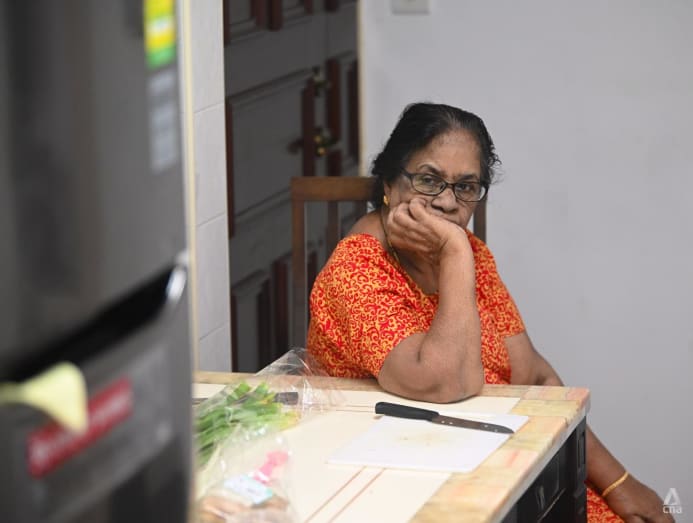 Throughout the cooking process, she also kept yelling out to me: "Add the green chilli and curry leaves." (Sorry grandma, this particular recipe didn't call for it). For her gravy, she uses curry leaves in place of the pandan leaves, as well as fresh green chillies, tomatoes, potatoes, onions and a ginger-garlic paste. 
THE RESULT
The most notable difference between our final product and that of the one in the NYT video was the colour – ours was mostly a tan gravy that sometimes appeared red as the oil settled at the top. We used chilli powder, whereas it seemed like ground chilli was used in the New York Times' video, and that might have accounted for the colour difference.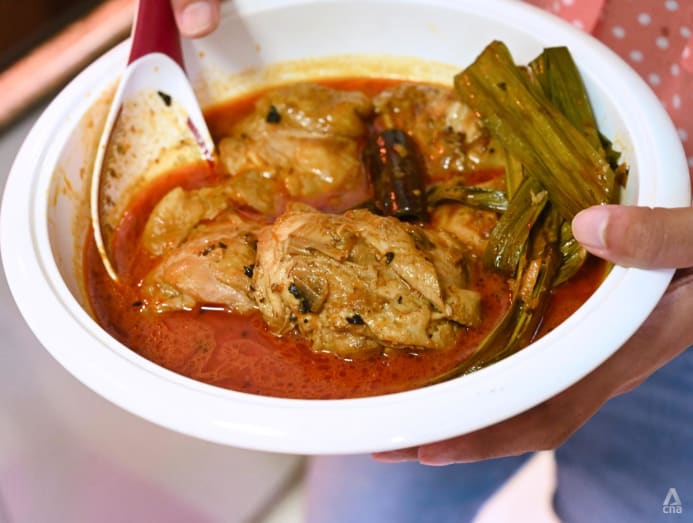 We also opted to grate the ginger instead of mincing it so that it would incorporate better into the marinade. Our attempt was a tad thicker than the video too, but by no means similar to the consistency of curry I'm used to having. It was hard for me to imagine mopping up carbs like rice, prata or bread with the curry we cooked because it was far too thin.
THE VERDICT
When I presented the dish to her, her main gripes were the watery consistency and a noticeable lack of the fiery kick you'd typically get from curries.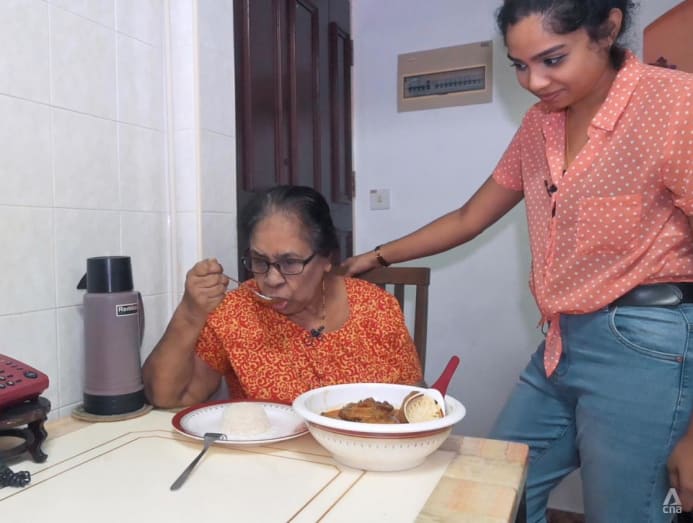 The chicken we made – marinated in lime juice, salt, pepper, ginger and garlic – was still too underseasoned for her as she kept dousing it in the sauce to add more taste to it. She said that in her version of a chicken curry, she marinates the chicken with chilli powder, coriander powder, turmeric powder and salt for 10 minutes.
Overall, she rated our attempt at the New York Times' recipe a 7 out 10 – but as a soup dish … not a curry.
Her verdict was that it was tasty enough to be drunk on its own as a broth or soup, but that she wouldn't pair it with rice and call it a curry. 
Her parting shot, when I asked if she'd like me to make it again: "No.
"It didn't capture the essence of chicken curry for me. If you made it like how I usually make it, I'd consider it."