Crisp, light and non-oily: The Osaka-style tempura in Singapore you didn't know about
At Ippoh Tempura Bar, which traces its lineage to a 150-year-old family-run restaurant in Japan, even the humble supermarket eggplant can turn into the Cinderella of eggplants.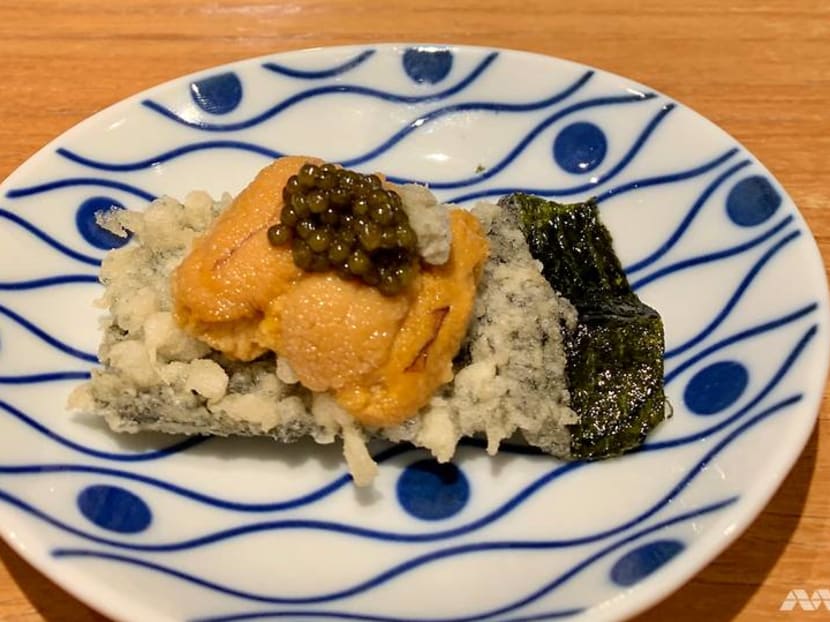 We all think we know tempura – it's one of the most readily accessible styles of Japanese cooking – but as it turns out, not all tempura are created equal.
Osaka-style tempura, for instance, uses a much lighter batter that is crisp, not crunchy. And if you ask Chef Masaru Seki, the fifth-generation tempura specialist of Osaka's oldest tempura restaurant, Ippoh, it's exceedingly good at highlighting the natural flavours of fresh ingredients.
"In general, Tokyo-style tempura is the most popular in Japan. It is mostly fried with sesame oil, and enjoyed in a harmony of flavours and ingredients. But in Osaka and Kyoto, chefs focus on the natural flavours of the ingredients, as well as defining their own taste," he said.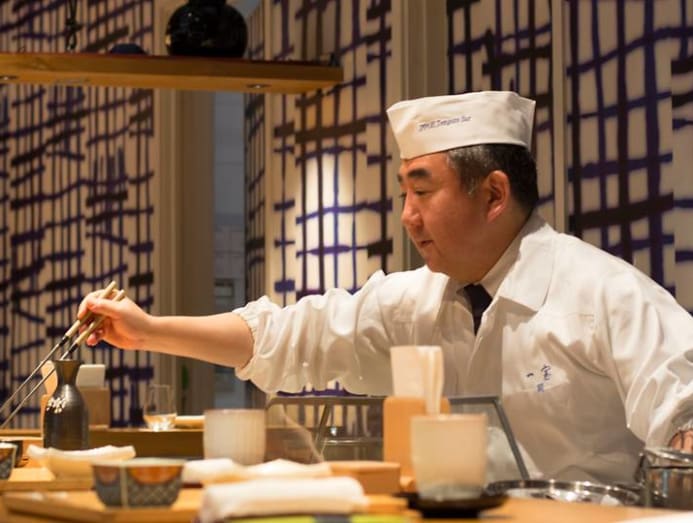 He added: "Perhaps it is a shame that people think tempura is fried in oil to hide the 'badness' of ingredients."
Towards the end of our dinner at Ippoh Tempura Bar by Ginza Ippoh, located at Como Dempsey, Yamamura Katsuhiko, who heads the Singapore restaurant team, deftly fished a piece of eggplant tempura out of his wok of bubbling oil and placed it proudly onto our plate. It tasted remarkable. We had had an omakase menu of seasonal seafood and vegetables flown in from Japan. But this eggplant, he said, was simply local eggplant from a ubiquitous supermarket chain – the one where your mum and ours shop for groceries. How had he made it sing? By knowing exactly how to batter and fry it.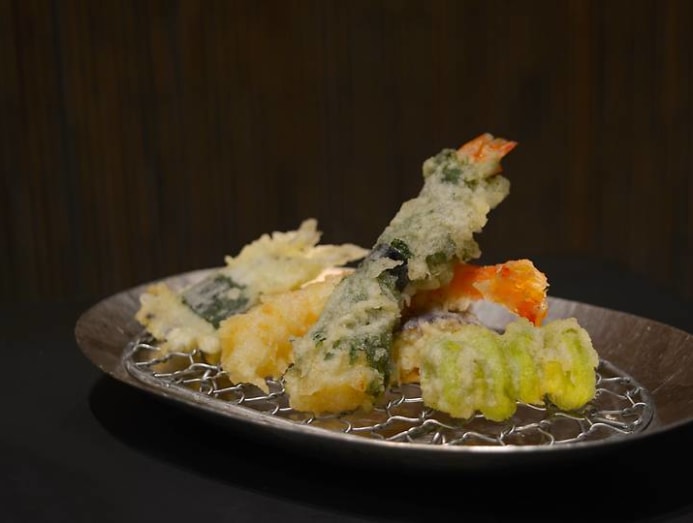 Ippoh is an outpost of the restaurant of the same name in Tokyo, which in turn has its origins in Osaka. At over 150 years old, Ippoh is Osaka's oldest premium tempura restaurant and has served up its traditional recipes since 1850. As a member of its founding family, tempura batter runs in Masaru's blood.
"Our house-style and philosophy is to make the lightest tempura possible, where you do not feel the oil even though a tempura is deep-fried in oil – for that, we use only very fresh safflower oil," he explained. "It is also about respecting the integrity of the ingredients by keeping the batter as light as possible in both texture and flavour, so that you can taste the distinct flavour of each ingredient."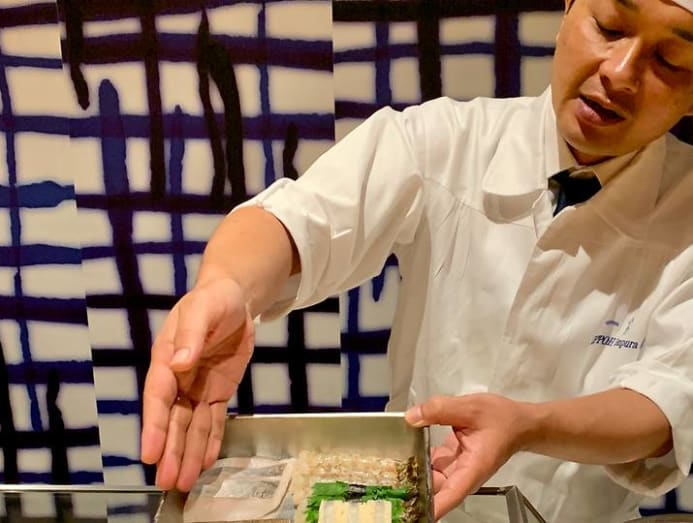 Besides serving up premium ingredients flown in from Japan, "We incorporate several kinds of vegetables that can be bought locally, such as shiitake mushrooms, asparagus, eggplants for our tempura," Yamamura said. "The Ippoh-style tempura focuses on valuing the original taste, flavour and aroma of the ingredients. Because of that, we work to bring out the most of the original taste by adjusting the thickness of the batter and oil temperature of each individual ingredient to allow diners to best appreciate its natural flavours."
This means that even your standard-issue eggplant can turn into the Cinderella of eggplants, when clothed in the right tempura-batter dress.
At the same time, in order to appreciate your meal fully, you'll want to be especially mindful.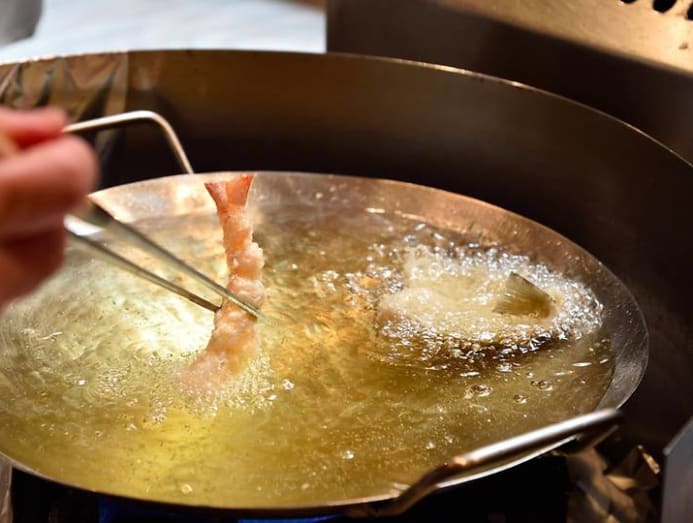 "Freshly fried tempura is hot and some diners wait for it to cool down to eat. For that reason, the tempura batter becomes soggy, especially for ingredients that contain higher levels of moisture. It is important for diners to eat the tempura quickly when they are freshly fried and presented," Yamamura said.
That's why, if you spend too much time trying to take the perfect photo of your tempura, you might notice him observing you intensely while trying to conceal his concern.
"There may be tempura out there that do not become soggy even when cooled, but our tempura is delicate," he said. "Our batter is made using all natural ingredients – water from Japan, egg yolks and high quality 100 per cent wheat flour, which means there are no additives in the mix to keep the tempura crispy when it's left sitting around."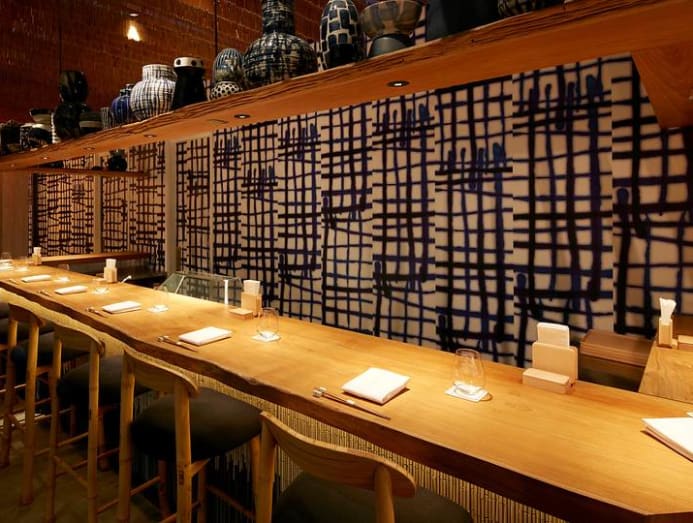 You should also pay close attention to him when he tells you whether you should be dipping a particular piece of tempura in salt, squeezing a bit of lemon on it or dipping it into house-made tempura sauce with grated radish – he'll be watching you, because he's taken it upon himself to make sure you get the most out of your meal.
"I think it is important to communicate with the chef when eating at the counter, not just focus on eating the tempura," Masaru said. "When you know the ingredients and techniques of cooking, your meal will be more fun and interesting."
And if you watch closely, you'll see how the chef prepares a different batter for different ingredients, mixing up the ratios of flour to water, the temperature of the oil and even the number of beats he gives the batter. It's no mean feat, especially when he has to serve an entire counter of guests – only a highly experienced chef can pull this off.
"The chef's experience and knowledge is essential as he must make the right decisions in how he prepares and makes each tempura. He also has to be calm always, and be very stable in both mind and body," Masaru said.
It's a subtle art – and one that produces pronounced satisfaction.
Ippoh Tempura Bar by Ginza Ippoh is at Como Dempsey, Block 17B Dempsey Road.