This first-time hawker started selling deep-fried oyster cakes after quitting his job as a graphic designer
Edmund Lye hasn't told his mother-in-law about his stall, Oyster Boy, at Golden Mile Food Centre. "I don't dare to tell her 'cos she'll say, 'Why are you doing this when you have a good office job? What if you don't succeed? What's going to happen to your wife and kids?'"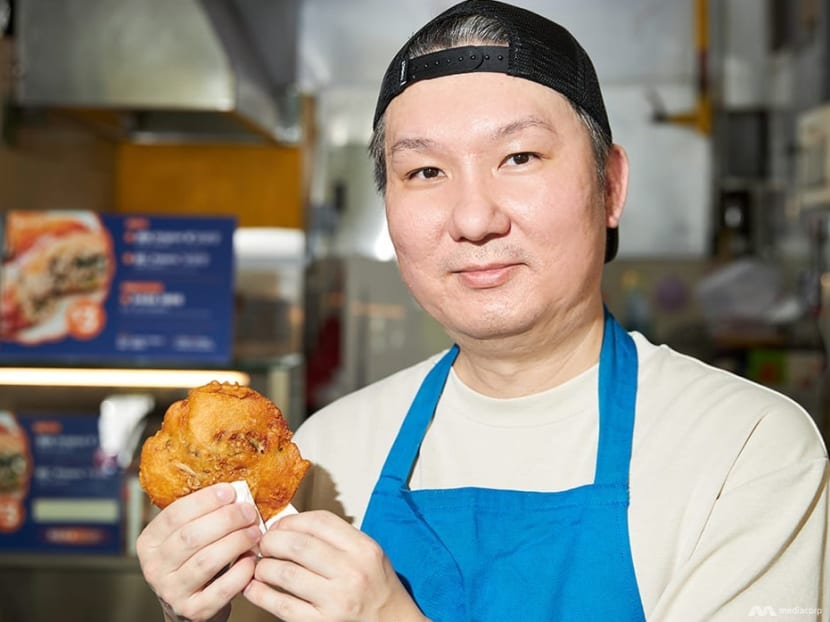 "You can say I am going through a midlife crisis," quipped Edmund Lye, 42, when 8days.sg asks the first-time hawker why he decided to start Oyster Boy, his three-month-old stall selling deep-fried oyster cake at Golden Mile Food Centre.
Lye quit his job as a graphic designer in an SME last April after more than 15 years in the advertising industry to spend more time with his two daughters, aged four and six. Though he initially never thought of going into F&B, he decided to switch careers after working freelance for half a year. 
"I was tired of working in advertising. It was very stressful 'cos of the long hours and deadlines. Also, advertising trends are changing quickly. Now everything is about video production, and I'm not able to keep up with the youngsters, so I decided to start my own F&B business. It's the next thing I'm familiar with besides design work, 'cos I cook occasionally," said the chatty boss. 
"When you have kids and a family, there are a lot of responsibilities on your shoulders. My wife is still working (she does account servicing in an advertising firm), which is why I dare to take this risk. If I stay in my old job, I'd be in my comfort zone forever."
'SCARED TO TELL MY MOTHER-IN-LAW ABOUT THE BUSINESS'
Lye invested around S$20,000 to open the stall, situated beside the popular Golden Mile Curry Rice, in March. He runs the business with his mum, who used to work as a cook in a zi char stall. He chose to sell traditional Fuzhou oyster cakes, savoury fritters stuffed with minced meat, oysters and chives, simply because he likes to eat it. The snack, sometimes called UFO as it's shaped like a flying saucer, is also not very commonly found in Singapore.
For someone from the advertising industry, Lye is surprisingly low-key about his venture. There is no information about the business on its Facebook page, only an image that says "work in progress". In fact, apart from his immediate family, no one knows about his business. But he did design his stall's signage and logo, which are minimalist with a touch of Japanese chic.
"Even my mother-in-law doesn't know. I don't dare to tell her 'cos she'll say, 'Why are you doing this when you have a good office job? What if you don't succeed? What's going to happen to your wife and kids?'" Lye mused.
"Also, to me, you can't ask your relatives and friends to buy [stuff] from you. You get the impression you are doing well, then a few months later when they stop buying, sales drop. I hope [my friends and family] only find out [about Oyster Boy] when the business is stable, and I'm making money."
RECIPE INSPIRED BY JALAN BESAR'S FU ZHOU POH HWA OYSTER CAKE
Lye's love affair with oyster cake started in his teens when a friend introduced him to hawker stall Maxwell Fuzhou Oyster Cake. His favourite is the one from Fu Zhou Poh Hwa Oyster Cake at Berseh Food Centre in Jalan Besar. "Wah, so good! My wife and I enjoy it – we eat it once a month," he said.
He likes it so much, he modelled his oyster puffs after theirs by reverse engineering the ingredients. "It's the best. If [the lady boss] was willing to accept me as her apprentice, that would be my dream. But I don't think she will lah 'cos she said previously in an interview that she'd only teach [her recipe to] her own family members. So, unless I marry her niece or daughter…" he joked.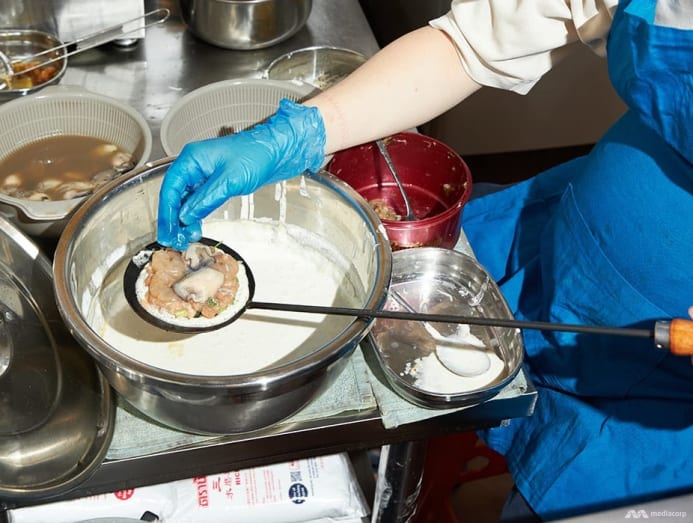 Prior to starting the business, Lye had never tried making his own oyster cake. It took him six months to come up with his recipe. "Taste-wise, when I first started out, I used the Jalan Besar stall's oyster cake as a base, but slowly I made some modifications and steered away from it as I prefer the minced meat to be more tender and moist," said Lye. 
"I wouldn't say the taste is close – it's different. Their oyster cakes are very fragrant. When I smell it, I already start [salivating]. I can eat three or four in one sitting." Refreshing that he is talking up his business rival.
OPENING KINKS
Like most new businesses, there were hiccups, from netizens' feedback on their oil being too dark to the fritters not being fully cooked. 
He's also had to deal with complaints about the long waiting time during the lunch rush hour. Cooked a la minute, the puffs take about five minutes to make from start to finish. It doesn't help that Lye's small fryer can only cook six oyster cakes at a time.
"The office crowd cannot wait. So initially, a lot of customers would cancel their orders. Sometimes during lunch time, I will cook some oyster cakes in advance. If not, I will lose a lot of business," he shared.
SOLD ONLY 20 OYSTER CAKES A DAY INITIALLY
While Lye admits that business is still rather slow, it has improved from the early days when he sold just 20 oyster cakes a day. 
"I lost money in the first month. Things picked up in the second month and I managed to break even. Some days I can sit here playing with my mobile phone the whole day. This is also why I am scared to tell my mother-in-law about the business," he said candidly. 
Lye plans to break the news to her when the business is profitable, but if she learns about it through this article, then it "can't be helped". His wife, though initially sceptical about whether it will take off, has been supportive. "She knows I was very jaded with advertising. She was like 'You do you lah, as long as you pick the kids up from school'," he shared.
On an average day, he sells around 100 oyster cakes, but admits he needs to work on boosting sales – he's currently not drawing a salary and relying on savings.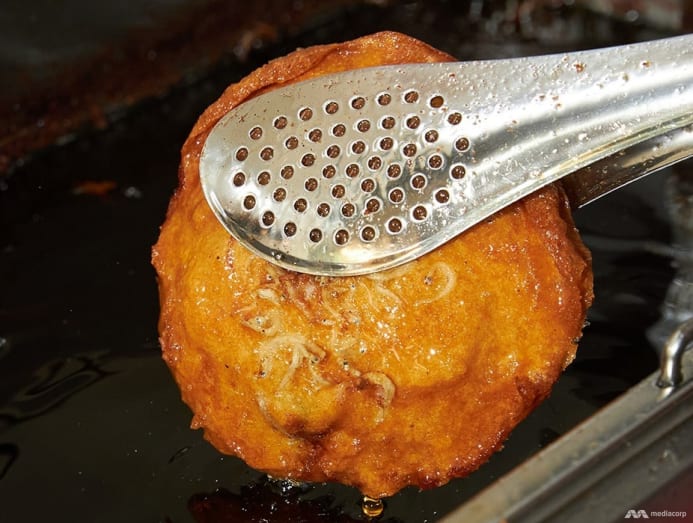 SUPPORTIVE STALL NEIGHBOURS
"My lovely stall neighbours know I don't have much business, so in the first two weeks, they bought oyster cakes from me every day. I was very touched. The lady boss of the Hokkien mee stall also helps spread the word about my oyster cakes to her customers. She will help to take orders, then call me to deliver the cakes to her stall," shared Lye.
Despite the uncertainties, Lye says he's a lot happier than when he was in his previous job.
"I am enjoying the process. My old job was more taxing 'cos of the mental stress – I kept thinking about work and there were times when I could not sleep. Here, I'm just physically tired. When I sell out [of food], then that's it," he said.
THE MENU
Lye only offers two variations of the snack: Original, which features oysters and shrimp, and Prawn, both at S$3 a pop. 
He uses fresh oysters from Korea and the minced pork in both fritters is seasoned with ingredients like oyster sauce, soy sauce and pepper overnight to let the flavours infuse the meat.
Making each fritter is a time-consuming process. Lye slowly spreads the ladle with a thin batter made from three types of flour, then adds a layer of minced meat, three shrimps and two oysters around the edges, before covering the filling with more batter, a sprinkling of silverbait, and lowering it into hot oil to fry.
Each step is meticulously executed, and the fillings nicely arranged. While Lye admits he needs to speed things up, it's a struggle 'cos of his "OCD": "It's a designer thing. I feel uneasy when things are a bit off. It's an occupational hazard."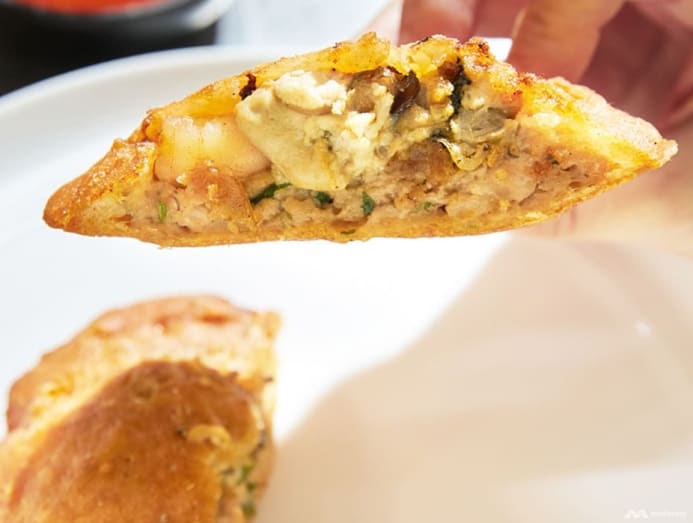 ORIGINAL, S$3
Well, the oyster cake is worth the wait. Chock full of fillings, the palm-sized puff, with its crisp outer crust and moist interior, is a pleasure in every bite. Light, thin batter yielding to succulent meat and briny goodness of the plump oysters. The well-seasoned pork is flavourful and juicy, with a light fragrance from the chives, while the silverbait added crunch and umami. Seriously shiok. 
In fact, compared to Fu Zhou Poh Hwa's airier rendition ($2.80), we prefer this version for the juicier and tastier minced meat and generous filling. The batter is also thinner, and the puff less greasy, so you can eat more of it without getting sick of it.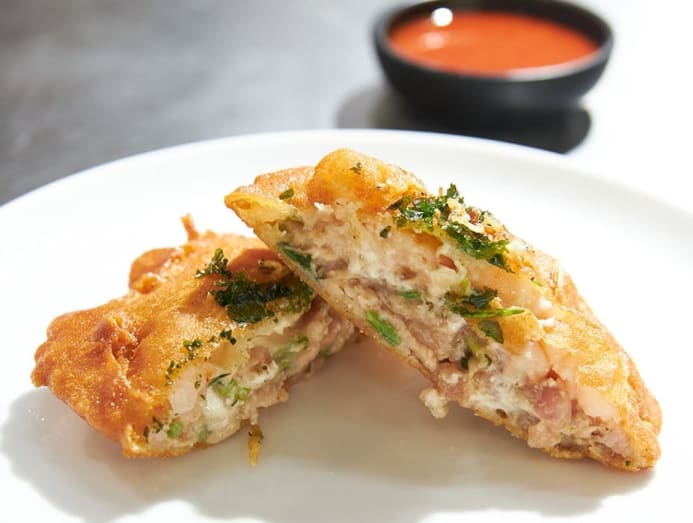 PRAWN, S$3
Instead of oysters, this fritter comes with four pieces of crunchy shrimp. The flavours are more subtle and great with the housemade zingy chilli that cuts through the richness. Not as addictive as the Original cake, but yummy nonetheless.
BOTTOM LINE
Lye should go forth and get the word out about his oyster cakes 'cos he's got a winner here. His light, crunchy and flavourful signature fritter can hold its own against any good Fuzhou oyster cake out there. The portions and fillings are generous for the price, too. Pro tip: Call ahead to order if you're dropping by during lunchtime, as there can be quite a wait.
Oyster Boy is at #01-111 Golden Mile Food Centre, 505 Beach Rd, Singapore 199583. Open daily except Sun, 11am – 5.30pm. For pre-orders, call 9489 1866. Facebook.
This story was originally published in 8Days.