Don't generalise our food as curry, says chef of 1st Michelin-starred Pakistani restaurant
Pakistani food gets the recognition it deserves thanks to Hong Kong's New Punjab Club, helmed by chef Palash Mitra.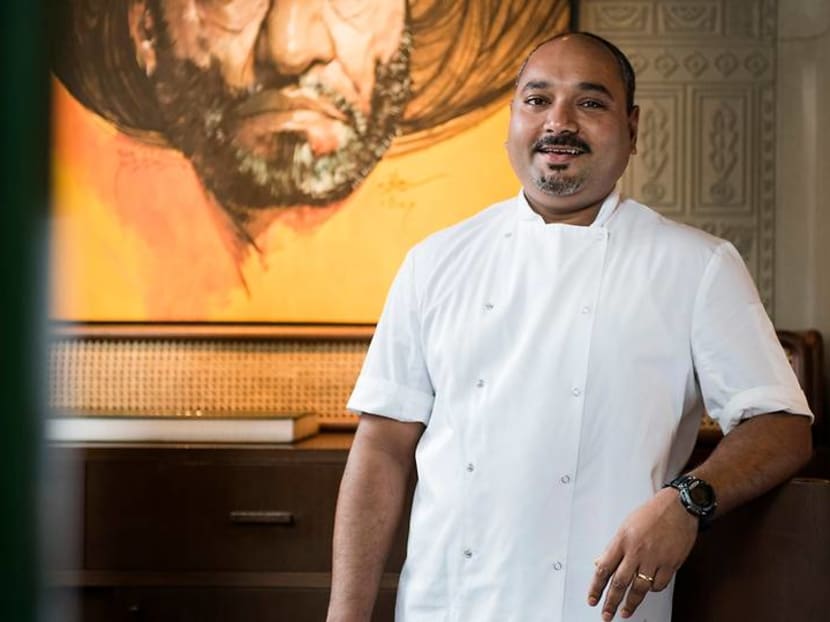 Before we began our interview, I asked chef Palash Mitra a rather embarrassing question: What is the difference between Indian and Pakistani food? It's a particularly embarrassing question coming from a food writer, but I realised while prepping for this interview that despite having eaten extensively at Indian restaurants, I'd never stopped to consider the differences between both cuisines. 
So, who better to ask than the Punjabi chef behind the world's first Pakistani restaurant to be awarded a Michelin star?
"It's a survivalist's cuisine," came his rapid-fire reply. "Pakistan is a war-torn and migrant region, a highway prone to raids, so the cuisine is simplistic. People live off the land."
"Where Indians use numerous spices in each dish, Pakistanis typically use a single spice. We use simple flavourings to highlight the quality of the meat and produce. For example, our dal makhani, which is one of the few non-grilled Pakistani dishes, uses only black cardamom."
No doubt Pakistani food is incredibly similar to India's but Mitra was quick to point out that to generalise Pakistani food as "curry", which people often do, is to over-simplify the cuisine.
"We are such a diverse country with so many sub-categories to our food. If you look at world cuisine, countries like Indonesia, Thailand and Japan all have curries, but they are definitely not the same thing, right?"
PARING DOWN WITH PANACHE
Mitra heads the New Punjab Club, a flamboyant tandoor grill house in Central Hong Kong owned by Black Sheep Restaurants, the group behind acclaimed eateries like French bistro Belon and modern Chinese restaurant Ho Lee Fook. The food he serves draws from Punjab's time-honoured canon and include dishes like seekh kebab, saag paneer, dum aloo, samosa chaat, and succulent meats cooked in a pair of restored tandoors that form the heart of the kitchen.
"I really can't take credit for the dishes we serve," said Mitra, who was in Singapore over the weekend on Dec 15 as a guest chef at MeatSmith Little India's second anniversary celebrations. "I'm not trying to be humble, but whatever we cook has been around for a long time. We cook traditional food, just like my forefathers did, but we make a conscious effort to elevate it by using techniques like brining and slow-cooking, and by keeping things seasonal."
His uncomplicated and generous approach to the food and the restaurant's aristocratic ambiance, replete with paintings by big-name South Asian artists, mannered servers in long sherwani tunics, and opulent furnishings, have all contributed to the restaurant earning its Michelin star in January this year, just 18 months after it opened. 
The recognition, he said, is a sign that the world has sat up and taken notice of the richness that South Asian cuisine has to offer. "It's not like people don't know about Pakistani food. Pakistanis have been in Hong Kong since World War One and the diaspora is spread throughout the world, so there's always been an awareness of the country's cuisine," he said.
With the international dining scene thriving and people delving deeper into regional cuisine, Mitra foresees diners embracing the provincial fare of South Asia, such as the Bengali food that he grew up with. "In Spanish cuisine, the food of the Basque Country and Catalan now receive their own focus, so I hope that will happen for South Asian food. I think in order to do it right, it's important to keep things basic."
For New Punjab Club, that means using excellent-quality produce like Three Yellow chickens bought from the wet market daily, seafood fished just 90 nautical miles off the coast of Sai Kung and delivered first thing in the morning, and as much locally farmed produce as possible. 
"The process that follows the produce is the same as any other good restaurant in the world. We focus on training, making sure people know what they are doing. We practise restraint with the diverse spices that we work with so that what we offer is unique and timeless," he explained.
"That's it. There's no secret."