Park Backerei: Say 'hallo' to authentic, handmade German pretzels in Tanjong Pagar
Dennis Von Berlepsch and Jane Lee Richard started Park Backerei in Tanjong Pagar. It's Singapore's first dedicated pretzel bakery offering not only traditional Swabian pretzels but also a range of pretzel-dough bakes, out of pretzel-craving "desperation" here in Asia.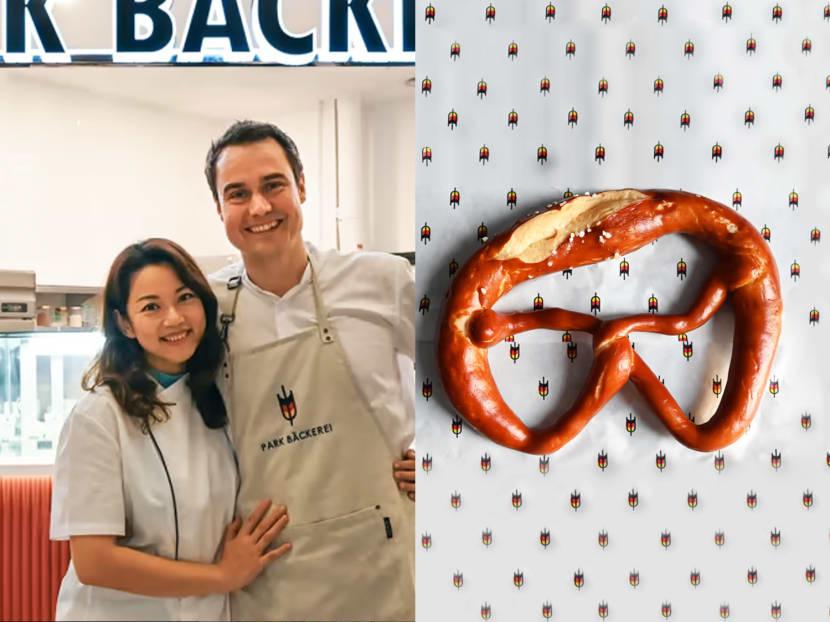 It's often the case that the idea of a pretzel is more interesting than the pretzel itself – but not after you've tried a freshly baked, warm-out-of-the-oven, honest-to-goodness German pretzel.
We're not talking about the sugary Auntie Anne's stuff or crunchy, salted airplane snacks, but authentic Brezeln that originated in the southern German region.
How do you know they are authentic? When they're made by an actual German person, of course. Dennis Von Berlepsch and his wife, Malaysia-born Jane Lee Richard, opened Park Backerei three weeks ago at Icon Village in the Tanjong Pagar area, painstakingly making all their lye-dipped pretzels and pretzel-dough bakes by hand.
Demand already outpaces supply – when we visited, a line of eager customers had formed before opening time.
And when I took a bite out of a fresh, warm pretzel, it was instantly clear why. To say that it transports you to a Munich beer garden on a balmy summer's day – the only thing missing being the bees – would not be enough, for this is no mass-produced, frozen-and-reheated factory bake that's been hanging on a wooden rod all day.
Currently, the moment a tray is out of the oven, the pretzels are snapped up faster than you can say "ich verstehe nur Bahnhof", so the probability of getting a warm one is actually quite high.
Banish your thoughts of hard, stodgy bakes – these are artisanal treats. "A German pretzel is soft, white and fluffy on the inside, and has a shiny and crispy crust on the outside," explained Von Berlepsch. This crust is achieved by dipping the shaped, proofed dough into a lye bath before baking it in a dry oven, giving the pretzel its distinctive caramelised flavour.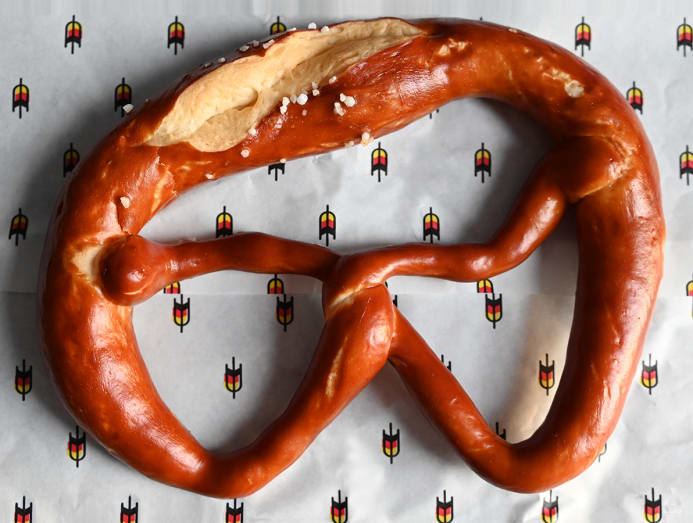 "When we went around and tried all the pretzels in Singapore to get an understanding of the lay of the land, none had  that lye flavour," he recalled.
"It's not only the colours or the sheen that make it beautiful; it's also a very unique taste that for me, makes or breaks a pretzel. That, from our perspective, can only be achieved with lye, the German version of an alkaline solution that is chemically slightly different from the baking soda that is used in bakeries around the world, and in Singapore as well."
The owners of Park Backerei, located at Icon Village in Tanjong Pagar, painstakingly make all their lye-dipped pretzels and pretzel-dough bakes by hand. CNA Lifestyle found out more.
PUTTING THE TWIST IN PRETZELS
Von Berlepsch, 44 and Richard, 41 have perfected their recipe over the course of over three years. They've chosen to make Swabian pretzels, which have big, fluffy bellies and thin, crispy arms, as opposed to Bavarian pretzels, which have thick arms; another difference is that a Swabian pretzel is scored on the belly before baking, while a Bavarian pretzel is allowed to split all over.
They find the Swabian pretzel prettier, the couple said; and on top of that, they can split one because Von Berlepsch enjoys the crispier parts while Richard likes the fluffy, chewy bit.
Every bakery in Germany has their own dough recipe – some have more sugar, some contain lard – and the couple has lighted upon one that works for their own as well as local tastes. They use French butter – no lard – and each pretzel is sprinkled with special pretzel salt imported from Germany.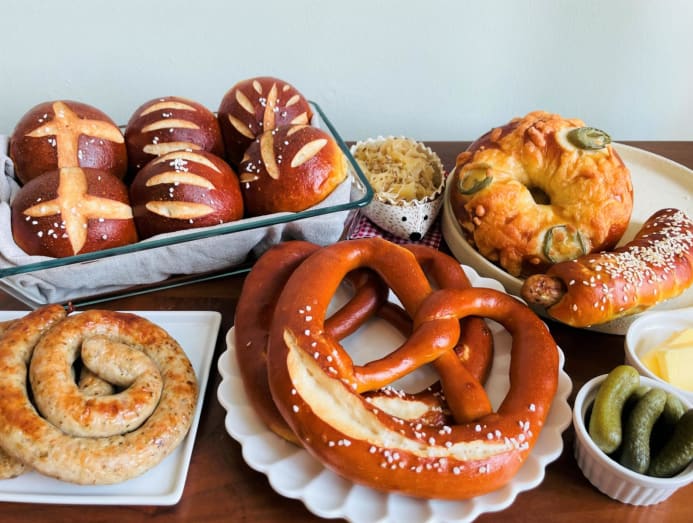 You won't find just pretzels at Park Backerei – they also have bakes ranging from jalapeno and cheddar bagels, hazelnut double chocolate bagels and speculoos bagels stuffed with apple, to pretzel-dough sandwiches filled with "more ingredients than a sandwich ought to have", as Von Berlepsch said wryly (he's the one who preps them in the hot kitchen).
They could have simplified them – smoked bratwurst with apple-caraway sauerkraut and fried onions; roast beef with gherkin and sweet mustard; brie with caramelised onion, apple and salted caramel pecans are just some of the sandwiches offered – but the sandwiches wouldn't have tasted the way he likes them, he said.
They also make traditional dips to go with the pretzels: Frischkase, a cream cheese, onion and chive dip; and obatzda, a brie-based one with butter, paprika, caraway and a dash of beer. Richard and I agreed that while the dips are delicious, our favourite way to eat a plain pretzel is simply with some good butter.
Richard, who's also the one with the sweet tooth, has created puddings like a Belgian chocolate mousse and a speculoos cheese mousse. There's even Bircher muesli if you're looking for a light breakfast.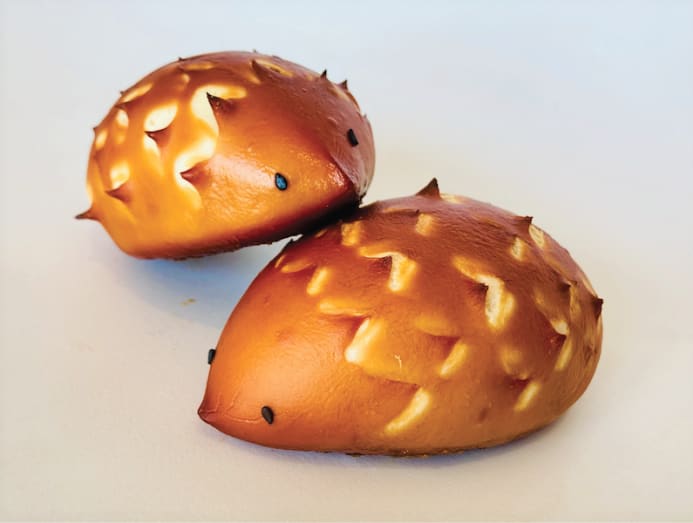 An original creation of hers is the Karamel Igel or caramel hedgehog, a so-cute-it-hurts pretzel bun filled with homemade caramel. These were first baked for their daughters aged seven and four, she shared. "We have a lot of customers who come in and say, 'My kids sent me here to get two of these and two of those!'"
PRETZELS WITHOUT BORDERS  
Although Von Berlepsch is the German in the equation – he was actually born in Bremen, not the south, but who's counting? – it's actually Richard who's the more enthusiastic pretzel devotee.
Fun fact: They met on a plane from Singapore to Munich, where she was a flight attendant and he was a passenger in an empty flight. They've lived in Singapore for many years, but in 2019, they moved to Hong Kong for three years due to Von Berlepsch's job in the pharmaceutical industry. When the pandemic began, Richard started baking in their home on Park Island.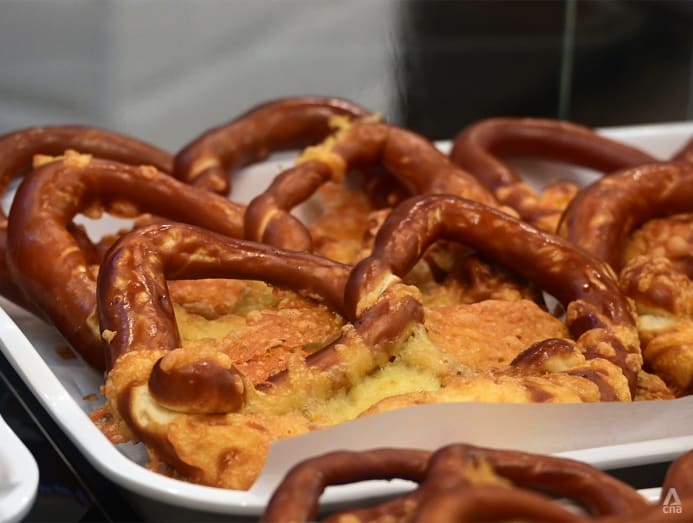 "As you know, in Hong Kong, the lockdown was quite severe. Some of the shops were not open. We were not allowed to leave our little island," she said.
"There were a few bakeries but they were pretty inaccessible during that time. And, of course, there was no travelling at all. I absolutely love having pretzels every time we go back to Germany, even at the airport – it's the first thing I do. So, out of desperation, we tried to make our own pretzels. After a lot of trial and error, we finally found a recipe that tasted as close as possible to what you can find in Germany."
Having "a German here who's my quality control officer" helps as well, she quipped.
They shared their bakes with the neighbours, word got out, and they started a little pretzel business named Park Backerei, after their island. ("Backerei", of course, is German for "bakery".)
Then, "we were baking only twice a week. I mainly do the dough making, and Dennis would wake up very early in the morning to do all the baking. I'm a late sleeper and he's an early riser."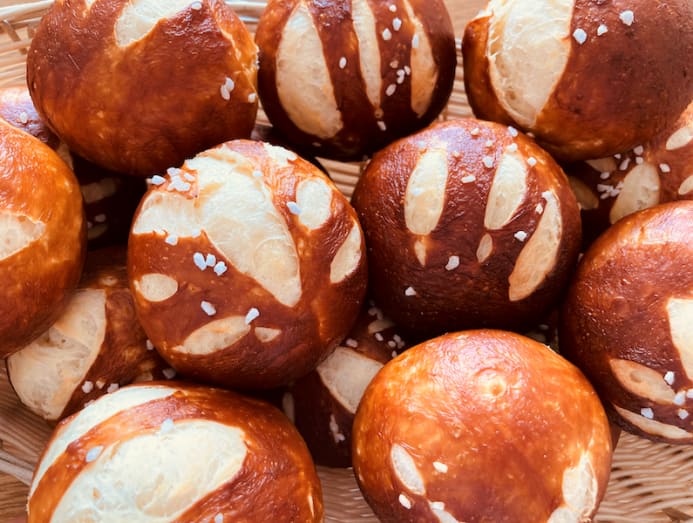 After moving back to Singapore, they started doing deliveries out of a shared kitchen space. "By the third or fourth month, we realised we have quite a few followers, and that there's a huge demand for German pretzels here," Von Berlepsch said, prompting them to start hunting for a physical store.  
Here, they have a sizeable kitchen space and casual seating for up to 32 diners.
"We thought (the clientele) would consist of half Germans and maybe a few more Europeans, and maybe a few locals. Well, that was quite a mis-assumption," he chuckled. "It turns out our best customers are Singaporean and Chinese. There's an entire Mandarin-speaking community on Xiaohongshu that is following us. We were quite amazed."
Although owning a little F&B establishment had always been something they'd talked about – they thought it would be when they retired, though – the business started as Richard's brainchild, and Von Berlepsch has left his day job to help her run it.
"At the beginning of our relationship and later, in our marriage, I was always supported by Jane. I had a regular day job with office hours and a lot of travelling. And somebody had to take care of our kids, as well. I was really deeply grateful that she was there for that," he said. "This was the perfect opportunity to say, 'Why look for a different job when I have one supporting my wife?'"
It looks like they'll both be in the bakery for a while. "This is far from being the last step. We are planning to do at least two more outlets by early next year. And there are even first talks, very remote, of international expansion out of Singapore," Von Berlepsch revealed.
Before that happens, we'll take a few more pretzels, danke very much. Or, as they say in the Swabian dialect, "Dankschee".
Park Backerei is at Icon Village, #01-41/42/52/53, 12 Gopeng Street, Singapore 078877.