From HDB windows to industrial factories: Here are some unusual coffee joints in Singapore
#IYKYK: Not just unique locations, some of Singapore's best coffee can be found in these hidden, "secret" establishments.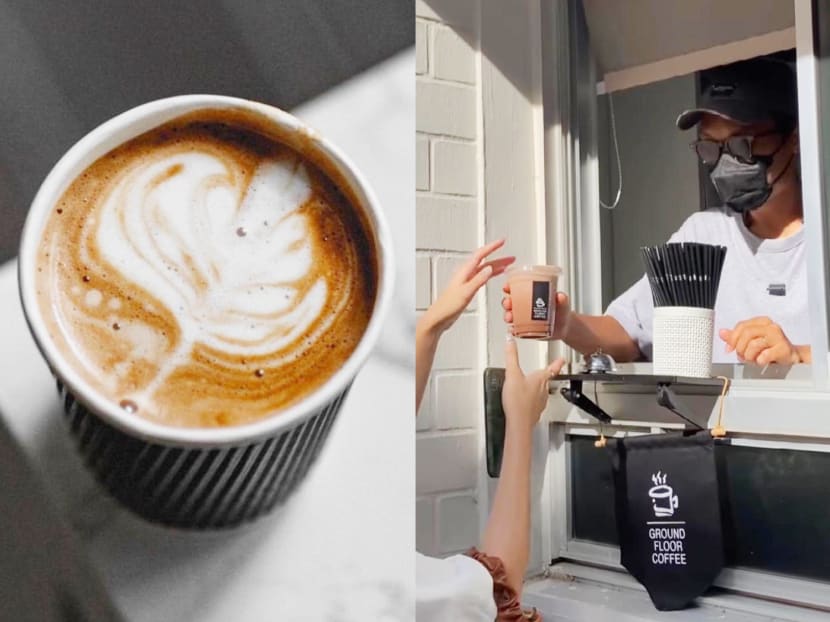 Getting your coffee fix in Singapore has come a long way since the good ol' days where your choices were limited to choosing between kopi o kosong, kopi c or kopi siu dai, all courtesy of the coffee shop uncle.
The sheer number of coffee joints doing it just right with international beans has grown by leaps and bounds in recent times, establishing a legitimate Singapore coffee scene and making it possible to find a satisfying cup of java in nearly every corner of the island.
Amidst all these are some quirky options, from a home-based business selling right out of an HDB flat window to mobile coffee carts and one found at the rooftop of an industrial building.
Here's our list of the more unusual coffee joints in Singapore that also happens to serve some of the best brews available. You might not want to try them all in one day, unless you plan on being awake until January.
GROUND FLOOR COFFEE
Talk about a hole-in-the-wall coffee joint – owner Adhwa Hasif serves Ground Floor Coffee's customers directly through the window of his HDB flat.
Living entirely up to its name, Ground Floor Coffee is Hasif's home-based business that is located, erm, on the ground floor of his Pasir Ris home.
The freelance photographer and self-taught barista has been operating his self-styled coffee pick-up station since the beginning of July. It's become a bonafide viral hit on social media, attracting customers from all over the island and regularly selling out.
"Sometimes, we have to stop earlier because we don't have enough cups or milk, so on average about 40 to 50 cups (a day)," Hasif said in an interview with AsiaOne.
Crowd favourites include the lavendar latte, which goes for S$6, and kek gula hangus (a caramelised cake) that goes for S$2.50.
According to Ground Floor Coffee's Instagram account, all coffees are strictly by pre-order via direct messages. It's not your typical cafe and there are no set operating days or hours, so checking in regularly on the joint's Instagram page and stories is key.
And if you're wondering about the home business, yes, according to Hasif, it's registered with the Accounting and Corporate Regulatory Authority (ACRA) and holds a food hygiene certificate.
Ground Floor Coffee is located at 214 Pasir Ris Street 21.
COEXIST COFFEE CO
Coexist Coffee Co might have three branches in total but the one hidden within an industrial building, a stone's throw from Bukit Batok Nature Park, is clearly the standout.
Incredibly Instagram-friendly with dual-coloured walls spilt right down the middle, it's located on the rooftop of Hillview Building where the building's old canteen used to be. (Tip: Take the lift to the seventh floor before climbing a flight of stairs to the eighth.)
According to their website, Coexist Coffee Co started as a dream among three friends who went through National Service together. It boasts self-sourced coffee beans (they make it a point to meet the farmers!) that go through batches of rigorous roasting before being sold to customers.
There is also an extensive menu that includes all-day breakfast and brunch items. To avoid queues and crowds, as well as get the best light for photos, the recommended time for customers to arrive is any time before 2.30pm.
Coexist Coffee Co. is located at 48 Hillview Ter, Hillview Building #08-00, Singapore 669269.
COTOB COFFEE (Chip Off The Old Block)
Started by Tolido's Espresso Nook (a coffee bar-cafe located on Crawford Lane) founders Vivian and Douglas, Chip Off The Old Block (COTOB) is a mobile coffee cart service that operates a La Marzocco Linea Mini.
For the uninitiated, La Marzocco is an Italian high-end commercial espresso coffee machine brand, so yes, the brew you're getting is legit. 
According to their official TikTok account, the pair initially started their kitted out mobile coffee cart for events in 2019, but ended up shutting it down because of the pandemic. Fast forward to 2021, they decided to install their coffee setup in their own home and started brewing coffee for their neighbours.
Social media have since boosted their popularity which led them to start doing a delivery/ coffee pickup service from their condo.  
Most recently, COTOB's mobile coffee cart is back up and running, ready to be booked out for events.
Their signature Onsen Coffee bottles are still available via online for pickup and delivery, regularly on Wednesdays and Saturdays.
Visit their website or Instagram for more info.
SUZUKI CAFE AND ROASTERY
A coffee joint styled as a Japanese teahouse tucked away in a factory in Boon Lay is as unusual as it gets.
Bonus points are also given because not only is Suzuki Gourmet Coffee one of Singapore's oldest coffee roasteries (they've been around since 1979), they also offer a very wide selection of finely roasted gourmet coffees from Asia.
This wooden Kyoto-inspired teahouse revamp is a major change from its previous contemporary setting, but that doesn't take away the consistently high standard of coffee it's known for.
On the menu are espresso-based beverages boasting single-origin Arabica coffee beans that are freshly roasted in the Suzuki Roasting Factory next door. The website also promises fresh milk from Hokkaido and authentic Japanese desserts.
Suzuki Gourmet Coffee is located at 8 Chin Bee Ave, Singapore 619932. Opening hours are from 10am-5pm (Mon-Fri) and 10am-4pm (Sat).