Tradition is their cup of tea: What's the story behind Pek Sin Choon in Chinatown?
Since 1925, this family-run wholesale tea business has delivered quality Chinese tea while preserving its traditions and telling stories one cup of tea at a time.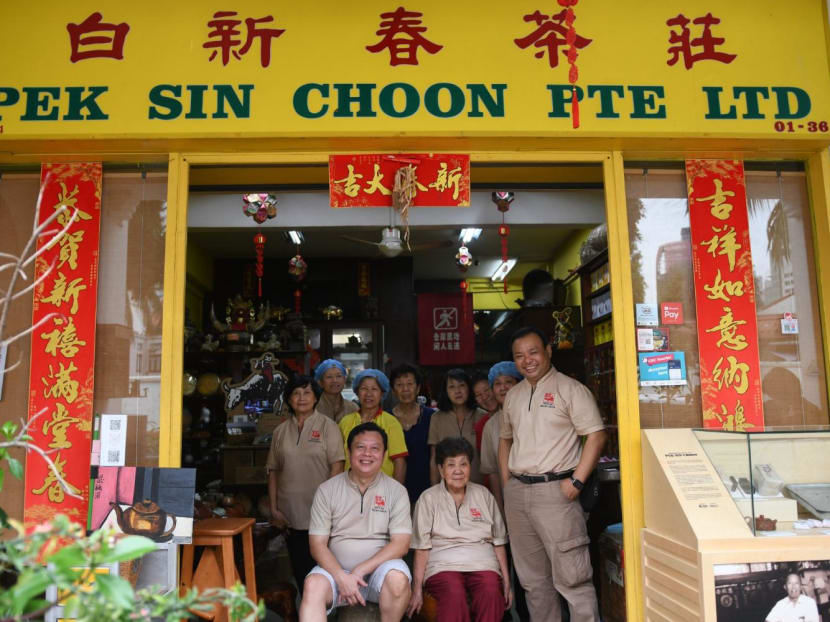 Among the many different shophouses in Chinatown, there's one quaint little tea shop at Mosque Street that's hard to miss.
Outside, there's a bright yellow stand inviting passersby to take a sip or two of free tea. Once you step inside, you're greeted by the sight of a unique collection of Chinese tea on display  – and a man sitting at a traditional brewing station, ready for curious visitors.
"Was it hard to find our shop?" Kenry Peh asked with a friendly smile.
The 53-year-old is the fourth generation owner of Pek Sin Choon, one of the oldest tea merchants in Singapore. Known for their Nanyang tea blends and for supplying tea leaves to many of the country's bak kut teh shops, it traces its history all the way to 1910, when Peh's grandfather Pek Kim Aw and great-grandmother Bai-Zhuang Dan Niang left China in search of a better life.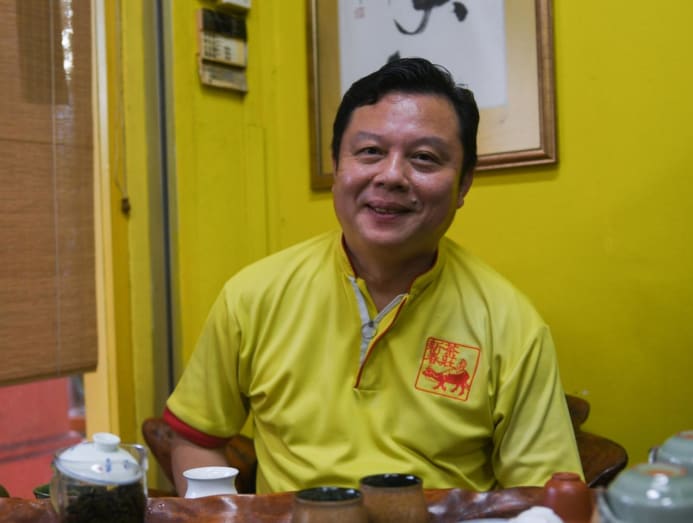 HUMBLE BEGINNINGS: A NEW SPRING
Pek worked as an odd-job labourer, before taking a leap of faith and venturing into the tea business with his mother.
"My grandfather used to sell tea from door to door with a shoulder pole," recalled Peh. "There was a lot of uncertainty being out here, but he was a strong-willed man."
The first shop, which opened in 1925, was located along George Street, where business flourished until World War II broke out. The name was taken from the patriarch's family name and "sin choon", which translates to "new spring", signifying a good harvest for tea plantations.
"It takes tremendous effort for tea plantations to survive the winter," Peh explained. "Spring is about embarking on a new chapter. It's about hope, energy, and passion."
During his primary school days, Peh recalled his grandfather's "scary" and "unforgettable" ways of instilling the importance of tea in him.
"He would approach me and let me try tea… he would ask me to name it… and the moment I got it wrong, it was a straight kanaji (knock on the head with knuckles)," he recounted. If he got it right, Peh would get a reward of 5 cents to buy ice cream.
But he would eventually get into the family business; he would often help pack tea leaves to earn extra pocket money and later help in packing and delivering, all while slowly learning by watching his grandfather blend and roast tea.
"He trained us to be strong. He wanted us to know our roots so that we can pass them down to our future generations," recalled Peh's cousin, Peh Feng Qin, 58, who has also worked at Pek Sin Choon for almost 40 years.
NANYANG TEA PRIDE 
Pek Sin Choon's most renowned blends are their Nanyang tea, the origins of which date back to the old days, when Chinese immigrants brought tea blends from all over China to the region, such as oolong from South and North Fujian.
Their first one, the Wuyi Iron Arhat, was introduced in the 1930s, followed by the Renowned Unknown Fragrance in the 1950s. The latter, Peh shared, proved the perfect tea for bak kut teh.
Back then, the teas made to pair with the dish were of a lower grade – so Pek Kim Aw had the idea of selling theirs at a premium.
"Everybody in the industry said my grandfather 'siao' (crazy) because nobody was going to buy or sell it," recalled Peh, who revealed that they now supply this particular tea blend to more than 80 per cent of bak kut teh shops in Singapore, including Song Fa and Founder.
Things have obviously changed since – Pek Sin Choon isn't just selling tea but has become a sort of culture and heritage ambassador.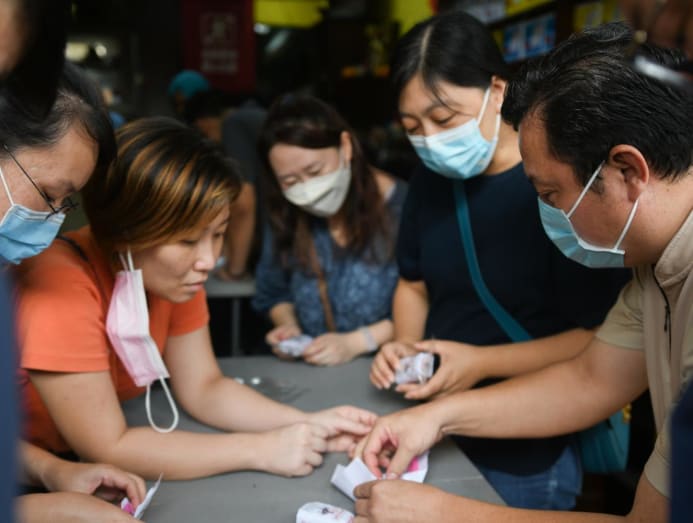 In 2018, they worked with the National Heritage Board to come up with the Nanyang Tea Challenge as a way to promote tea heritage. The now annual event would include presentations on Chinese tea brewing, food pairing and tasting. The latest edition was held virtually in May, with participants coming not just from Singapore but Malaysia, Thailand and Australia as well.
They've also been regularly hosting heritage tours in the shop, where visitors learn about the history of teas, how they're blended, roasted and packed.
"There's a lot of history in their stories, even the packaging and types of tea. They bring unique tea scents to Singapore and the tea that they sell you don't see in China, so it's something uniquely Singapore," shared Toh Thiam Wei, 40, a tour guide for Indie Singapore Tours.
"We lead people through stories. If you go to other tea shops they may do tea appreciation, but they don't lead you through heritage stories," explained Yuen Eng Wah, 52, the general manager of Pek Sin Choon – and Peh's secondary school classmate when he joined the family business.
PINK PAPER, TIN CANS, FREE TEA HISTORY
Indeed, practically everything you see in the tea shop has a story to tell – down to their pink tea leaf wrapping paper.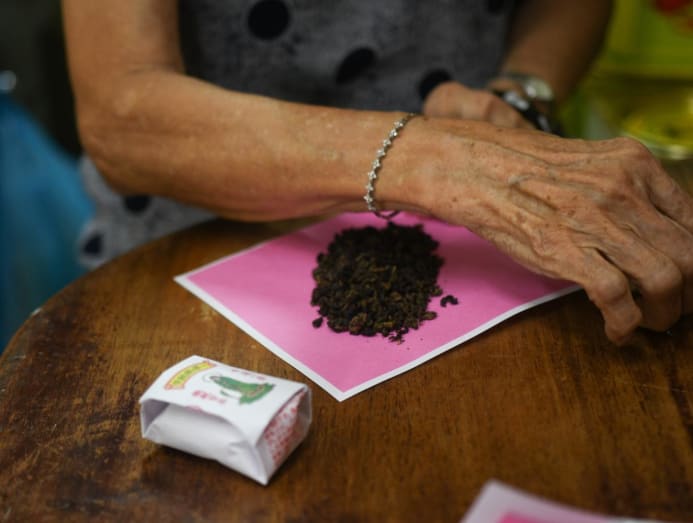 Peh shared how, after World War II and a shortage of white paper, the family had resorted to using the coloured paper from Chinese medicine shops, which they stuck to using even while other tea merchants reverted to white paper.
"The pink is auspicious for us and it also reminds us of the difficult period," Peh said.
And if you've purchased one of their Nanyang tea blends, you may have noticed that the metal tin you get doesn't look new – that's because they've been recycling it even though it's actually cheaper and more convenient to use new ones.
"We collect back the tins and pay 50 cents to the people who return them. Last time I think it was about 10 cents," Peh said. "It takes a lot of effort for us to clean the tins, and sometimes people bring them down and ask, 'How come the tin is so dirty and you still pass it to us'? Our aunties (staff) don't know how to explain to them."
He added: "But since our recycling efforts started from day one, why would we want to throw away and choose an easier way just so people won't complain about our tins?"
And then there's the free tea stand outside, a perennial feature of Pek Sin Choon for decades. It's still refilled four to five times daily. When they moved to Mosque Street two decades ago, they toyed with the idea of removing it.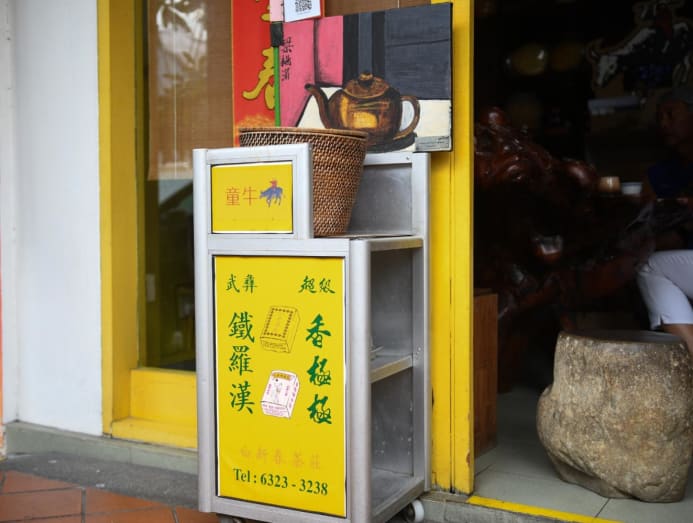 "We wanted to forgo this but after thinking, since this is about blessing and sharing, why stop?" Peh mused. "Since we also drink the tea, we decided to leave it here and surprisingly people will still come back. The neighbours will drink, people who know us will also top up their water bottle."
"FAMILY FIRST – IT'S ALWAYS BEEN LIKE THIS"
All this talk about culture and heritage comes natural to this family-run business where everyone is closely knit, including their staff of 17, of whom most are in their 60s and some even in their 80s.
Peh gamely shared how they're pretty flexible with work hours, and the company would regularly go on bonding sessions on Sundays and public holidays. In fact, earlier this year, they went to SEA Aquarium at Sentosa, and recently attended a concert together.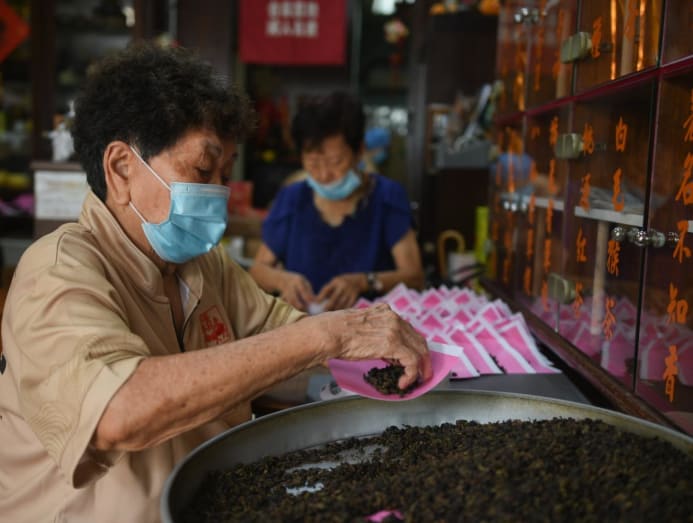 "At the end of the day, it's never about the money. We care about our people more," Peh affirmed. "Family first. It's always been like this since the beginning of our business, and we are glad to keep it that way."
And while automating the tea packing process would undoubtedly be more cost-efficient, Pek Sin Choon is steadfast on retaining staff and a pristine production standard.
"We chose to keep this traditional packing just to make sure we can pack the teas to our best ability and show people that all five senses need to be used despite the hardship," Peh explained.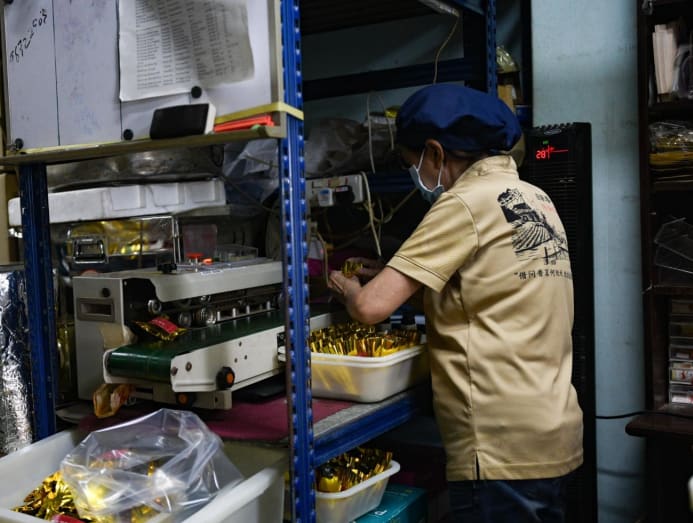 It was this attitude that had helped them during their toughest time during the COVID-19 pandemic. During the circuit breaker period, Pek Sin Choon shut down for two months. "We lost over 90 per cent of our income," recalled Peh.
Yuen also shared how staff voluntarily took unpaid leave at the start of the pandemic but also immediately volunteered to work for longer hours when demand came back.
The company also made an effort to support both staff and their retailers, giving the former S$100 a month in food vouchers to order food from customers.
"Not because we're rich but we want to make sure they still deliver (food) to our store and we wanted to support some of the elderly managing the bak kut teh shops, especially because they had difficulty handling the delivery and takeaway period," said Peh.
TAPPING ON MODERN TEA TRENDS
In the booming market of bubble tea and coconut shakes, Chinese tea may not be the majority's first choice of beverage, especially for the younger generation.
But Pek Sin Choon's dedication to tradition hasn't exactly stopped it from innovating. It has  supplied their tea blends to conventional tea brands producing fruity tea mixes, kombucha, and bubble tea.
"Sometimes people talk about new trends, starting new businesses and making fast money, but without traditional roots, there would be nothing such as carbonated tea," Peh explained. "It's with all the traditional roots that we are able to explore and try new things."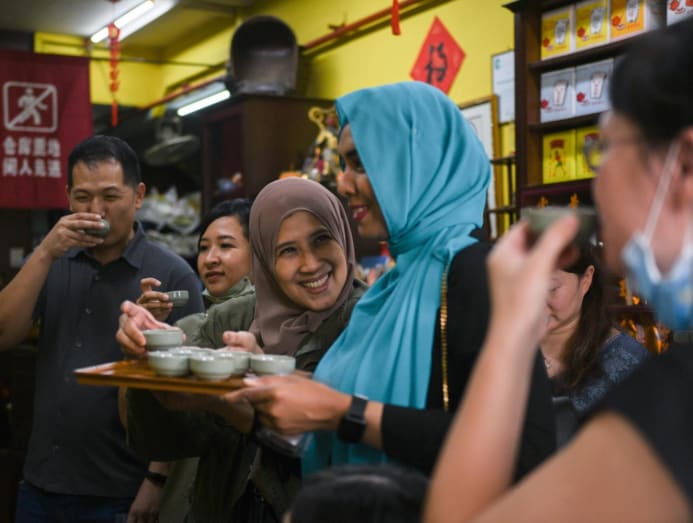 Peh, who drinks Chinese tea every day, believes traditional tea will never lose its appeal. After all, Chinese tea has been consumed for more than 5,000 years. In fact, he noted that during the pre-COVID days, many youths would drop by to enjoy a cup or two.
When asked if any of his six children will take over the family business, Peh said he does not want to pressure them into it. 
"To take over a business, it's not simple. Your heart has to be strong. I wouldn't want to force them. If they want to help with the business, I want them to do it well and enjoy it."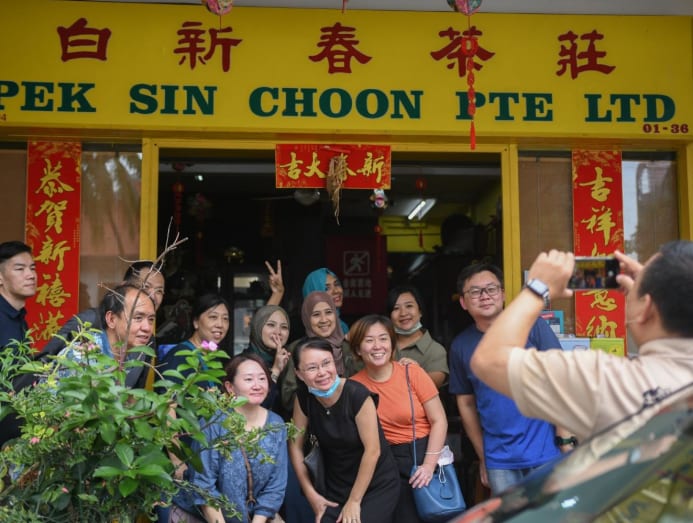 Peh recalled how he was once asked how Pek Sin Choon compares to big tea brands like Lipton. To which he replied: "We are unique. I don't think Lipton wants to be Pek Sin Choon, and Pek Sin Choon doesn't want to be the next Lipton."
Yuen added: "Preserving traditional tea is the root of what we have now. Without that, there's nothing to talk about, there's nothing to our name, we would be just another tea shop.
"With this Nanyang heritage that we have, we become something local and unique that we can tell people about and share with them. We are a heritage shop with stories." 
This article was written as part of Republic Polytechnic's media practicum module collaboration with CNA Lifestyle.