A Peranakan restaurant with a non-Peranakan chef? Les Amis' new eatery wants to shake things up
Don't worry, Indigo Blue Kitchen will feature Les Amis Group chairman Desmond Lim's Nyonya grandmother's recipes.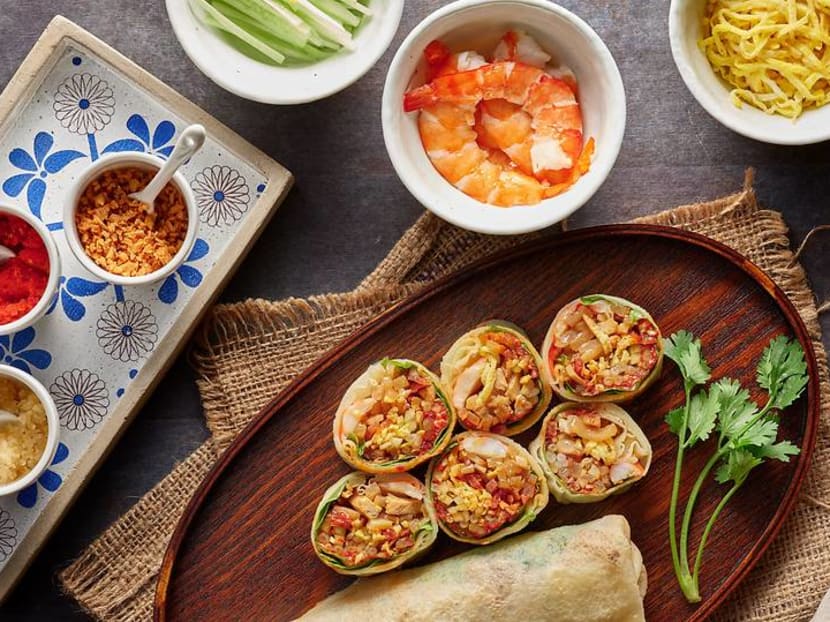 Named after the iconic blue butterfly pea flower often used in Peranakan cuisine, Indigo Blue Kitchen is the new Baba-Nyonya kid on the Singapore culinary heritage block.
Slated to officially open on Jun 7 at Shaw Centre, it is also the latest feather in Les Amis' cap – the newest member (and only Peranakan restaurant) to belong to the group, which to date, boasts 22 restaurant concepts, including its eponymous fine-dining establishment.
But if you're fussy about who cooks what, there's one fine detail to take note of. The 74-seater, which is billed as a restaurant serving "traditional Peranakan cuisine in a modern setting", will be helmed by, wait for it, a non-Peranakan chef.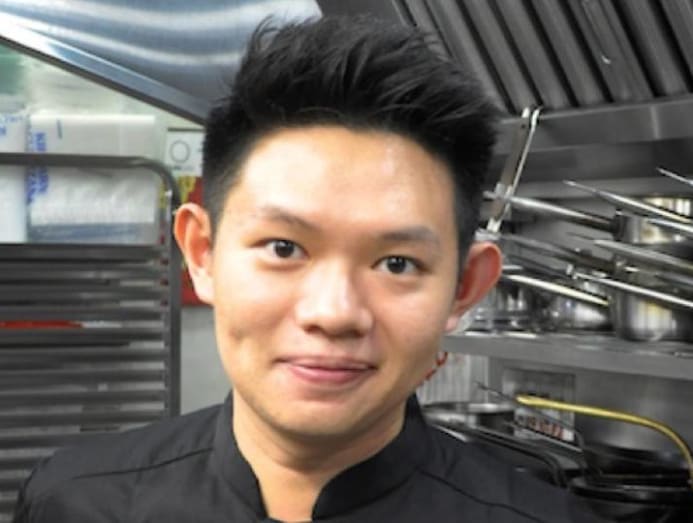 Yes, 28-year-old Chong Jun Xiang, who used to work at one Michelin-starred Alma by Juan Amador and private members club 1880, is not Peranakan.
But it is precisely why Les Amis Group Chairman Desmond Lim chose him to head Indigo Blue Kitchen – a concept that Lim calls his "little heritage project that is very close to my heart".

"The recipes featured at Indigo Blue Kitchen are my grandmother's and I'm hoping to share them before they're all lost," Lim who is Peranakan, told CNA Lifestyle. "I wanted this to be a reflection of the food that I grew up with. And I wanted someone young, someone who was prepared to be guided. I didn't want to hire someone with a certain set ideals (of what Peranakan food should be)."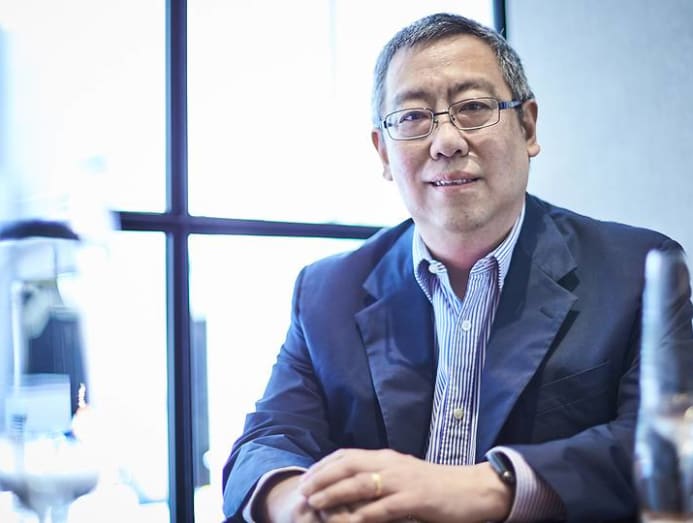 But isn't that a bold move, especially dealing with a heritage cuisine steeped in such tradition and nostalgia?
"Yes, it was a risk, I could have ended up with a dud. I mean, he's non-Peranakan, he's never cooked Peranakan and he's hardly been exposed to Peranakan cuisine," shared Lim with a smile. "But I am so happy to say that he's picked up very fast. My instincts told me that he's a very good chef."
The fact that this concept is anchored by Lim's food memories of growing up in a true blue Peranakan household in the 1960s, and serves as personal tribute to his grandmother, is not lost on Chef Chong.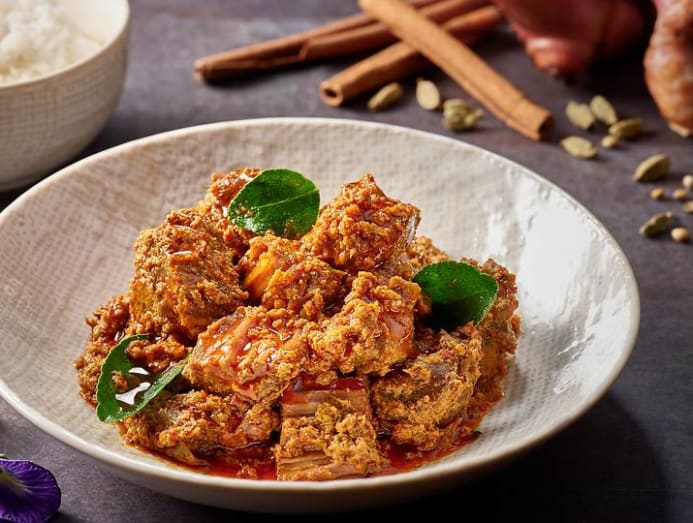 "Peranakan recipes are very personal as they differ from family to family. The recipes are not written out but passed down by taste and word of mouth, from one generation to the next," he said. It extremely labour-intensive, intricate and precise. A lot of love goes into every process of preparation and cooking."
Lim, who attributes his love for food to this paternal grandmother, confessed that while none of her recipes were recorded down, he still has "a vivid recollection of what each dish should look and taste like".
"What will always remain with me is the palate," he said.
Which is why he is on a tasting panel together with his cousin Gloria Teo who serves as a menu consultant, conducting one to two tastings every week with the Indigo Blue Kitchen team to keep things authentic.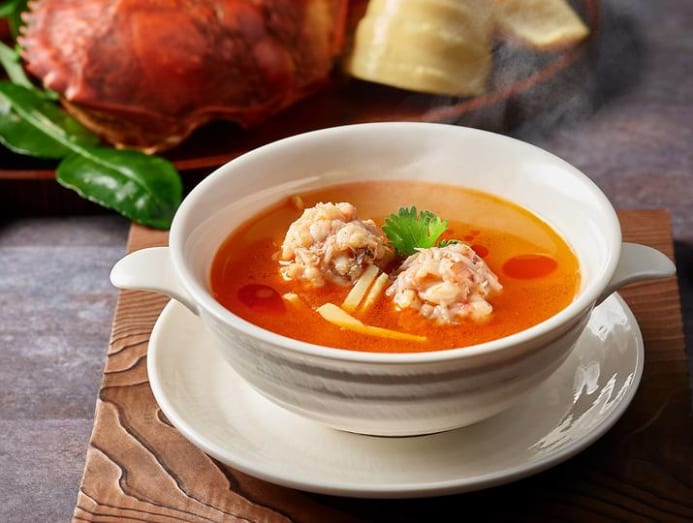 On the menu are Straits Chinese classics like Nyonya Poh Piah (S$32 for two persons) – turnip, bamboo shoot, pork belly and fried bean curd braised in a prawn, pork and fermented bean paste and garlic sauce wrapped in freshly made egg skins; Bakwan Kepiting Soup (S$22) – featuring plump hand-rolled balls of crab, prawn, minced pork and julienne bamboo shoots served in a robust chicken, pork and crustacean broth; Satay Babi Lemak (S$16) – pork stir-fried in candlenut spice paste and coconut cream; and Otak-Otak Jantan (S$16) containing fish balls and beancurd puffs stuffed with fish paste, simmered in spiced turmeric curry with turmeric leaves.
"I've been toying with this idea for more than five years," revealed Lim, "but I've noticed that only in the last two to three years has there been a revival with Peranakan cuisine in Singapore, with the likes of Candlenut and Violet Oon. So I think I think the timing is just right, for us (Les Amis Group) to finally do something."
During its soft-opening on May 22, Indigo Blue Kitchen will be offering a limited set lunch (4-course) and set dinner (5-course), priced at S$40++ and S$55++ respectively. The full menu will be available from Jun 7 onwards.