Who's more fun when they're tipsy – Pierre Png or Andrea De Cruz?
Actor Png and his wife De Cruz have just opened a bar and restaurant called The Tipsy Flamingo – but he thinks he's more of a "tipsy pig". Png also tells us what really happened at his stag night.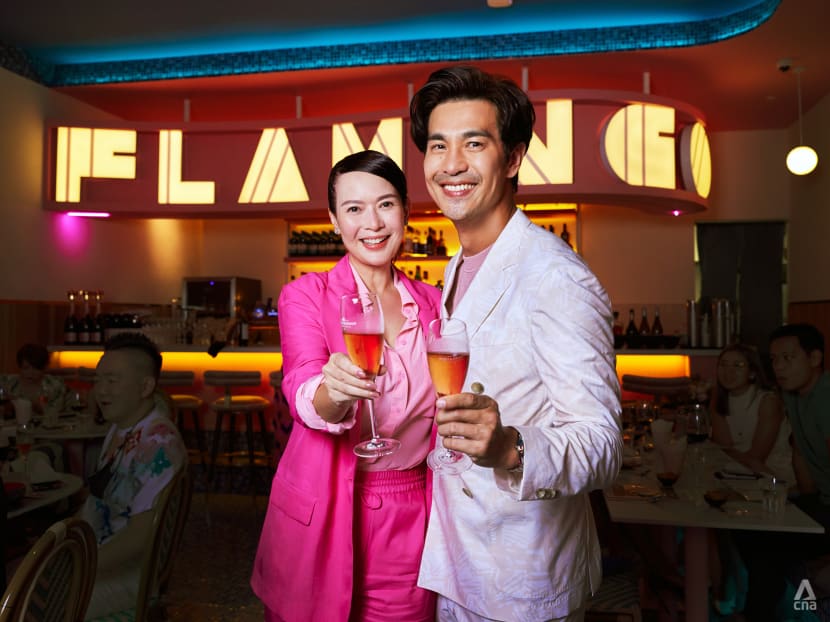 What are Pierre Png and Andrea De Cruz like when they're a little tipsy? It's a question that comes naturally, as the husband-and-wife duo have just opened a restaurant and bar called Tipsy Flamingo.
They've partnered up with Tipsy Collective, which has launched multiple concepts including Tipsy Penguin, Tipsy Bunny and Tipsy Panda – yes, you get the idea.
Located at Raffles City Shopping Centre in the space formerly occupied by Marche, Tipsy Flamingo features tropical beach and pool themed decor, dishes with a local twist and even a little stage for live music.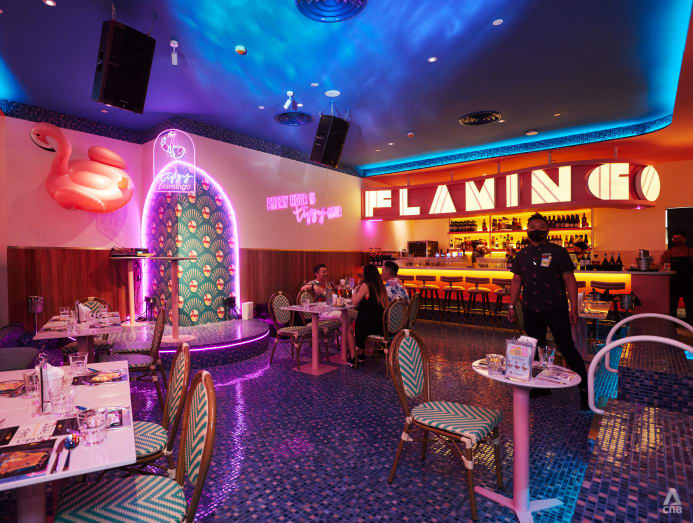 As it turns out, De Cruz is a "very happy and chatty" drunk, in her own words, and so she'd definitely compare herself to a tipsy flamingo.
"This girl, she can drink!" Png revealed. "Back in the day, when she'd drink, she'd push all the dancers off the stage and take over."
And the actor himself? "I'd be a tipsy pig," he giggled.  
"Because he also gets very hungry when he's tipsy – and then he gets sleepy," De Cruz divulged.
She recounted, "There was this one time just before we were going to get married, some friends threw him a stag night. It was supposed to be so much fun. There was going to be some action going on that the guys planned for."
But when the "action" started, he was out like a light, she continued. "And I was like, 'Are you sure? This is the last night of your life you can just have fun!"
Png chipped in: "My brother and my brother-in-law were there, so basically I had permission to do whatever I wanted. But, yeah, sleepy drunk Pierre decided to take a nap."
So Png's stag night didn't go quite as planned – but he did manage to stay awake throughout the launch party for Tipsy Flamingo, which took place on Thursday (Aug 19) and was attended by celebrity friends including Edwin Goh, Jeffrey Xu, Chantalle Ng, Chen Yixin, Gavin Teo and even Joseph Schooling.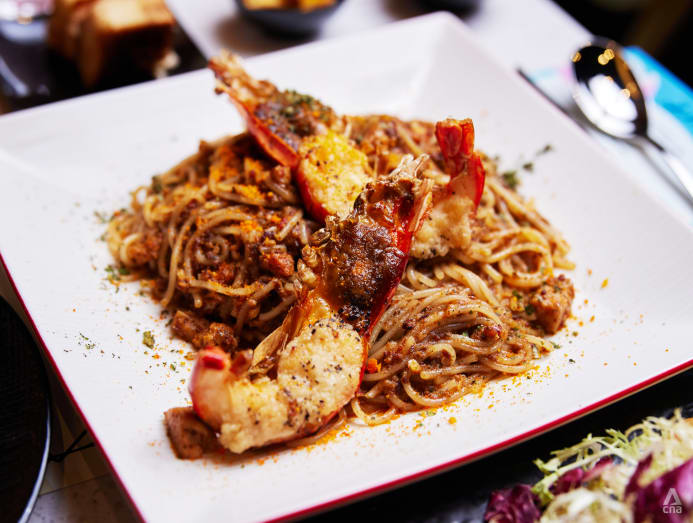 "I think it's every guy's dream to own an extended kitchen where all the guys can just come over and, like back in the good old days, just drink up and make merry," Png said.
"I've always been very big on dining. I love a good dining experience. So, when this opportunity came to work with Tipsy Collective, I just ran with it," he added, revealing that he had been friends with his business partners for a while and that the idea had been mooted before the start of the COVID-19 pandemic. (The couple's previous restaurant, 301 Bar & Kitchen, had to close when the premises became a quarantine facility.)
What's more, Png said, "How I was introduced into F&B was, I worked behind a bar. Just to see the smiles on people's faces – those were the days before handphone cameras… people actually lived that moment."
At Tipsy Flamingo, "He'll be behind the bar, as well!" De Cruz said. "That's what he always wants to do."
If there's one cocktail you have to order, they said in unison, it's the "Steady Pom P-P". The PP stands for "Pierre Png", and it's a concoction of gin, limoncello, Giffard amaretto, honey and peach bitters.
As for the food, they both recommend the baked red miso-marinated Alaskan cod served with pumpkin foam. It's served with "broccoli lollipops" – florets covered in bubu arare, which are tiny round grains of popped glutinous rice – and drizzled with pimiento vinaigrette.
Locally inspired dishes on the menu include dry laksa with prawn, truffle moonlight hor fun and cheddar cheese hokkien mee.
Tipsy Flamingo is at 252 North Bridge Road, Raffles City Shopping Centre #01-17A.