You can now buy pineapple tarts – without the pineapple jam
Is BoTart's new offering so wrong or so right? Is eating a pineapple tart with no pineapple filling the same as asking the hawker uncle for "mee siam, mai mee"?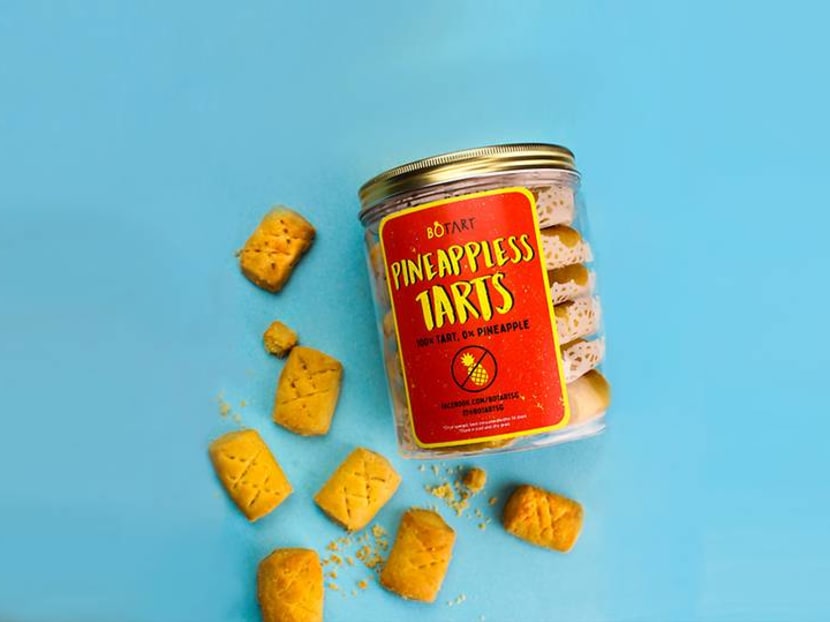 The best products, they say, are born when a need is identified and the niche filled. Well, a trio of Singaporean friends has launched the product you never knew you needed: Singapore's first pineapple-less pineapple tarts.
Called BoTart (presumably pronounced in a Hokkien accent), they offer pineapple tarts without the pineapple filling.
Why? How? Wherefore? Well, apparently, unbeknownst to us, there are people lurking in our midst who only eat the outside of pineapple tarts. They enjoy the pastry's buttery crumb, but abhor its jammy filling. These people have been severely underrepresented – but no longer.
Private chef Timothy Chia and his childhood friends Shaun Tan and Travion Shumlim, all 28, said they grew up loving buttery pineapple tarts but disliking the pineapple jam in the tarts. "Every year, we'd be forced to nibble the outer crust and wrap the jam in a tissue before tossing it – otherwise, the adults would give us a scolding, or we would get laughed at," they shared.
They took to privately ordering pineapple-less pineapple tarts to eat at home – secretly, under the duvet with a flashlight, we can only assume – and along the way, found others with similar tastes.
Last year, the three friends quietly started selling some filling-less tarts of their own, and response has been "encouraging", they said. This year alone, they've already sold over 250 jars.
BoTart currently offers two products: Pineappless Tarts (S$16.80), a jar of buttery no-pineapple-pineapple tarts; and Pineapple Glazed Tarts (S$18.80), which have homemade pineapple jam lightly brushed onto the top, so you can enjoy a hint of pineapple flavour without the sweet chewiness of actual pineapple filling.
Erm, so technically, these "tarts" are just shortbread cookies, then? Or, considering that the dictionary definition of a "tart" is "an open pastry case with a filling, usually of something sweet such as fruit", would it be more accurate to call them tart tarts? And what about the financial implications of eating these – without the ong lai, will you still huat?
The answers to these questions may be elusive – but whatever the case, if you're one of those people who've been dreaming of a world without pineapple filling, that brave new world is here.