Couple opens pizza hawker stall so their special needs child has a job in the future
"We're trying to create a job for Jonus to help out at the stall someday," say the hawkers, Henry Teong and his wife, Mylene. They serve Neapolitan-inspired pizzas from just S$7 and hope to build a legacy for their 16-year-old son, who is autistic.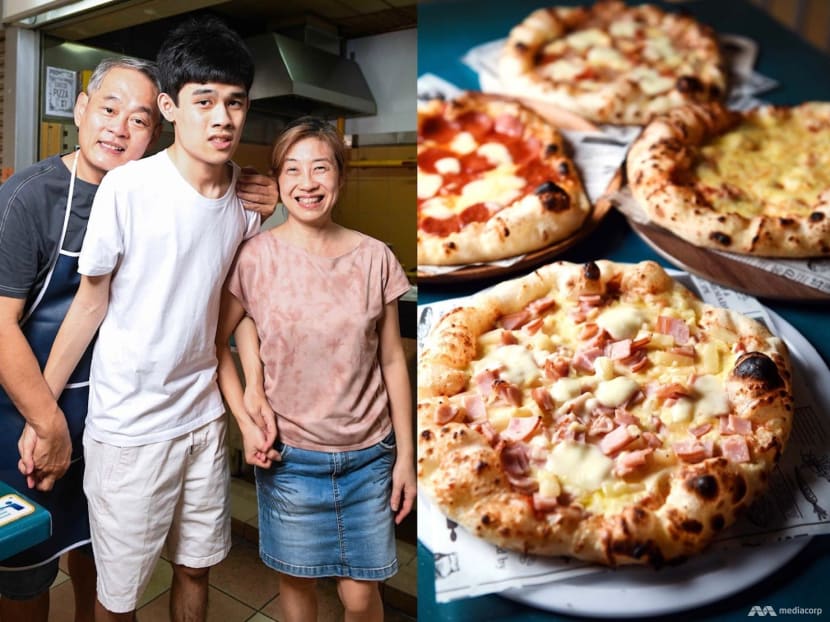 It took 8days.sg a while to find 168 Neapolitan Style Pizza. It's tucked away in the quiet last row of Taman Jurong Food Centre at level 3 – a fact that is not lost on the stall owners.
"The reason behind the stall name is solely to make it easy for our customers to remember. 168 is the unit number of our stall (#03-168) while Neapolitan Style Pizza is to showcase the type of pizza we are selling, which has a thin crust at the base and puffy crust at the side," explains pragmatic business man and sometime hawker Henry Teong, 55.
The closest landmark is the complex's freshly renovated toilets. As we meandered around the food centre, what finally caught our eye was a teenage boy in white, pacing up and down excitedly in front of the corner stall. Meet Jonus, the 16-year-old muse who inspired his dad Henry and his mum Mylene, 54, to start a pizza stall despite the couple having no experience in the F&B business. 
CHEF PAL FROM ITALY TAUGHT HAWKER BASICS OF PIZZA-MAKING
Henry, whose day job is selling chemical raw materials in his own firm, explains, "My family loves pizza, so I was interested to study how to make one." His chef friend from Italy taught Henry the basics of making hand-stretched pizza. Then, putting his experience in the chemical industry to good use, Henry experimented countless times to come up with his own recipe for his dough.
Mylene, main caregiver to Jonus who is autistic, helps with the preparation of the ingredients and making of the pizza sauce. Theirs is a simple, slightly sweet home-made sauce of tomato paste, basil leaves, Italian spices and sugar. They have an older son, Benjamin, 20, who is considering enrolling in a business course in university and may take over the stall eventually. He currently manages their social media accounts.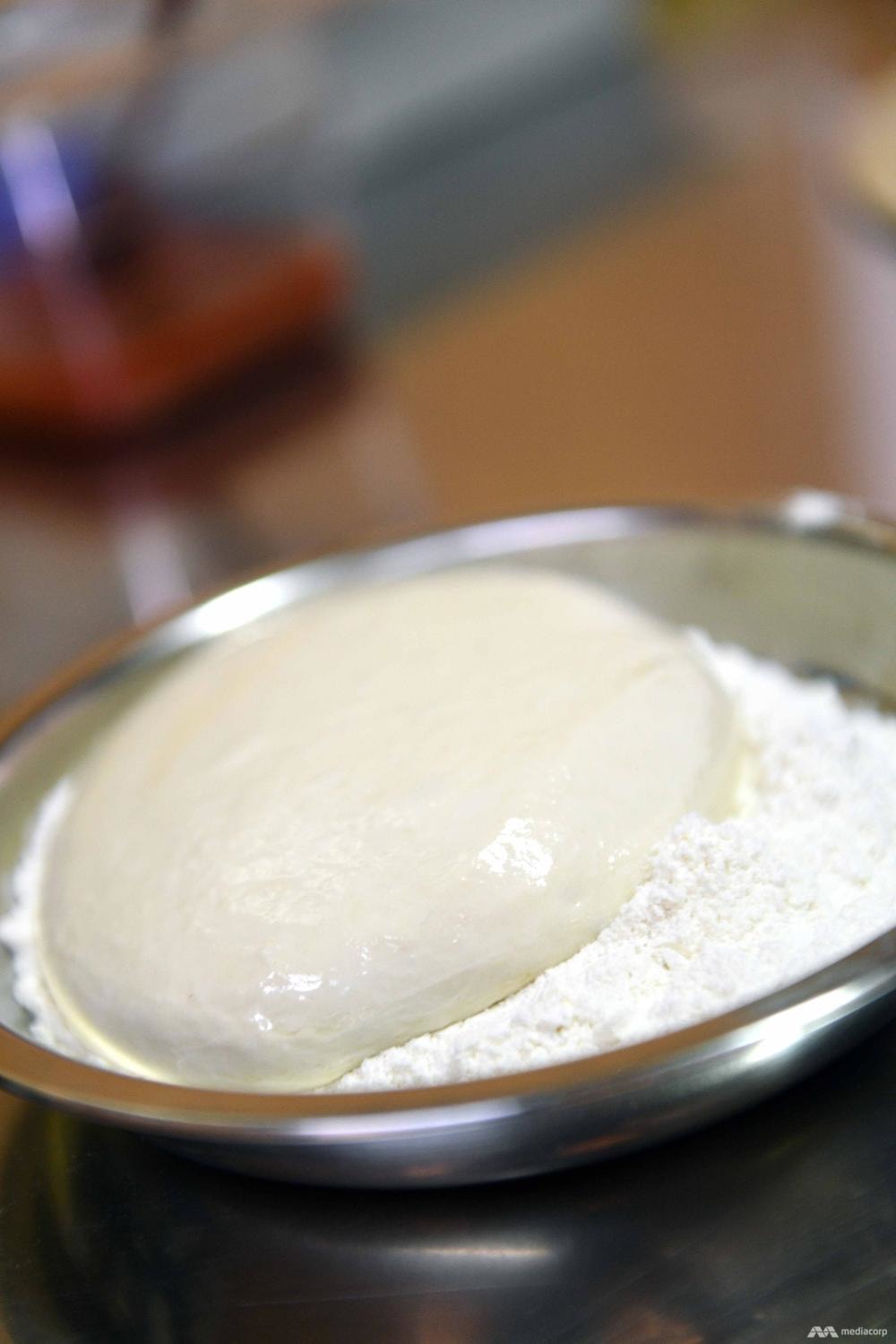 POOLISH DOUGH FERMENTED FOR AT LEAST THREE DAYS
Henry ferments his Poolish, a yeast-cultured dough added to locally-milled wheat flour for a minimum of three days, in a method similar to making a sourdough starter. His fermentation process gives his dough a stretchier mouthfeel. He only prepares enough dough for a week, which is essentially just three days of business as he only opens from 6pm to 9pm on Thursdays to Saturdays. Interestingly, the family lives all the way in Pasir Ris, but Henry had no luck balloting for other hawker stalls, so he decided to take up this stall at Taman Jurong anyway in February to kick-start his pizza dream.
He candidly shares that he was able to take it slow and operate such short hours because of the relatively affordable rent of under S$2000. He works at the stall after his day job, which mostly involves paperwork that he does out of his home office.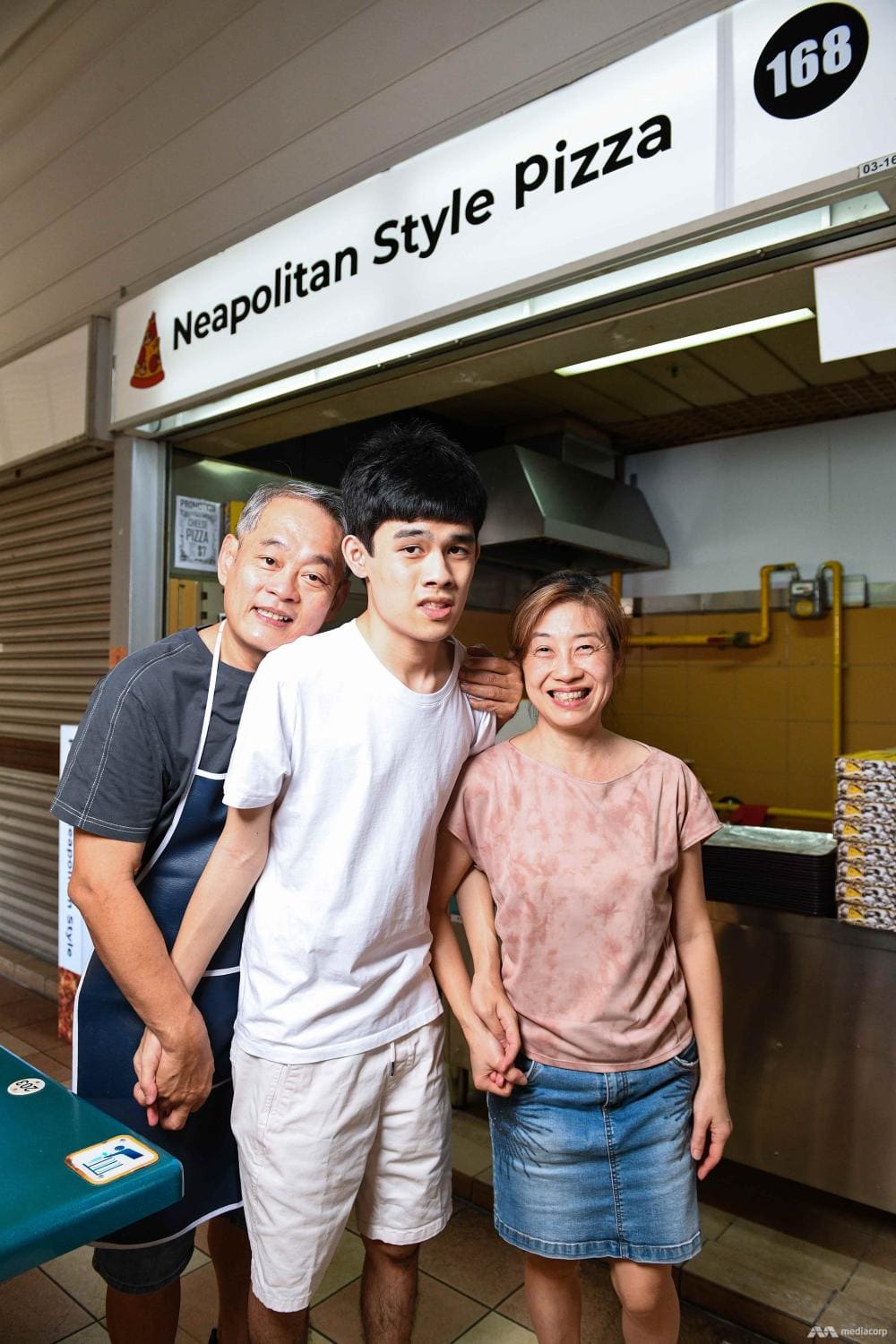 He works this hard, says Henry, because "we are trying to create a job for Jonus to help out at the stall [someday]". He adds: "Currently, he has no capacity to think about this issue yet, but hopefully when he gets older he will start to understand how to make a living".
16-YEAR-OLD AUTISTIC SON CURRENTLY THE TASTE TESTER
So far, Jonus is more involved in quality control. "He has picky tastes; an expensive tongue," says Mylene with a laugh. If a pizza passes the Jonus test, it usually does well among their customers. For example, the Pepperoni pizza is one of his, and their customers', favourites. But for now, Jonus, who is largely non-verbal though he repeatedly reminds his mum that he wants to bring pizza home, has not ventured into the kitchen to help out yet. 
THE MENU
Henry presently offers six pizzas, with prices ranging from S$7 to S$15. Each pizza is hand-stretched to about 10 inches wide and is good for one or two small eaters. It's slathered with Mylene's tomato sauce and topped with ingredients, before being popped into a gas stove that was a gift from their Italian chef friend.
The brand-less oven that looks like a crepe stove with a domed lid was custom-made in Italy. If Henry were to order another one, he says it would cost him over 3,000 euros (S$4,320), including freight. It only cooks one pizza each time but does it within two minutes at high heat, popping out a pleasingly puffy pie that is soft in the centre but crispy at the edges.
They remind us of wood-fired pizzas, which is the effect that Henry was going for. The irregularly stretched pies with swollen rims blistered with some slightly chao tar bits have won them regulars. On Friday and Saturday evenings, they sell over 30 pies and are sometimes completely sold out.
PREMIUM CHEESE PIZZA, S$10
The basic cheese pizza costs just S$7, but we suggest you top up S$3 for this deluxe version. On top of the usual mozzarella cheese, this offering includes burrata, a soft, fresh Italian cheese with a lovely juicy, creamy texture. Henry imports it in bulk from Italy to keep prices low. But instead of the usual luxurious whole ball of burrata served in the middle of a pizza, you get a generous amount of torn-up stretchy strips scattered around the pie. At this price point, we can't complain – it's still a delish pizza. Even when we reheated the leftovers in our air-fryer, the cheese melts into a silky bite. The added cherry tomato halves add zest so this cheese trap isn't too jelak (Malay word that describes that nauseating feeling you get from eating too much rich food).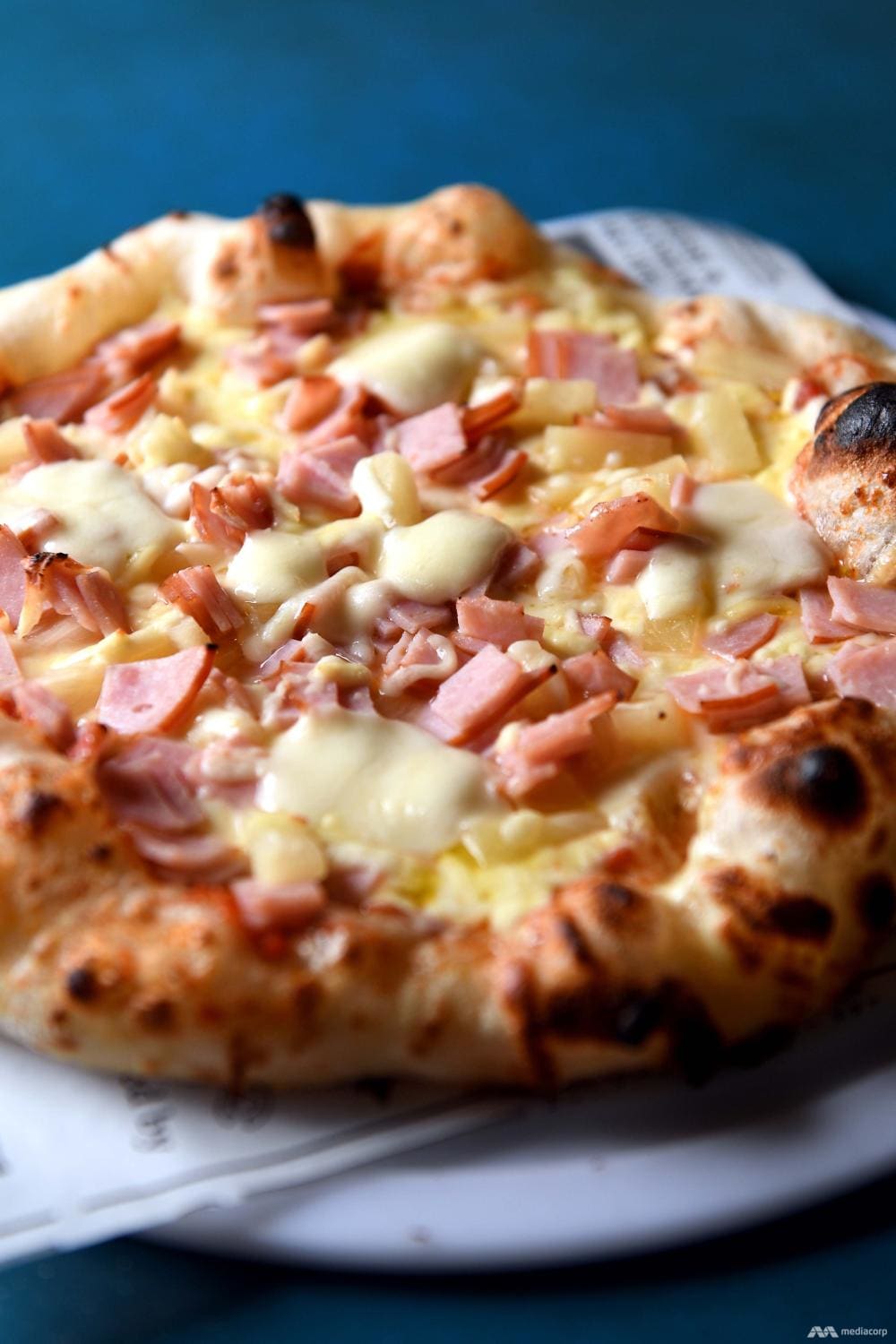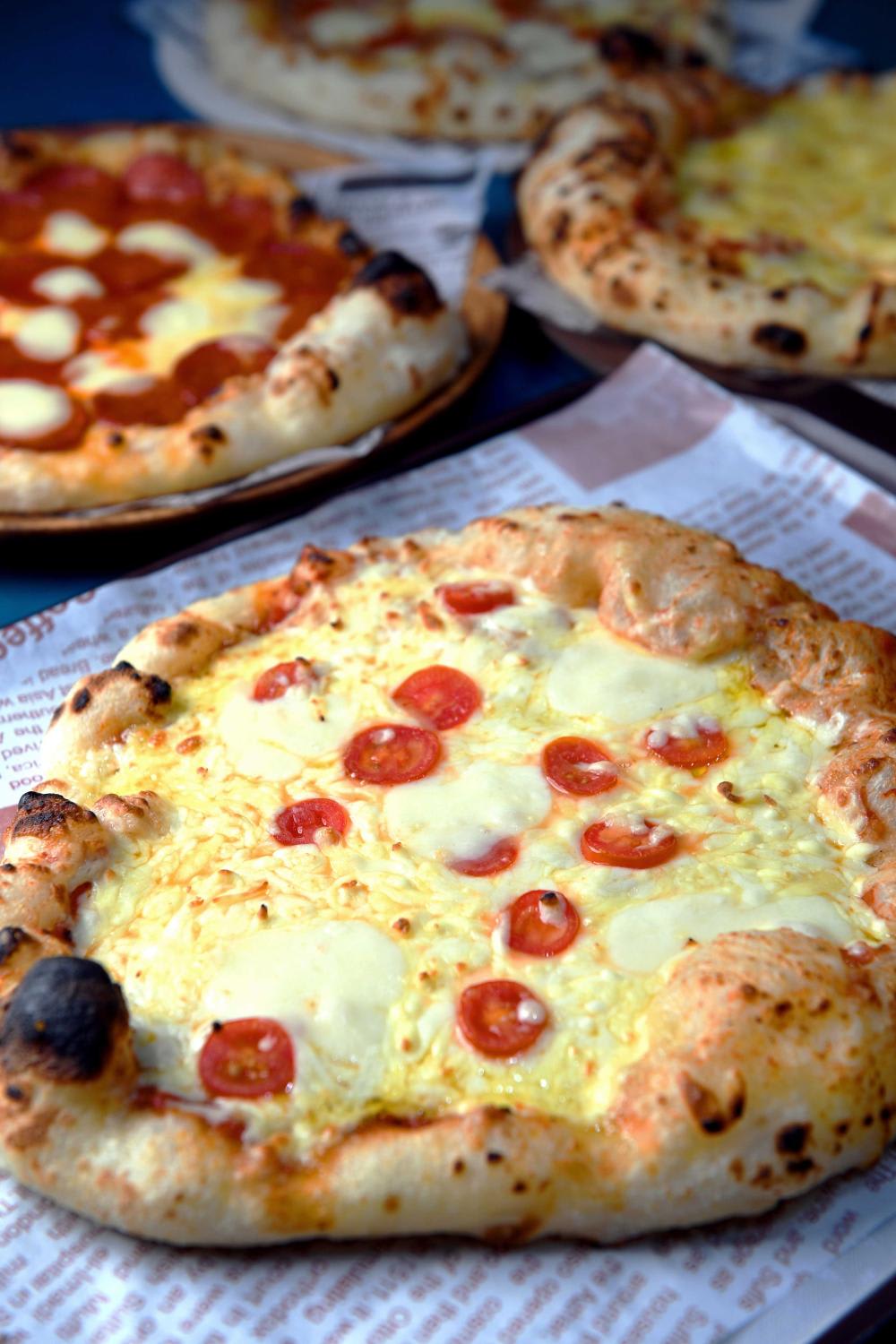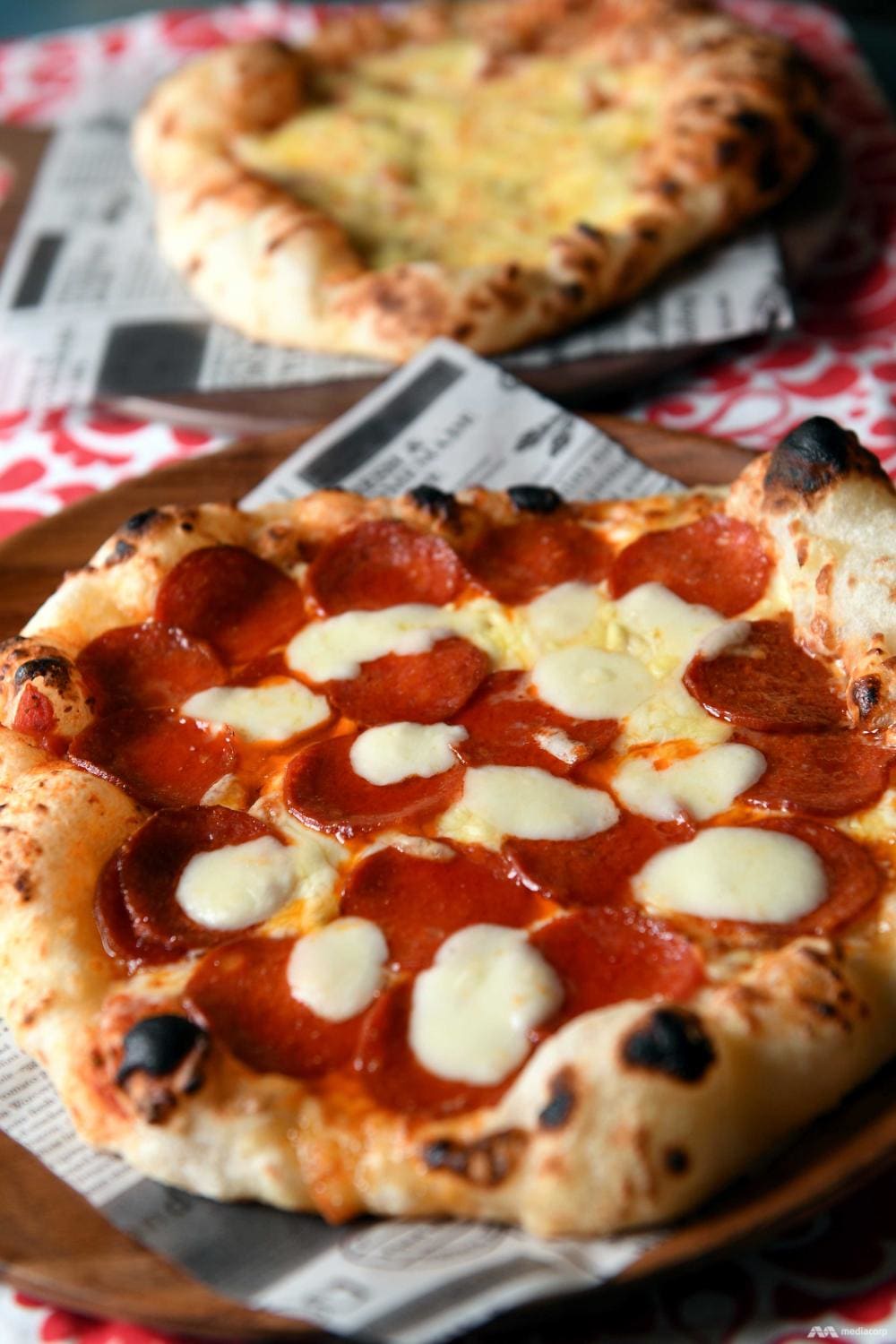 PEPPERONI PIZZA, S$15
The entire pizza was covered with so much salty sliced pork salami, we could hardly see the pizza dough. This classic pie is a crowd favourite, and also ours. We like its simplicity – just what a good old pizza should taste like.
HAWAIIAN PIZZA, S$15
Heaving under the weight of too much canned pineapples and chopped ham, this pie was unfortunately too damp from the fruit and doesn't dry out or get caramelised enough, due to the short cooking process. But when we reheated the leftovers in our air fryer, it added a little smokiness to the pineapple bits, which made it yummier than when we ate it fresh out of Henry's oven.
BOTTOM LINE
Are the pizzas here truly Neapolitan-style? Well, although Henry doesn't use the classic Italian 00 flour to keep prices down, and a couple of the pies are crammed with too many ingredients (sometimes less is more), they're tasty enough and hit the spot when you don't wanna fork out S$30 or more for a restaurant version. We're moved by the couple's dedication in trying to secure a future for their son. For this reason – and also because we genuinely like their pizzas – we'll be making repeat visits.
168 Neapolitan Style Pizza is at #03-168 Taman Jurong Food Centre, 3 Yung Sheng Rd, Singapore 618499. Tel: 88240944. Open Thurs to Sat, 6pm to 9pm. More info via Facebook, Instagram and Tiktok.
This story was originally published in 8Days.