Juicy scallops and braised squid with a Peranakan twist at Magic Square
An impressive menu of dishes that wouldn't be out of place in a fine dining restaurant makes this pop-up establishment the best place we ate at this week.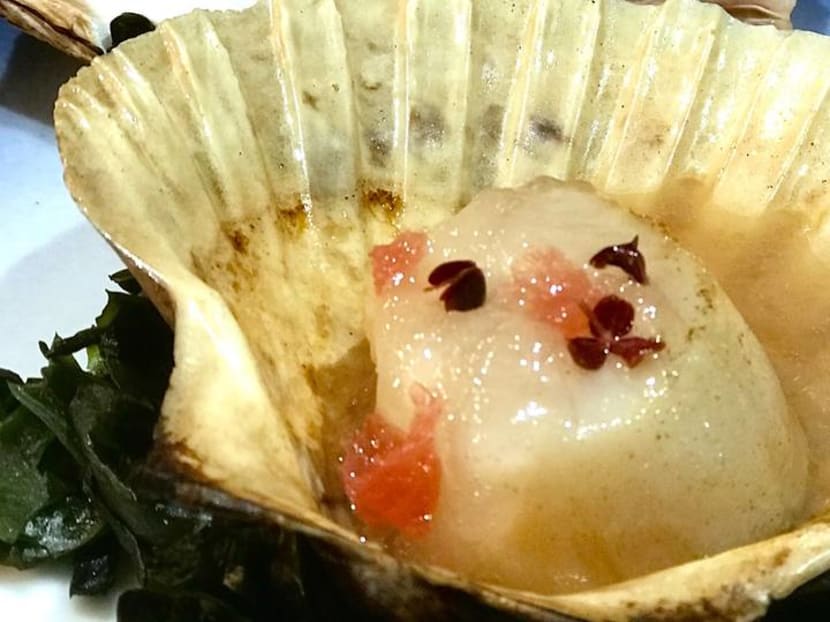 By all appearances, the scallop on its shell should have tasted rather plain. It boasted little colour and swam in its cloudy juices, which had been released in the cooking over charcoal.
Yet, each bite was redolent of giam chye (salted mustard greens) laced with a whisper of chap chye, that totem of Nyonya vegetable stews. It had all the charms of a comforting Nyonya broth distilled into a single, more-ish spoonful.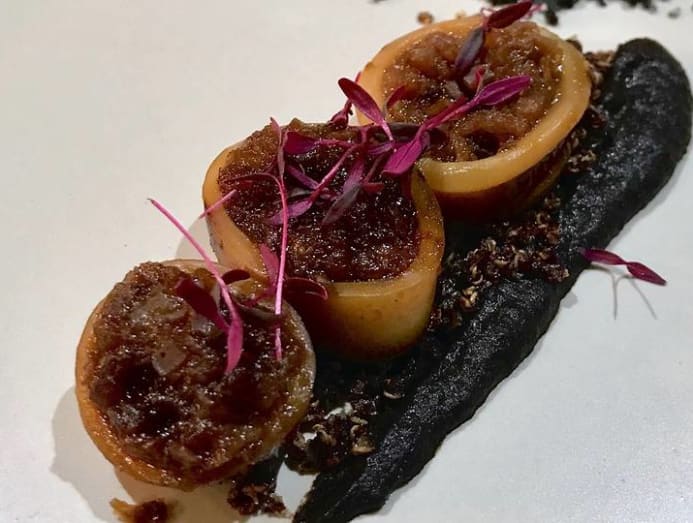 Suffice it to say, this was a lovely start to a meal created by chef Marcus Leow at year-long pop-up restaurant Magic Square. Established by restaurateur Tan Ken Loon in May, the aim of Magic Square is to provide a platform upon which to groom a new generation of young chefs. The three chefs Tan picked are Leow, Desmond Shen and Abel Su, all of whom are below the age of 30. Each month, they take turns to create an original menu with some parameters set by Tan.
In the seven months since it opened, the restaurant looks to have finally hit its stride with its chefs putting out more confident menus and food. In that time, it has also garnered plenty of fans, praise and brickbats. Some fete the price of S$78++ per head and applaud the originality and pluck behind the dishes, which are often comprised of cheap and cheerful ingredients that are necessary for the chefs to keep within their lean budgets.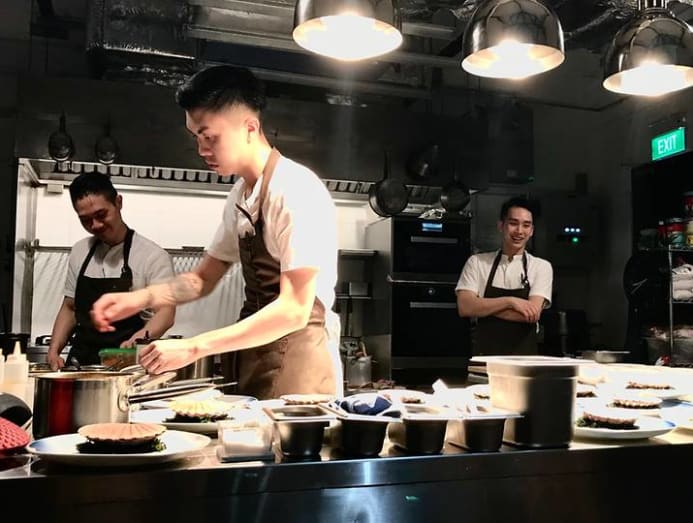 Others think it expensive since filtered water is charged at $3.80 per person, while bottles of wine are marked up twice (though Tan would have you know that this is the lowest mark-up in the industry). Yet others lament the esoteric ingredient pairings and small portions – we were advised by more than a few people to eat something before heading to dinner or risk leaving unsated.
Turns out, the naysayers were wrong. While contemplating the charms of a silky cheong fan (rice roll) filled with meltingly tender Chinese sausage confit, we realised that the bowl of curry devil we'd inhaled before coming here was encroaching on precious stomach space. Not that it stopped us from swiping the slivers of cheong fan against their delicate pools of caramel-scented rojak sauce and the thick gado gado sauce that may have well been gourmet peanut butter.
What impressed us about this meal was Leow's creativity in parsing humble local ingredients into original creations inspired by his Peranakan heritage. 
To wit: A simple-looking bean salad was anything but. Its humble appearance belied layers of flavour in the form of a green chilli sambal, tangerine kosho (made with fermented green chillies, tangerine juice and zest) and a velvety turnip sauce, all of which yielded a cool, nuanced salad bursting with big, bright flavours.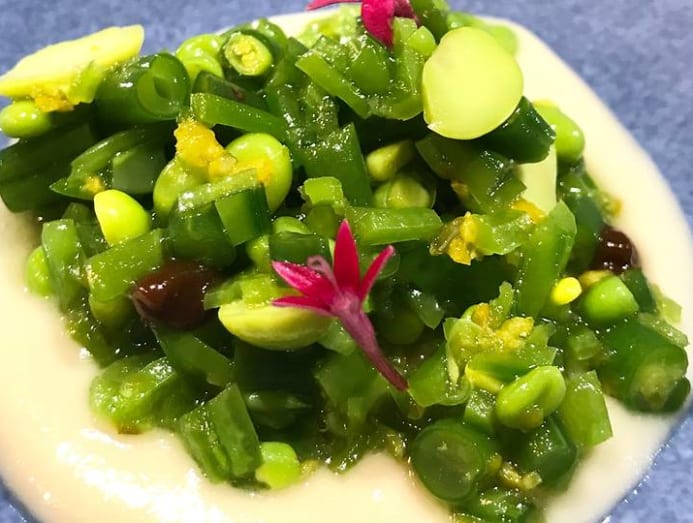 In another notable course, squids were stuffed with their own kicap manis-braised meat and fried shallots, and served with a smoked buah keluak (an Indonesian black nut) paste.
The finesse, technique and harmony behind each dish were remarkable, but according to a regular diner at our table, this wasn't always so. Apparently, the early iterations of some of those dishes were less than satisfying. Which may just be the key to unlocking a great meal here: Come later in the month, when the chefs have had time to fine tune the food based on customer feedback and through sheer repetition. Practice, as the old trope goes, does indeed make perfect.