At this Singapore restaurant, diners must choose between 2 paths of flavour
Preludio is known for changing its concept and menu every year, and in 2021, it's a choice between "Capture" and "Release".
Preludio, the restaurant that reinvents itself by going through a new "chapter" every year, has unveiled its latest concept.
The new, third chapter is named "Two Roads", signifying an important choice to be made: Diners must decide if they would like their meal to go down the road of "Capture" or "Release".
"Capture", explained chef-owner Fernando Arevalo, is a menu that "is very pure". Each dish "tries to highlight an element that is raw" and to distill its most "essential flavour".
In the divergent path "Release", on the other hand, "I act boldly and I transform an element", pushing it to its conceptual capacity.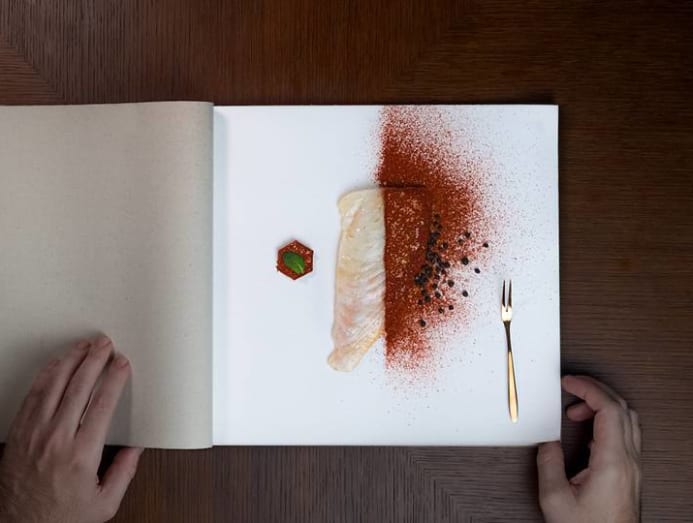 The good news is that no matter which choice you make, you will go home extraordinarily well fed – with the only damper being your own self-imposed sense of FOMO ("fear of missing out", for the acronym-disinclined).
The idea for this chapter was born out of its predecessors, Arevalo told CNA Lifestyle.
"Monochrome was very one-dimensional, and then Time gave us the dimension of the creative process. This one, I feel, is like a third dimension, because it brings the customer in, to make a decision about the experience that they're going to have."
He explained further, "The moment one chapter begins, I start a personal search to see what the next chapter is. And I feel like sometimes, I'm spying on the idea; giving people hints so that I can get reactions; and then wondering if it's possible to make the food.
"I think that was what drove me more and more towards this idea: I was being confronted with that decision myself, every time I created a dish. 'Am I going to go with this side of myself? Or am I going to go with this other side of myself?' And then, 'How interesting would it be to draw a line between them and just create two different feelings?'"
You could compare, for instance, a Capture dish of a venison tartare wafer with caviar and ice cream made with braised eggplant and tomato water, with a Release dish of a chicken mille-feuille comprising feuille de brick (pastry sheet), cream of chicken, caviar, rice crisps and dehydrated chicken stock.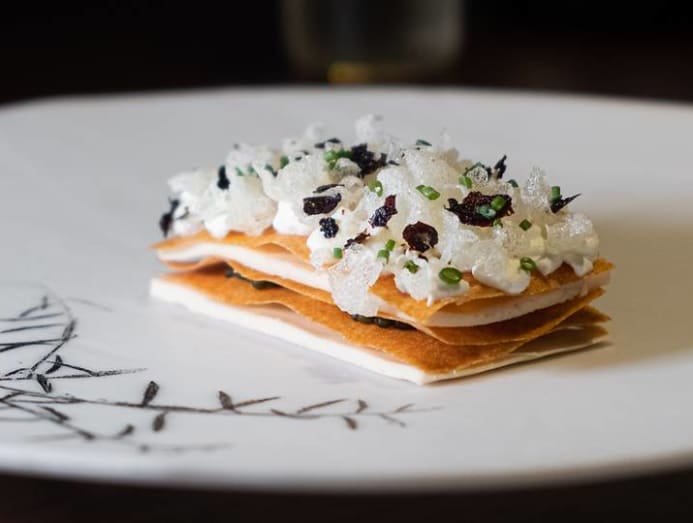 In the first, the raw venison is the star and the other elements, inspired by the simplicity of an ice-cream sandwich, dance around it. "It's very clean, and the venison is just barely marinated. That is to say, we let the venison talk more," Arevalo said.
In the second, "Chicken has been transformed. It goes through many processes, and I break it down all the parts of the chicken and adjust it to exactly where I want it to be – light, in the cream; and intense, in the dehydrated processes. I am more aggressive with it, maybe… It's about how intensely I interact with specific ingredients, and in many cases, that means the flavours are really strong because they have been developed during a very long process. Or, we could say, I've done it all, to adapt it to what I want it to be. I managed it in every possible way that I could."
The themes are interpreted loosely and with creativity, though.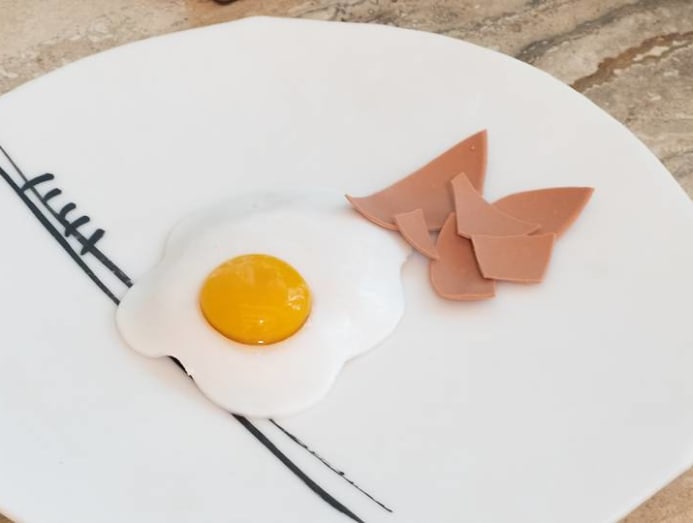 For a Capture dessert, for instance, pastry chef Elena Perez de Carrasco has dreamt up a dish that resembles a breakfast plate: An egg fashioned out of lime sponge covered with coconut jelly, with a mango and passionfruit yolk; broken pieces of white chocolate eggshell; and a tiny triangle of brioche for dipping into the "yolk". 
Inspiration came when she was contemplating the ideas of origin and primacy, and decided to present a playful homage to the question of "which came first – the chicken or the egg?"
More playfulness and outright humour comes in the form of a Capture dish called One Noodle, which is exactly as the name suggests: A single 3.5m-long handmade Chitarre pasta ribbon, served with Brittany blue lobster in a sauce of Iberico ham, bacon fat, parmesan and scallions.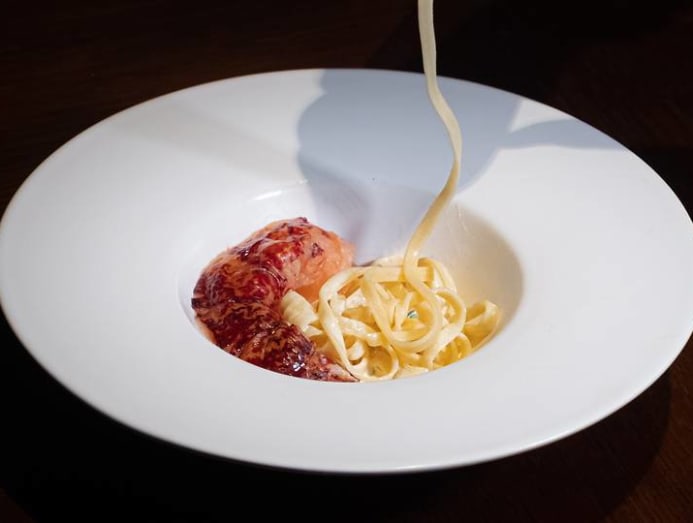 Fans of Arevalo will know that this is his way of taking the piss out of the dining experience – after all, he's the chef who served two identical-looking but completely different-tasting dishes one after the other to Monochrome diners.
"I thought this dish was going to be easier, to be honest – not so much to make the pasta, but to show people that it was one noodle," he laughed.
Very little is easy, one would imagine, when a chef turns his entire restaurant's concept around every year – especially with an idea like Two Roads, in which he's had to come up with twice the number of dishes.
"Every time we change chapters, I feel like it is the hardest thing I've ever done," he said with a laugh. "I have to gather every single ounce of courage that I have – to let go of all the things that people thought were great, so that I can put myself back out there and be criticised again. It's difficult to hear someone saying, 'I think the previous one was better.'"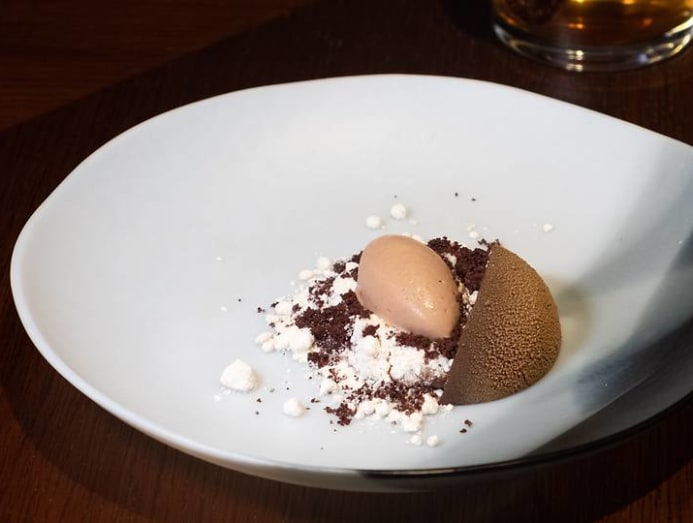 There's the immolation of one's own pride, as well.
"You ask any chef, 'Would you give up your your signature dish, the one everyone loves?' They would say, 'I'll die with it.'
"But for me, it's just because I think I can do better."
He added, "The more time passes, the more I fall in love with the restaurant and the concept".
Preludio is at 182 Cecil Street, Frasers Tower #03-01. Lunch starts from S$78 for four courses; dinner starts from S$188 for six courses. In Two Roads, all diners at the table must select the same menu.