A dish that took half a year to make? This Singapore restaurant is obsessed with Time
CNA Lifestyle sat down at modern restaurant Preludio to try its conceptual menu, where every dish is done either very fast or very slow.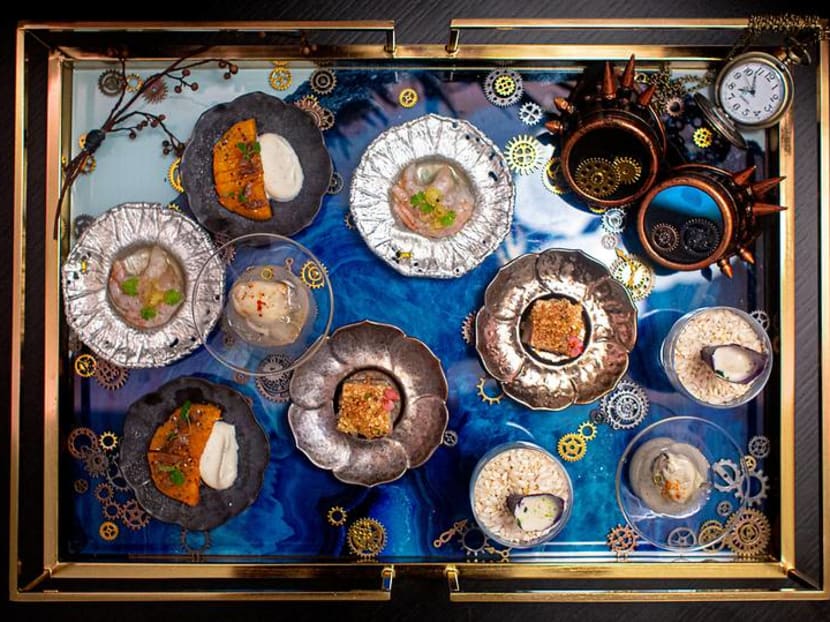 For one year, chef Fernando Arevalo sent out nothing but starkly black-and-white plates of food at Preludio, which, in its first "chapter", titled "Monochrome", made colours explode only on diners' palates.  
But it's now the second year, and therefore time for the next chapter at this "author's cuisine" restaurant, where each annual refresh brings a brand new theme.
While Monochrome was a visually-oriented idea, this year's is more conceptual: Time.
That pronounced shift is deliberate. "The more people think I am something, the more of a contrast I want to make," said the Colombian native who has made Singapore his home for the last seven years. "I thought the most important thing was to completely throw them off again."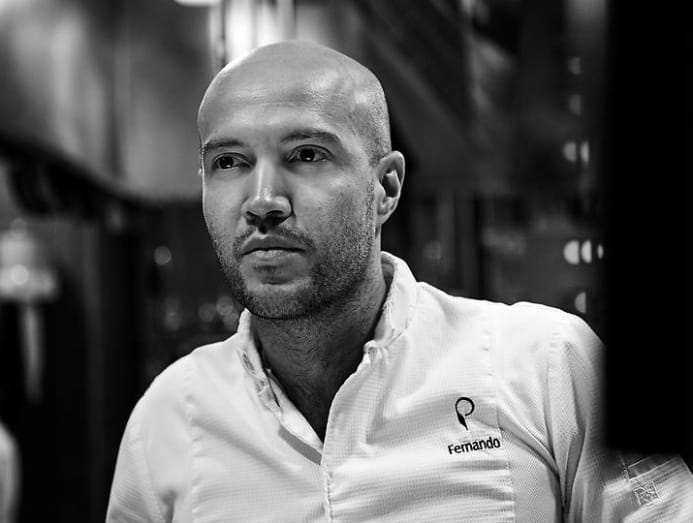 Additionally, "Time has so many different ways to be interpreted. I feel it gives us so many other ways to play with the food. It's still us; you'll find a lot of familiarity – they are not the same dishes, but I think style is something you can't remove from yourself."
The style in question, of course, is food that is elegant in its simplicity but always involving inspired ingredient pairings; knowing this, Preludio's regulars have booked their tables months in advance, eager to experience what Time has to offer.
As one would expect, the first of the Time menus, which debuted on Feb 3, places emphasis on concepts such as seasonality, ageing, dry-ageing and fermentation.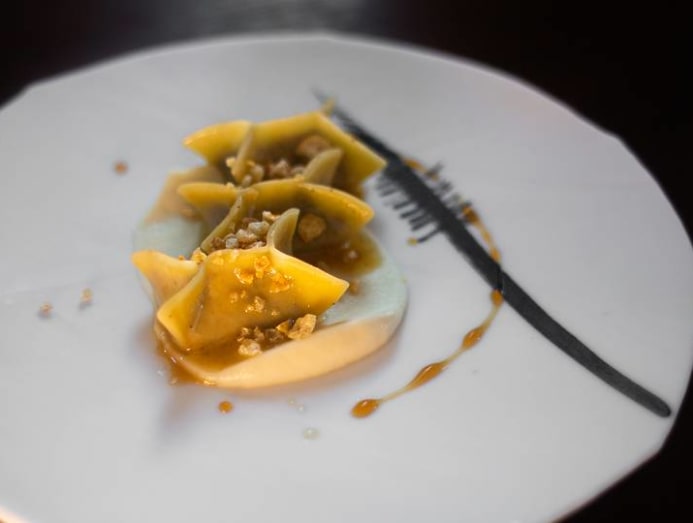 In show-stoppers such as a pasta dish of confit duck, for instance, the deep flavours of aged duck from the acclaimed Mieral in France are enriched by tiny puffs of pork crackling and a sweet-sour agrodolce sauce. 
Still, Arevalo knows that it is in the first act that he must charm and captivate his audience: The Time Machine course, which comes just after the bread, features five exquisite little dishes and a card explaining that each has taken anywhere from two minutes to half a year to make its way onto your plate. 
For instance, there's the spiked Brittany Oyster with popping candy, which is shucked and served in just 120 seconds; the fermented garlic ice cream, for which the cloves have been fermented for one month; and the butternut squash with anchovies filleted, salted, pressed and rested for six months.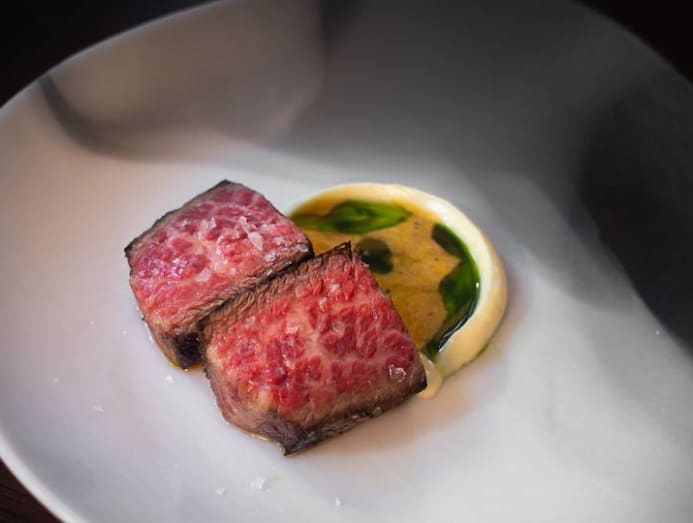 But because Time is such a broad theme, it's applied more loosely in other courses, such as in a dish of roasted wagyu short rib served with smoked cauliflower puree, smoked piquillo peppers and a deconstructed chimichurri, which takes Arevalo – and us, along with him – back in time to his childhood in Colombia. 
Similarly, in one of her dessert courses, pastry chef Elena Perez de Carrasco remembers the after-school snack of bread, chocolate and olive oil her grandmother used to feed her back home in Spain's Basque Country.
"We've made it a little bit more personal," Arevalo said. "We try and play with it. But it's all very subtle."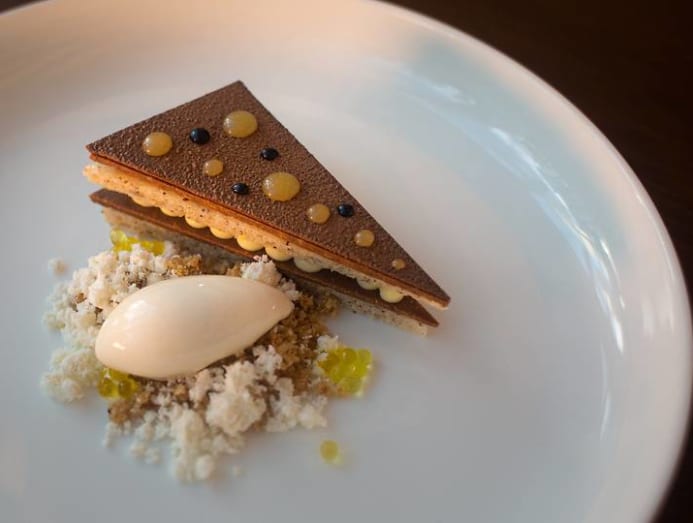 In turning the page of Monochrome over to that of Time, the biggest challenge was learning to see in colour again, he shared, with a hearty laugh.
"I think subconsciously, everything was colourless. So, at the beginning, I didn't know how to handle it!"
He explained, "If I were a teacher of culinary arts, I would tell my students, 'Never put something there for the colour. If you put a piece of herb, maybe you're hinting at what's inside, or that herb will give you a special taste. Don't just put it there because of the colour.' So, I had to tell myself that again. I obviously wanted things to start looking colourful, because we want that reaction from people. It's necessary for that contrast. But then I found myself putting colour for no reason and then telling myself, 'No! It doesn't make sense.' I had to re-evaluate that about myself."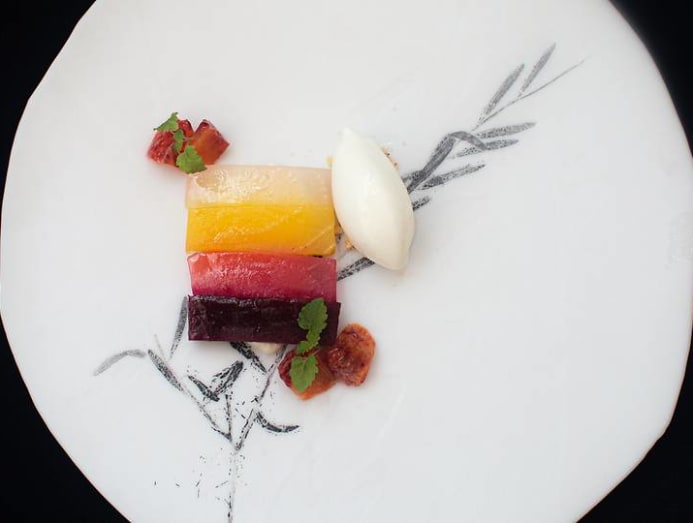 Add the pressures of perfecting an entirely new menu to the scramble of hosting guests who wanted a last taste of Monochrome before it was lost forever, and you have a transition that few chefs can say they have ever experienced.
"We didn't expect the end of Monochrome to become something so big. When we announced that Monochrome was ending, everyone wanted to come. We were fully booked. It was like we were opening a restaurant while we had a restaurant running at the same time," he said. "It was incredibly difficult. It made me completely crazy."
Mindful that he has to do it again next year, when the chapter changes again, he mused, "I think I know how to prepare for it better, now that we've done it once!"
He already has the next chapter in mind, just as he had Time in mind even when Monochrome had just been rolled out – but no amount of wheedling will get that closely-guarded secret out of him.
For now, he will be using his creative powers to come up with new menus every season, as he did in the previous year.
"We're thinking of doing some really cool stuff about the seasons and how seasons change, and reflect that in the menu," he said.
Preludio is at 182 Cecil Street, Frasers Tower #03-01. Lunch starts from S$58 for four courses; dinner starts from S$188 for six courses.