Kanpai! A look at Singapore's growing appetite for sake
Sake is slowly becoming big in Singapore. CNA Lifestyle gets the lowdown on what the scene is like today from Sake Sommelier of the Year Joshua Kalinan and sake expert Eugene Wong.
When Joshua Kalinan drops by his favourite hawker centre at East Coast Lagoon to eat, his go-to drink isn't a nice, refreshing pint of beer but something a bit more exotic.
Often, he brings a bottle of dry or sweet sake - which he swears are perfect with his favourite oyster omelette or sambal stingray. "The flavours just go so well, and it's an interesting way to have sake," he shared.
Pairing the quintessential Japanese alcoholic drink with local hawker food may seem odd, but the first Singaporean to win the Sake Sommelier Of The Year title is hoping to change how people appreciate sake.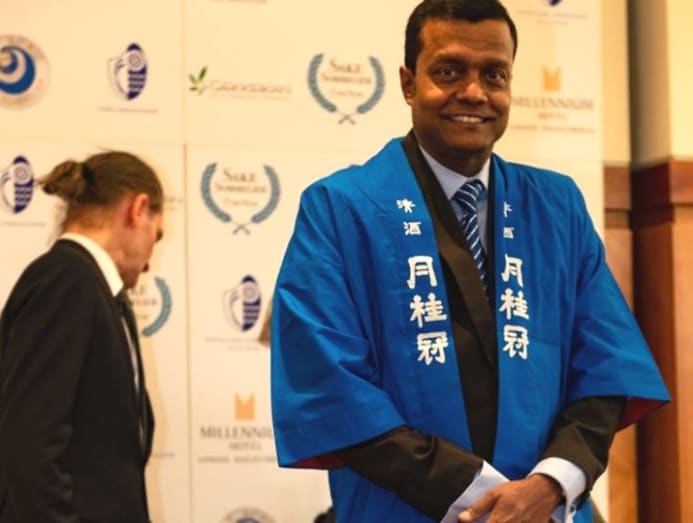 The 52-year-old Kalinan, who works as Singapore Airlines inflight auditor and air sommelier, recently won the prestigious international award given by the UK-based Sake Sommelier Association. And he believes the sake experience goes beyond Japanese restaurants and cuisines.
"We have multitudes of cuisines here - sweet, sour, bitter tastes. We should be more adventurous in trying different grades of sake," he said.
GROWING INTEREST IN SAKE
While it's unlikely we'll be seeing beer aunties pouring cups of honjozo sake at neighbourhood hawker centres anytime soon, there is certainly a growing interest in sake here.
A recent report by Japan's Ministry of Finance ranked Singapore as the seventh top exporter of sake last year with 527,778 litres - just below the US, South Korea, China, Taiwan, Hong Kong and Canada.
"It's actually getting very popular; there are more sake bars now than, say, four or five years ago," said Kalinan.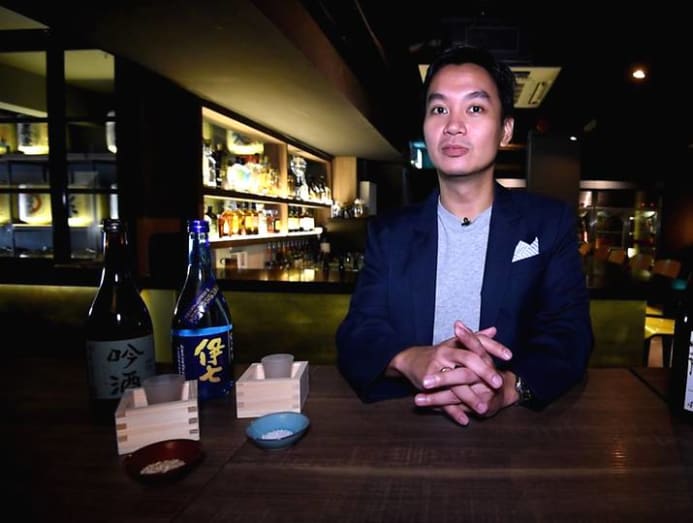 While it remains relatively niche compared to the wine and whisky scenes, fellow sake sommelier Eugene Wong agreed that interest has been growing.
The 37-year-old owner of Mr Otaru, which imports and distributes five sake brands to restaurants and bars in Singapore, and has an online store, said that sake's gradual rise could be compared to how the craft beer scene grew.
He pointed out the increasing popularity of sake specialty bars, such as Boruto and Shukuu Izakaya. In terms of events, there's also the Sake Festival Singapore, whose recently held sixth edition featured over 450 sake labels from 42 breweries from Japan.
SINGAPOREANS GO FOR PREMIUM SAKE
Singaporeans are slowly becoming discerning sake connoisseurs as well. According to both sake sommeliers, many are going for premium sakes these days, such as junmai ginjo and junmai daiginjo.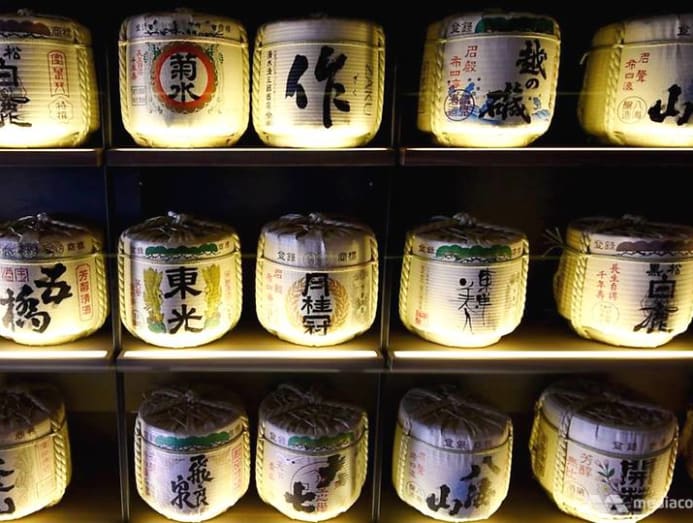 Wong, who distributes brand such as Kikuzakari, Ishichi and Daimon, pointed out that premium sake is the biggest growing segment in Japanese sake right now, with exports outweighing your ordinary table sake.
"The appreciation is definitely growing, thanks to exposure to new brands and styles. It's like how the craft beer thing exploded, when there's suddenly a lot available and people are willing to try," he said, adding that the entry level prices for premium sake is quite affordable.
A bottle of junmai, which is pure rice sake, or honjozu, which is sake into which a small amount of distilled ethyl alcohol is added in the final stages of production, can start at S$50 to S$60.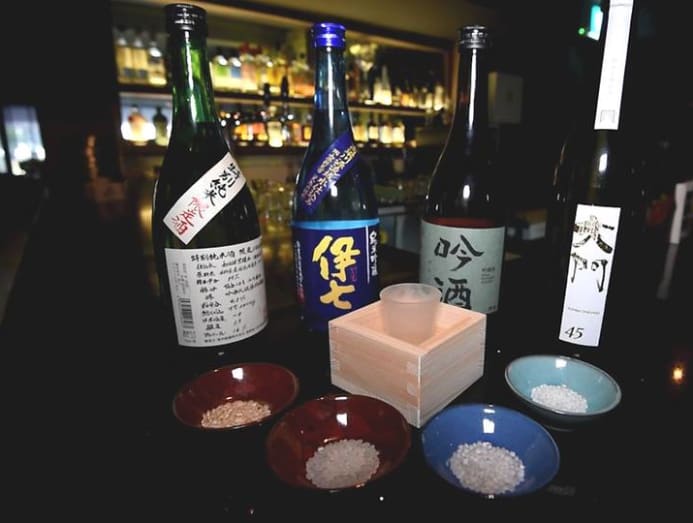 When it comes to preferences, Singaporeans actually like sake on both ends of the taste profile spectrum.
"They like those on the light, fruity and sweet side but at the same time, they also like it when their sake is drier and sharper."
Other variants that are slowly getting attention are aged sake - or koshu - and sparkling sake, which is quite popular among the ladies, said Kalinan.
FROM FOOD PAIRING TO THE RIGHT CUPS
That said, there are still road bumps when it comes to Singaporeans' appreciation of sake, ranging from being intimidated by the labels in Japanese to its mistaken reputation of being a very strong drink.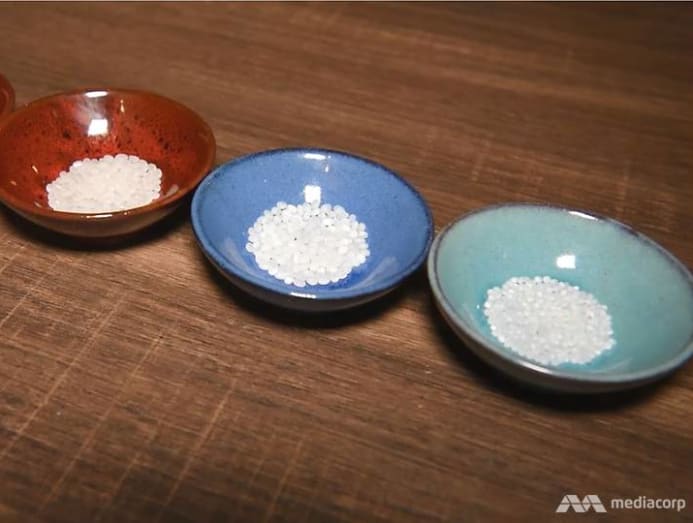 "There's a misconception that it's strong like vodka or baiju (a Chinese clear liquor) but it actually isn't," said Wong. "It has a very delicate flavour and the alcohol percentage is between 14 to 17 per cent, which is just a little bit more than wine."
Then, there are certain stereotypes, like how people think you need to drink it in ochoko, or tiny sake cups.
"The reason behind it is because in Japanese culture, it's an honour to pour sake for someone, so the smaller the cup, the more you get to pour. But today, many restaurants, even in Japan, are starting to serve sake in wine glasses," said Wong, who pointed out that wine glass brand Riedel has even launched glasses specifically dedicated to sake.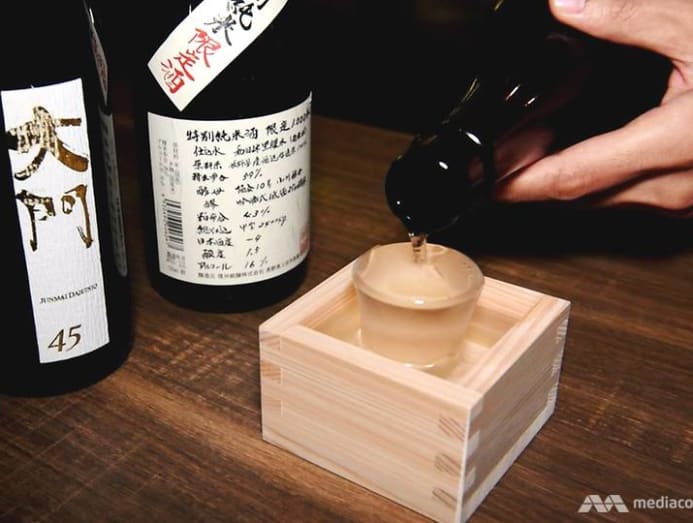 In fact, drinking from a wine glass is actually how Kalinan prefers it. "You chill it like white wine, drink from a white wine glass - it releases the aroma," he said.
Finally, there's the misconception that sake is only good with Japanese food. Wong pointed out that while non-Japanese restaurants are open to bringing in sake, "customers sometimes need convincing to have sake with their pasta".
But that shouldn't be the case. Aside from his hawker food forays, Kalinan has been experimenting with other types of pairings. "I once did a cream of mushroom soup and paired it with koshu. There's a bit of nuttiness in the sake, which made the mushroom soup taste sweeter," he said.
Wong agreed that sake is excellent with non-Japanese food. "It pairs brilliantly with Italian, French, local food. We've held events where we pair it with dishes like chicken rice or fried carrot cake," he said.

SOME QUESTIONS ABOUT SAKE
Hot sake or cold? What's that wooden box for? Mr Otaru's Eugene Wong gives us a crash course on things you wanted to know about sake but were afraid to ask.
1. WHAT TYPES OF SAKES ARE THERE? 
Sake is graded based on the polishing of the rice. It all gets a bit technical, but to simply things, Wong said that these grades are known as daiginjo, ginjo and honjozo. 
What are the differences? Daiginjo will have more aromatic, fruity and floral flavours. Ginjo has a little bit more body and roundness. Finally, honjozo offers lots of heavy notes and umami.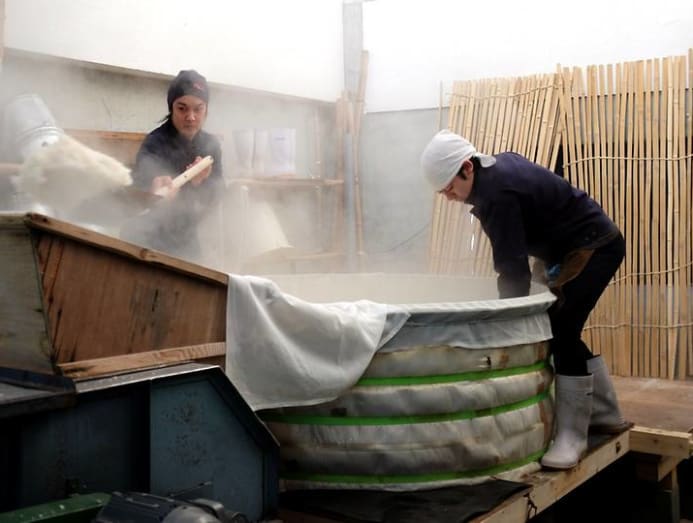 2. DO WE DRINK IT HOT OR COLD?
There are no official rules, but Wong said that really expensive premium sake, like daiginjo, is best when it's chilled. "They're brewed with a high floral aroma. When you warm up sake, the body comes out and you tend to lose the top notes, the very thing those sakes were brewed for. If it's middle or entry-range sake, we would warm them up to emphasise the body."
3. DO WE DRINK OUT OF THAT SMALL WOODEN BOX?
Sometimes, a restaurant would bring out a small wooden box (masu) with a sake glass inside. And they'll pour the sake into the glass until it overflows. This is a sign of appreciation from the restaurant, said Wong - and you drink from both. 
"You pick the glass out of the box and drink from that. After that, you drink from the box - the flat edge, not the corner."
4. WHERE DO WE BUY OUR SAKE IN SINGAPORE?
Japanese bars and restaurants would be the best bet for variety. "A lot of them have labels you can't find in supermarkets. There are some, like The Flying Squirrel, which have their own sake brand that is brewed in Nagano specially for them," he said. 
Outside of F&B outlets and specialty online stores, easy supermarket options include Meidi-Ya in Liang Court and Isetan Scotts.
5. WHAT DO I LOOK OUT FOR IN A SAKE BOTTLE LABEL?
There are a few things. First, check the date. Buy if it's only less than two years old because you want to drink sake within one to two years of brewing - unless it's aged sake, which is an acquired taste. 
You should also look at the SMV or sake meter value, which indicates how sweet or dry it is. "The lower the number, the sweeter it is; the higher the number, the drier it is. If it's a -7 or -8, it's going to be sweet. If it's +4, +5, it's a little bit dry," he said. 
Meanwhile, the percentage sign you see refers to the rice polishing ratio, not the alcohol content. The lower the ratio, the better the sake is.
6. HOW LONG CAN I KEEP SAKE?
Don't think of sake like wine, said Wong. Once you open it, it's best to finish between five and 10 days because you'll start to lose the aromas.