Where to go for the best putu mayam? Try a cocktail bar in Chinatown
The Elephant Room might be known for its inventive cocktails but the actual star of the place is the string hoppers – an ode to the owner's memories of Little India.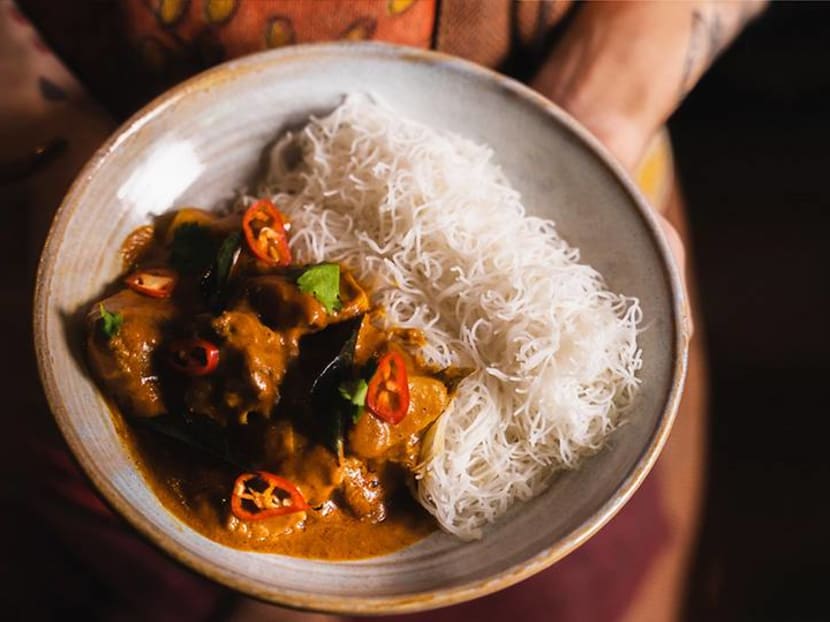 Chinatown is the last place you'd expect to find superlative putu mayam (string hoppers), of all things.
But here we were, wide-eyed and wondering how it was that we were seated in a gentrified corner of the historically Chinese enclave eating the best putu mayam we'd had in a long time.
Of course, great string hoppers can be found across Little India where the ones we are merrily chomping on had come from. But still, surprise factor 100, as the young and hip like to say (add Raising Hands Emoji here for effect). 
We were on the second floor of a Teck Lim Road shophouse synonymous with its ground floor tenant, a certain Burnt Ends. Right above it, quietly bringing a taste of Little India to Chinatown is The Elephant Room.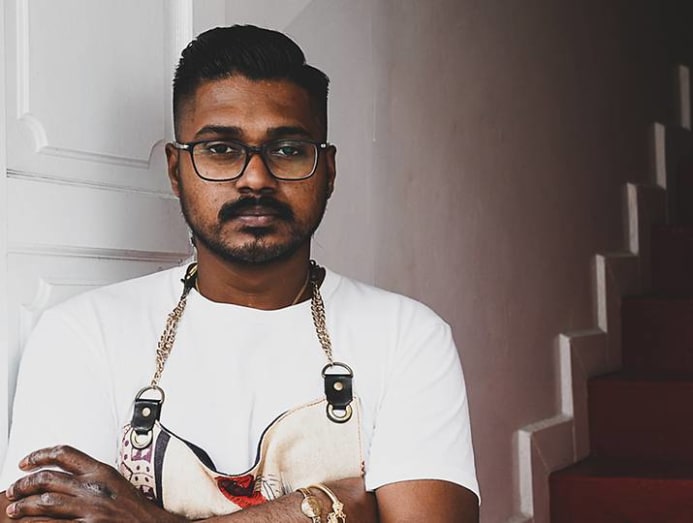 A cocktail bar ode to the Indian enclave, The Elephant Room's devotion to its theme is evident in everything from the russet Jaali vent blocks that hold up its bar counter, to the drinks named after the district's stalwart businesses.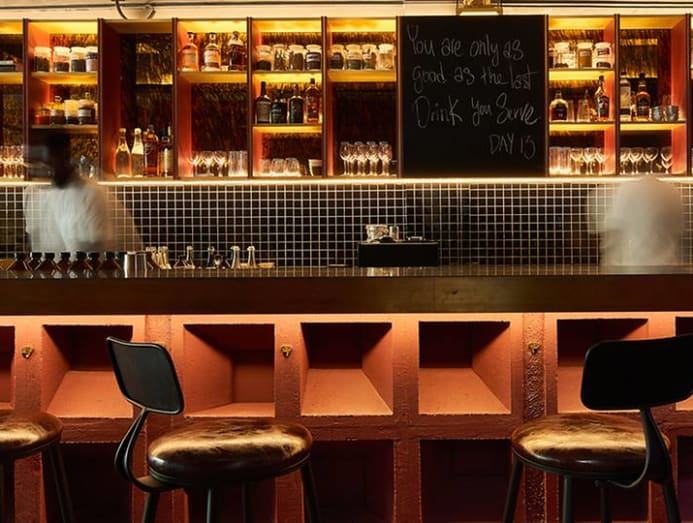 To wit: Jothi's Flower Shop, its spirit distilled to a concoction of Himalayan gin, jasmine flowers, fermented lime and honey. Banana King, made from roasted banana gin, banana syrup and the aroma of sandalwood, is a nod to the fruit's importance in Indian culture.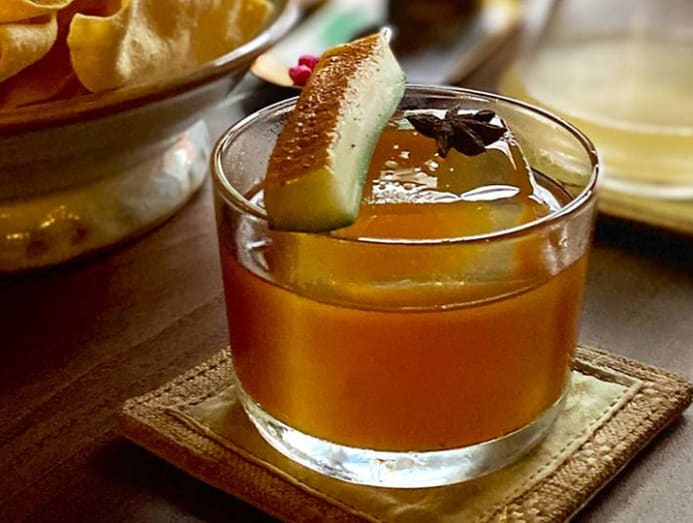 Meanwhile, King of Toddy pays homage to Rasoo Shanmugam, a mechanic-turned-tycoon who supplied government-tender toddy shops in Singapore back when the palm wine wasn't a banned substance.
"I want to show, through my cocktails and the whole experience here, that there is so much more to Little India than just shopping at Mustafa or eating curry at Race Course Road," explained owner Yugnes Susela, who established The Elephant Room a little more than a year ago.
"There's a whole array of people and businesses, and I want to reflect who they are, how they have evolved and their contributions."
CULTURAL IMMERSION
Having worked with mostly Western spirits and flavours in acclaimed bars such as Smoke & Mirrors and Tippling Club, Yugnes (who took his mother's name rather than his father's "because she has always played the role of mother and father to me"), has made it a point to serve only spirits from India at his establishment.
"At first people thought I was joking," said the 32-year-old. "The misconception is that Indian spirits are of poor quality. But in the span of a year, we have shown that India has good quality spirits – we have India's first vodka, four types of Indian gin, as well as rum. We also have an Indian agave and tonic from India."
Suffice it to say, his aren't your average cocktails. Enjoying them requires coming with an open mind and a taste for spice as these drinks are as layered as the flavours of India's myriad cuisines. Which brings us back to the putu mayam. 
TEAM EFFORT
Yugnes does not shy away from the fact that the string hoppers he serves are bought from an emporium in Little India.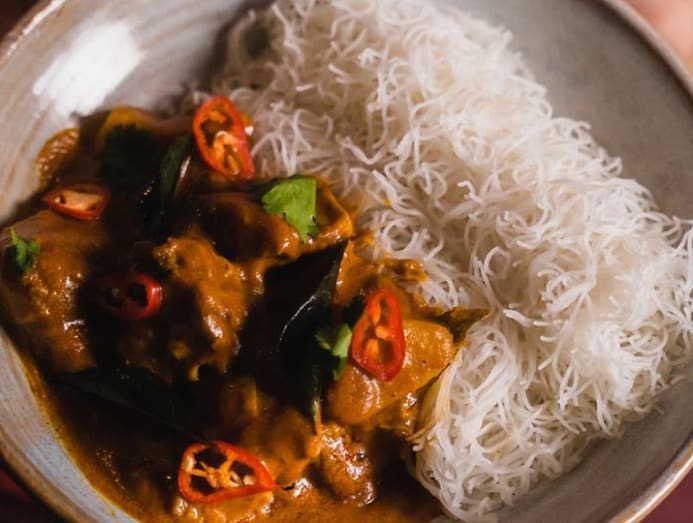 Losing his full-time chef during the "circuit breaker" forced him to rethink his operation. He overhauled his food menu, hired a part-time chef to refine and execute his ideas, and taught his bar team how to cook every dish. 
"With the current menu, everyone can cook the dishes. The circuit breaker taught me that we all have to be versatile," he chirped.
Happily, the food is as enjoyable and memorable as the drinks. Served in generous portions, standouts include a dish of crisp Gunpowder Calamari – battered and fried squid tossed in a piquant mix of ground spices – and Gobi Manchurian, that Chindian classic of cauliflower fritters tossed in a sweet-sour glaze. 
But the putu mayam… they are the stars. You can have them served warm with what Yugnes describes as a "soul-soothing curry" or with a tamarind-laced coconut sambol.
TASTE OF HOME
Why pay S$21 for putu mayam in Chinatown when you can enjoy perfectly good putu mayam in Little India for a fraction of the price? "Because you can't have it with my mother's (chicken) curry," Yugnes quipped. 
Indeed, the curry is lovely – rich, nuanced and silky with coconut milk – quite unlike your typical Indian-style chicken curry. Yugnes explained that it is a reflection of his mother Devi's growing up years in a kampung alongside Malay and Chinese neighbours.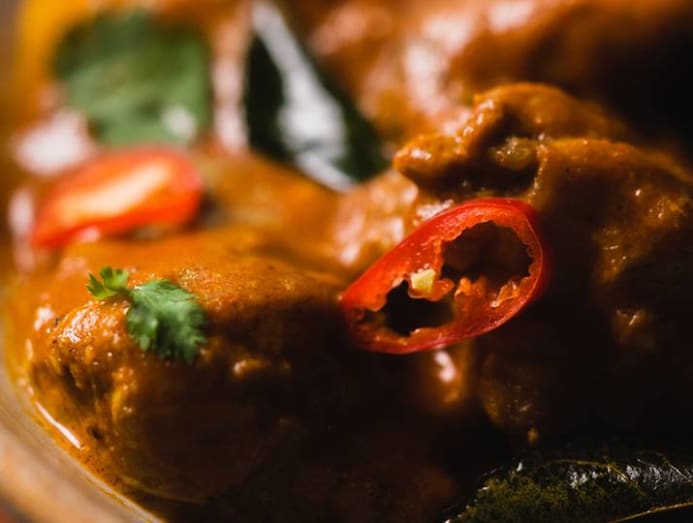 "Also, when you have putu mayam in Little India, they would just serve it to you and walk away. Here, when we serve it, we can explain its cultural significance to you and what it means to us," he enthused.
No doubt, The Elephant Room is an inspired slice of Little India far away from its madding crowd. And as its self-appointed ambassador, Yugnes is hanging its jasmine-scented garlands in full glory here.
The Elephant Room is located at 20A Teck Lim Road.