7 (mostly) child-free restaurants in Singapore for quiet date nights
A "screaming children surcharge" won't be necessary if kids can only dine in on select days and timings.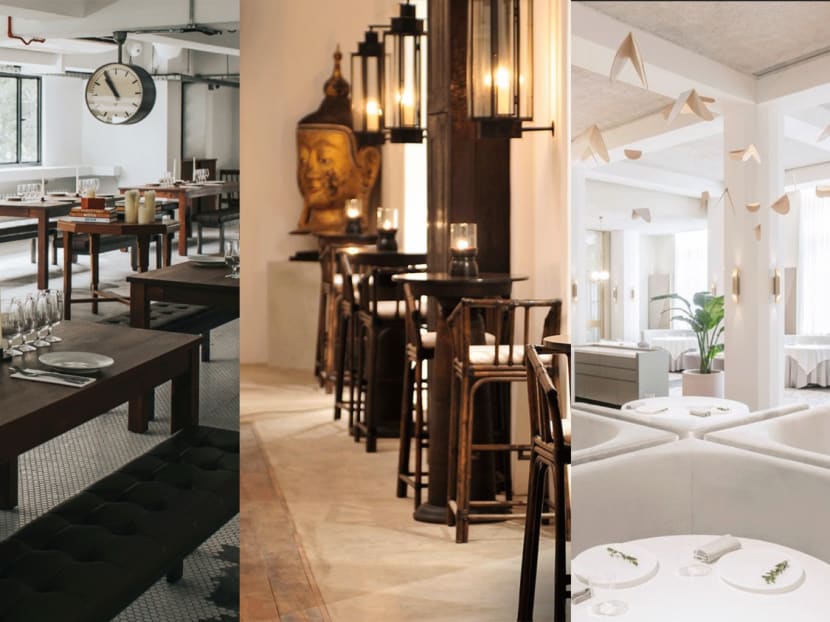 We're familiar with corkage fees and wastage penalties. But a "screaming children surcharge"? That's new.
Last week, Angie's Oyster Bar And Grill made headlines. A screenshot of their reservation confirmation text message, caveating that all children but the "screaming or uncontrolled" variety are welcome, elicited mixed reactions on social media. Some applauded their consideration for diners trying to have a good time; others asked for a little empathy.
It's equally frustrating for parents when children throw tantrums in public, but couples who've looked forward to date night all week could use some peace and quiet, too. That's why we made this list of seven restaurants – fit for romantic occasions on most days and family gatherings on others.
LUCALI BYGB
Lucali BYGB is the brainchild of two restaurateurs: Gibran Baydoun, who previously helmed Adrift by David Meyers at Marina Bay Sands; and Mark Iacono, the man behind Lucali in Brooklyn, famed for its pizza and a clientele of A-list celebrities.
Interestingly, their small menu offers just one pizza – the Original 18" Pie, complete with a medley of cheeses, costs S$55 a pop. The alternative is a half or full calzone, made with their four-hour pizza sauce and priced at S$30 and S$40 respectively. A selection of toppings, from pepperoni to sweet sausage, is also available for S$5 each.
Lucali BYGB has all the makings of an upscale tuckshop, with its wooden furniture, retro tiles, and analogue clock. Except children are "exclusively welcome during lunch and all day on Sunday", according to their website. To be fair, lunch wouldn't be the worst idea. The restaurant overlooks Kallang Riverside Park, so you get a view and an abundance of natural light for the gram.
ASAP & CO
Home businesses have come and gone in the last two years, but two have joined forces and unveiled a restaurant along North Bridge Road since. ASAP & Co is a union between steakhouse The Smok Hous and Brulee.sg, where you can fill your belly and satisfy your sweet tooth in one place.
Don't confuse "ASAP" with the abbreviation, though. On the contrary, the word translates to "smoke' in Malay and is a nod to their slow smoking techniques. Rather than grilling your steak, ASAP & Co teases its flavour using imported wooden logs and an open fire. This elaborate process takes up to an hour – you're encouraged to place orders in advance – but good things are worth the wait.
The selection ranges from Angus striploin, priced at S$28 for 300g, to premium cuts like the Tajima Wagyu, which costs S$388 for 1.8kg. Tempting as it is to go ham on the steaks, you'd want to save some stomach for their signature Cempedak Crème Brulee, among a dazzling display of sugary treats. Children will love it; pity only those above the age of seven can come along.
TAMARIND HILL
If you and your partner are looking to get away from the city altogether, Tamarind Hill may interest you. The restaurant serving Thai and Burmese cuisines is housed in a colonial bungalow nestled within Labrador Nature Reserve. We know what you're thinking – that's a hotspot for families on weekends – but Tamarind Hill remains fairly serene by allowing only children above the age of 14 to dine there.
When night falls, it's a romantic backdrop to sample heirloom recipes from the chefs' own vault, alongside a selection of gins, cocktails and wines from across the world. Or, you could work up an appetite nearby and reward yourself handsomely with an a la carte buffet. From S$60 per head, you can stuff yourself silly with nearly 40 choices of Thai classics on their Thai-mless Brunch Menu. Need to nurse that food coma? You can always spend the night at Villa Samadhi and make a weekend staycation out of your visit.
TENSHIN
Nothing spells exclusivity like a Japanese eatery with limited seating, which makes Tenshin, the first local restaurant to specialise in Tempura, ideal for date nights. The space accommodates only 28 diners and you'd want to score front-row seats to the chef's craftsmanship – perfected over three decades in the kitchen. It's an intimate setting, which may explain why children under ten years old are only allowed on Sundays and public holidays.
Quality Japanese food is synonymous with fresh produce and, according to Tenshin's website, the restaurant procures its ingredients directly from Toyusu and Tsukiji Fish Markets in Tokyo. Shipments arrive every Wednesday and Saturday, and the seasonal menu ranges from S$45 Tempura Sets to their S$190 Yuki (Tempura), which is an "upsized" set with more variety and three choices of rice.
ODETTE
You can also catch chefs in their element at Odette – an embellished French fine-dining name in Singapore and beyond. It's the only restaurant on the red dot that made it to the World's 50 Best Restaurants List 2022 and has maintained three Michelin stars since 2019. Tables are highly coveted, naturally, so the website recommends reserving one a month in advance. Only children above the age of seven may dine here.
Odette prides itself on using only the creme de la creme of ingredients, which Chef Julien Royer sources from artisanal and boutique producers worldwide. The space is exquisitely designed with a glass-enclosed kitchen, befitting its location in the National Gallery Singapore. Lunch and dinner cost north of S$298 and S$328, depending on the number of courses.
LES AMIS
In the heart of Orchard Road lies Les Amis, Singapore's first independent fine-dining restaurant that goes way back to 1994. Today, with executive chef Sebastien Lepinoy at the helm, the institution has bagged three Michelin stars among other accolades.
If couples need a reason to splurge, their month-long renovation last June is a pretty good one. From ergonomic designer chairs to expanded tables, private dining rooms have been optimised for guests to take their time. And with 3,000 choices on the wine list, they'll need to. Les Amis has four different menus – one for every season in France. But no matter when date night is scheduled, no children under the age of ten will be found here.
MANHATTAN
Manhattan at Regent Singapore boasts yet another first in the country with their adult-only New York Sunday Cocktail Brunch – an indulgence reserved for guests above 18 years old. But that's on the law, not the bar.
From tipples to boozy milkshakes, Manhattan's creations catapulted them to first place on Asia's 50 Best Bars in 2018. You'd be equally spoiled for choice by food stations dedicated to artisan cheeses, fresh seafood and roast meats, as well as hot plates of crab cake croquettes and pork belly buns. The buffet starts at S$188 per person with free-flow cocktails and S$228 with free-flow champagne, if your upcoming work week calls for some bubbles.