Meet the 'branding' whiz who made some of Singapore's best restaurants and bars look good
In this week's instalment of Creative Capital, we meet Rafiq Mohamad, the man behind the design agency Feral, whose clients include the likes of Labyrinth and Salted & Hung.
You may not know Rafiq Mohamad's name, nor the name of his 7-year-old branding and design agency Feral, but chances are you've seen his work.
His client list includes hip eateries and nightlife joints like Junior the Pocket Bar, the Michelin-starred Mod-Sin restaurant Labyrinth, Bincho, Salted & Hung and the now defunct Pollen.
36-year-old Rafiq was also one of the curators behind the Passion Made Possible campaign, which culminated in an event bringing together and celebrating 19 of our best and most creative local talents.
While the pandemic was tough on all agencies – Feral included – the last few months have been good for Rafiq and his team. Business has picked up and they are working on some exciting new projects. I checked in on this humble creative to learn more about both him and his agency.
HI, RAFIQ. WERE YOU CREATIVE EVEN WHEN YOU WERE YOUNG?
As a child I always had a healthy imagination. It was always evident whenever I played by myself or with other children. I was always game to create fantastical scenarios. Often, that would translate into the drawings I made. I'm very fortunate that my family was able to provide me the space to express myself during my early childhood.
WHEN DID YOU KNOW YOU WANTED TO BE A DESIGNER?
If I could pin down a particular moment, it would have to be when my History of Graphic Design lecturer at Nanyang Academy of Fine Arts (NAFA) shared with the class a poster designed by Herbert Matter promoting winter holidays in Switzerland. It was part of the extraordinary series of Swiss travel posters he made from 1934 to 1936. One of them consisted of a close-up image of a smiling woman peering through the shade of her visor. She serves as the main subject against a background of clever montages. It was so visually arresting to see something that was so dynamic. That moment opened my mind to the potential of being able to create something that was simple in its intention but added great value to the visual vernacular.
WAS NAFA A DEFINING EXPERIENCE FOR YOU?
My three years at NAFA were such an eye-opening experience, especially my first year, in which I was exposed to so many different traditional art disciplines, from ceramics to Chinese ink. It really forced me to be open and highly adaptable in trying to understand these different art forms. It taught me to appreciate different artistic disciplines through various cultural and philosophical perspectives. The lecturers were generously sharing with the students their own personal experiences. I remember my Chinese ink lecturer telling me to slow down and not rush my brush strokes. I was rather impatient when I first started learning Chinese ink; there were a few instances where my brush was too wet and it tore the thin rice paper. The Chinese ink lecturer was patient with me and guided me along. By the end of the 12 weeks, I was able to deftly produce a Chinese ink bamboo painting.
WHAT WAS THE BEST PART OF THE EXPERIENCE?
At NAFA, I was also exposed to classmates that were from different age groups and nationalities – students from all walks of life and backgrounds. It definitely expanded my world view. I was always in awe of some of my classmates' technical skills. I was very fortunate to be in an environment in which the students were kind to each other. I think of my former classmates fondly and am grateful that our paths crossed at that moment in time.
AND WHAT LESSONS LEARNT THERE DO YOU STILL APPLY TODAY?
Oh, there are plenty of lessons from NAFA that I still apply to my own practice today. You should always do your research and look beyond what is expected from you. Always be curious and open in finding out more from others and learning about different art forms and histories. I think it is always important to look into the history books and see what has been done. It is possible to add your own personal spin to it. Never be afraid to try something new. It may not necessarily reap rewards instantly, but there's definitely room for growth and improvement. Sometimes the failures surprise and lead you in a new direction or tangent. Just be open to the possibility.
TELL ME ABOUT STARTING FERAL. HOW DID YOU KNOW YOU WERE READY TO START YOUR OWN SHOP?
I was in the industry for eight years before starting Feral. With a wealth of experiences gathered through the years, I figured I could apply them to my own studio. Feral was founded in 2015 when Wynk Collaborative asked if I was interested in working together with them for a commercial project. An opportunity presented itself to me and I knew I should take the leap and see where the journey of running my own studio would take me. I was fortunate enough to be surrounded by a group of close friends who were creatives from different fields running their own respective practices. It gave me a sense of assurance that I could do something similar. I honestly didn't know if that was my "Saturn Return", which is a period where you question who you are, what your legacy is and what you're here to leave for the world.
CAN YOU TELL ME MORE ABOUT THAT FIRST GIG?
The studio's first project was for a cafe situated along South Buona Vista Road. The spatial designers, Wynk Collaborative, were generous to share with me their material palette of cement, brick and reclaimed timber, juxtaposed with sumptuous blocks of colours and textures. This was helpful in creating a complementary supporting brand visual language that centred on the tactile qualities of paper. I remember how excited the clients were when I proposed an Arjowiggins Curious Matter paper for their name cards. The paper shares textural similarities with potato skin. It was a subtle reference to a humble ingredient that was in line with the client's business philosophy. This moment would not have been possible if not for the clients being open with me in sharing their personal thoughts and ideas during our conversations. It definitely felt great when the client asked the studio to help rebrand two more of their businesses, On & On and Sin Hong Yun, which required working with some Chinese language elements. They were willing to take a chance on a studio whose principal neither speaks nor writes Mandarin.
WHAT DOES FERAL SPECIALISE IN?
The studio specialises in helping businesses articulate their brand narrative through design that is tailored to their needs. The conversation between the client and studio helps create a holistic approach in building an identity that would further strengthen their business. Every design challenge is an opportunity for the studio to expand and push ourselves further in developing ideas and solutions for the client. The studio isn't just limited to branding and graphic design projects. For example, multi-brand furniture shop Journey East reached out to the studio to select seven local creatives to reimagine the Qeeboo Rabbit Chair as an objet d'art to raise funds for the Children's Cancer Foundation.
WHAT DO YOU WISH YOU KNEW ABOUT RUNNING YOUR OWN BUSINESS THAT YOU DIDN'T KNOW BACK IN 2015?
That it's okay to stumble sometimes, and it's not the end of the world. Situations may not always be ideal but you can always try and make the best of it. I would definitely be much kinder to myself as well.
WHAT HAS BEEN YOUR BEST MEMORY ASSOCIATED WITH FERAL TO DATE?
I think the studio has many great memories associated with clients and projects. It's heartening whenever the studio gets a project through a client referral. I'm always grateful that the studio is able to have projects that are based overseas as well. One highlight for the studio would be a branding project for Shady Acres, a wine bar located at Peel Street in Central, Hong Kong. It was exciting to meet the clients in the space and understand their intentions with the business. I spent a few days in Hong Kong observing the types of customers that the client was targeting; observing their spending habits and patterns. It was definitely fascinating to observe how both the local and expatriate communities in Hong Kong engaged with F&B spaces. In understanding the consumer psyche, I was able to design a brand visual that was suitable for the Hong Kong market.
WHAT HAS BEEN THE HARDEST OBSTACLE YOU HAD TO OVERCOME?
The first year of the pandemic was particularly challenging. There weren't many new projects happening. I used this down time to take stock of what I wanted Feral to be when things picked up. I've always believed that in life, there's bound to be peaks and valleys. I recognise my privilege of being able to run my own studio in this current climate. Thankfully, the studio is getting more and more project enquires now.
I LOVE THAT YOU WERE CURATOR FOR THE PASSION MADE POSSIBLE CAMPAIGN. WHAT IS YOUR OWN TAKE ON OUR LOCAL CREATIVE SCENE?
It was definitely a team effort for such a massive brand launch campaign. Plus Collaboratives reached out to me and asked if I would be interested in working together with them on this project. Together, we shortlisted hundreds of local creative talents from different fields. That exercise itself is proof that Singapore is bursting with creative talents.
I always believe that it's best to uplift other talents. It is only when we uplift each other that the scene grows and flourishes. That was the whole point of the Passion Made Possible brand launch campaign activation. It was to showcase and highlight local creative talents who may not necessarily be on your radar. I think our local creative scene has so much to offer and it's a matter of providing a suitable platform for them to truly shine.
WHO WAS THE MOST FUN OF THE VARIOUS TALENTS TO WORK WITH?
Every chosen talent brought a certain energy and flavour that created an overall holistic and dynamic event. We told all of the talents involved on the actual day of the event that it was their show. We wanted the creative talents' names and the amazing work they do to be in the invited guests' and Singapore Tourism Board's consciousness. I am so grateful to Plus Collaboratives for allowing me to be part of their team for this event. We worked closely from the ideation up to execution of the event. The level of thoughtful rigour we applied to this event was amazing. It was definitely a career milestone for me to be involved in a national campaign event of such a scale. It was definitely fun to work with Mr Has of Rawjak and Chef Drew Nocente of Salted & Hung. I knew them both during my time at W Singapore, back when Mr Has was the music director for W Hotels Asia Pacific and Chef Drew Nocente was the Chef de Cuisine at SKIRT. It felt like a mini reunion of sorts. I think if you're able to work with friends, that's a true sign of how that friendship is built on solid trust and respect.
WHAT WAS THE MOST MEMORABLE EXPERIENCE FROM THE CAMPAIGN?
I will never forget the expression of pure delight and amazement on the faces of the invited guests when the curtains fell to reveal all of the talents. The guests were so excited to interact with all of them. It was such a joy to see what we had planned on paper manifested right before our eyes. It validated months of planning.
WHO OR WHAT INSPIRES YOU?
Creatives who uplift and support their peers are fantastic – that generosity towards strengthening and building a vibrant creative ecosystem. The scene is too small to be working in silos. Something that I've learnt from my close circle of friends is to always be magnanimous – it doesn't cost you anything.
I think as creatives, it is definitely important to support one another. That support doesn't necessarily need to be translated into monetary value. I've always believed that if I'm not the best fit for a particular project, I'll recommend someone I know would do a better job.
YOU HAVE A LOT OF COOL F&B CLIENTS. IS THAT A PASSION OF YOURS? IF SO, WHAT ARE YOUR OWN FAVOURITE PLACES TO EAT AND DRINK?
I can see why you would think that. Especially when the studio recently completed a branding project for Nemesis, a cocktail bar that serves great pizzas located at Duxton Hill. This was a fun project that allowed me to create a series of "vandalised" classical paintings that are hung on the wall, adding to the attitude of irreverence and humour that is the DNA of the bar.
I think I'm drawn to projects that allow me to stretch my visual language application. I was excited when the studio did the branding for Kurin Organics, a client based in Australia that manufactures their own plant-based and 100 per cent biodegradable laundry detergent. They were successful in developing a proprietary formula that dissolves in water, and created the world's first soap-free raw denim wash. That is how committed they are to the environment. It was inspiring to create a brand language that references textures found in nature.
Another great example of a project that the studio was responsible for is the digital artworks for Singaporean singer Joanna Dong's Mandarin singles. It was really insightful to work closely with Joanna in understanding the meaning behind her songs. I was definitely up to the challenge of creating a series of visuals with Chinese typography.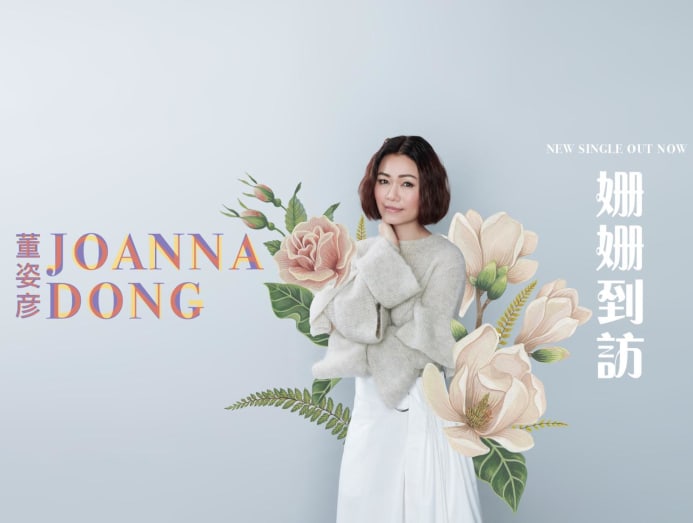 The studio produces work that tends to have a human-centred element as the guiding force. The visuals need to serve a purpose and answer a brief. I guess that could be the through line that links back to a having a passion for hospitality-led businesses.
I definitely enjoy the occasional night out. I always joke with my friends that a night out is all in the name of research and development. I've always believed that the bar or counter seats are the best place to get to know an F&B establishment better. Chatting with bar, kitchen or service staff, you find out more about a place when you interact with the people working there. When I'm hankering for a good burger, I head to 28 Hong Kong Street. The burgers are delicious – their patties have a great balance of lean and fatty ground meat. Especially when the doneness is medium rare, it really does the trick of satiating that craving. It helps that head Bbartender Ronan Keilthy makes a mean Mezcal Gimlet to truly complete the whole experience.
WHAT WOULD BE THE DREAM GIG?
I would love to do a branding project for a hotel, museum or space that has programming centred around the arts, culture and hospitality. I've always had this desire to be part of a project that involves creatives from different areas of expertise and specialisation. I think observing and learning from other creatives and their processes intrigues me. It's definitely exciting to see how a spatial designer defines the circulation of the space or how a lighting designer is able to create a desired mood just by manipulating an intangible element.
ANY COOL PLANS OR CAMPAIGNS FOR 2022?
We're currently working on a few projects that are set to launch in the first quarter of this year. We have a branding project for a restaurant that is based in Kota Kinabalu. The studio is also working on a branding project for a physical trainer. And we are working with three local creative studios to produce a range of soft furnishings for a local multi-brand furniture shop.