Kitchen Stories: The chef who created dishes paying tribute to his parents' mixed rice stall
Zor Tan, protege of Andre Chiang, opens his much-anticipated first restaurant, Born, in the iconic Jinrikisha Station building at Tanjong Pagar with elevated French-Chinese cuisine – a story of family, serendipity and love.
You will probably know the wedge-shaped Edwardian brick building on the corner of Neil Road and Tanjong Pagar Road, directly opposite Maxwell Food Centre. You've walked by it several times, but haven't paid much attention to it, since it's stood boarded up and empty for a while. Or, you may remember it as once having housed a few nondescript KTVs and bars.
The beautiful old structure doubtless still remembers its days as a bustling rickshaw depot in the early 1900s. But in the last few decades, it sort of lost its direction. Superstar Jackie Chan famously bought it for a cool S$11 million in 2011, but didn't seem inspired to do all that much with it. And so it sat, patiently waiting.   
But the time has now come for its rebirth. A year ago, the building met someone who saw its potential and fell in love: Chef Zor Tan.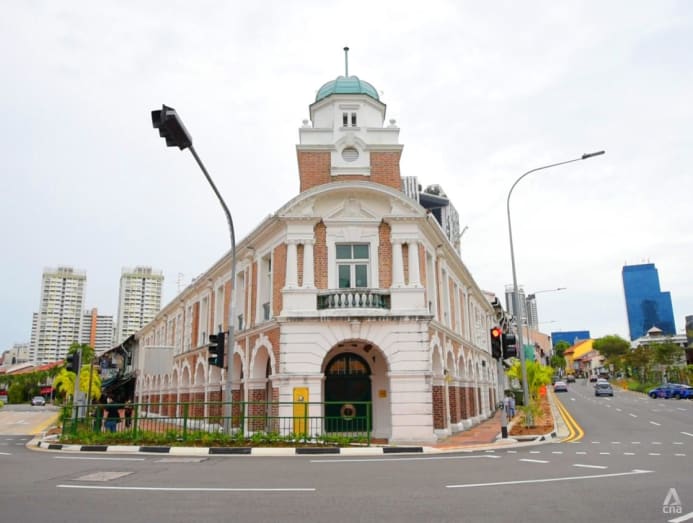 As with all good love stories, it didn't start out like a fairy tale. Tan wasn't looking for anything serious. Instead, he'd always dreamed of a "simple", "casual" little restaurant to call his own.
Affably down-to-earth despite being one of today's most promising young chefs to watch, the Malaysia-born 35-year-old spent more than 10 years working with chef Andre Chiang, first at Jaan and Restaurant Andre in Singapore, where he served as executive chef; then at Raw in Taipei, where he was co-executive chef; and then as executive chef of two-Michelin-starred Sichuan Moon in Macau.
The pandemic saw him leave to return home to Singapore to be with his wife and infant daughter. At bedtime, the couple would lie in the dark and discuss their future. Having his own restaurant was always a goal. Why don't you call it Born, his wife suggested. Tan liked the name as it felt it represented his philosophy as a chef: Constant rebirth, memory, moments, the interconnectedness of things, and the circle of life.
The former rickshaw depot in Tanjong Pagar is now the site of a hot, new restaurant town – chef Zor Tan's Born. But what does economic rice and Taiwanese chef Andre Chiang have to do with the food?
Embarking on a partnership with 1855 F&B, Tan began his search for a space. He visited more than 20 potential locations over six months before he set foot in the Jinrikisha Station.
Even in its dilapidated state, it was clearly far too grand for his casual restaurant dream. But for some reason, he couldn't get the building out of his head. Working at Restaurant Andre at Bukit Pasoh Road for many years, he'd always walked past it and wondered about it. Now that he was standing in its heart, the interior was vastly different from what he'd imagined. It had soaring ceilings and graceful arches. And it was beautiful.
There was nothing for it but to change his plans.
"I thought that we could do something very unique in this space," he told us. "There aren't many of these kinds of buildings in Singapore. To do a casual concept would be a waste. So, I decided to go back to what I know. You may call it fine dining, but it's just my style."
Now completely transformed, the space is drenched with light in the daytime and warmly intimate at night. The open kitchen around which guests may sit is swathed in pale marble. A massive, swirling paper sculpture by Dutch artist Peter Gentenaar floats above the main dining room, amorphous and ethereal.
Here, Tan is preparing to serve up thoughtfully put-together menus combining the French techniques he was trained in with the Asian influences of his heritage, in a seamlessly elegant and ultra-refined manner.
It's a scene that's far removed from the Jinrikisha Station's original purpose – to temporarily shelter sweating, working-class bodies. But Tan appreciates the building's humble history, because it resonates with his own story.
Growing up in Johor Bahru, "My parents ran a mixed-rice stall. My mother would do the cooking, and my father would help with the mise-en-place. Every day, they got up early in the morning to go to the market – and we only had a motorcycle," he recalled.
The family wasn't well-to-do, but, "Whenever I finished school for the day, I would have food. I was never hungry."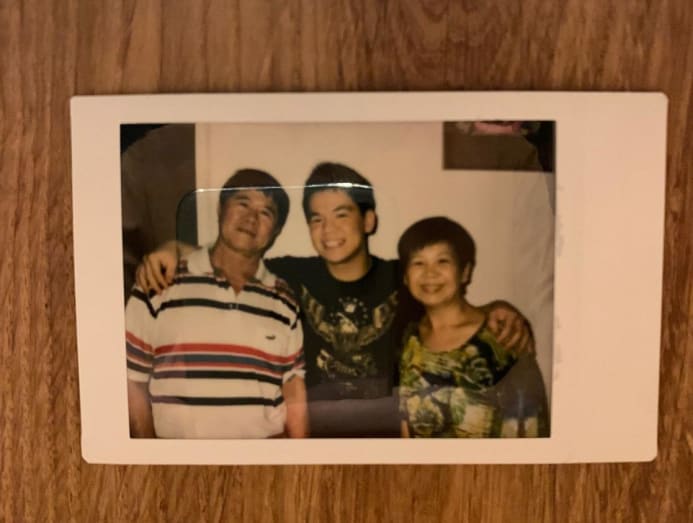 Even after his parents closed the stall a few years later – it was just too physically demanding – "My mum would cook in the morning before she left for work at a factory, so that when I came home from school, I would have food. And when she came home from work, she would start her prep, and within 30 minutes to an hour, she would have a few dishes ready. I don't know how she managed that."
Whenever he talks about his family – which includes three older brothers and one younger brother, as well as his parents who are back in Malaysia – Tan gets emotional.
"Food is my biggest memory of them," he said. "We would always sit together and eat. We were poor, but happy."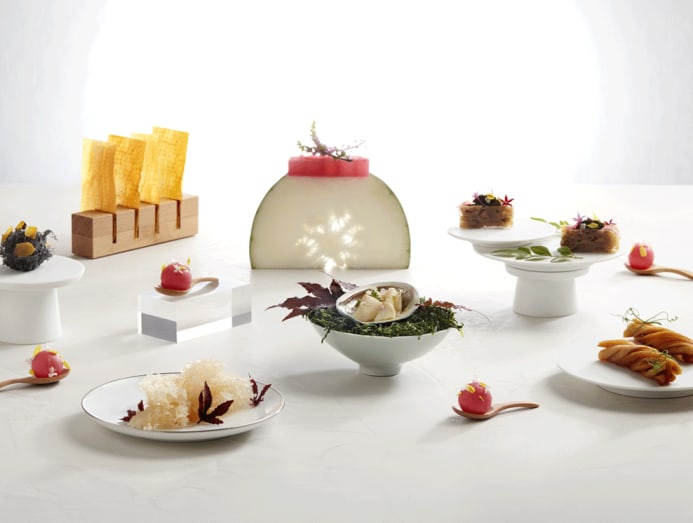 In a tribute to his parents' stall of yesteryear, a meal at Born begins with eight kinds of pickles and snacks, many of which correspond to dishes commonly found in the lineup at a mixed rice stall.
A dish of aged Wagyu beef in a fried "bao" with oyster emulsion, inspired by his time working at Restaurant Diverxo in Spain where the chef made "bao", could almost hold up a mirror to his first after-school job: Working at a dim sum restaurant on weekends at age 15. Making perfect rice rolls became his obsession. And when one of the aunties working there told him he had potential, it seeded in him the idea that "maybe I really could be a chef".
At age 17 he moved to Singapore and, wanting to pick up some knife skills, started working at a casual Japanese sushi chain. There, he met his wife, who was a part-time server. She encouraged him to further his education by enrolling in SHATEC; he also credits her with instilling in him a sense of the importance of saving.
"When she told her father about me, and that I was a chef, he immediately assumed I worked at a neighbourhood food stall and was the kind of guy who was always smoking in a back alley," he chuckled. "It made me want to be better."
It probably doesn't get much better than executive chef at Michelin-starred restaurants under the mentorship of global culinary star Andre Chiang.
A dish of chicken liver flan, smoked oil and forest mushroom pays tribute to Chiang, whose Foie Gras Parfait was a star dish at Restaurant Andre.
But Tan left that life behind because he wanted to be present during the formative years of his three-year-old daughter and newborn son.
A dish of fish maw, Chinese cabbage and smoked eel – a sort of Asian chou farci – was inspired by cooking collagen-rich fish maw for his wife during her postpartum confinement. It's not only an expression of his love for her but also a celebration of the birth of his first child.
Perhaps most poignantly meaningful of all – and an outstandingly unique dish in itself – is the Alaskan king crab served in crab bisque with a pink, white and jade-coloured glutinous rice ball reminiscent of tang yuan, the traditional dessert symbolising family unity. The crab is a tribute to his father, who once worked in a fishing village in Perak and would occasionally bring mud crabs home for celebratory meals.
Ingredients aren't the only things Tan is elevating: He also aims to raise his cooks up. With an open kitchen where chefs serve dishes directly to diners, "I want young chefs to have the chance to meet guests," he said.
He recalled, "When I talked to guests for the first time, it was like, 'What should I say?' So, I think it's good for them to train themselves. It will be easier when they come to their next step. One day, they may meet an investor – it's hard to say. That's what I went through myself. That's why there are a lot of young chefs here. Some don't have much experience. But I think this is how they will become their own chefs in future, and maybe be their own boss."
They might even, one day, birth their own dream restaurant.
Born opens June 21 at 1 Neil Road. For more information, visit https://restaurantborn.com.