Food waste no more: Here's how Singapore restaurants and bars are giving new life to their scraps
The holidays are associated with over feasting, excess and going a little bonkers with the turkey and gravy. But some F&B businesses are increasingly turning towards reducing waste, making full use of their ingredients and giving new life to their scraps.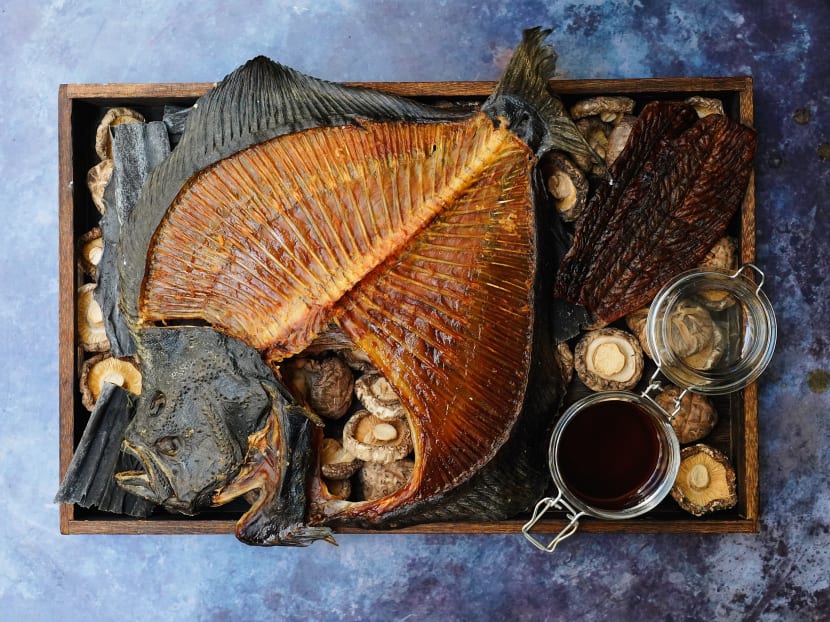 Christmas is a time for feasting. Think of Christmas dinner with the family, and you'll picture a table laden with dishes, groaning under the weight; places prettily set; candles lit – and, more often than not, a dozen plastic takeaway boxes filled with leftovers in the aftermath.
But while the holiday season traditionally calls to mind celebration and the accompanying gluttonous excess, many restaurants and bars are heading in the opposite direction: They are growing increasingly serious about reducing and repurposing their food waste.
At Salted & Hung, for instance, chef Drew Nocente has recently intensified his focus on what he calls "zero food waste dining" and "minimal waste cooking". Not only is the restaurant now tasting-menu only, which means there's far less danger of unordered items going into the bin, he has designed the dishes in an interconnected web of maximally utilised ingredients.
For example, discarded sourdough starter is used to batter pig head rillettes; seaweed, the byproduct generated from making kelp oil, is used to make tiny, delectable savoury muffins topped with creme fraiche, lime zest, amaebi and caviar; carrot skin and trimmings are turned into a smoked carrot ketchup to accompany a dish of dry-aged, grass-fed vintage beef; and turbot skin is turned into collagen stock, to which chickpea and tapioca flour are added to make "collagen chips" served with cured kingfish.
Perhaps most representative of all is a dish of aged turbot, which is served with a sauce made with turbot liver, vin jaune and fresh turbot bone stock; vegetables seasoned with fish garum and dried turbot flakes; and a dashi broth made with aged turbot bones – impressively utilising the fish to its fullest potential.
Having worked in Europe, Asia and his native Australia, Nocente was disenchanted with the waste generated by restaurant kitchens in pursuit of beautifully plated perfection, as well as with cultures of showy over-ordering.
Salted & Hung, which started out with an emphasis on nose-to-tail dining, now tries to bring its minimal waste philosophy into all aspects of the dining experience – you'll even find, for instance, beautiful knife handles made from discarded abalone shells.
Over at Gardens by the Bay, chef Michael Wilson, who runs fine dining restaurant Marguerite, casual Mediterranean restaurant Hortus above it and the pet-friendly gelato cafe Mylo's, also works to repurpose food waste across all three establishments.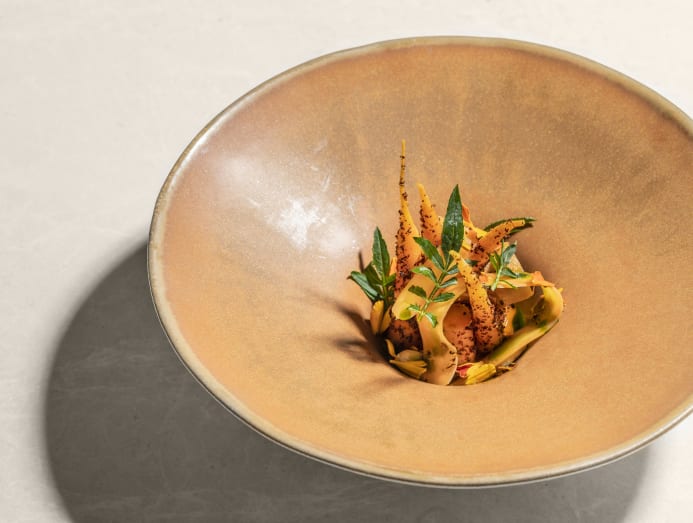 For example, pig heads from the suckling pigs used at Marguerite are turned into a terrine for Hortus specials. At Marguerite, the kitchen churns their own butter, and the buttermilk byproduct is used in cakes, gelati and sauces. And excess fruit purees or fruits received from suppliers as samples or for R&D are not wasted, but churned into seasonal sorbets at Mylo's.
Chef Remy Lefebvre of Casa by Remy Lefebvre chooses to have a little fun with his kitchen's waste products: He blends off-cuts of his line-caught fish with oatmeal and coconut oil and turns them into dog biscuits for furry friends. Five bone-shaped biscuits are available for purchase at S$12.50. Now that's a gourmet treat.
Occasionally, you'll find two different establishments cooperating to reduce waste: For example, the bar Moonstone, before they started their own coffee programme, used to receive chilled, unused espresso shots – practice pulls and the like – from Lucid cafe to use in their espresso martinis.
Native, of course, is one bar that has always championed a minimal waste agenda, with initiatives like using sake lees, the byproduct of making their own sake, in cocktails; and dehydrating pineapple skins and combining them with spices to use as a seasoning.
At The Elephant Room, there's even a cocktail on the menu called Trash/Treasure, the ingredients of which rotate monthly. Referencing the idiom "one man's trash is another man's treasure", the drink challenges the bartenders to come up with something yummy from their own scraps such as tomato and mint.
With such industry-wide efforts to reduce and repurpose waste, we, too, feel a little more inspired to do what we can to help the planet this Christmas – even if it's simply by not over-ordering food.