Singapore's Kevin Wong wows with 'hawker' inspired duck at S. Pellegrino Young Chef awards
The 27-year-old head chef of Meta placed among the top three at the global finale competition in Milan after showcasing how he incorporated Southeast Asian flavours, techniques and materials into his dish.
Kevin Wong, head chef at Michelin-starred restaurant Meta, represented Singapore and Asia at the S. Pellegrino Young Chef Academy Award 2019–21 global finale in Milan on Friday (Oct 29), and emerged with a solid standing as one of the top three competitors.
10 chefs from around the world took part in the finals, and the competition was won by Philippines-born Jerome Ianmark Calayag from Sweden, who represented the UK and Northern Europe region.
The young chefs faced a judging panel made up of six of the world's most prominent names in gastronomy, including Mauro Colagreco, Enrico Bartolini, Manu Buffara and Clare Smyth.
Wong, 27, had won the award's regional finals held in Tokyo in 2019; he was then sous chef at Meta.  
In Milan this week, he was mentored by Odette's Chef Julien Royer, who was present at the event to support him.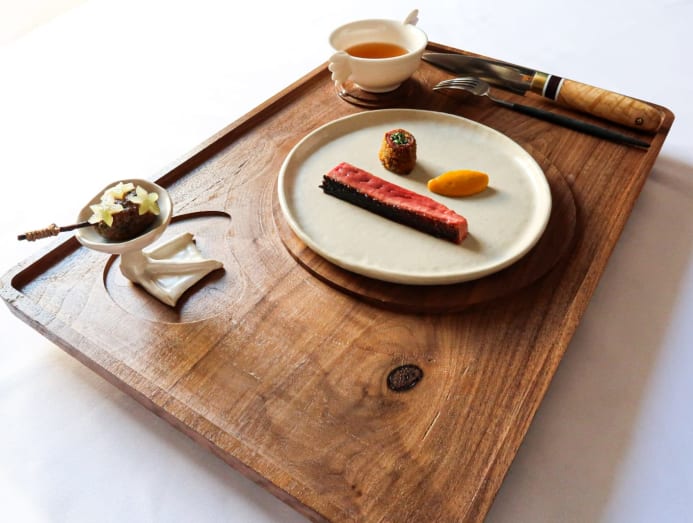 Wong presented the dish with which he had won the regionals: Titled "Celebration of a Duck", it featured charcoal-roasted duck glazed with soy caramel, curry spiced duck hearts, carrot sansho puree and bone sauce, along with duck leg tsukune and a duck broth infused with jasmine tea.
The dish is a reflection of his roots and heritage in several ways, Kuala Lumpur-born Wong explained to the judges.
Glazing the duck with soy caramel, something "very typically Southeast Asian from Bangkok to Singapore", was a technique "learned from hawkers," he said. "They are so amazing because they dedicate 30, 40, 50 years just to mastering one dish."
He also made it a point to use "flavours from many different cultures", such as spicing the duck hearts with curry and incorporating East Asian jasmine tea leaves into his broth.
"I come from a multicultural country. I want to represent that, and how flavours can be harmonious on a plate, and how food is a powerful language," he said.
Apart from the flavours, Wong also made sure the presentation of the dish reflected his roots. The duck was served on artisanally crafted plates made from Singapore clay and duck ashes, in a nod to using every part of the bird; and trays made from Southeast Asian mangrove wood, the same wood over which he cooked the duck. In Asia, mangrove trees are "a tsunami barrier deemed worthless, but in hands of artisans, (the wood) becomes a masterpiece," he said.
Another thoughtful touch that captivated the judges was a little origami duck set at every place, made from banana tree paper, twigs and duck feathers; again symbolising sustainability through upcycling waste and "using every part this beautiful duck has to offer," in Wong's words.
Upon tasting, judge Bartolini said, "I am very sorry for these ladies and gentlemen (in the audience) because they cannot try this dish."
Buffara said she was "super impressed," adding that the "flavours that you put in your mouth change."
Meanwhile, Colagreco said "the best part of the dish was the broth", which "was amazing for me."
Wong said he feels he's "won a lot" from the experience regardless of the outcome, as a chef and as an individual.
"I got so much out of all the exchanges, ideas and conversations with all the giants of the culinary world, and the exposure and connections I've made are simply incredible," he told CNA Lifestyle.
It was also an opportunity to find himself again.
"I've learnt so much about myself, my roots and my culture throughout the entire competition journey from 2018 until today. Because I've spent my life overseas working in France and the US at Michelin-starred restaurants, I did lose who I was as a chef, working, even though I learnt to cook. This competition has brought that back to me," he said.
"It has been an amazing platform to bring the best of myself – it gave me the opportunity to find voice, my identity and roots. That is the real prize of the competition, as it is now a part of me forever."
Wong also thanked his mentors including Royer and Meta's Sun Kim, and his colleagues, friends and family.
The S. Pellegrino Young Chef Academy Award, of which this edition was the fourth, was created by the S. Pellegrino Young Chef Academy to nurture the future of gastronomy.