What's for sahur? Muslim personalities on embracing the elusive pre-dawn Ramadan meal
Six Muslim personalities tell CNA Lifestyle about their sahur traditions and how to eat healthy for a meal they sometimes can't keep their eyes open for.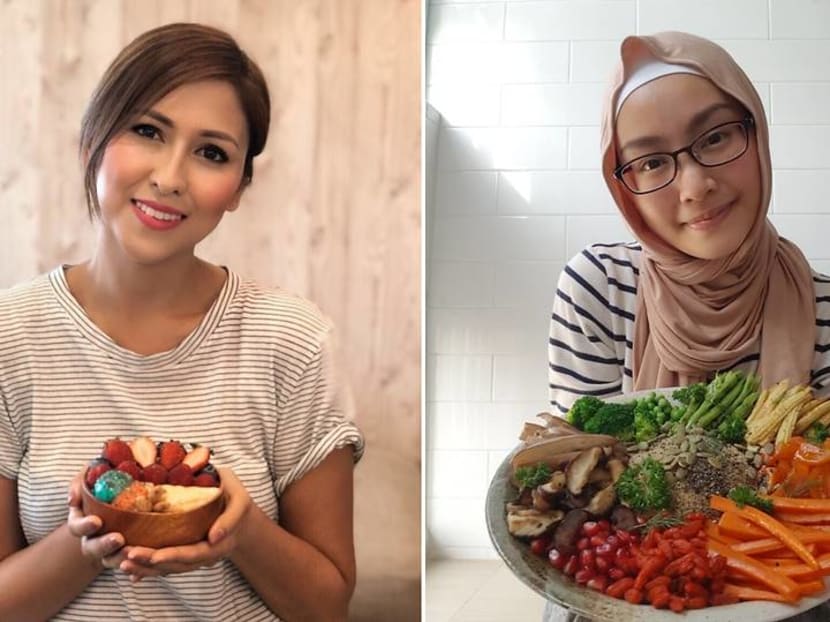 When one thinks about Ramadan, the first thing that often comes to mind – for Muslims and non-Muslims alike – is buka puasa. In Malay, it simply means breaking one's fast. 
The meal takes much of the spotlight each Ramadan, with new halal restaurant openings and menu items dominating the headlines. 
But there is another meal that doesn't get much airtime, mostly because it usually happens behind closed doors: Sahur or the pre-dawn meal.
Taken between 4am and 5am, it's when Muslims climb out of bed and putter around in the dark for some last-minute nourishment in preparation for the day ahead. 
CNA Lifestyle talks to six busy Muslim personalities to find out what sahur is like for them – and if it's at all possible to eat healthy when you can barely stay awake. 
'SAHUR IS HARD BECAUSE WAKING UP EARLY IS HARD'
For Mediacorp actress and host Nurul Aini, the hardest thing about sahur or suhoor as it's called in Arabic, is getting up for it. "Sahur is hard because waking up (at 4am) is hard," she said. "I never used to wake up for sahur, but now that my children are fasting as well, we eat as a family, which we enjoy very much." 
Nurul's helper Dewi has been preparing smoothie bowls for the star, who uploads photos of the creations on Instagram with the hashtag #dewibowls.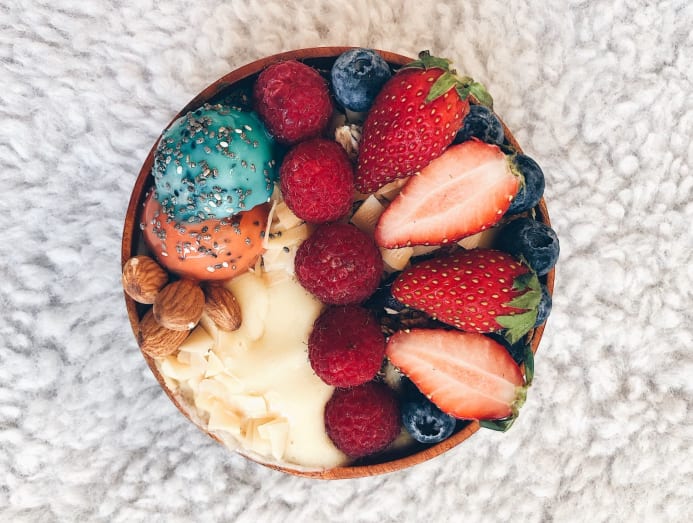 This particular recipe contains a smoothie made with frozen banana, mango and pineapple, and poured over a bowl of dragonfruit. The dish is finished with a topping of berries, almonds and granola. 
"The effort she puts in to make these is just A+!" Nurul wrote in one social media post. "We run out of fruits every other day," she shared in another.  
While many struggle with work and family during Ramadan, especially when it comes to preparing meals like sahur, Nurul is hoping for a more leisurely time this year. 
"I'm not worried at all this year because I'm free from work," she said. "I was always busy shooting during fasting month, but I put it all aside this year so I can enjoy Ramadan with the family and prepare for Hari Raya." 
QUINOA OVER RICE 
Eating sahur as a family – early as it is – has always been a tradition for BeritaMediacorp news anchor Hazlina Abdul Halim.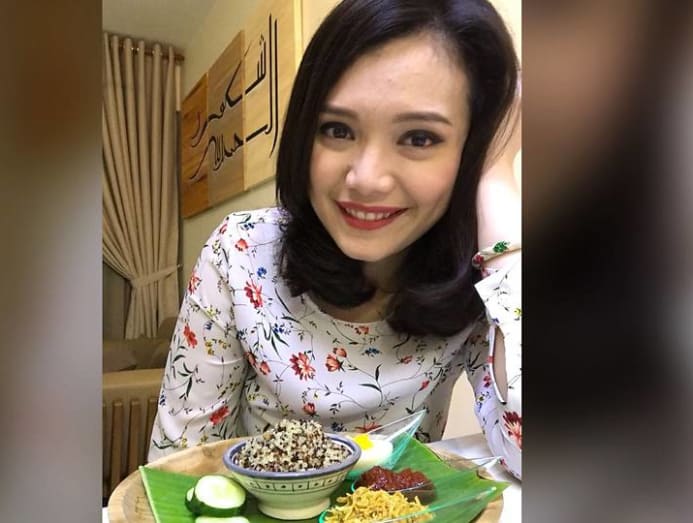 "Everyone sits at the dining table and we eat together. We might not be able to break our fast together, but we start our fast together. This was the practice in my childhood home and it remains so now that I'm married," she said. 
To fill up for a day of fasting, Hazlina recommends quinoa nasi lemak, a healthier take on the well-loved local dish typically made with rice.
"Of course, this is a bit of a treat. Most days, we eat just cereal and cold milk, or spread Nutella on sourdough toast," she said. 
SATISFYING AND ENERGISING
Jayina Chan, co-founder of popular online baby food startup Anya Meals, also favours quinoa. 
She had been observing the fasting month since before she converted to Islam several years ago, and used to be able to sustain on just dates, fruit, oatmeal, or milk and cereal for sahur. But things changed after she had her first child, after whom the business was named. 
"After I got pregnant and started breastfeeding, fasting became more difficult. I would find myself dehydrated and famished by noon," she said. 
Nowadays, she has more satiating meals, such as this pan-grilled rainbow quinoa salad, which can be prepared the night before and keeps in the refrigerator for up to two days. 
"The beauty of this quinoa salad is that it slowly releases energy into your body throughout day, unlike white rice, which can cause blood sugar levels to spike quickly, leaving you bloated and sluggish," said Jayina.  
'LESS COOKING, MORE NUTRITION'
With her three children and the running of FatPapas' three outlets, Anna Belle Francis has her hands full this Ramadan. 
"On my mother-in-law's advice, I prepared my home menu for Ramadan way in advance and pasted the list on the fridge. This way, I don't have to think so hard about what to cook while I'm running the restaurants, going for terawih (prayers) and struggling with little sleep," she said. 
As part of her Ramadan mantra – less cooking, more nutrition – the former TV star said she will be making a lot of her well-loved spinach rosti because the prep can be done the night before and it allows her to be creative with nutrition. 
"The potatoes can be prepared earlier. Then, all you need is to top it with healthy ingredients like salad greens, vegetables, grilled chicken or smoked salmon slices. We like ours with a side of cream cheese.
"Sandwiches are also a good idea – you can prepare them before hand and use nutritious ingredients like grilled chicken, boiled egg or tuna," she revealed. 
ONE PAN, ONE COMPLETE MEAL
Zhulaiha Abdul Rahim also adopts the less hands-on approach for sahur, so that she can spend more time and effort interacting with her three young children. 
Zhulaiha, who founded Laugh Play Learn, a creative Malay language learning centre with her husband, is an avid cook and baker who promotes easy, healthy recipes on her popular Instagram page Ovenhaven. 
Her passion for nutrition translates into her recommended sahur recipe – one-pan baked chicken with sweet potatoes, which she describes as a "complete meal with complex carbs, proteins and vegetables to keep one full longer". 
"Sometimes, I add a sunny-side up, but it's great as it is. The best thing about it is that everything goes into one pan and into the oven, which means less clean-up and no working over the stove," she said.
KEEP IT SIMPLE
Siti Mastura may be a celebrity chef, but she too prefers to keep it simple for Ramadan with a recipe perfected by her late mother and enjoyed by the family throughout the year, even in times of illness. 
"I love bubur lemak halba as it reminds me of my late mother, who would cook a lot of it and heat up a portion each day for the family," she said. "My whole family loves this and my cooking class students do, too. 
"It's also what we eat when we're not feeling well." 
The porridge is "light, but filling and very yummy", said Chef Siti, who counts minced meat, salted egg, peanuts, vegetables and anchovies as its ingredients. The star entry is fenugreek, which she said helps with digestion. 
***
RECIPES
Jayina's pan-grilled rainbow quinoa salad (serves 4, great hot and cold)
Main ingredients: 
1 cup quinoa, rinsed twice
1/2 pomegranate, seeds removed
2 tablespoons goji berries, rinsed and soaked
1 large carrot, sliced
1 packet young corn, halved length-wise
1 bunch French beans, halved
1/4 cup frozen peas
1 head broccoli, cut into florets
1 pearl brinjal, sliced
1 cup shiitake mushrooms, sliced
Toppings and seasoning:
2 tablespoons toasted pumpkin seeds
1 tablespoon chia seeds
1 tablespoon toasted black sesame seeds
1 stalk English parsley, stem removed
1/2 teaspoon dried oregano
3 tablespoons raw and cold-pressed organic virgin coconut oil
Himalayan pink salt to taste
Black pepper to taste 
Method:
Cook quinoa with 2 1/2 cups of water and a touch of salt in a rice cooker. Allow to steam for an additional 10 minutes before fluffing with a fork.
Bring a pot of salted water to boil, blanch broccoli florets and frozen peas separately. When they turn bright green, immerse them in ice water immediately.
Toss carrot sticks in a pan over high heat until all the water has evaporated. Add a teaspoon of coconut oil and continue to cook until carrots start to brown. Set aside.
Repeat with French beans, young corn and brinjal, one ingredient at a time.
Assemble cooked quinoa, grilled vegetables, blanched vegetables and pomegranate.
Top with pumpkin seeds, black sesame, chia seeds, parsley and remaining coconut oil. Add salt and pepper to taste. Serve hot or cold.
Hazlina's quinoa nasi lemak (serves 4) 
Main ingredients: 
1 cup quinoa, soaked for 30 minutes before cooking 
An inch bruised ginger
3 cloves bruised garlic
1 teaspoon fenugreek seeds 
1 teaspoon salt
1 tablespoon organic virgin coconut oil 
1 soft-boiled egg
Anchovies and peanuts on the side
Japanese cucumber, sliced, on the side
Sambal to taste
Method:
Cook the quinoa in a rice cooker with 1 1/2 cup of water as well as ginger, garlic, fenugreek, salt and coconut oil.
Air-fry anchovies and peanuts.
Serve with boiled egg and choice of sambal.