What it's like to eat fish in an aquarium at Singapore's only underwater dining pop-up
The sold-out popular Aqua Gastronomy experience at SEA Aquarium has been extended until January 2021. Here's what you can expect.
As far as fine dining experiences go, eating inside an aquarium can be a singular and wondrous experience. Except maybe for the part where I'm scoffing down seafood.
I recently had the chance to try out Aqua Gastronomy – Singapore's first and only underwater dining pop-up over at Resorts World Sentosa (RWS). 
It's quite the mesmerising trip, sitting inside an igloo-like pod, enveloped in dreamy lighting and ocean soundscapes, all the while gazing out at floor-to-ceiling sweeping views of colourful and rich marine life.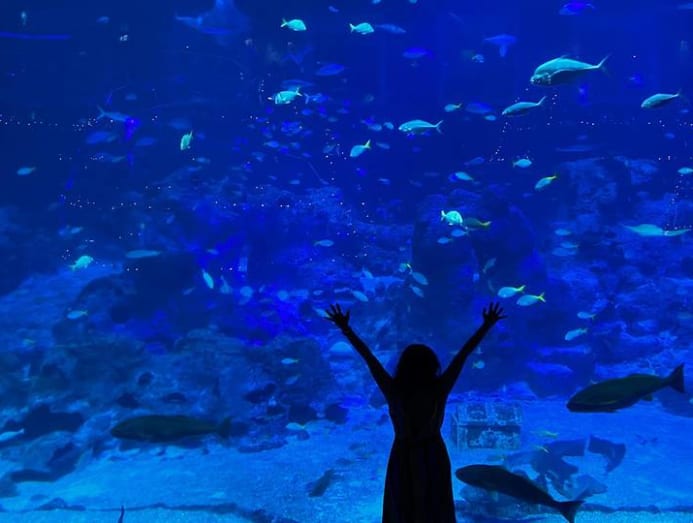 And generally being in awe that my dinner companions include reef manta rays, hammerhead sharks, giant groupers or any one of the 100,000 aquatic residents at the SEA Aquarium's Open Ocean Habitat.
Except I would soon be feasting on their cousins and friends. Wouldn't my dining companions prefer it if I was eating steak?
Dining with a side serving of irony here at Aqua Gastronomy has become one of the most popular things to do among Singapore residents who are itching for something different to do with travel being off the table.
When this collaborative brainchild between the RWS entertainment and F&B teams was first launched back in Aug 24, all available slots were snapped up, selling out within a week. 
That first edition ran until Oct 31 but because of the overwhelming response, it's now been extended until January, with a refreshed holiday menu for year-end festivities.

So what was it like eating fresh seafood while watching even fresher ones swim around me?

A guilt I never felt before about eating fish suddenly washed over me, even as I marvelled at the perfectly designed ambience of eight meticulously safe-distanced dining pods and five cosy tables. I was convinced that it was Nemo and Dory judging me through the aquarium glass.
And then I was told that the menu on hand was guaranteed as 100 per cent sustainably sourced and conceptualised by RWS' own in-house "sustainability committee". 
In fact, this is the very cornerstone of Aqua Gastronomy – the emphasis on the sustainable capture wildlife and responsible fishing while raising awareness of the importance of healthy marine ecosystems.
On hearing that, my guilt was assuaged and my mind started to rest easy. After all, fish also eat fish (as evidenced during the breathtaking spectacle of sea animals gathering for a feeding session – a segment of the Aqua Gastronomy experience), so it's not like they are against it either, right?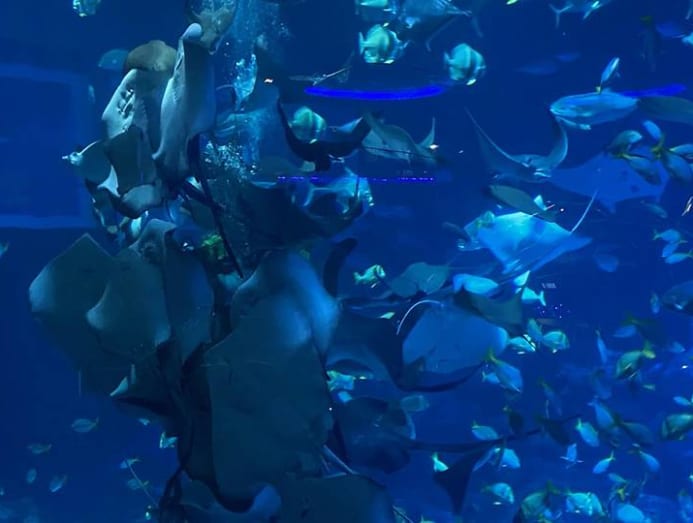 The menu, which included MSC-certified Canadian scallop and ASC-certified trout caviar, was meticulously selected to ensure their farming, fishing or catching methods have minimal environmental impact.
For the uninitiated, MSC (Marine Stewardship Council) certification is one of the best ways for fisheries to protect marine resources and The MSC programme is the most robust certification scheme for wild-capture fisheries in the market.
This menu also highlighted ingredients that support local fisheries such as Barramundi Asia and Ah Hua Kelong, which farm premium seabass and shellfish respectively using sustainable practices.
In fact the medley of Kuhlbarra seabass, Straits mussels and clams, shiitake essence and Japanese fried rice was particularly intriguing – it was a dish that lit up luminous green when the lights dimmed down.
"We wanted to educate diners by doing something impactful," said Ocean Restaurant's chef de cuisine Marvas Huang, explaining how the luminous effect of the above-mentioned shiitake essence – created by vitamin B2, a common dietary supplement – served as a warning sign of the high nitrogen levels in the sea.
For the upcoming second run of Aqua Gastronomy, they are launching two new menus that similarly boast 100 per cent sustainably sourced seafood.
Courtesy of Ocean Restaurant's Chef Huang, Forest's chef de cuisine Tony Choo and RWS executive pastry chef Kenny Kong, the four-course Six-Hands Holiday Menu, which is available from Nov 6 to Dec 18, includes a braised dish of sustainably farmed Australian "Yumbah" abalone and French sea whelk with Shaoxing (traditional Chinese white wine) "snow" and tsukemono (Japanese preserved vegetables).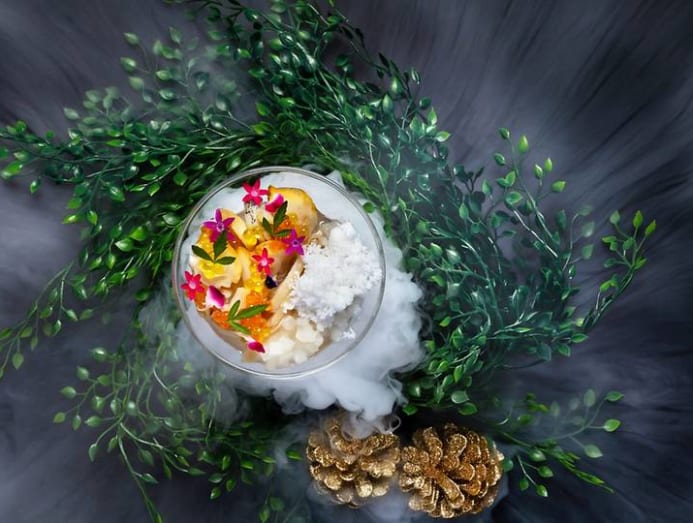 There is also MSC-certified baked miso cod from the Southern Ocean with yu xiang (a traditional Sichuan sauce) cherry aubergine, dou ban jiang (spicy fermented bean paste) and a glow-in-the-dark pearl of shiitake bonito essence, served with Japanese-style wakame hoshi-ebi (dried shrimp) pearl rice.
A five-course Festive Menu will also be introduced next month, which will run from Dec 19 to Jan 3 and include a complimentary champagne cocktail for all diners.

On showcase is a duo of sweet shellfish: A giant clam harvested by a New Zealand Friend of the Sea-certified fishery and poached in a dashi hua tiao (Chinese wine) broth and layered with pickled daikon, vegetable ceviche and yuzu, along with a farmed French oyster dressed with tosa vinegar, bonito jelly and a hint of Tabasco.
There is also a melt-in-your-mouth char-grilled Iberico Secreto pork (free-range of course) with char siew glaze and served with Japanese style wakame hoshi-ebi pearl rice.
The secret butcher cut (which is highly prized for its great marbling) is marinated in Chef Huang's own char siew sauce recipe for 48 hours, slow-cooked for another 24 hours and then char-grilled to perfection. 
Overall, Aqua Gastronomy is undoubtedly an out-of-the-box fun experience for those looking for a different dining experience complete with theatrics, lighting effects, dive performances, dish explanations and glow-in-the-dark edible works of art. 
But at the same time, it's also a chance to learn more about how seafood is harvested and farmed sustainably by environmentally responsible fisheries around the world without harming our oceans. 
Aqua Gastronomy is fully booked for November but reservations for December will open on Nov 10 at www.rwsentosa.com/AquaGastronomy. The Six-Hands Holiday Menu is priced from S$118 to S$138 while the Festive Menu is from S$138 to S$168.