Festive Singapore treats: 5 local home bakers and cooks worth supporting
Love roasted crispy-skin pork, green chilli sambal, homemade sourdough focaccia and ondeh-ondeh cakes? These passionate folks offer some delicious food for a truly local Christmas.
The ongoing pandemic may have disrupted and affected many industries and livelihoods. But some of Singapore's most creative and resilient home cooks and bakers are not going to let it ruin Christmas.
Having taken to their home kitchens after losing their jobs, trying to cope and make ends meet or just simply to stay sane in this global pandemic, many home-based food businesses have sprung up across Singapore this year.
That's continued as we enter the festive season – passionate folks whipping up limited edition treats, made from scratch in small batches, prepared with quality ingredients and priced competitively.
And our food-obsessed nation has responded in droves. The combination of earnest social media marketing, grassroots word-of-mouth promotion, efficient delivery and, most importantly, the quality of products have made supporting these businesses so easy. 

After all, isn't Christmas the time to love? And, of course, the time to indulge in one of Singapore's favourite pastimes – eating.
With what's essentially a win-win situation, here are five home cooks and bakers who have impressed us.

GNOMECOOKED

The story: Since launching in April during the "circuit breaker", Gnomecooked has gained a steady following of repeat customers and meal subscribers. 
It's run by 39-year-old entrepreneur Yvonne Chang, who started it as a side gig after her retail business and her passion for entertaining were put on hold during circuit breaker.
Prior to COVID-19, her homemade dry laksa, seafood pasta and roasted crispy-skin pork were huge hits at her parties. Cooking these same gems throughout circuit breaker have won the the hearts of customers, too – at the height of her cooking frenzy, she cooked and delivered meals for eight families a day.
The festive treats: The Gnomelicious Meal for four includes Chang's specialties: A hearty one kilo of crispy-skin roast pork, crab meat pasta, and truffle mash. There's also an oversized bacon and pecan cheese ball, complete with crackers which makes for a great starter or dessert, and an apple crumble to round off the meal. It's priced at S$148, excluding delivery fees.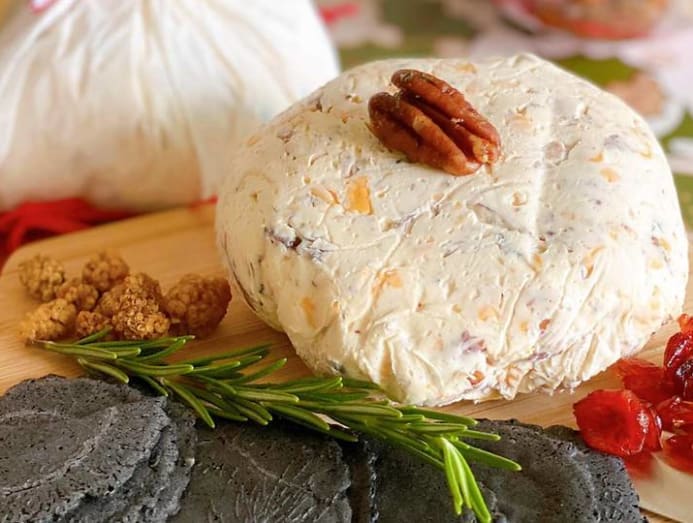 There are also homemade snacks perfect for gifting. One set of three snacks includes: Spiced nuts, cranberry and white chocolate cookies, and a fruity cranberry and pistachio granola for S$48.
The roasted spiced nuts are a premium mix of cashews, almonds, macadamia, pecans and walnuts seasoned with fresh herbs and secret spices, all wrapped up in a personalised bauble at S$20 for 200g.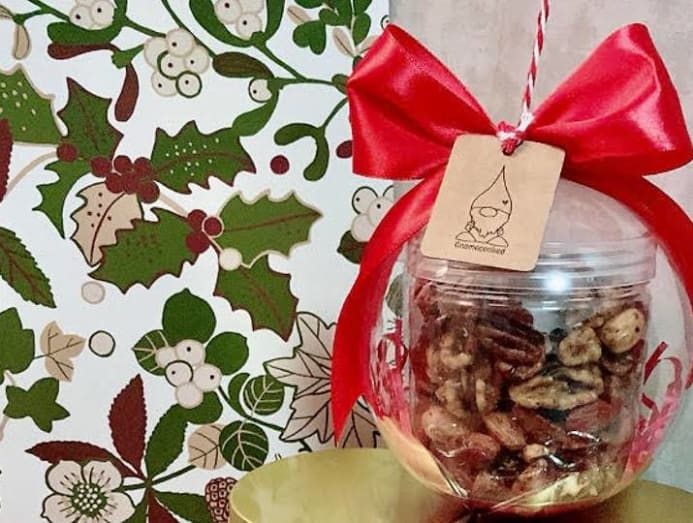 If it's just cookies you're hankering for, the white chocolate and cranberries cookies are made fresh upon order and cost S$18 for 250g, while the cranberry granola with pistachio go for S$18 for 300g.
Order at www.instagram.com/gnomecooked or www.facebook.com/gnomecooked
THE HOMME BAKER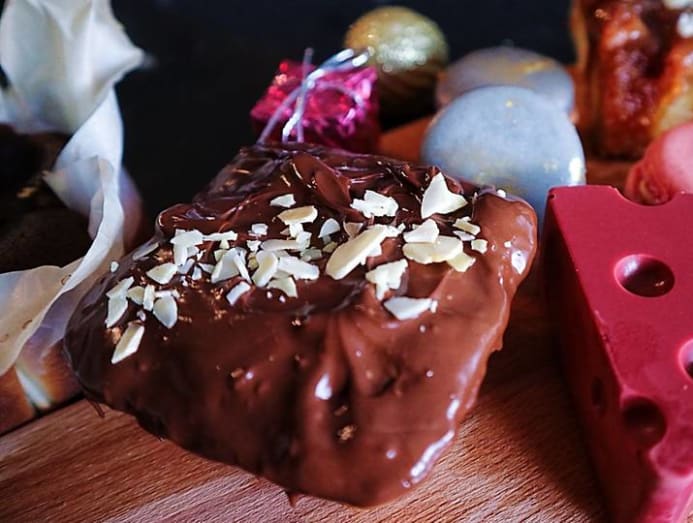 The story: Baking since he was 18 years old, Pond Lim majored in culinary arts at a university in Thailand. He currently juggles his production house job with chasing his baking dreams. 
His piece de resistance is the aptly named Tom & Jerry Collection, a Swiss cheese-looking chocolate block filled with fruits and cream that he painstakingly took months to perfect.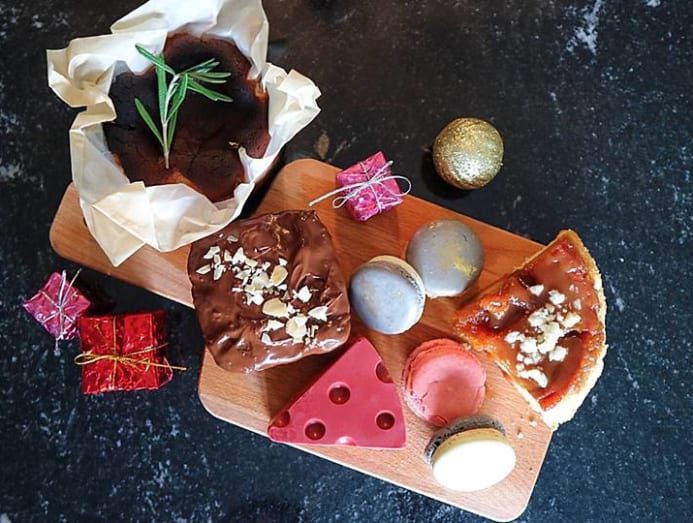 The festive treats: The Festive Holiday Box is a generous mix of Lim's signature desserts that include the burnt Basque cheesecake with a decadent matcha brownie underneath; the Tom & Jerry raspberry panna cotta creation of a raspberry chocolate shell stuffed with creamy panna cotta and topped with a layer of special recipe raspberry sauce; gold-dusted tangy lemon curd macarons; the banana upside-down cake with caramel sauce; and chocolate lava cookie made with premium dark chocolate, which boasts a gooey centre and chopped macadamia on top of the cranberry and nuts cookie. The whole package costs S$48 – or S$56 if you want it delivered to you.
Order at www.facebook.com/thehommebaker or www.instagram.com/the_homme_baker
2 MAMAS AND A WOK
The story: The trio of Grace Kee (aka Mama G), Tracy Khalil-Cherbonnier (aka Mama T) and Michelle Kam, who's in charge of the marketing efforts (the wok!), started their home-based business out of a desire to make it easy for other families to create traditional dishes at home – by sharing their own mothers' and grandmothers' sambal and rempah recipes.
The festive treats: There's the incredibly nifty Christmas Trio Sambal gift set (S$35) which boasts their popular signature dry laksa rempah along with two new sambals.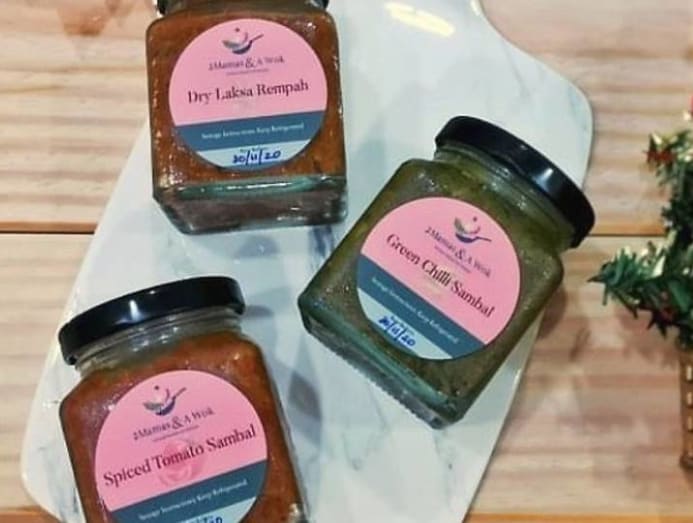 First up is the spiced tomato sambal, where the tartness of the tomato, sweetness of the onions and the spicy kick of the chillies is the perfect combination to complement any smoked Christmas hams or roast beef. The "lemak" green chilli sambal, oven-roasted to achieve the ultimate intense smoky flavour, will pair beautifully with prawns. 
The best thing about the sambals? They last for two weeks in the fridge.
Order at www.instagram.com/2mamasandawok
ADE'S HOMEBAKE
The story: Any mention of the insanely popular ondeh-ondeh cake and Adeline Ng of Ade's Homebake will be the first name that pops up.
The former professional baker at five-star hotels in Singapore has been home-baking her creations from March 2019, a year after being diagnosed with a very rare autoimmune disorder (neuromyelitis optica), which has left her blind in one eye.

Her in-demand bakes (prices start at S$32 for a 600g cake) are well-known for being yummy without being overwhelmingly sweet (the Japanese phrase for this is "otona no amasa" or "sweetness for adults").
Something to note when you're buying from Ade's Homebake: All the money earned from her home baking contributes to her steep annual medical expenses.
The festive treats: Using natural pandan essence, Ng now has another signature – durian ondeh-ondeh cake (S$65 for 600g, S$92 for 1kg). It uses pure Mao Shan Wang grown from her relative's durian plantation in Muar, Malaysia, as well as light ondeh-ondeh cream, Jawa gula melaka bits, and pandan and coconut sponge

There's also D24 durian pengat cooked with coconut milk and palm sugar at S$20 for 10 cups.
And for a more Christmas-y option, there's Blackout chocolate cake (S$52 for 600g, S$68 for 1kg), which boasts 72 per cent chocolate fudge, moist dark chocolate sponge and a Valrhona chocolate crunchy base.
She's offering a 10 per cent discount until Nov 30 (code's 10PERCENT) and 10 per cent off all Christmas goodies (except for orders made on the eve of the public holidays).
Order at https://adeshomebake.sg/
DOUGHMESTIC BLISS
The story: PR veteran Daryl Dee Teo started learning how to bake last December for fun, but it was during the circuit breaker earlier this year that she really started ramping things up and turned into what she has termed a proper "circuit baker".
Teo may have started baking because she wanted to share some healthy and homemade treats with the foreign workers doing construction in her building. But it turned out that baking also served as salve for her own mental wellness, and really helped her through difficult periods.

The festive treats: Her repertoire boasts Instagram-worthy sourdough focaccia loafs (S$25 and up) made with herbs from her own garden (including dill, rosemary, cuban oregano, oregano, thyme, basil and curry leaves) and seasonable vegetables from the local wet market. 
You can also order her lemon drizzle loaf cake (S$24) and raspberry lemon loaf cake (S$30) or indulge in huge chunky cookies (S$24 for a box of six) that are crispy on the outside and soft in the centre with flavours like chocolate chip walnut, triple chocolate chip, cinnamon oatmeal & raisins, birthday cake, matchadamia, and raspberry white chocolate. 
Her gorgeous and colourful bakes are all made fresh using only quality and healthy ingredients.