From kueh to keropok lekor: Yummy Hari Raya snacks you can order via Instagram
There's also murukku, cookies and more from these six home-based bakers and cooks, who've got the goods you want for your Hari Raya celebrations.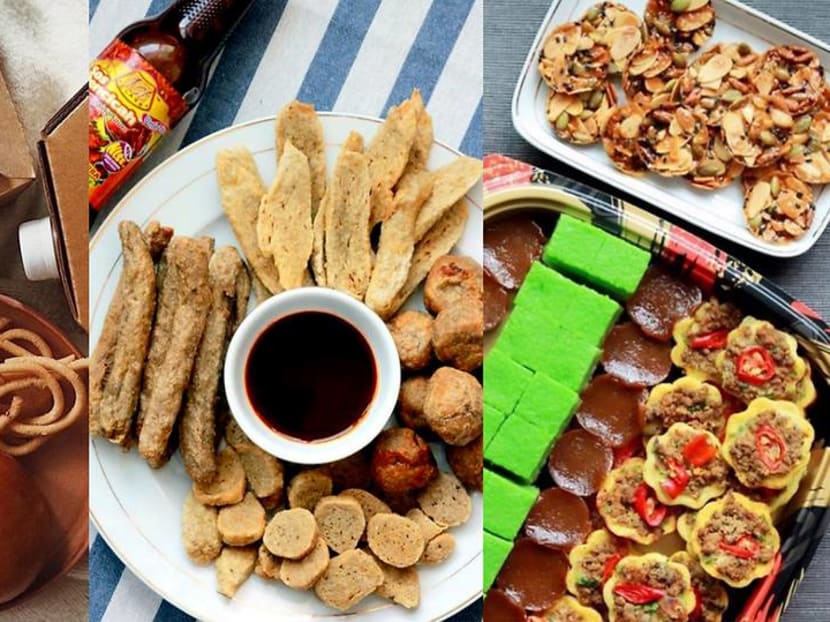 Almost everyone would agree that some of the best Hari Raya treats are to be found in homes, made by families with love that you can taste. 
Many of these businesses were born out of passion and purvey delights that are made from cherished family recipes which have been passed down from generation to generation.
Snagging yourself a share of these alluring treats, however, requires quick fingers and good timing since they are mostly made in limited numbers. Best to order early.

LEKOR LEGIT SG
Among the many things that have changed during the pandemic is the steady supply of lekor, that sausage-shaped fish cracker native to Terengganu, Malaysia.
"Because of border restrictions, it's been hard to find genuine lekor in Singapore," said Sarah Afina Bte Razali. "Those you get at pasar malam tend to be doughy and don't really taste of fish."
When she got to know someone who sells "legit" lekor, as she calls it, she jumped at the chance to sell them herself. Together with her partner Rafiqul Islam Bin Sahari, they buy lekor from a gentleman who makes it with ingredients imported from Terengganu before processing and packing them to sell through their Instagram account.
"Since we started a few weeks ago, it's been selling like hot cakes," said Sarah happily. Among their range is Terengganu-style Lekor Gulung, which are shaped like sausages but don't puff up when cooked because there is more fish than flour in the mix, explained Sarah.
There is also Kelantan-style Lekor Bulat, which are shaped like discs and ball-shaped lekor filled with mozzarella. The lekor, which come with a bottle of piquant dipping sauce, are sold frozen so customers can fry them up fresh before eating. Check out their Instagram page to order.  
THE UNDERGROUND CHAI CO
Mohamed Ibrahim Aslam had always had a fascination for chai, so when the Circuit Breaker hit in April last year and his father was retrenched from his job as a QC technician, Aslam suggested they turn his passion into a home-based business.
Today, the family sells traditionally made South Indian milk tea and masala chai, which Aslam blends, and classic Indian snacks like onion pakoda, chicken curry buns and murukku made by his mother Anisha Begum. The murukku have been particularly popular and are made according to Begum's treasured family recipe which calls for less oil and less salt. 
Aslam's teas are deliciously wholesome, enriched with full cream milk rather than tinned condensed milk. In time, Aslam hopes to save enough money to set up a brick and mortar store where he can peddle his passion for teas and his mother's snacks. Orders are available for weekends and can be made by filling in an order form on his Instagram page.
ANA'S KOOKIES
The Salleh family business began 10 years ago at Geylang Serai's Ramadan bazaar. As the festive market's popularity blossomed, so did its stalls' rents. Three years ago, to circumvent the stratospheric overheads, the family took their business online, selling their cookies on Facebook and Instagram.
Besides cutting out rent, this meant that they could sell their wares on any given day instead of only during the festive season. Customers return time and again for the family's traditional cookies such as kueh makmur and sugee biscuits made by 58-year-old matriarch Zainah.
MY KID'S CRAVINGS
Two Ramadans ago, Frirafizah Abdul Razak began baking her children's favourite treats. She shared them with her neighbours who loved them so much that it encouraged her to start selling small batches of her bakes from home.
When the pandemic hit last year, Frirafizah's wedding decoration business took a hit, so she turned her attention to her fledgling baking business, which she named My Kid's Cravings. Business has been so healthy that earlier this year, Frirafizah roped in her aunt Esadora Bte Jamil.
"We live nearby to each other and together, we can offer more variety," she said. Esadora makes cookies and roll cakes while Frirafizah makes a delightful kunafe, kek gula hangus, and popular baklava rings in flavours such as white chocolate Oreo and Nutella sea salt pistachio. DM Frirafizah on their Instagram page to order.
HAWRAA
Like many people, Nathasha Rahiman found herself with little to do during the Circuit Breaker last year. "I work as a moneychanger, so I literally could not work because it had to close," she explained.
With nothing but time on her hands, she set about learning to make kueh from her grandmother whom she lives with. Last August, Nathasha began selling kueh kaswi and bakar lauk, and she hasn't looked back since. Her repertoire has grown to include putri salat, lapis beras and kole-kole.
"These are all made from my family recipes which my grandmother used to sell many years ago to make a living," said Nathasha. Her customers have been so supportive that they've inspired her to create kueh platters for Ramadan which allow them to sample a selection each week. And for Hari Raya, Nathasha and her grandmother will be making talam keladi and Florentine cookies for sale. DM Nathasha on Hawraa's Instagram page.
​​​​​​​
BUNDA ANA'S KITCHEN 45
Bunda Ana's Kitchen 45 is part of Project Cookoh, which was started during the Circuit Breaker to empower mothers from the Readable initiative to start home-based businesses.
Ana dishes up wholesome, home-cooked Indonesian fare to meet the high school fees she has to pay for her children who are foreigners in Singapore's school system. Her repertoire includes fragrant baked goods such as ondeh ondeh tarts, snow tarts and peanut cookies.
But it is her nasi tumpeng, comprising yellow rice and the likes of sambal goreng, chicken rendang and serundeng, that makes for a hearty celebration dish that can be shared among five people. Order via Whatsapp at 98996615 or by filling this form.