'Tulang' casserole and nasi lemak pizza: 10 iftar meal ideas after a long day of fasting
Hungry after a long day of fasting? Here are some delicious offerings for when it's time to break fast this Ramadan.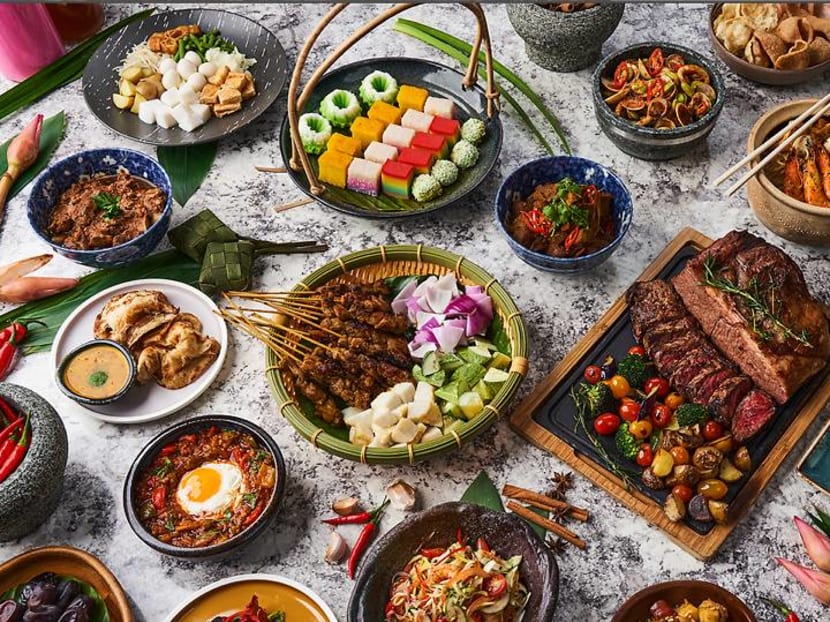 Ramadan has begun for the Muslim community, which marks a month of fasting from pre-dawn to sunset, with no food or drink as part of their worship and an act of devotion to God. 
The daily fast, meant to teach individuals about discipline and restraint from earthly pleasures, concludes with a convivial meal known as iftar.
We've pulled together a list of halal-certified restaurants and halal-friendly cloud kitchen concepts, as well as some home-delivery options with which to enjoy a hearty meal at the end of each holy day of Ramadan.
RAMADAN IFTAR DINNER BUFFET AT PEPPERMINT
Meals feel especially wholesome when many of the ingredients are harvested from the restaurant's urban farm on the rooftop of the hotel that it sits in. 
At this halal-certified Iftar buffet, diners can sup on everything from Black Angus beef sliders to braised lamb shank "tulang" casserole and baby rock lobsters. Even more attractive is the credit card promotions that give diners the option of one-for-one deals on Mondays and one free meal for every three paying adults on weekends. Dinner is priced at S$88 per adult and S$44 per child.
TIGA ROTI
Popular burger restaurant Three Buns recently started its halal-friendly option called Tiga Roti. This cloud kitchen is dishing out burgers made from halal-certified ingredients and without pork, lard or alcohol.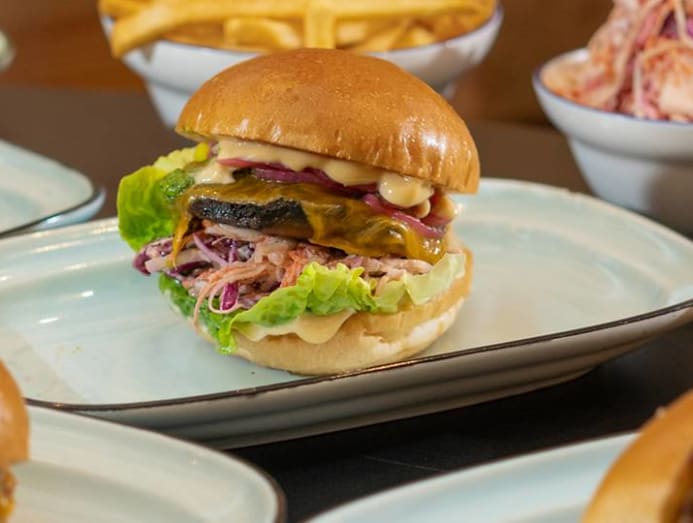 Before the sun sets, place your order through Oddle, Grab, Deliveroo or Foodpanda for lip-smacking offerings like Plug Three, an Argentinean beef burger with ketchup, smoked mayo, sharp cheddar and onion pickle in a toasted demi brioche bun. There's also pulled beef brisket burger smothered in rendang gravy, pickled daikon chilli and coconut aioli called Hot 'Dang. Vegetarians can ask for Boi Ndoot featuring a patty made from Tindle "chicken", miso garlic parsley butter and truffle aioli.

IFTAR BUFFET POP-UP AT HILTON SINGAPORE
The evening meal comes with a spread of over 30 dishes and breathtaking views of the city from Hilton Singapore's 24th storey. For this halal-certified iftar pop-up, the hotel's chefs have brought together treasured family recipes that include bubur lemak daging (a lightly spiced beef porridge), gado gado, a selection of mezze, spicy chermoula-baked seabass, egg shakshuka, kueh-kueh, and the hotel's popular cheesecake. Dishes are served to the table as part of the S$74-per-head spread (children enjoy 50 per cent off the price).
NUSANTARA SINGAPORE
At this newcomer to the dining scene, Muslim chef Firdauz Nasir has revived recipes from his grandmother and mother that include beef rendang, ayam masak merah, belimbing lamb, and ayam kicap buah keluak.
Nusantara is the Indonesian word for the Malay archipelago and Nasir is making an effort to render the cuisine with less oil, less sugar and no preservatives. The hearty rice bowls (try the itik gulai or duck curry one) come with the main protein along with gado gado, garlic kai lan, sambal goreng, kentang sambal hijau (potatoes in a green chilli sambal) and sayur lodeh. Dine at the restaurant or order at least S$30 worth for islandwide delivery. Delivery is free for orders above $100.
RAMADAN BUFFET AT STRAITS KITCHEN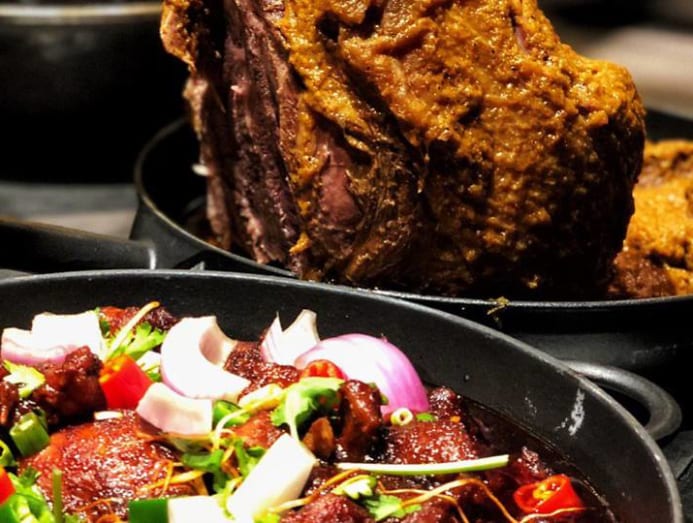 This buffet stalwart never disappoints. This year, Straits Kitchen is doling out Lebanese mezze such as baba ghanoush, khyar bi laban (cucumber yoghurt salad), pita and hummus, alongside the likes of Indian and Singaporean delights. Check out the lamb kebabs, butter chicken, fried onion dumplings, chilli crabs, slow-braised Australian lamb shanks and Sichuan chicken with dried chillies, before chasing them with a selection of sweet treats including durian fritters and soft serve, baklava and bread pudding.  
PIZZA ARC NASI LEMAK PIZZA
It was only a matter of time before someone came up with yet another spin on nasi lemak — this time in the guise of pizza and timed for Ramadan. 
It's no surprise that halal pizzeria Pizza Arc's nasi lemak pizza dough is infused with pandan and tinted green, then glazed with a layer of sambal and strewn with cheese and chicken. To finish, the pies get a generous handful of crispy ikan bilis and peanuts.

Available from Apr 15 to Jun 15, the nasi lemak pizzas are available as part of various sets that come with a bottle of Fanta Coco Pandan, a new soda launch from Coca Cola for Hari Raya 2021, flavoured with coconut syrup and pandan juice.
RAMADAN A LA CARTE BUFFET AT CAROUSEL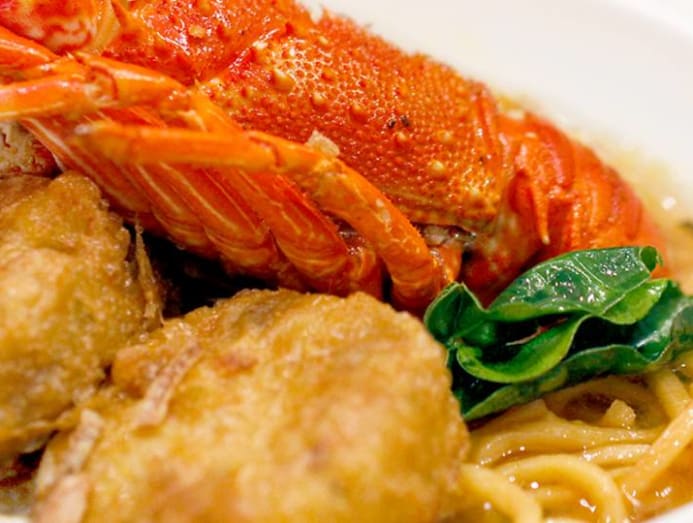 This popular Ramadan dining destination is going local this year with quintessential favourites such as rojak, gado gado, mutton and chicken satay, and traditional Nyonya kueh-kueh.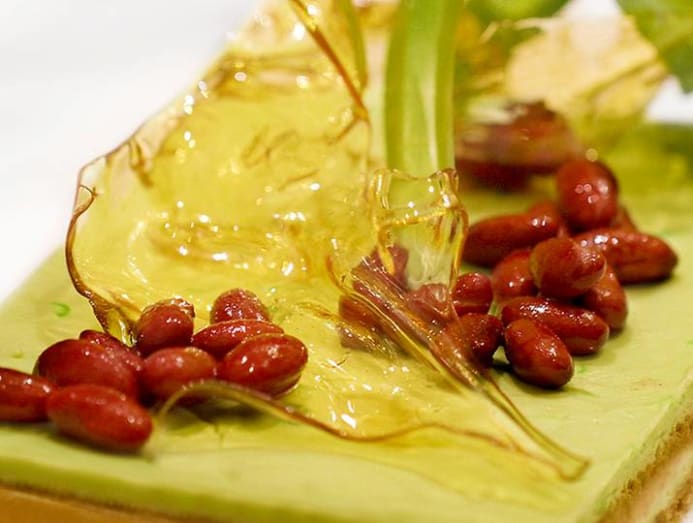 With over 100 dishes from the a la carte buffet menu, the most difficult decisions would be to choose between nasi ambeng (with beef rendang, deep-fried turmeric chicken and the works) or lobster mee soto; chendol or durian chocolate fudge? Use the promo code EB25 for a 25 per cent discount.
LOCAL DELIGHTS BUFFET AT GINGER
The buffet line-up at Ginger gets a new slew of Malay and Indonesian delights for the month of April. Currently awaiting halal-certification, the restaurant recently re-opened after an extensive renovation with a new look that captures "a city in a garden" thanks to the use of timber and stone.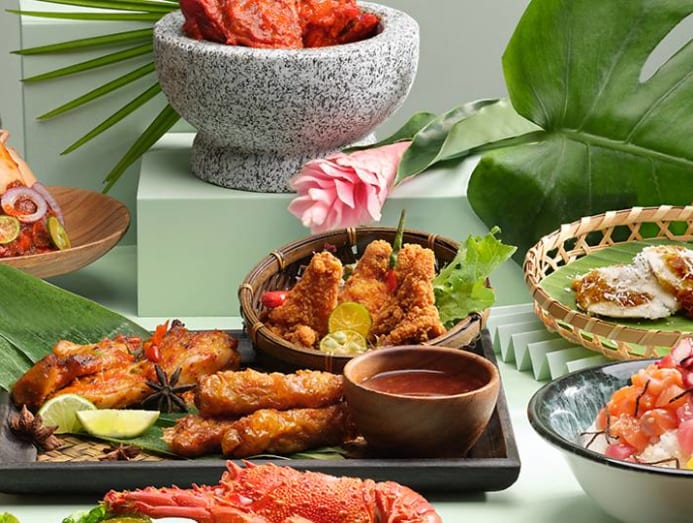 Highlights of the Local Delights spread include crisp katafi prawn rolls with wasabi mayo, steamed sambal river prawns, lamb murtabak, and braised lamb shanks tulang. Well-loved Haig Road Putu Piring is also part of the daily spread.
STEAK BOWL CONGEE FROM PICANHAS
Halal steakhouse Picanhas has created a satisfying bowl of congee just for Ramadan. Like the popular Picanhas Don (rice bowl) that it's fashioned after, the congee or rice porridge is served topped with a 200gm hunk of juicy steak, spring onions and a runny egg for good measure. Priced at S$27, it is available for free islandwide delivery till May 12.
RAMADAN SPECIALS AT SAMA SAMA
Sama Sama means "you're welcome" in Bahasa Indonesia and it is in that spirit that the restaurant has created its Ramadan specials. At S$32 per head (with a minimum of four people per order), the Ramadan set menu comprises a spread that begins with an appetiser of bakwan udang (a crisp prawn and vegetable fritter), along with six dishes that include sate kambing Betawi (Jakarta-style lamb skewers), gudeng Nangka (stewed jackfruit with hard-boiled egg and tofu), and semur Jawa daging (beef stew).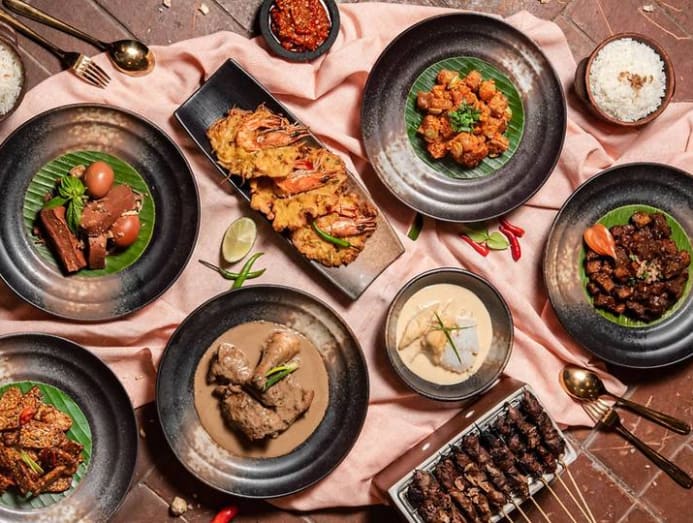 Dessert comes in the form of kolak pisang or bananas in coconut milk, Javanese palm sugar and pearl sago. There's also the Ramadan Special lontong opor ayam ($15), served with ketupat basted in coconut milk and topped with the spiced chicken curry, boiled eggs and a side of Javanese stir-fried sambal goreng kentang with chicken hearts, gizzards and spicy potatoes.