An Aladdin's Genie chocolate sculpture helped Singapore win a global pastry contest. How did that happen?
At this year's Global Pastry Chefs Challenge, ITE pastry chef-lecturer Dexter Lee and his assistant Terence Lin beat teams from Italy and France to the top spot. It was a wish come true thanks in part to a beloved Disney character. CNA Lifestyle had a quick chat with Chef Lee on the experience.
Earlier this month, a pastry team from Singapore baked their way to victory at the Global Pastry Chefs Challenge in Abu Dhabi.
Dexter Lee, a pastry and baking chef-lecturer at the Institute of Technical Education's (ITE) College West campus, and his assistant Terence Lin bested teams from Italy and France to clinch the top spot in the international competition.
Teams had to create fine dining plated desserts, an entremet (a multi-layer, multi-flavoured cake) and a chocolate sculpture.
And it was the latter that caught our bemused eye – inspired by the Arabian Nights theme, they whipped up Aladdin's Genie coming out of its lamp.
Curious to find out more about the chocolate genie and the team's whole experience, we had a quick chat with Lee.
TELL US A BIT MORE ABOUT YOURSELF AND HOW YOU GOT HERE. 
I've been in the pastry and baking scene for close to ten years now. Before joining ITE as a lecturer, I started off working in Grand Hyatt Singapore for three years and became an assistant pastry chef at JW Marriott for about two years.
After deciding that teaching was my calling, I ventured into the cooking education sector about three to four years ago and have never looked back since. 
HOW DID YOU FEEL WHEN YOU LEARNED THAT YOU QUALIFIED FOR THE FINALS? 
I was humbled and honoured to qualify for it, as well as to represent Singapore and, specifically, ITE. Only a small percentage of the win is my input, which would be going through rounds of practice and all that.  
It's because of all of the support we got from organisations like the Singapore Chefs' Association and Singapore Pastry Alliance that I'm further humbled by the win, as it wouldn't have been possible otherwise. 
HOW DID YOU AND YOUR TEAM PREPARE FOR THE COMPETITION? 
For the chocolate sculpture, I had to sketch it out into the shape I wanted – which was Genie from the 1992 Disney film, Aladdin. So, a lot of time went into sketching it, sculpting it with chocolate and fine-tuning the angle, the way the genie looked, how it smiled and so on. 
The entremet and plated dessert went through a similar fine-tuning process, so all of this together took us three months of intensively developing the products we wanted to make before rehearsing for the competition itself.
WHERE DID YOU GET THE IDEA FOR THE CHOCOLATE SCULPTURE FROM? 
Growing up in the 90s, Disney movies were something I found myself drawn to. Of course, with Aladdin, you can't miss out on Genie. His personality was pretty much the emotional core of the story to me. As much as I wanted to compete at a global level and win, I also wanted to make something with personal meaning, so I went with Genie.  
I searched for sculptures of Genie that were done in different mediums like clay, plastic and aluminium, and even rewatched the 1992 film and its 2019 live-action remake a few times as research to really embed Genie's likeness into my mind before I started sculpting it out. 
WE'RE ALSO CURIOUS: WHAT HAPPENED TO THE GENIE'S EYES? 
(Laughs) The sculpture was designed such that the genie had his eyes closed. He's also holding a peacock feather pen so he's grinning at whoever rubbed the lamp to release him, ready to sign a "genie contract" with them so they can make wishes.
WHAT DID EACH OF YOU DO DURING THE COMPETITION ITSELF? 
In the competition's eight and a half hours, we had to complete the chocolate sculpture, entremet and six plated desserts, which had to consist of hot and cold elements, plant-based elements and some curated items.   
Terence and I went through the whole making process together before starting rehearsals, so we would know what to do during the competition. We went into the detail of delegating tasks after.  
While he focused more on the entremet and plated desserts, I focused more on the chocolate sculpture, as it takes more time and precision. That was my main involvement throughout the competition, although I also helped make a few elements of the other items.
WHAT WERE SOME CHALLENGES YOU FACED WORKING TOGETHER? 
One minor challenge was Terence's age – he's 23 this year and this is his first competition, an international one at that! He got a bit nervous along the way, which I foresaw. I reassured him that things were going well and that we were working on time. 
The other thing was that there's a difference between practising in controlled, comfortable environments in Singapore and executing your ideas in another country, where both the kitchen space and equipment are unfamiliar.  
There were things we couldn't control, like room temperature, which became an issue because chocolate's quite sensitive. Near the competition's last five minutes, I was finishing up the sculpture and was ready to attach the chocolate flower to it. When I set it onto the main piece and moved on to work on other tasks, the chocolate flower fell and some of the petals broke off. 
That was quite an... exciting moment, but I was mentally prepared for it. I reassembled the petals where possible and, with Terence's assistance, reattached the flower to the sculpture. We were able to finish everything on time, and I was glad about it. 
WAS THERE ANYTHING YOU WISHED YOU HAD DONE DIFFERENTLY? 
The presentation of the plated dessert. In terms of taste and texture, it was good, but Terence and I agreed after the competition that it could've been more elegantly decorated. Other than that, the sculpture and cake are things we're quite satisfied with.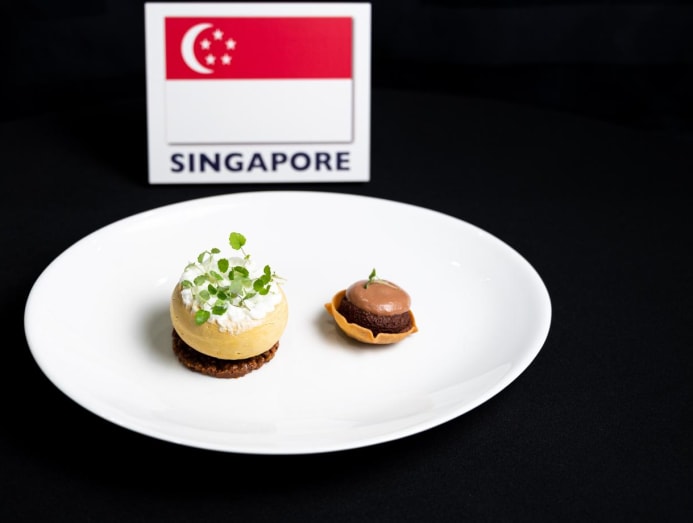 AS A PASTRY CHEF YOURSELF, HOW MUCH OF A SWEET TOOTH ARE YOU? 
I don't really eat desserts or pastries. Rather, I taste them, which is different from eating them. Tasting them is more about ensuring the right taste, texture, temperature et cetera. I wouldn't call myself much of a dessert person, though. I don't really go cafe-hopping and trying desserts. 
With a more Asian palate, I enjoy eating nyonya kueh or Chinese desserts more than French or Western pastries. Not that I don't like them, I find it more comforting to eat Asian desserts. 
YOU TEACH AT ITE – HOW YOUR STUDENTS REACT TO YOUR WIN?
They were very proud of me. Normally, it's the other way round, where I'm proud of them for their achievements in life and studies. On social media, they kept posting and reposting the news of the win.  
Two of them shared a conversation they had on WhatsApp saying: "Wow, Chef Dexter has won in a global pastry competition against France and Italy!"  
They then made a comparison, saying "It's like seeing an ang moh come into Singapore and win a chicken rice competition", which I found quite humorous. 
WHAT'S NEXT FOR YOU?
For now, I'd like to continue teaching and adding value to my students' lives, as I find it fulfilling. As much as career progression can be important, I believe in finding fulfilment in what I'm doing now before I can think of venturing onto something else. 
I'd like to take part in one more global competition, the World Pastry Cup (Coupe du Monde de la Patisserie).
After that, we'll see how it goes. I'm taking it one step at a time and just stepping into whatever path I see at the moment.