At this uniquely Singapore izakaya, you can have kopi o negroni, Iberico satay and Roxy laksa
The Kongsee marks Chef Willin Low's first major project after closing his restaurant Roketto Izakaya at Frasers Tower earlier this April.
With small plate dishes such as "Roxy laksa", ngoh hiang dumplings and Krapow prata pizza; a range of locally-inspired cocktails with names like Kopi O Negroni; Peranakan-tiled tables and HDB gate railings, it's easy to see why The Kongsee is being billed as the first "Singapore izakaya".
For the uninitiated, an "izakaya" broadly refers to a type of convivial Japanese bar in which a variety of small, affordable dishes and snacks are served to accompany the alcoholic drinks.
And The Kongsee, which is located in a heritage shophouse along Gemmill Lane, smack in the middle of Chinatown, suitably ticks all the boxes of one – with a nostalgic Singaporean wink-and-nod.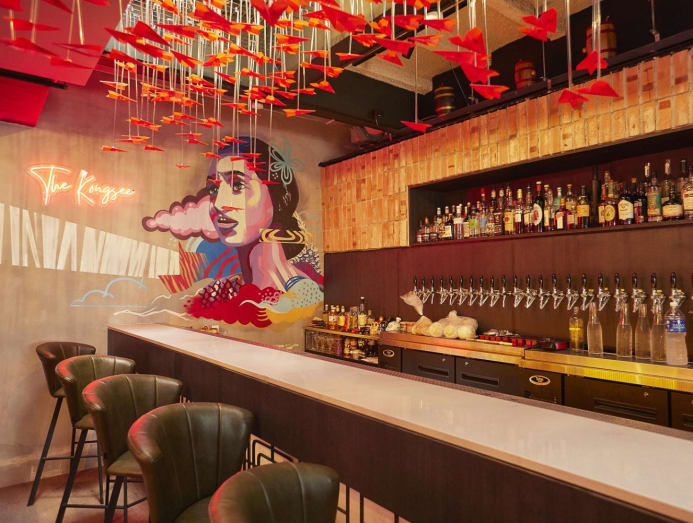 First up, the name itself. In Hokkien, it means "company", an early reference to Chinese businesses, social organisations, clans or partnerships which ultimately lead to loyal bonds of kinship. In Malay, "kongsi" means to "share".
"With its dual meaning inspired by both the Hokkien word and the Malay word, it is our hope that The Kongsee will be a welcoming space that connects people with the delicious melting pot of different cultures and communities in modern Singapore, through our food, drinks and convivial hospitality, shared chef-partner Willin Low.
This is Low's first major project after closing his previous restaurant (which was Relish in the day and Roketto Izakaya in the evenings) at Frasers Towers earlier this April. And he sees The Kongsee's menu comprising reinvented classic local dishes as yet another great way to pay homage to Singapore.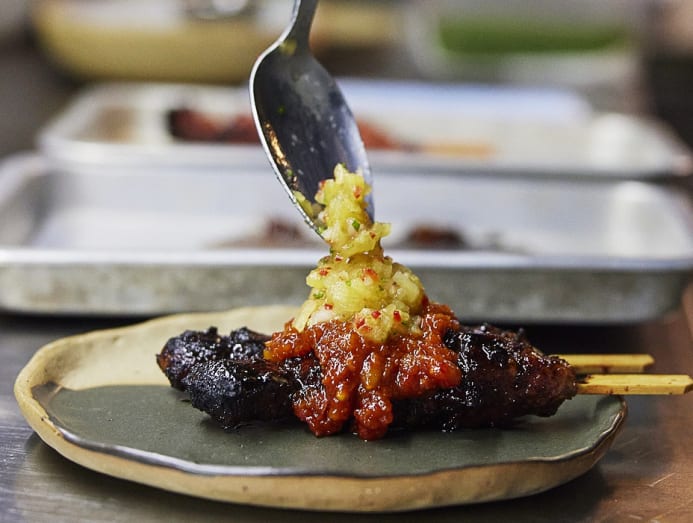 Must-try dishes at the izakaya include two of Low's signature dishes. There's the award-winning Mini Roxy Crab Laksa, chock-full with wild-caught crabs, stemming from the renowned Roxy Laksa founded in 1952 and famous for its delicate and balanced broth.
There's also his charcoal-grilled Iberico Satay – a Hainanese-Indonesian fusion street food served with rich Javanese peanut sauce and a Sarawak pineapple salsa inspired by Hainanese pineapple sauce.
Other menu highlights include the Barramundi Ceviche – a fresh, locally farmed barramundi from Kuhlbarra, tossed with herbs and vegetables and served with crispy papadam and a scoop of creamy pomelo (made with coconut, galangal, lemongrass, and onion); and
the 
Krapow
Prata Pizza – a
Thai-, Indian- and Italian-inspired dish, featuring Thai basil minced chicken served on an Indian roti and
baked with cheese.
There's also the delicious (and Instagram-worthy) Chicken Barley Risotto Roll, inspired by a Singapore favourite – the classic chicken rice. What makes this dish stand out is that barley is used instead of rice and the entire thing is wrapped in Vietnamese rice paper, served with delicious chicken rice chili sauce.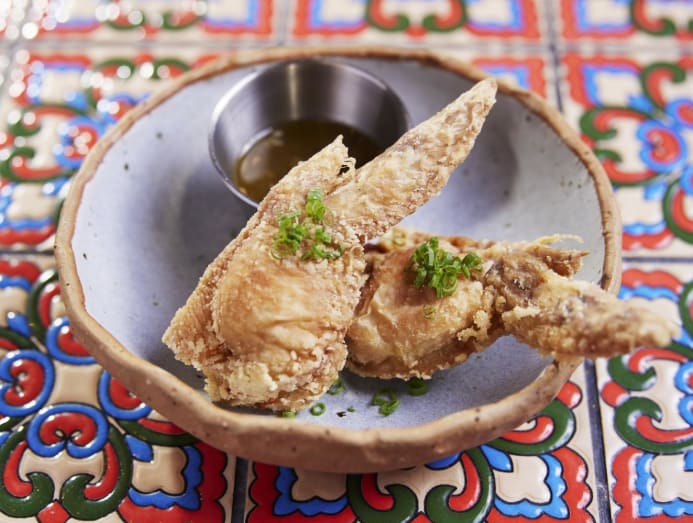 Also on the menu are Stuffed Chicken Wings, filled with minced prawns and served with a Thai green seafood chilli sauce; and Tandoori Chicken prepared with a Garam Masala marinade, grilled over charcoal and served up with a piquant Kashmiri chilli yoghurt.
Widely recognised as the chef who put "Singapore Modern" cuisine on the culinary map, Low told CNA Lifestyle that he hopes locals will find "familiarity amidst surprises" when they come to The Kongsee.
"Whether it is in the food – think chicken rice roll! Or drinks like kopi o siew dai negroni. Or even the scent of The Kongsee," he said. "For visitors to Singapore it would be a uniquely Singaporean experience yet one that cannot be found anywhere else in Singapore."
And what's a "uniquely Singapore" izakaya without an extensive drinks menu?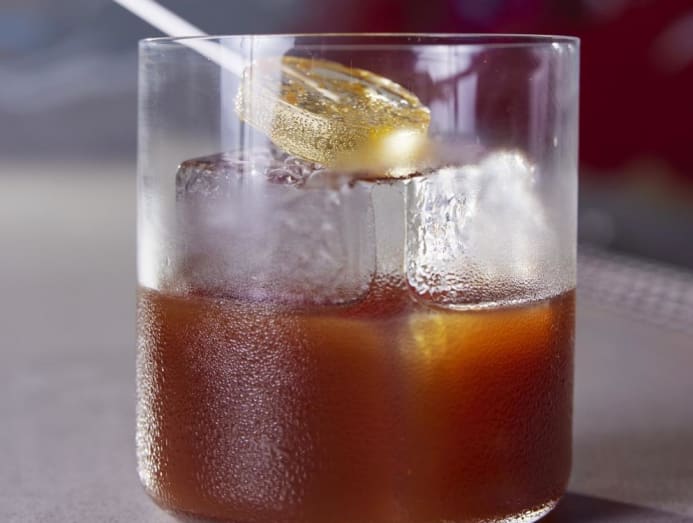 At The Kongsee, ingredients are sourced locally wherever possible. And it is most evident in must-have drinks such as the Kopi O Su Dai Negroni, which is a homemade Negroni infused with kopi beans sourced from a coffeeshop down the street (yes, literally from Telok Ayer Food Market) and served with a tangy citrus lollipop. (And yes, the name is a play on the word "siew" as Su is the name of the bartender who created the drink.)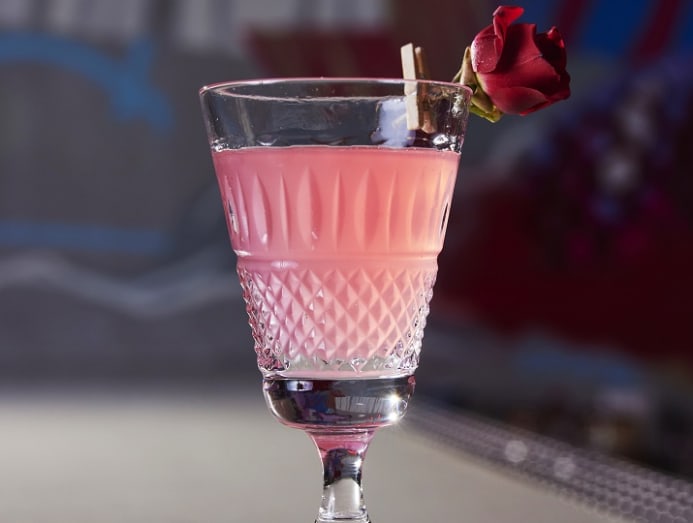 There's also The Kongsee, incorporating homemade rose cordial made from an infusion of rose buds with calamansi and lime juice, paired with a dash of local spirit brand Tanglin Orchid Gin; and the hilariously named Bojio Martini, prepared with Nikka gin, Violette liquor, maraschino and calamansi juice.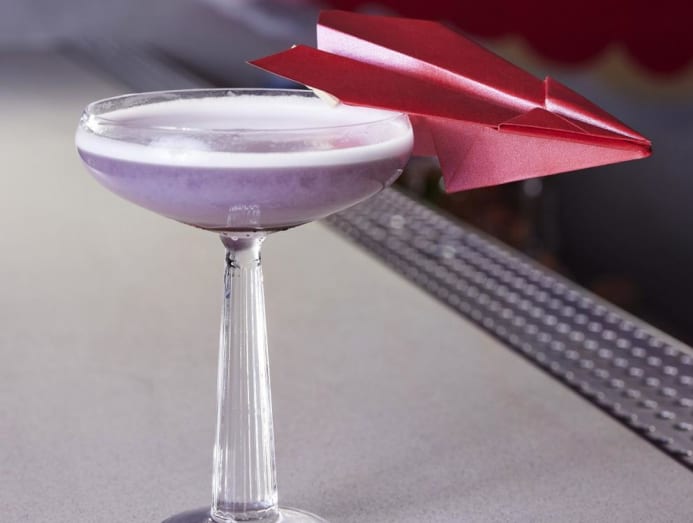 The bar also boasts 15 beers on tap from five different local independent breweries, including Brewlander's Love, Able Brewing's Amber Blivet and Off Day Crush Kumquat Ginger by Off DayBeer Company.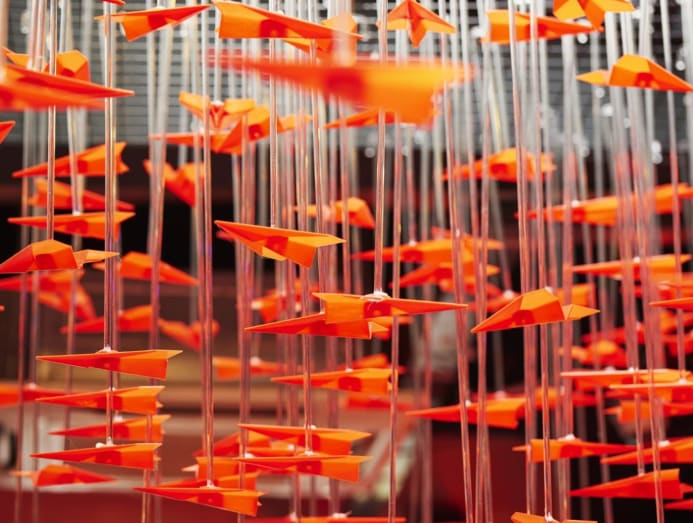 The space itself is a nod to Singapore – the ceiling is adorned with dozens of red paper airplanes and the walls are covered with graffiti depicting The Esplanade, orchids, and the Gardens by the Bay's Supertrees.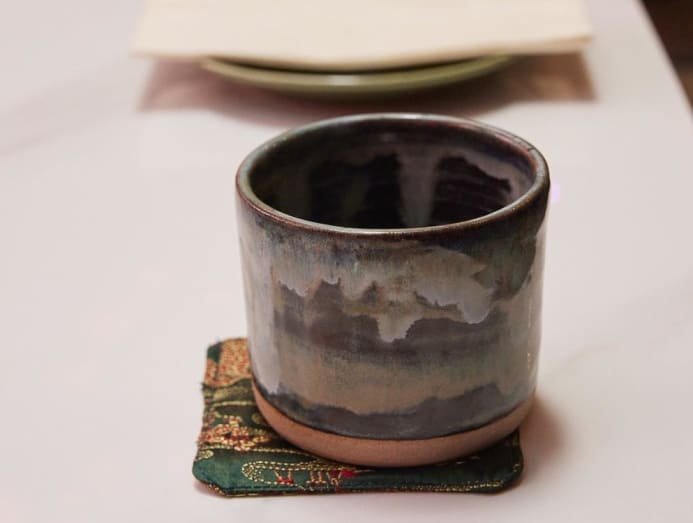 Even the cutlery's decidedly local – the chopsticks are sourced from Chinatown and the coasters are from Haji Lane, while the bowls and plates are from local ceramic studio Mud Rock Ceramics and the cups are from the pottery school Dirty Hands Only. The place also has a signature scent, inspired by Changi Airport and Singapore Airlines.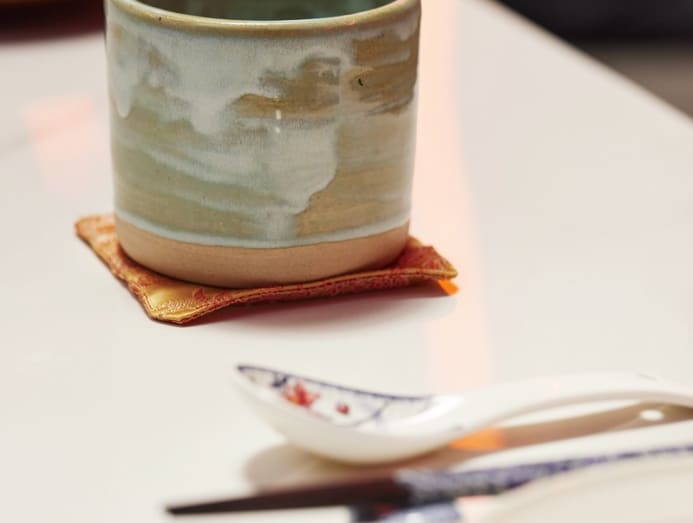 So what's Low's definition of a Singapore izakaya?
"Think Singapore hawker centre, and then take everything apart and reimagine it with South American, Thai, Japanese touches," he said. "It's all about small sharing plates and lots of local craft beer. It's about sharing good drinks, food and conversations with friends."