The 'Backstreet Bengs' present a Six Hands dinner as you hop down Amoy Street
The chefs of Le Binchotan, Ding Dong and Birds Of A Feather bonded over breaks in the alley that connects the restaurants – and you get to reap the benefits of being neighbourly.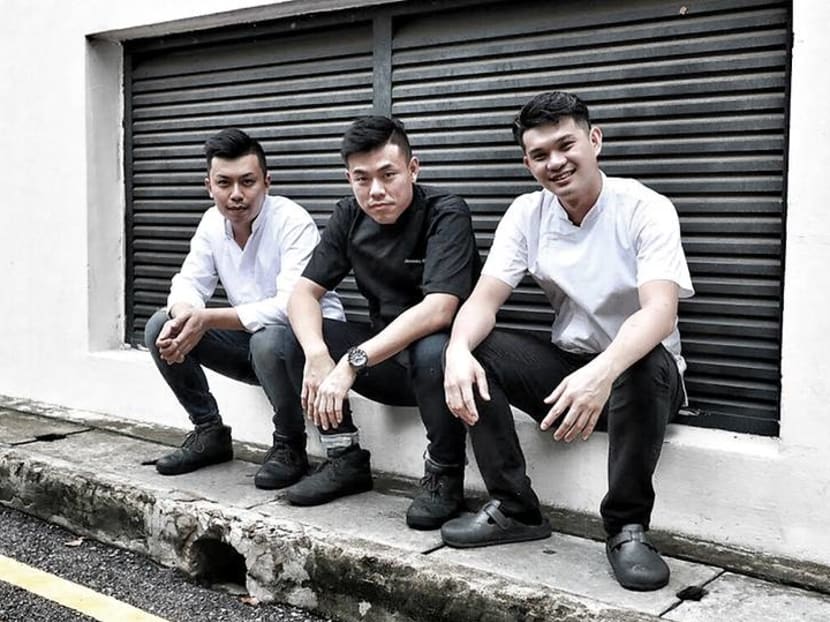 How many chefs does it take to shake up a street? The answer is three, which also happens to be the minimum sign-up rate for a good boyband.
Chefs Jeremmy Chiam of Le Binchotan, Miller Mai of Ding Dong and Eugene See of Birds Of A Feather started out as neighbours along Amoy Street, with their restaurants just a few steps away from one another.
Their friendship developed in the back alley as they started borrowing eggs from one another and grabbing late-night drinks after work.
If they were a boyband, it's clear what their band name would be: The Backstreet Bengs, as they've proudly proclaimed themselves, with no small measure of self-deprecating irony.
Foodies get to benefit from this unique friendship, too. This October, the chefs have decided to organise a two-night-only Six Hands dinner with a twist: Guests will move in and out of the three restaurants, stopping in for two courses at each establishment.
Yes, you could think of it as restaurant speed-dating.
Each chef will be presenting one off-menu dish specially designed for the event, as well as one signature dish.
The idea for the collaboration was born from a casual chat while they were  "squatting outside" in the alley while on a break, said Chiam, recounting that he had mooted the idea because while the other chefs along Amoy Street are predominantly French or Australian, the three have a shared heritage that resonates with that of the neighbourhood.
"We thought, 'Why don't we do something fun together and hype up the place a bit?'" he said.
As a nod to the vibrant heritage of the Amoy Street area, the trio will be serving up dishes inspired by traditional, familiar comfort foods.
At sleek French-Japanese restaurant Le Binchotan, guests will get to taste Chiam's special dish of Uni Okayu With Charcoal Youtiao. Inspired by congee, which was the food of the working class in the early days of Amoy Street, the dish consists of rice and uni served in kombu and scallop buillon, and garnished with crunchy charcoal youtiao rounds.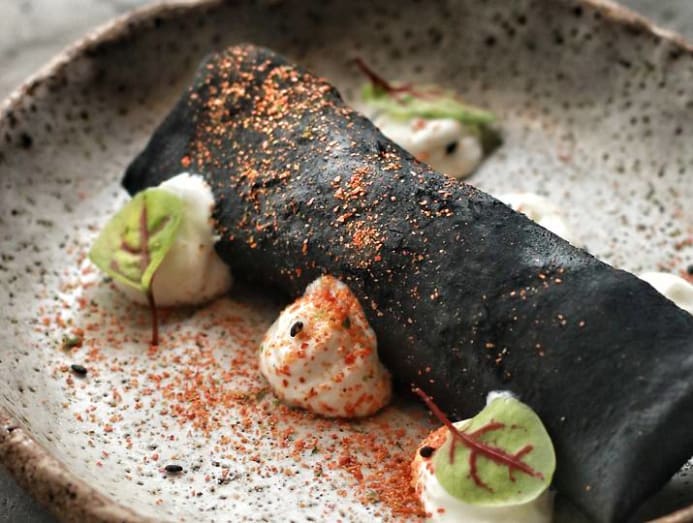 He'll also be serving his signature dish of Edible Charcoal: A roll of 16-hour braised short ribs wrapped in a delicate, crunchy charcoal shell, served with garlic yoghurt.
At Ding Dong, which specialises in hip Southeast Asian small plates with a side of kitsch, Mai has reinvented chee cheong fun, replacing the traditional rice roll with thin, white sheets made from scallops. The dish is served with a filling of tiger prawns and blue swimmer crab; adorned with ikura and edible flowers; and accompanied by a sauce of clam stock, lime juice, fish sauce and chilli.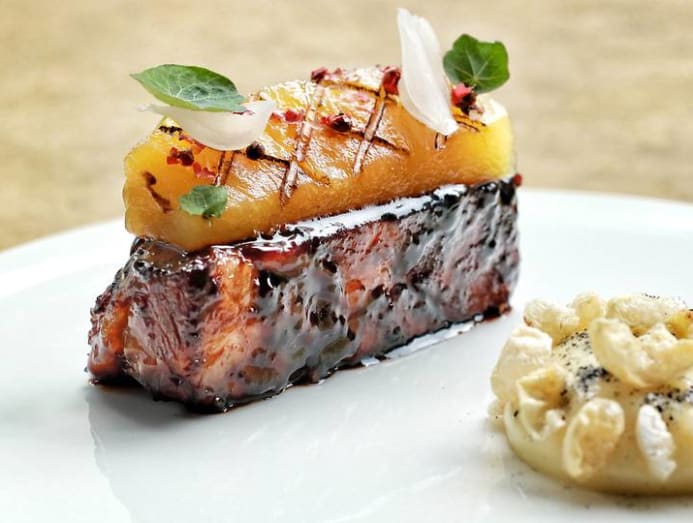 The signature dish he'll be serving is his iberico pork collar marinated with char siew sauce and sous vide, topped with chicharones and sweet pineapple.
At modern Sichuan restaurant Birds Of A Feather, See's specially created dish, inspired by memories of his childhood in Malaysia, is Sichuan-style chwee kueh. Here, the rice flour is steamed in a rectangular block instead of the usual rounds, and comes with crisp kohlrabi bits, spicy Sichuan red chilli oil, scallion oil, pickled daikon and black fungus.
He'll also be feeding guests with his signature dish of Baked Eggplant: Japanese eggplant marinated in housemade vegetarian yuxiang, baked with mozzarella cheese and served with fried mantou.
It all adds up to a lively jaunt along Amoy Street that will certainly work up an appetite.
The Six Hands dinner takes place on Oct 17 and 31 at 7pm and is priced at S$90++ per person. Reservations must be made in advance. A maximum of 60 reservations will be accepted each evening. Confirmed attendees will be sent an itinerary the day before the dinner, so that they know where their meal for that evening will begin, where to go next and where their meal will end. Email events [at] spa-esprit.com for booking details.