A year on, do the pleasures of making sourdough bread still hold true?
It was up there as a popular "circuit breaker" pastime. But, as CNA Lifestyle's May Seah finally discovers, the craze for making sourdough bread isn't just a pandemic hobby – it's a collective resistance movement. Also: Watch the video below on how to make your own.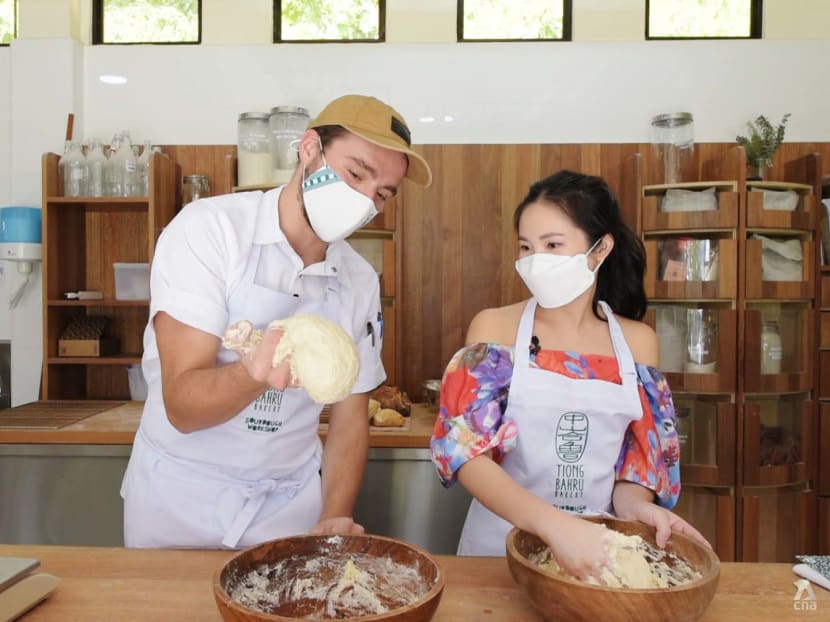 I used to giggle a little at all the people who suddenly jumped on the sourdough-making bandwagon at the height of the pandemic.
"Experimented with wholemeal flour and 75 per cent hydration," they'd write on social media, accompanied by a photo of their hands holding two stacked halves of a loaf. And they were always talking incessantly about their "crumb", their "ears" and their "mother".  
I think bread is the best thing since sliced bread. But I recoiled a little at how "in" this "it" hobby was. Almost "cheugy", one might say, if one were a younger millennial without a sense of irony.
But then I attended a sourdough workshop at Tiong Bahru Bakery, famed for its breads and pastries, figuring I'd finally learn what all the fuss was about.
And I discovered that sourdough baking demands so much time, dedication and discipline that it instantly weeds out the die-hards from the try-hards. I mean, if microwave mug cakes are the inflatable wading pool of Instagram baking, sourdough is an Ironman triathlon undertaken with a hangover.
IS THE DOUGH RESTING BECAUSE IT'S TIRED?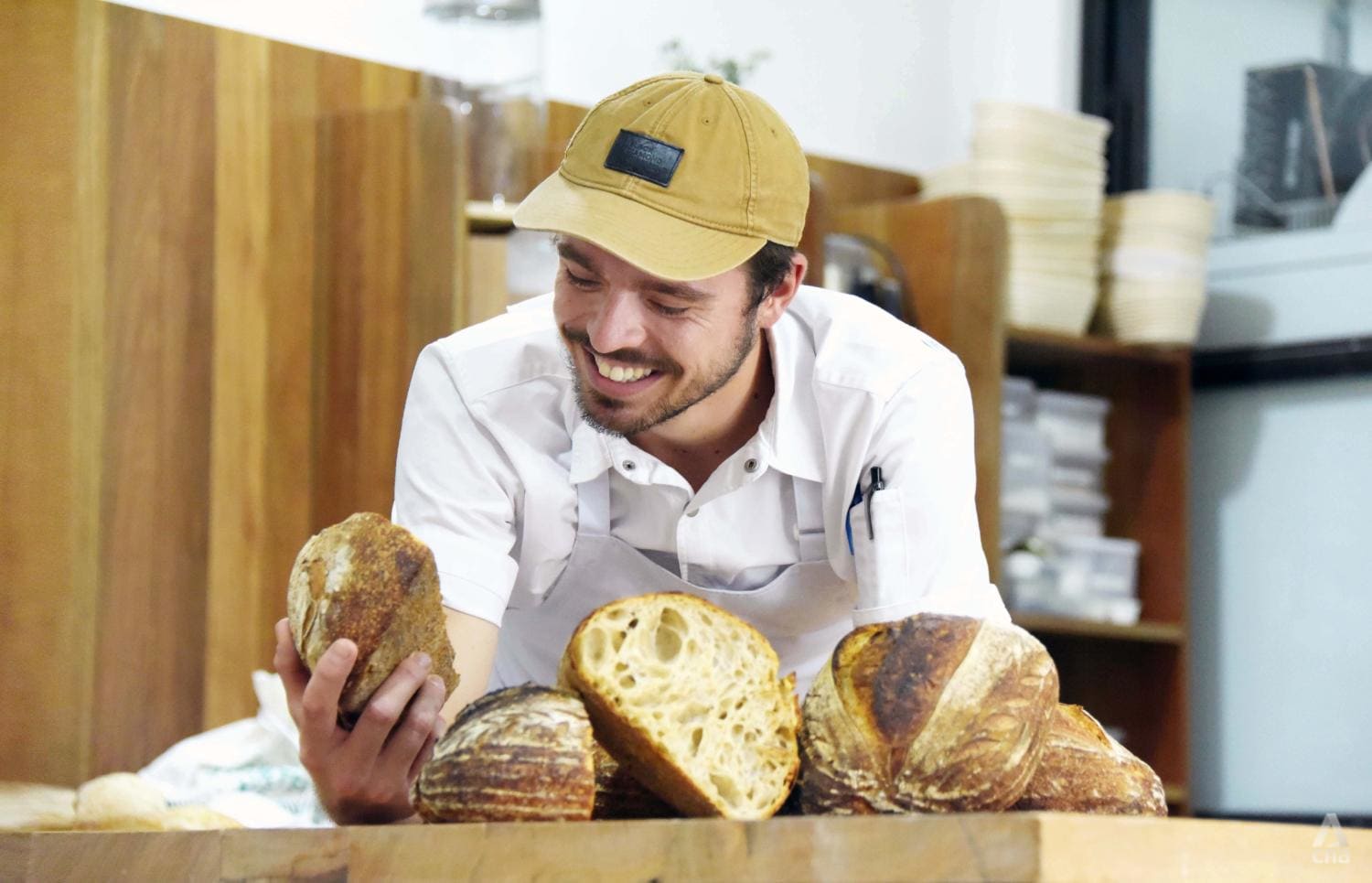 Chef Paul Albert, sourdough-obsessed bread expert and supremely enthusiastic and patient teacher, gave me the condensed version in one afternoon ("Here's one we made earlier!") but in actuality, it takes days to make one loaf of sourdough.
First, you have to obtain a "starter", which is a squidgy white mess at the bottom of a jar. How do you get one? Just ask one of your enthusiastic bread-baking friends (I know you have at least one) – they've got heaps they're dying to get rid of, because they're endlessly "feeding" and "discarding" it.  
Yes, you have to feed your starter with flour and water. But not before you give it a name, like "Steve", "Jessica" or "Xiao Ming".
After feeding, you have to wait seven to eight hours.
When it's ready, mix it with water, flour and salt, and shape it into a ball. Then, let it "rest" for 30 to 45 minutes.
Repeat this process three more times. Don't forget the resting time in between.
Then, you put it in the fridge for a minimum of 15 hours. Now, it's finally ready to bake. And after it comes out, crusty and steaming from the oven, it has to rest again for a few hours before it's ready to be sliced.
I don't know if you've noticed, but that's a lot of time. In that period, you could probably circumnavigate Singapore on foot, binge-watch all 10 seasons of Friends or recover from Lasik surgery.  
When you think about how making sourdough at home really took off during the pandemic, when we spent vast amounts of time staying in and struggling to keep ourselves occupied, this makes perfect sense.
This, I began to realise, is precisely the point of sourdough: The slow and steady process that refuses to be rushed. In a world where everything is instant, high-speed, time-crunched and blink-and-you'll-miss-it, baking your own sourdough is the ultimate antithesis.
"There is a lot of preparation, yes," Albert said. "When you make cheese or charcuterie, it's the same process. You have to set up the fresh product, ferment it, cure it and wait for that product to be ready. It's not like cooking and eating something at the same time. You have to allow it the time to make things happen."
There is no instant gratification in sourdough baking, which means it goes against all that's emblematic of modern life with its on-demand entertainment, next-day-shipping and dopamine hits at the click of a button.  
In particular, Albert said, "The resting part is really important, because it's what makes the final product".   
Ah, yes. We, who are always busy, always rushing from one thing to another, always struggling to be productive, can learn a thing or two from sourdough: The vital importance of rest to any endeavour.
For rest belongs to the work as the eyelids to the eyes, as Rabindranath Tagore wrote; and without rest, we wouldn't be able to cover as much distance, as a Chinese saying goes. If dough can take 30-minute breaks for every five minutes of kneading, well really, why shouldn't we? (I must make a mental note to say this to my boss.)
Then, of course, there is the miracle of natural fermentation, which goes without saying: The mind-blowing fact that if you just leave the dough to rest and not touch it, its components will simply do their work, creating pure magic.
The first time he encountered sourdough, at The Slow Bakery in Rio de Janeiro, Albert recalled, he was immediately intrigued and obsessed. "I asked, 'What are the ingredients? Do you put any yeast inside?'" he recounted. "The guy said, 'No, sourdough is just three ingredients: Flour, water and salt.' And I was like, 'There's something wrong. What's the secret here?'"
The starter he now uses at Tiong Bahru Bakery came with him from there when he moved to Singapore two years ago and is 160 years old. When you attend his workshop, you get to take some home with you, thus connecting you to 160 years of loaves baked all over the world, not to mention thousands of years of breadmaking tradition. 
Here, then, is something that's raw, wild, earthy and real – not your conveniently pre-packaged, pre-sliced, preservative-filled, plastic-wrapped supermarket loaf, but good, honest carbohydrates that are simple, straightforward and can be romanticised in remembrance of things past. Making your own sustenance from scratch? What could be more healing? Especially when the tactile feeling of kneading dough, the cool softness yielding under your fingers, is so very sensory?
"It's just water and flour. And you have this sensation of relaxing, and it's very therapeutic," Albert said.
Looking to level up on your breadmaking skills? Tiong Bahru Bakery's Chef Paul Albert teaches CNA Lifestyle's May Seah how to make sourdough bread the right way.
BREAKING BREAD
For him, breadmaking is more than an interest or a career – it's a sort of personal resistance against the culture associated with fine dining.
The chef de cuisine at Tiong Bahru Bakery earned his first stripes at Michelin-starred restaurants in France and Brazil, but chooses to focus here on bistronomy, baking and fermentation processes.
Sometimes, in top restaurants, "You have a lot of pressure from the (Michelin) stars, from the 50 Best, and sometimes you forget about why you're here and why you are doing this, and just focus on the VVIPs coming that night and serving the best for them".
Bread goes against all of that. "It's just bread," he said. "I don't expect a guest to say, 'I'm going to have the best bread ever, it's Michelin-starred bread.' It is just bread. Just do it with your heart."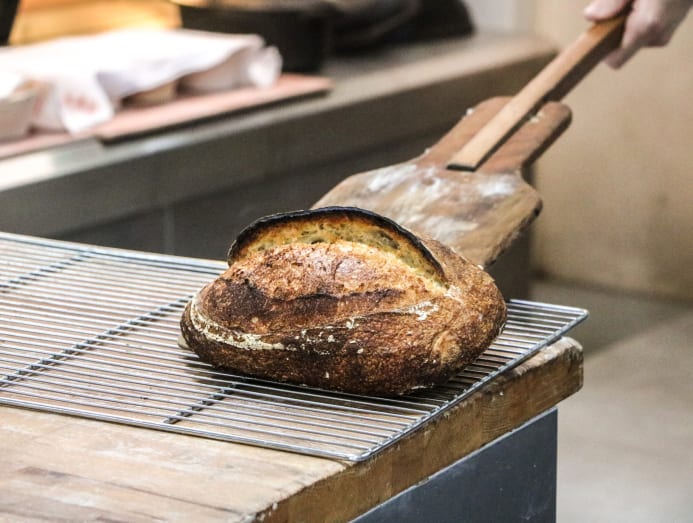 He added, "I realised that in fine dining places, with all the people around you, most of the time, there is a bit of competition. One wants to be the best. In breadmaking, I believe everyone is the same. What we all want is to serve people healthier, more nutritious, tastier bread. Even if it's the bakery on the opposite side of the street – we are fighting for the same thing."
And the best thing about his breadmaking journey, he said, is the sense of community, and how baking and eating bread has the power to bring people together.
Whether the sourdough bakers are other chefs, commercial bakers or home bakers, he enjoys asking their opinion and sharing photos of new bakes.
"I think you never reach the point of 'I am now the best' or in a position where you know everything," he said. "It's more like, 'Now I have a really good base, I need to share it.' Because if you keep it for yourself, there is no point. Knowledge has to be shared. And then, you need to improve yourself with others' help. Sometimes people come to me and say, 'Why do we do it like this?' and I say, 'I don't know either. Maybe we can try this and see?' And then we learn together.
"Actually, there isn't a right way or a bad way. It's just how I feel and how I like to make my bread."
TBB Sourdough Workshop takes place at Tiong Bahru Bakery at The Foothills, Fort Canning Park. Beginner classes are priced at S$165.85 and Intermediate classes are S$300. For the full class schedule and to book classes, visit linktr.ee/tiongbahrubakery via Instagram @Tiongbahrubakery.