Our Gastro Legacy: Singapore's oldest family-run restaurant, Spring Court
Established in 1929 at Great World Amusement Park, this Singaporean-Chinese restaurant was for decades the venue of choice for birthday and wedding banquets.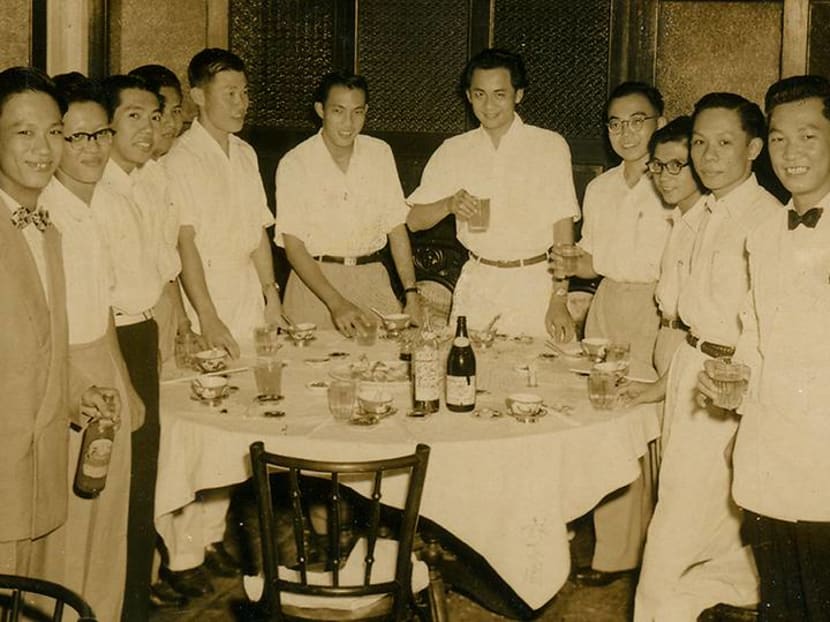 When former lorry driver Ho Loke Yee (1899-1991) started Wing Choon Yuen or Spring Court in 1929, his menu was described as Cantonese. Sure, all the totems of the cuisine were on it — think suckling pig and roasted five-spice chicken — but they quickly came to reflect the racial and regional diversity of Singapore's early migrants, too.
Unlike classical Cantonese cuisine, Spring Court's dishes have a touch more spice and piquancy. "Our food reflects the tastes of Singaporeans who are accustomed to Indian and Malay flavours, and the different Chinese dialect groups like the Hokkiens and Teochews," explained third-generation owner of Spring Court, Mike Ho. "This is what makes us a Singaporean-Chinese restaurant."
Today, the 89-year-old establishment remains a precious repository of the culinary evolution of Chinese food in Singapore. Dishes like crispy roasted chicken stuffed with minced prawn, deep-fried yam rings set on nests of crisp vermicelli and fat rolls of popiah filled with the likes of stewed jicama and prawns all speak of a cuisine shaped by a history of multi-ethnic integration.
FAMILY AFFAIR
One of Singapore's oldest restaurants and the certainly the oldest family-run restaurant, Wing Choon Yuen opened at Great World Amusement Park at a time when the country's earliest Chinese migrants had worked long enough to save money and really settle into their new home.
The restaurant flourished in its first two decades, the venue of choice for birthday and wedding banquets. In its heyday, Wing Choon Yuen hosted up to five wedding parties in one evening.
Nothing made Mr Ho happier than spending time in his restaurant, sitting by the pass and making sure every dish that left the kitchen passed muster. "He was very interested in food," said his daughter-in-law Soon Puay Keow. "He loved what he did and would even stay at the restaurant overnight."
Business slowed in the 1960s when diners were drawn to newer restaurants that boasted air-conditioning and more contemporary decor. By 1978, when Great World Amusement Park was shut down, Mr Ho was ready to draw the curtains on his restaurant, too.
"By then, he was almost 80 years old; he was tired and felt there was no one for him to hand over the business to," added Mdm Soon, now 76 years old and the doyenne of the family business.
At the time, Mdm Soon and her husband, Ho Hun Cheong, had careers as a banker and translator respectively. Their patriarch did not want to foist the back-breaking restaurant business onto his children, but Mdm Soon saw a future in Spring Court and persuaded her husband to take it over.
Together, they found a new location on the second floor of Oriental Theatre along New Bridge Road. As the elder Mr Ho retired, his son helmed the kitchen while Mdm Soon worked the dining room.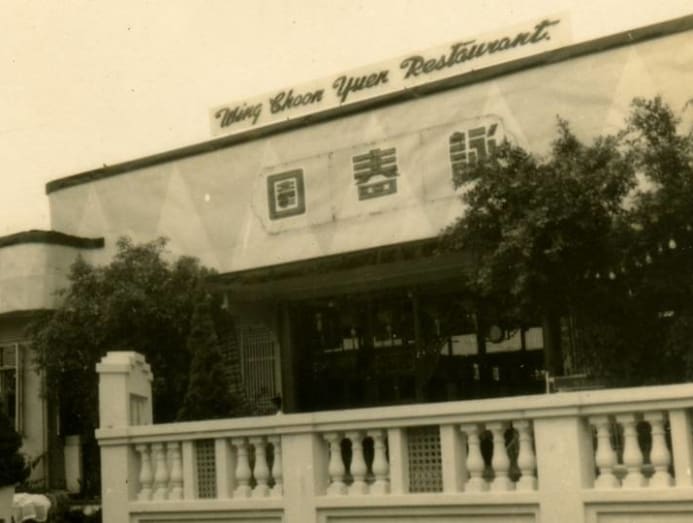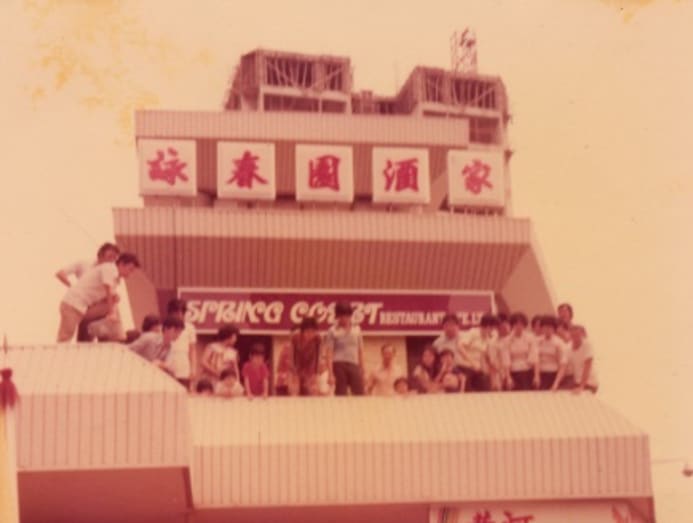 Business proved slow-going at first. Invisible from the street, few knew the restaurant existed and the only signage outside the building was positioned above eye level. To garner interest, Mdm Soon took to standing in the street and staring up at the signboard.
"People would come along and think, 'What is this lady looking at?', and then they would see the signboard. Or sometimes, I would walk up the stairs to the restaurant and people would follow me," she recalled, laughing. This quaint marketing strategy worked and Spring Court was back in business.
"We had to make a lot of changes at Oriental," Mdm Soon recounted in her elegant, soft-spoken manner. "Back at Great World, the staff wore slippers to work and no one minded how they carried themselves. Even the food presentation was untidy. But times were changing; customers expected more. It was a challenge getting our staff to neaten up, but we had to do it because unlike the early days, there was a lot more competition."
"I'd never run a restaurant before, so it was a lot of trial and error for me. But at the end of the day, I just wanted to make sure our customers enjoyed the food and the experience, and I did what I had to do to make that happen."
READ: Our Gastro Legacy: The enduring appeal of Rang Mahal
NEW BEGINNINGS
Thirteen years later, the restaurant was forced to relocate again when the Oriental Theatre building was marked for demolition. As luck would have it, the owners of seafood restaurant Tai Sun were looking for someone to take over their premises along Upper East Coast Road and reached out to the Hos. The couple agreed and moved Spring Court there in 1991, where they enjoyed brisk business for the next few years.
By the mid-90s, however, the couple's marriage began to unravel and business at the restaurant dimmed along with it. "I couldn't focus because of the divorce, but I carried on until 2004," said Mdm Soon. "By then, my ex-husband and I decided we didn't want to carry on with the restaurant."
Mdm Soon considered setting up a popiah business for her next act, but decided against it after some soul-searching. On one hand, she felt Spring Court belonged to her husband's family and it wasn't her place to revive it. On the other, establishing a new business meant starting entirely from scratch.
"I was almost 50 then, I was getting a divorce, and my children were all grown. It was a time in my life when I could have done anything I wanted. Everyone I spoke to – my family, my siblings – told me not to carry on with Spring Court. But after a lot of thought, I decided I wanted to try to keep this business. So I spoke to my son and he said, 'Mother, if you really want to do it, I will help you.'"
With that, the restaurant entered its third generation of ownership.
DAWN OF A NEW DAY
Today, Spring Court spans four five-storey shophouses in the heart of Chinatown, with space enough to fit 650 guests. As she has done for almost 40 years, Mdm Soon comes to the restaurant every day.
"She's really here to say hello to her old customers," said her son, Mike, 47, fondly. And indeed, the restaurant continues to draw regular patrons from its old days.
"Many of them got married at Spring Court and come back to celebrate their anniversaries. Others come with their families to celebrate their birthdays – they are now grandparents or great-grandparents."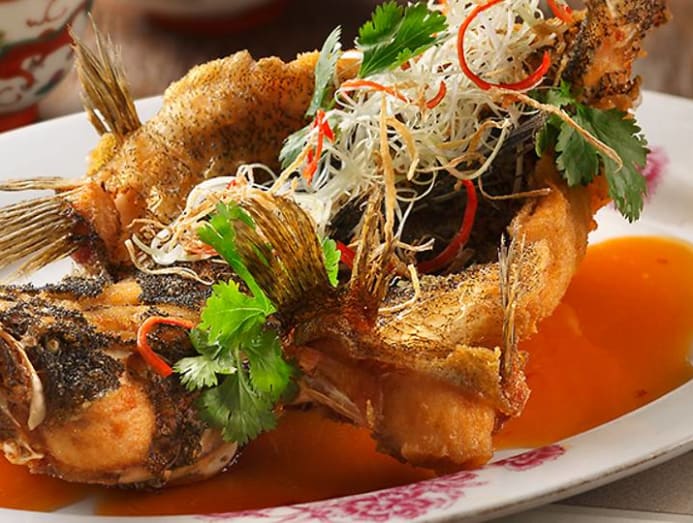 The days of the Hos giving up weekends and public holidays to help at the restaurant are long over. "We don't get into the operations anymore," added Mike. "We set the direction, hire the right people and they run the business. But Mum is here for a little while every day to make sure things are going right."
The fact that the restaurant has not changed hands in almost nine decades shows in the familial service and the food, which has altered little since the restaurant's inception.
Anyone hankering for a taste of Singapore's Chinese food of old – the kind that was popular before Hong Kong-style Cantonese restaurants like Crystal Jade and Imperial Treasure became staples – can take a delicious culinary trip down memory lane at Spring Court. Many of their chefs have been with the restaurant for more than 20 years, serving as veritable guardians of the food's taste and authenticity.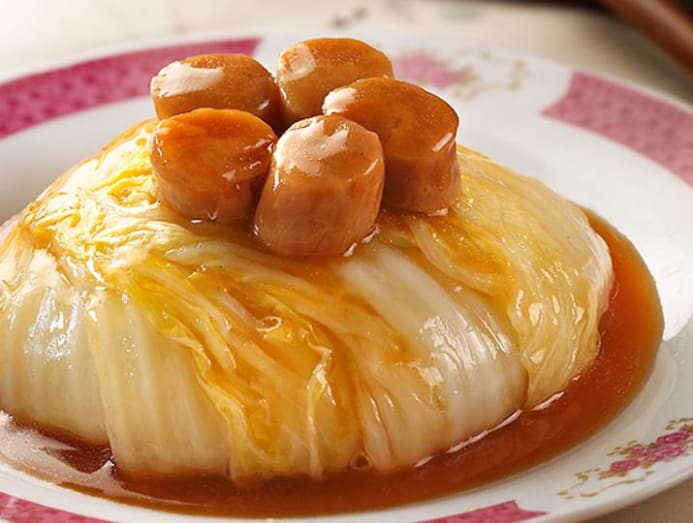 As the Hos prepare to commemorate Spring Court's 90th anniversary next year, Mike says their challenge is to attract a younger generation of Singaporeans and tell them about the history of Singapore's Chinese diaspora through their food.
"We will remain a standalone family restaurant and work to keep doing it well," said Mike. The goal is to hold on to a legacy and play a part in shining a light on the history of Singaporean-Chinese cuisine.
"It's a goal we will hone as we prepare for not just our 90th anniversary, but our 100th."