The Michelin-starred chef who wants you to put down your phone while eating
Luxury isn't about having your glass topped up every five seconds – it's about engagement and sharing, says Table65's Richard van Oostenbrugge.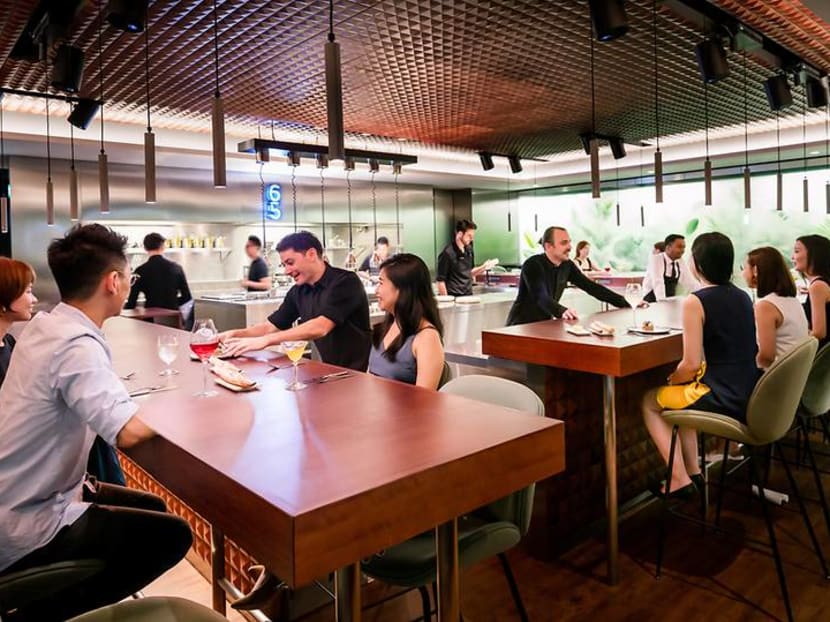 If Richard van Oostenbrugge catches you spending your evening looking at your phone instead of enjoying your fellow diners' company, he and his chefs at Table65 will call you out on it.
We know, because when we had to respond to a work text in the middle of dinner, we immediately got a mildly reproachful "tsk-tsk" from a chef who seemed to have spotted us all the way from across the kitchen and materialised at our table for the express purpose of giving us a metaphorical slap on the wrist.
"When we see people on their phone, we go up to them. It's like, 'Do you think your girlfriend is boring? Then we will talk to your girlfriend'," van Oostenbrugge declared.
This is the particular brand of roguish charm that has made Table65 one of the year's most standout restaurants. Within its first year of opening, it has earned itself a Michelin star – and the team celebrated with a trip to Phuket after the awards ceremony last month ("What happens in Phuket stays in Phuket," one of the kitchen's exuberant chefs teased).
Even the communal table setting hasn't prevented the restaurant from making headway here, where Singaporeans traditionally prefer to keep to themselves.
"I kind of noticed that in the beginning," said van Oostenbrugge, who is based in Amsterdam and visits at least four times a year. "But more and more, I think they're getting used to it and starting to like it. Yesterday, people from different tables were talking to one another." 
The situation is much more relaxed in the Netherlands, he said, and also in the Caribbean, where he has just opened Restaurant 020 on the island of Curacao. "In Holland, they're sitting and looking at another table's bottle of wine, and they walk up to them – I get a glass from you, you get a glass from me."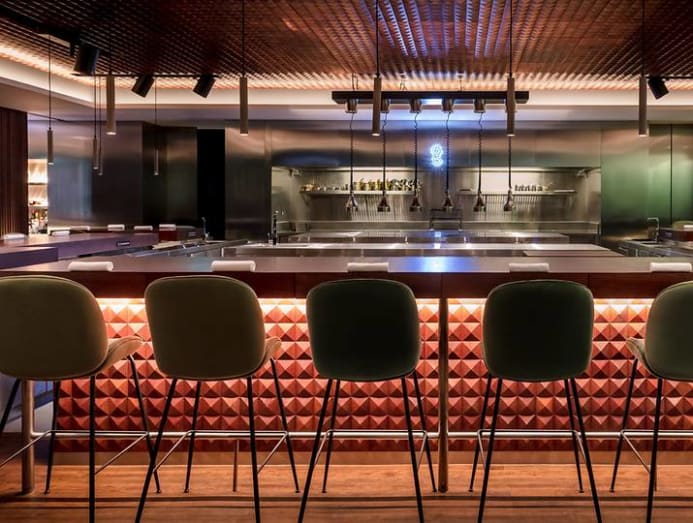 In any case, van Oostenbrugge says he's not out to change anyone – but he does want guests to relax and enjoy themselves. "If you want to go to a very chic place because you want to ask your woman to marry you, I can understand that. If you have a really important business thing, I also wouldn't do it here, because you sit next to other people. But if you want to have a nice evening out with your girlfriend because you did something wrong and you have to make up for it, then you should definitely come here."
REDEFINING LUXURY
A culinary celebrity in his native Netherlands, van Oostenbrugge has designed Table65 after his restaurant 212 in Amsterdam, with communal tables set around an open kitchen. The chefs prepare their plates in front of you and deliver them personally, often finishing the dishes at your table.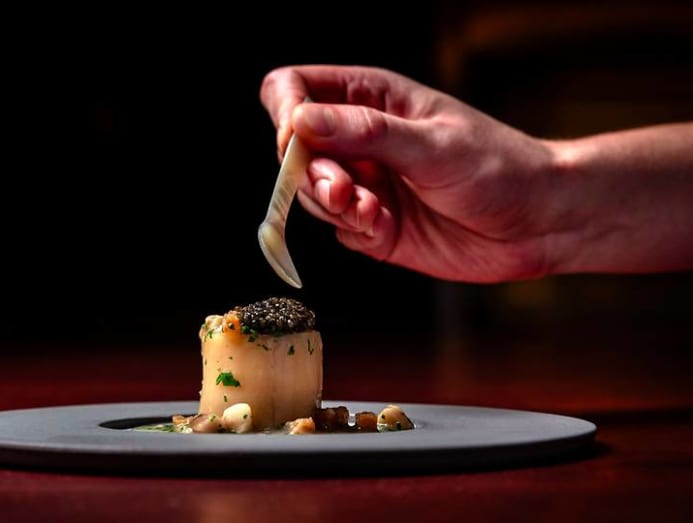 It's a fine dining experience that van Oostenbrugge himself, who famously led Amsterdam's Bord'Eau to two Michelin stars before opening his own restaurant with business partner Thomas Groot, personally appreciates far more than starched tablecloths and fine china. To him, that's all been-there-done-that-bought-the-T-shirt.
"For me, luxury is not about having your glass topped up every five seconds. I see luxury in another way: People taking time to speak to you, to explain the dishes, to take you into the kitchen – the whole thing from a different perspective," he said. "It's a little bit of entertainment as well. It's like watching interactive television, because you see the chefs cooking. I think that's a definite add-on to the experience."
Does that put a lot of pressure on the chefs? Isn't it hard enough to send out consistently perfect dishes without having to be an entertainer as well?
"They like it," he said. "We're used to being within four walls and not seeing daylight. Customers were a row of tickets. Now, we see the tickets and we can speak to the tickets. When you see who you cook for, it makes it even more personal."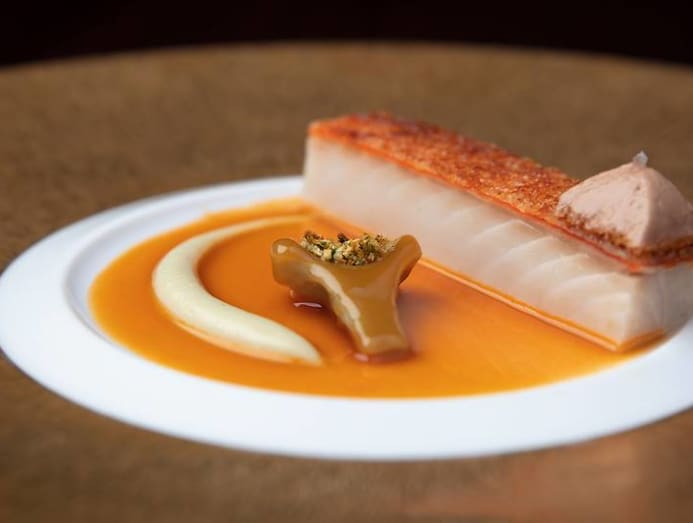 Not entirely convinced, we whispered to the improbably-named chef Ciaran Cook during our dinner, "Did you have to audition for this job?" "Yes, I'm actually an actor," he deadpanned, later sneaking in a highly impressive fish pun: "Did you mullet over, or did you come here just for the halibut?"
Yes, the food is executed with pride and precision – but it's the personality here that makes the restaurant stand out.
Still, what happens if there's a screw-up in the open kitchen and it's difficult to keep your temper? "Then I don't keep my temper. You don't think that's fine?" van Oostenbrugge said offhandedly. "When somebody f**** up, the people will get it – I'm not going to cover anything up. I was in the kitchen with Gordon Ramsay at Maze, back in the day – the chef's table was here and the pass was over there – and something went wrong, and he –" He stopped to make explosive sound effects. 
"I had a beeping in my ears, it was that loud. But they loved it. It's the real thing. Oh, yeah, back in the day, I used to duck – the chef would throw pans at you, for sure!"
But "I don't do that." Instead, in his younger days, he had more sinister ways of dealing with errant cooks. "If somebody stole my mise-en-place or my shallots because they didn't have enough material to work with, I'd find out who did it. My commis chef would tell the guy to go into the fridge, and then close the fridge door and turn off the light – and I would be there." He laughed. "This was about 15 or 20 years ago. It was a kitchen with 40 chefs working 200 hours a week, seven days a week. You needed to take care of yourself!"
FROM DIRTY COOKS TO SEXY STARS
These days, we observed, it seems that chefs have to be public relations experts as well, especially in a restaurant like Table65.
"It's because of people like you. When I was starting out, chefs were nothing. We were put away and dirty. We did the dirty work," said van Oostenbrugge, who, like many great chefs, started out washing dishes, becoming inspired by the energy of the kitchen. "Now, more and more, chefs appear on television and in the media, and they become like stars. It's crazy. It has really changed."
"Yes, chefs are sexy now," we mused. "I have always been sexy," he responded immediately with a guffaw. Was he sexier then, or now? "I think now. I had no Michelin stars back then."
What's the sexiest dish on the Table65 menu? "Everybody agrees it's the Apple," he said. "Everybody keeps taking pictures of it."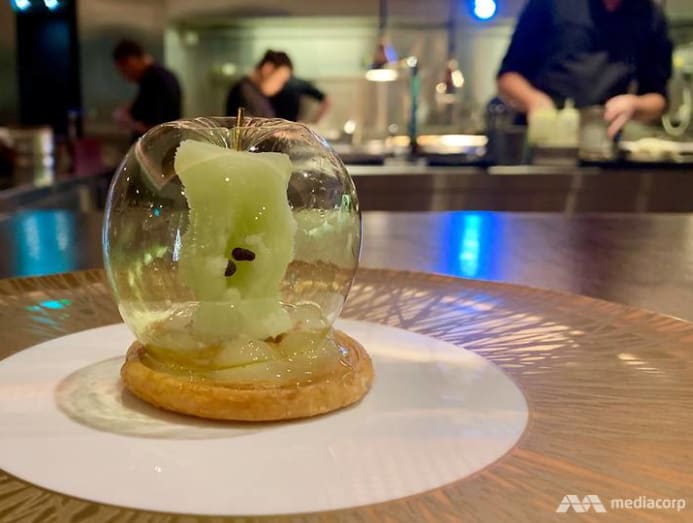 The show-stopping Apple dessert, like all great dishes, arguably, was conceived out of insobriety. "I remember we were in the s****: 'We don't have any dessert, what are we going to do?' And then we went to a bar, got really drunk, and then somebody said, 'Well, we're going to eat the apple.' Then it was like, 'Okay, why not make a mould and then put the thing around it?' It was just an idea; we tried it; the first time I saw it, I said, 'All right. This is really going to work.'"
In Singapore, though, he's had to make some adjustments to his food. "We have noticed that Singaporean diners don't like strong salty or acidic flavours. We have toned down salt and acidity in our menu a little. Also, strong meat and gamey flavours are not always appreciated," he said. Singaporean diners are, however, "more open to textures not really common in western cuisine, like jellies or stewed tendon."
In his own time, he always makes it a point to indulge in his favourite Singapore dish. "When I come to Singapore, the first thing I do is to eat white pepper crab. And the last thing I do is to eat white pepper crab."
DINING ROOM THEATRE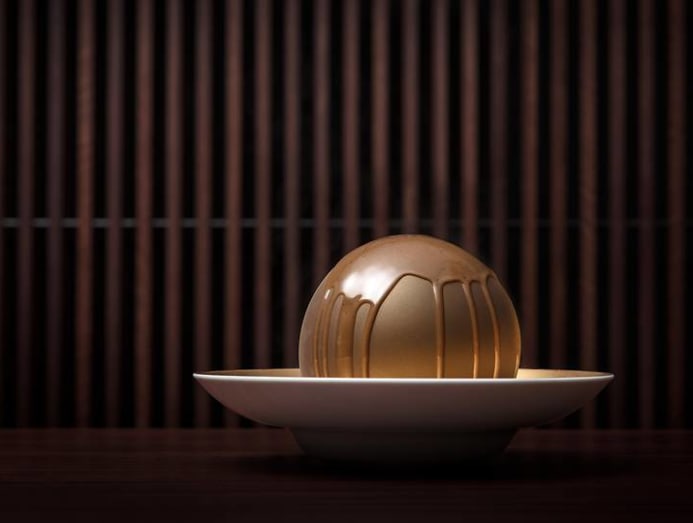 What would he say, though, to detractors or food purists who might think that turning the dining experience into entertainment or theatre is gimmicky or distracting?
"Don't come," he said, offhandedly, content to leave it at that. He continued, "Listen, if you go to Alain Ducasse's restaurant here, in the middle of his restaurant he has a thing that looks like the aeroport of Singapore. That's also a theatrical show. I think the people in a Ducasse restaurant – which is my example of a kitchen, it's not negative – they are trained to be in a play. They have a sequence of service. When somebody walks in, there's a whole standard operating procedure – what you do, what you say to the guests. There, every night, it's the same.
"That's what I used to do when I had my two-Michelin-star restaurant – too much training; too fake; no room for real engagement. Now, I try to break free from that. I think when you go out to eat, you go out to have fun and not to be serious. It's not an exam that you take."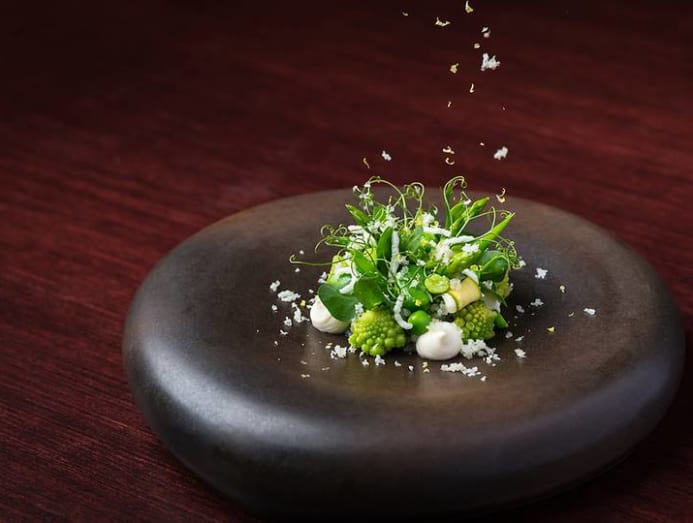 Is that a philosophy that's come with maturity? we asked the chef, who turned 45 two weeks ago.
"Definitely. I see it in a lot of colleagues as well – the older they get, the more they go back to the essence of food. In the end, a restaurant is there to enjoy, to have fun in, to have lunch with your whole family. It's about sharing food. About happiness. Not about, 'Ooh, the right side of the beef is a tad darker than the left side. I don't really think he's going to get a Michelin star.' I don't want those people. Come enjoy our food. We work hard for it. We put all our love and energy into it. And I hope you enjoy it.
"I think more and more chefs of my generation are really going back to that… It is about food, you know. It's not about going too deep into it."