6 unique takeouts from home-based businesses when planning for your Christmas gatherings
Step aside, home bakers. Singapore's new wave of home-based businesses are coming through with Japanese bentos, beef burgers, and smoked meats.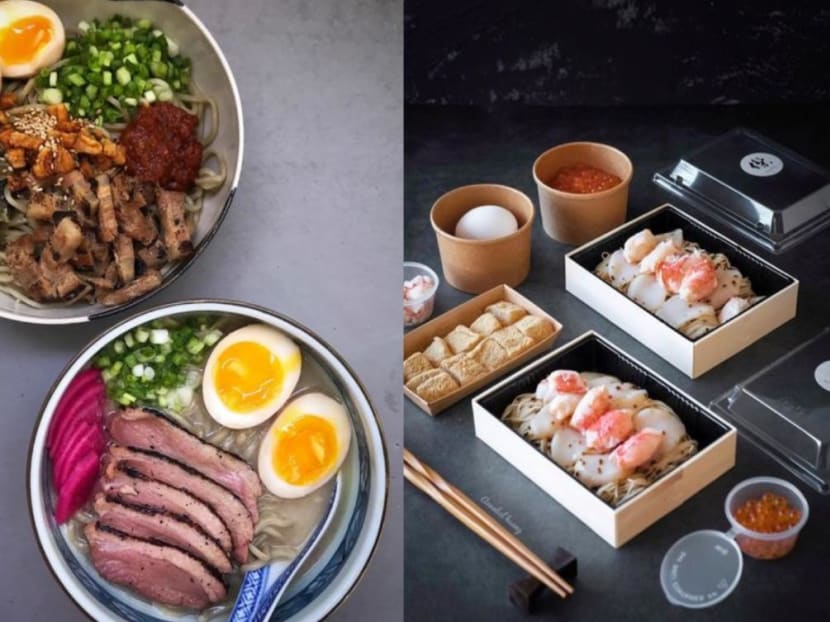 Who could forget our obsession with Basque burnt cheesecakes and sourdough loaves two Christmases ago? Back then, home-based businesses were a dime a dozen. Some have since hung up their aprons while others go on to start eateries, but home-based businesses in Singapore are far from dead.
You may have heard of Ground Floor Coffee, an HDB flat-turned cafe in Pasir Ris, but other contenders are also riding this new wave of home-based businesses. From smoked meats in the east to Japanese fare in the west, here are six best-kept secrets in Singapore's neighbourhoods – just in time for that upcoming Christmas party.
1. SOBA25
Dubbed the "Soba Boy who lives on the 25th storey", Soba25's showrunner draws from his culinary experience at establishments like Kilo Singapore and Lola's Cafe to create artisanal soba kits. If you're sceptical about ready-to-eat meals, their ingredients list could change your mind.
According to their menu, the Pot Duck Soba kit features handmade noodles and duck broth which has been slow-cooked for eight hours, topped with a soya egg for a wholesome meal you can prepare a la instant noodles in minutes. Pork lovers may take to the Chashu Maze Soba instead, complete with chopped char siew belly, crispy pork lard, and garlic kiam chye (salted vegetables).
Soba25 delivers only from Fridays to Sundays between 10am to 5pm. They're located along Jurong East Street 21, so Westsiders are in for a piping hot treat during this rainy season.
2. BURGER DADDY
Save for their Instagram account @patyourbunbun, Burger Daddy is largely incognito online. Yet, these guys make cinematic advertisements to rival those of burger chains'. In a music video, a basket or burgers are lowered from a balcony. Another shows patties – apparently dry-aged and ground in-house – sizzling on the grill of an outdoor kitchen.
For S$17 a pop, two such patties, along with American cheese, onion jam, and fresh tomato, make The Smash Hit, Burger Daddy's first menu item. Interestingly, they've swapped the usual brioche out for traditional Hainanese sweet buns. Trippin' In Tokyo (S$16.50), their latest launch, offers a vegetarian option made with portobello mushroom tempura.
According to the website, Burger Daddy is located within walking distance of Newton MRT station and is open only on weekends. Pre-orders start on Mondays and there are only four burgers available per time slot, so fastest fingers first.
3. SECTION D COCKTAIL BAR 
A 24-hour McDonald's is as far as nightlife goes in Sengkang. That makes Section D, a condo-turned-reservations-only bar in the neighbourhood, suitably placed for a nightcap. With cocktail names like After This KTV?, One For Boss, and Soft Rice Bowl, the intimate watering hole is perfect for winding down after a long work week.
Section D's menu ranges from omakase cocktails, priced at S$70 for three, to bespoke creations – all of which you can browse on their Instagram page. If you scroll to their posts from 2020, you'll spot Lim Jambus (rose apple), a gin-based drink cheekily named after Anchorvale's newly elected Member of Parliament Jamus Lim then.
Lightweight drinkers can pace themselves with savoury snacks such as takoyaki, grilled stingray and pufferfish. They open only on Saturdays and Sundays, but bottled cocktails are available for takeaway if the weekend doesn't arrive soon enough.
4. SUGURU HOME DINING
With Suguru Home Dining, you can have a fine-dining experience in the comfort of your home and slacks. Founded by former HR practitioner Desmond Heng during the pandemic, the home-based business does both delivery and home dining today.
Fresh sea urchins, raw Hokkaido scallops, snow crab, and salmon are flown from Toyusu Market in Tokyo to Desmond's kitchen in Joo Chiat – served both on its own or with chilled truffle somen. They're also known for seafood zuke bottles, where a choice of salmon, tako, tsubugai (whelk), scallop, or ebi sashimi is marinated in truffle Tsuyu sauce. Mains range between S$22 to S$98, depending on one's choice of seafood, with couple and family sets to splurge on this Christmas.
Suguru Home Dining is located at 192 Joo Chiat Road and offers free delivery with a minimum spend of S$90. They stop taking lunch and dinner orders at 7am and 2pm respectively, so if you snooze you lose. 
5. CUTS & SLICES
No Christmas spread is complete without a meat platter, which makes Cuts & Slices yet another best-kept secret in the east. It is located near Kembangan and opens only in the evenings on weekends.
According to its website, the home-based business was started in a family's backyard where founder Hendra Low first tried his hand at wood-fire cooking as a teenager.
Their menu boasts smoked cuts like short ribs, beef cheeks, and brisket – marinated with salt, pepper, herbs and spices and are smoked over applewood for ten hours — as well as salmon as a lighter alternative. And if you need ideas for that upcoming potluck, you can never go wrong with crowd-pleasers like tacos and New York-style sourdough pizzas. Last we checked, they're still taking orders for December.
6. KUEH PULAU PINANG
Kueh Pulau Pinang aren't the pancakes one would expect on Christmas morning, but who could resist the nostalgic treat? Ah Bee, the 74-year-old founder of Kueh Pulau Pinang at 986D Buangkok Crescent has been making the snack since he was 13.
He began as an illegal street vendor back when a slice cost S$0.10, but only set up shop in 2019 after losing his job as a cleaner. For three years, Kueh Pulau Pinang brought snaking queues to an otherwise quiet coffeeshop before they were asked to shift to a smaller stall there.
Following the stall's closure this August, Ah Bee revived Kueh Pulau Pinang in his two-room HDB flat at the request of his regulars. Unlike most min jiang kueh in Singapore, his Penang-style recipe is more crispy than doughy.
He roasts the peanuts personally and offers flavours including coconut, red bean paste, ham, cheese, and egg starting from S$1. They draw customers from all over the country, some of whom order up to 60 slices in one sitting. He wakes up as early as 3am to prepare these orders, but typically opens 7am to 1pm on Fridays, Saturdays, and Sundays. Customers can place their orders by calling 8947 5069.