How a honeymoon in Spain inspired this chef couple's new restaurant in Dempsey
Daniel and Tamara Chavez, well-known champions of South American food in Singapore, have opened another eatery serving up their brand of Spanish classics. Tinto is a space that encourages long, laid-back lounge sessions lubricated by red wine.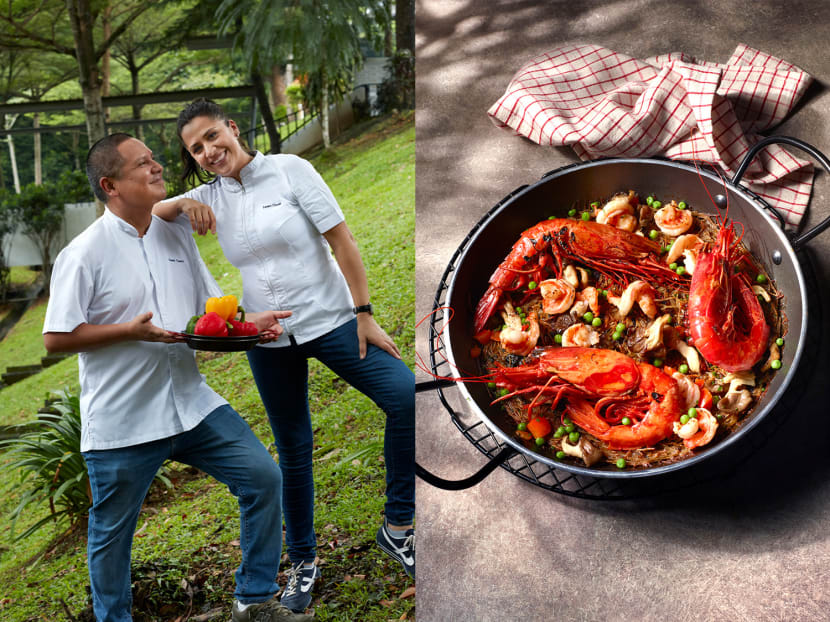 Chefs Daniel and Tamara Chavez got married at the height of the pandemic in 2020, so they couldn't fly to his hometown in Peru or her home in Mexico to celebrate with family and friends until earlier this year.
But, they did manage to squeeze in an impromptu honeymoon in Spain last January, right after launching their casual Peruvian restaurant, Canchita. The couple bought their tickets and three days later, they were in Madrid with no hotel bookings, restaurant reservations or plans of any kind – just an appetite for adventure and romance.
"I was always telling Tamara about the great time I had in Spain when I was a trainee cook, and she said, 'Why don't we go there and see if it's for real?'" recounted Daniel with a chuckle. Years ago, in Valencia, the 43-year-old had completed a Master's programme in culinary arts and worked at traditional stalwart La Sucursal.
"While we were there eating, and drinking amazing wine, we realised, 'Hey, there's a chance that maybe we could do this in the right time and place'," he said.
So, when they were offered a space at Dempsey, just a few steps away from Canchita, they recognised that the opportunity had come.
Tinto, named after the Spanish term for red wine, serves up classic dishes from all regions of Spain, from the ubiquitous gambas al ajillo or garlic prawns, to churros that are baked after frying to give them an airier, less greasy texture. And fans of Daniel's previous restaurant, Ola Cocina del Mar, which unfortunately became a casualty of the pandemic, will welcome the fact that his paellas make a comeback here in many different varieties.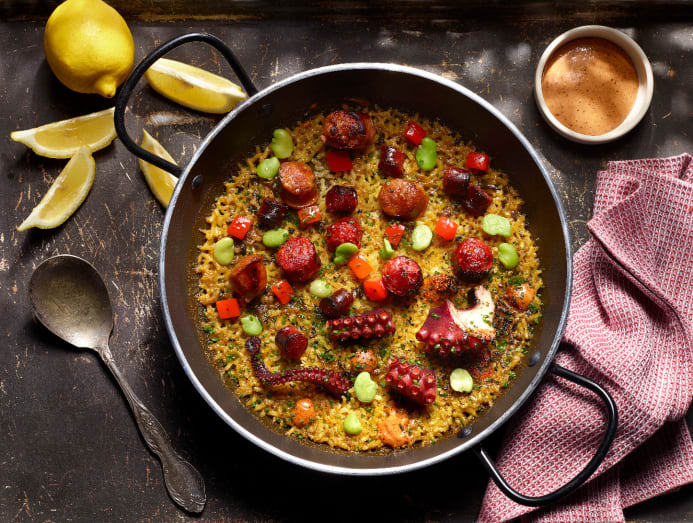 During the "circuit breaker" period, Tamara recalled, the couple made paellas at home for their friends, who then kept asking when they were going to open a paella place. "Now, we see our friends, and new friends here."
TAPAS, TINTO, TRANSCENDENCE  
While a vast amount of good food was consumed on that honeymoon in Spain, the main takeaway was more a feeling than a flavour.
"When we arrived in Toledo, an ancient Roman city, I was like, 'This is a place straight out of the movies!'" Tamara said.
"Walking around, you feel the history. You feel that people have lived there a long time. And the uncles – we call them senores – they serve beer and they are so happy. In Spain, they have time. Here, it's always one thing after another. And, we understand that we have committed to living in a very competitive city. But, in Spain, it could be 2pm and everyone sits around and says, 'Four more hours? No problem.'"
"And, there was no Wi-Fi," Daniel added. "The job is to slow down. I think that's what people are having a hard time with, not just in Singapore but in many places in the world. In Spain, I think they don't have a problem with that. It's a little bit easier with a little paella and red wine."
A moment at tapas bar El Cangrejero in Madrid gave Tamara a small epiphany. "One meal I really liked – this guy, all he did was open cans. He served us bottarga with nuts, and beer. When I tried it, I was like, 'Oh, my gosh'."
She continued: "As chefs, we try to showcase our skills, not only to our guests, but also to ourselves. And it's nice, but, sometimes – let it go. It's all in the food. Enjoy one good tomato, or open a can of something good. This changed my perspective. I am not so old; I'm 33, and at this age, you want to create, build your brand, and build something for the future.
"But, when I saw the uncle, talking to us so happily, slicing up the bottarga (salted or dried fish roe) from a can, I thought, 'Why do we complicate our lives? Why don't we just enjoy what we do?' We don't always need to complicate things. We are cooks and we want to create something special for our guests, yes, but sometimes, people just want to relax. They don't want to read menus and say, 'What's that?'"
Another life-changing meal was at the famous steak restaurant Casa Julian in Tolosa, near San Sebastian, Tamara said. "When you arrive, the beef is hanging from the ceiling, all around you. And there's this guy, he's so old, and he has a small charcoal oven. And then they serve you the beef, with the yellow fat – oh! When I saw it, I was like, 'Goodbye, all my dieting efforts in the past year!'"
She mused: "I believe that you don't so much remember the food as the moment. Like when you arrive in Singapore from Latin America, and you eat chicken rice, it gives you the feeling of home and mum's cooking. Or, when you have tequila and it gives you a hangover, that's the part you remember! I could make two paellas in the same oven, in the same quantity, but they will have very different meanings for each table.
"Food is feeling. We like working in service because food is not what we do in the kitchen – food is a complete experience, from when you call the restaurant to say, 'Hi, can I have a table?' to when you leave… Casa Julian gave us that."
WHEN PAELLA MEETS CLAYPOT RICE
In a similar vein, the food at Tinto, Daniel asserts, is meant to be deliciously familiar and comforting – the opposite of avant-garde and forgettable.
"There's something that bonds us Latin Americans and Asians, which is that we like food that is flavourful," said the chef, who has made Singapore his home for the past 17 years.
"I don't think we like food that is so elegant and refined. We like food that tastes good. In Japan, for example, food is supposed to be pure, elegant. That's cool, but I think in Southeast Asia and Latin America, we like to eat chilli with lime; we like food to be tasty from the first bite. Since Tamara joined, our food looks prettier. But, at the end of the day, what makes you come back is flavour. Ideally, when you have a dish, you should think, 'Should I order one more portion of this?'"
A good example is modern Indian restaurant Thevar by chef Mano Thevar, which they love, Tamara said. "When we went many years ago, when they had just opened, we were like, 'Wow'. We brought our staff. Because this guy was doing something amazing."
When conceptualising dishes, "We don't just think of our experiences. We think about Singapore's people," she added. "We eat a lot of local food – my favourite is Hokkien mee – and we understand that people are looking for something different, but not completely different." For example, "We create paella with less carbs, more protein and more flavour."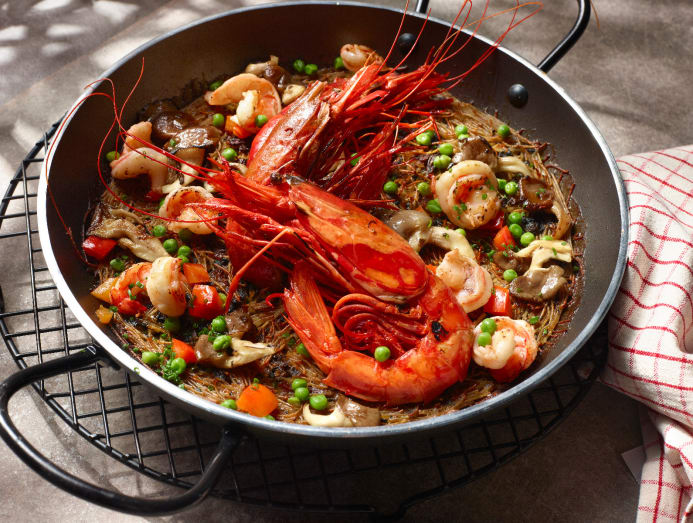 The couple also takes the time to sit down and have meals in their own restaurants, Tamara said, "because we need to feel what the customer is feeling".
And, it all comes back to food as emotion. "It's not even about the paella – it's the act of (mixing and sharing) the paella," Daniel said.
"Very few dishes have that (magic). I love communal dishes and I don't understand it when restaurants serve claypot rice to you individually. It's like eating a whole roasted fish – leave it there! Give me the head! Not that long ago, it was a blessing to catch a fish and have the whole tribe celebrate it together. There's beauty in something raw and massive."
Tinto is at 10 Dempsey Road #01-21. https://tinto.sg