A Valentine's Day staycation with a DIY meal kit... and other ways to indulge with minimal effort
Whether you prefer a staycay, a day-cay or a chance to dine out with your significant other, here are some ways to enjoy your couple time without working too hard.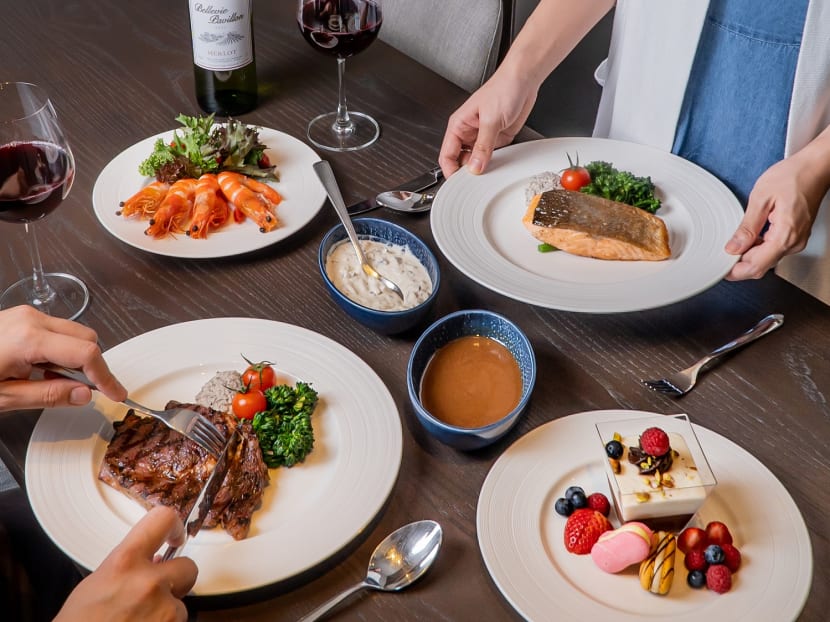 There is a bug in the air and it might be making some of you sick… lovesick that is. Yes, it is that time of the year again when couples make showy declarations of affection for each other, complete with lavish gifts and fine meals, all in the name of celebrating Valentine's Day. 
As someone who generally prefers something thoughtful over cliched gifts – this means no overpriced flowers or generic Hallmark cards for me on VDay please, thank you very much – I found myself in a quandary this year.
How can my other half and I commemorate this day together without going to too much effort?
The obvious date night idea came to mind. It would be easy enough to make a reservation at a restaurant. And this year, with many F&B establishments hoping to bounce back from the last two years of pandemic related measures, there is no lack of indulgent Valentine's Day specials to choose from.
For instance, fine Japanese restaurant Ichigo Ichie is offering each guest a gift box of housemade hojicha nama chocolates while Restaurant Gaig's Valentine's dinner comprises a six-course menu of modern Catalan dishes such as the Maremoto, made up of fresh sea urchin and Carabinero prawn tartare topped with Oscietra caviar.
Truth be told, we can dine out on any other day, so there is little point in rushing to join the loved up crowd. And with Omicron cases rising, I figured the responsible thing would be to find a way to celebrate in a more socially distant way.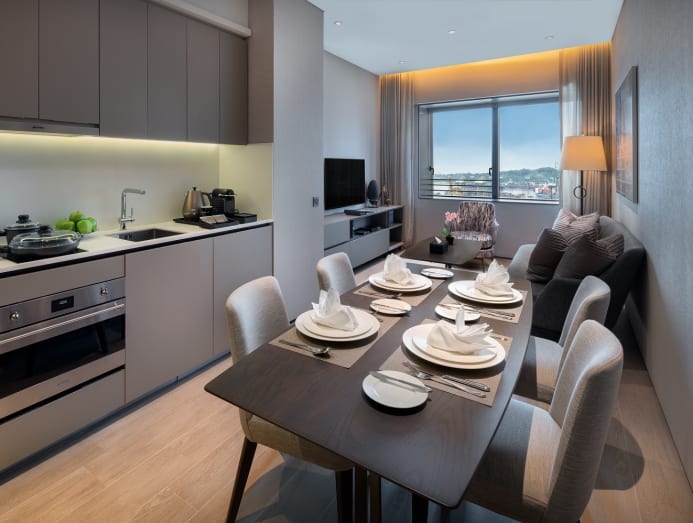 So, when I discovered that Oakwood Premier AMTD Singapore has a hearty three-course DIY meal kit for guests for VDay, my interest was piqued. For one, there are few places in the little red dot where you can staycay in a swanky apartment that comes kitted out with modern kitchen equipment too. 
Plus, the menu was suitably fancy, with a starter of tiger prawns with tomato salsa relish, salmon steak and Australian ribeye with truffle mash potato and red wine sauce. Now, a gourmet "home cooked" meal is surely a labour of love, right? 
Even better, since the meal kit is provided by the luxury hotel and service apartment's in-house restaurant, all the ingredients would arrive ready to be popped on the stove. And the sauces, which can make or break a dish but can sometimes be finicky to make from scratch, are professionally prepared. Score! 
In addition, after binge watching the hit Korean reality dating series Single's Inferno on Netflix, I was quite chuffed to replicate the show's luxe date nights in "paradise" aka a luxury hotel during this staycay. 
To my delight, the hotel has a very photogenic infinity pool, all the better to kickstart this date with a K-reality show worthy dip in the pool. By sundown, we were back in our comfortably appointed one bedroom apartment, when our Mobile Bar rolled up to our door.
You read that right, Oakwood Premier has a personalised lounge experience, where a mixologist rocks up to your door with a cart to mix up your choice of an alcoholic beverage. Sure, it is a little kitschy in a Mad Men meets first class air travel kind of way but these days, any experience that is out of the ordinary is always welcome.
Do note, however, that the Mobile Bar is currently on hiatus and will be resuming service on Feb 20. So file this away as an idea for a "make-up" date if you happen to be late to the game and everything is fully booked for Valentine's Day.
Cooking our meal turned out to be a fun and, dare I say, relaxing experience. With everything measured out (Tip: Go hungry as portions are very generous), there was no need to rummage through various kitchen cabinets to find the right ingredients or tools. We also quickly decided it would be more fun to prepare our food together since our meals at home are often a rushed, utilitarian affair.
Luckily, the kit was thoughtfully curated so that there was nothing more complicated than searing the beef and baking the salmon before plating the dishes, allowing us the headspace to simply enjoy each other's company. Having a nice sound system to play music and a beautifully designed lounge space certainly added to the romantic Single's Inferno vibes of the evening. 
Best of all, after all of that cooking and feasting, clean-up simply involved loading the dishes and utensils into the dishwasher. Or if you are checking out the next day, you could leave them in the sink, which is what we lazily did.
Of course, not everybody may be looking for a staycation. Fret not, there are other ways to earn brownie points with your other half without turning into an event planner extraordinaire.
I have a soft spot for DayAway's curated daytime packages where you can take your pick of activities, from spa days to mixology lessons at various upscale hotels including Raffles Hotel and Fairmont Singapore. Some packages also include daytime access to a room so you have a place to hang out away from the hotel's public spaces.
A favourite are the "daycations" that come with an in-room afternoon tea service like the one at Raffles Hotel that are served in a suite. Now that is an easy way to make Valentine's Day – or Galentine's Day, whatever you prefer – a memorable one.
CNA Lifestyle stayed at the invitation of Oakwood Premier AMTD Singapore.