Where can you get premium Kumamoto Black Wagyu beef for S$58 – or for 'free'?
If you stop by this rooftop restaurant between 5pm and 7pm daily, you can also enjoy free wagyu canapes with every spritz cocktail ordered – along with a great view of Singapore.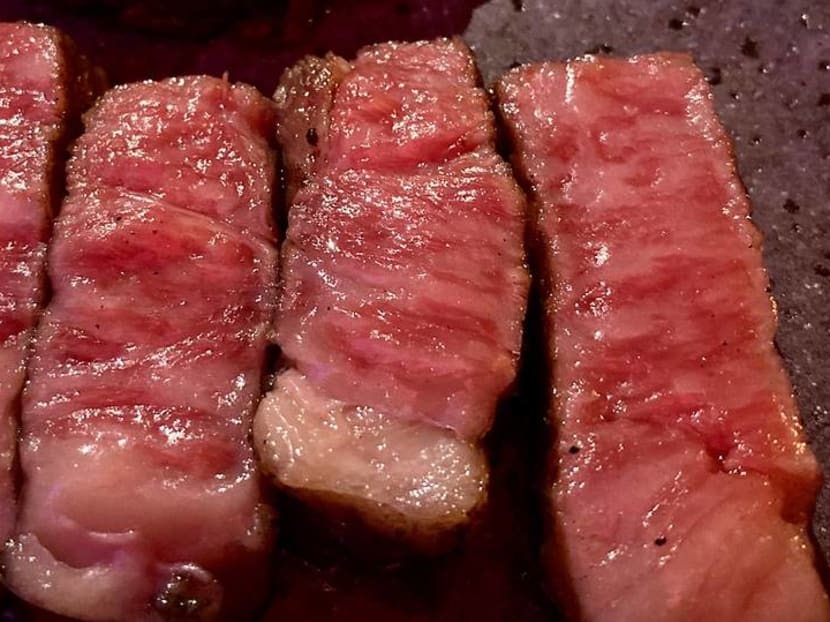 Did you know that the Kumamoto wagyu cattle from the southern island of Kyushu are the only free-grazing cattle in all of Japan? 
Known for an intense buttery flavour, extreme tenderness and enhanced marbling, this particular wagyu boasts a higher percentage of monounsaturated fat than any other breed. Move aside, Kobe.
Vue – a rooftop bar and grill with a great view located on the penthouse of OUE Bayfront on Collyer Quay – is the only restaurant in Singapore that brings in two such grass-fed cattle a month. And every day, executive chef Sam Chin slow roasts this Kumamoto Emperor "Kokuou" Black Wagyu – known as the pinnacle of Japanese beef – for over 20 hours, serving it up with just a dash of rice salt flakes.
This daily sunset roast priced at S$58 for 250g is available from 5.30pm onwards, and is limited to only 20 portions per day.
Offered on the a la carte menu are the premium cuts – tenderloin, sirloin and ribeye  – of this beautifully marbled beef (ranging from S$120 to S$228), grilled over the binchotan to a tender juicy finish and served with onion marmalade, potato mash, and a red wine and beef jus reduction.
For the uninitiated, the binchotan is a kilned Japanese white oak that burns slower and produces very little flame and smoke. It is considered to be the best type of charcoal for grilling because of the deep smokiness it creates sans the flavour of char.
Vue is also home to Singapore's first rooftop spritz bar. Ordering any spritz cocktail from their vast drink menu (that includes a Basil Spritz and Reiwa Highball of umeshu and rum laced with shiso and mint) comes with complimentary canape servings of roast wagyu crostinis. Made from the same Kumamoto Emperor "Kokuou" Black Wagyu cattle, this is available from 5pm to 7pm daily.

Aside from the beef, there are other options on the carefully curated menu. Top picks include Kelp-cured Japanese Halibut, Orient Clam Squid Ink Tempura in Smoke Eel Emulsion and a melt-in-your-mouth Roasted Bone Marrow with Truffle.
There is also a Norwegian king scallop prepared au gratin with 18-month, cave-aged Gruyere De Grotte AOP cheese; and the free-range duck reared by House Burgaud in Challans – a highly sought-after delicacy served smoked and enhanced with tropical mustard dressing.
"I personally hand pick every component that goes into every dish served at Vue," said chef Chin. "Beyond flavour and technique, I want my creations to also reflect the respect I have for the origin and purity of the ingredients I use."

VUE is located at OUE Bayfront, Level 19, 50 Collyer Quay.