Mooncake madness: Fancy a 'truffle carbonara' snow skin or Mother of Dragons?
It's the time of the year to see what local restaurants get up to in their quest to come up with increasingly unique and surprising mooncake flavours.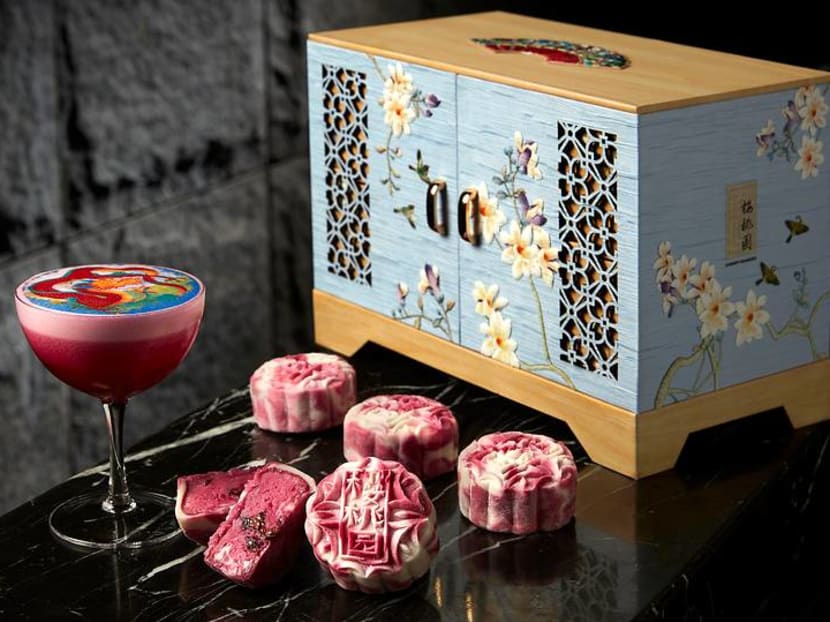 They may have begun life as edible vessels for distributing messages in the uprising against China's Yuan Dynasty, but mooncakes today are an excuse for restaurant kitchens to get ever more wildly imaginative in their quest for the next hit flavour. 
This year is no different – though we must say that the restaurants really went to town with some, well, inspired flavours (truffle carbonara, anyone?). Here are a few that stood out for us.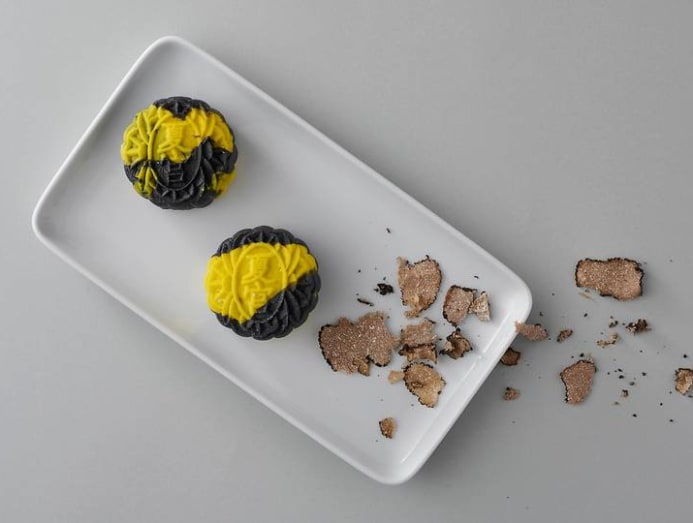 TRUFFLE CARBONARA MOONCAKE AT REGENT SINGAPORE
While most hotels entrust the business of mooncakes to their Chinese restaurants, this year, Regent Singapore got each of its dining outlets to put a unique spin on the mid-Autumn treat. Thus, from Italian restaurant Basilico emerged the Truffle Carbonara mooncake, which tastes as odd as it sounds. Made with a filling of barely-sweetened truffle-scented cream cheese and a chewy skin stained yellow-and-black to convey its contents, this Italian mooncake interpretation is, well, for the intrepid. 
The Hanky Panky mooncake from the hotel's feted Manhattan bar is easier to appreciate. Beneath its cushiony snow skin is a filling lashed with a boozy blend of Ford's Gin, Cocchi di Torino and Fernet Branca bitters, and studded with crunchy dark chocolate Valrhona pearls. S$81.50 for a pair.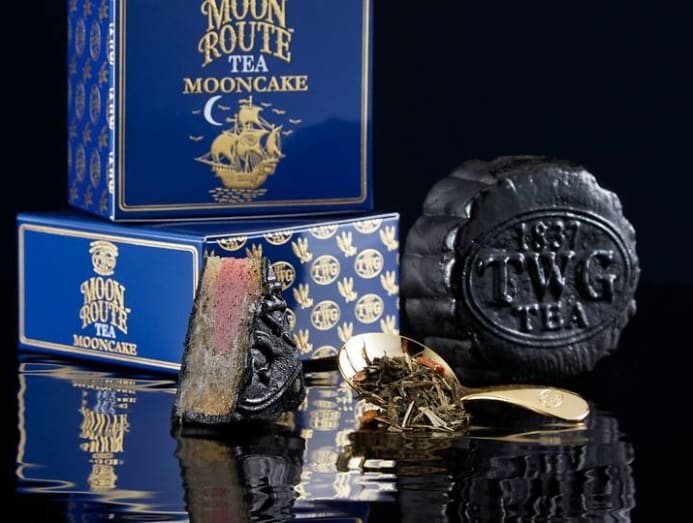 HARVEST MOONCAKE AT TWG
The tea maestros have kept it classy with offerings like Jewel, a mooncake filled with chocolate tea-infused brown lotus paste, chocolate chips and chocolate crumble. Think of this as a soft chocolate chip cookie in mooncake form. There's also Harvest, its skin dyed black and its white lotus paste filling suffused with lemongrass and Mistral tea. Squirreled away at its heart is a pat of strawberry almond paste. From S$16 each.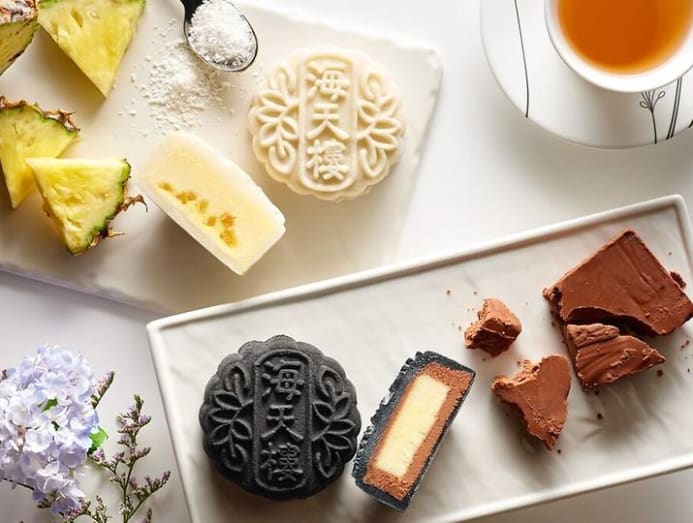 GIANDUJA AND YUZU MOONCAKE FROM HAI TIEN LO
The snow skin mooncakes (S$68.80 for a box of four) from Pan Pacific Singapore are more like entremets (small, multi-layered French cakes). We like the Gianduja and Yuzu mooncake, which boasts a centre of zesty yuzu mousse enrobed in a smooth Cacao Barry dark chocolate and hazelnut praline filling, with chopped hazelnuts for added crunch. The Passionfruit and Mango mooncake is another pleasant option, reminiscent of a firm mango pudding encased in chewy snow skin. 
This year, the hotel collaborated with Pathlight School's Artist Development Programme to create a pretty tin box in shades of blue, pink and orange by artists Selena Seow and Nurul Amirah Binte Zain. There's also a limited-edition tote bag priced at S$15, which can be purchased with the mooncakes. S$1 for every mooncake box sold and S$10 for each tote bag sold will be donated to Autism Resource Centre (Singapore), which runs Pathlight School.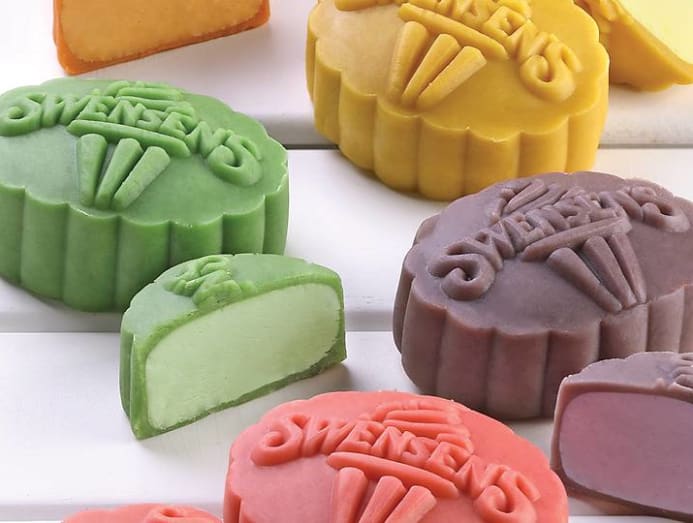 ICE CREAM MOONCAKES AT SWENSEN'S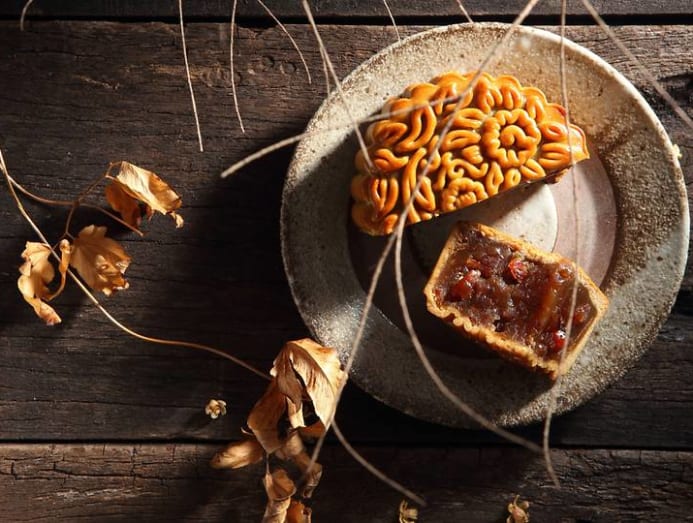 RED LOTUS PASTE WITH BAK KWA MOONCAKE AT OLD SENG CHOONG
Like bacon, bak kwa makes everything taste better. And so it is with Old Seng Choong's Red Lotus Paste with Bak Kwa mooncake (S$68.80 for a box of four). Plenty of chopped bak kwa makes the filling more savoury than sweet, and results in a deliciously meaty mooncake. There's also a new Yam with Pumpkin Snow Skin mooncake (S$68.80 as part of an assortment of eight) that's essentially orh nee (traditional Teochew yam paste dessert), fragrant with shallot oil, and wrapped around a pumpkin puree centre.   
BANDUNG MOONCAKE AT JADE
Bandung makes another appearance this year at Jade, the Fullerton Singapore's gorgeous Chinese restaurant. Its rose-scented lotus paste is flecked with chia seeds and finely chopped attap seeds that give it a lovely fragrance and contrast of textures. Meanwhile, shredded coconut gives the Onde Onde mooncake a "lemak", or rich, mouthfeel that serves as a good counterpoint to its crumbly gula Melaka centre. From S$62 for a box of four.
TEA-FLAVOURED MOONCAKES AT MAN FU YUAN
Smooth lotus paste fillings are saturated with Ronnefeldt teas to yield elegantly flavoured mooncakes at The InterContinental Singapore. There is Irish whiskey cream infused with Assam tea and paired with a milk chocolate truffle; a peppermint tea number dappled with chia seeds, with a lemon-hibiscus truffle within; and a peach tea-infused snow skin mooncake with a ginger passionfruit jelly centre. Bonus for those who like their lilies gilded: These mooncakes come in the shape of roses too. S$76 for an assortment of four.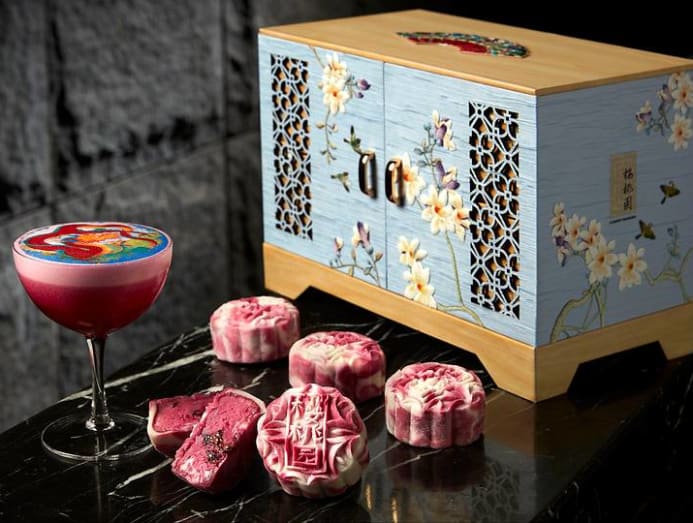 MOTHER OF DRAGONS MOONCAKE AT CHERRY GARDEN
Inspired by the Mother Of Dragons cocktail at Mandarin Oriental's MO Bar, Cherry Garden's snow skin mooncake of the same name comprises candied dragon fruit suspended in a velvety dragon fruit lotus paste spiked with a "Mother Of Dragons essence". The latter is a distillation of the cocktail's flavours obtained through a rotary evaporator, a device typically used in chemical labs to remove solvents from samples by evaporation. If you prefer more familiar flavours, try the Lychee Martini with Chocolate Truffle or Custard Paste with Rose Petals and Chestnut snow skin mooncakes. S$81.30 for a box of eight.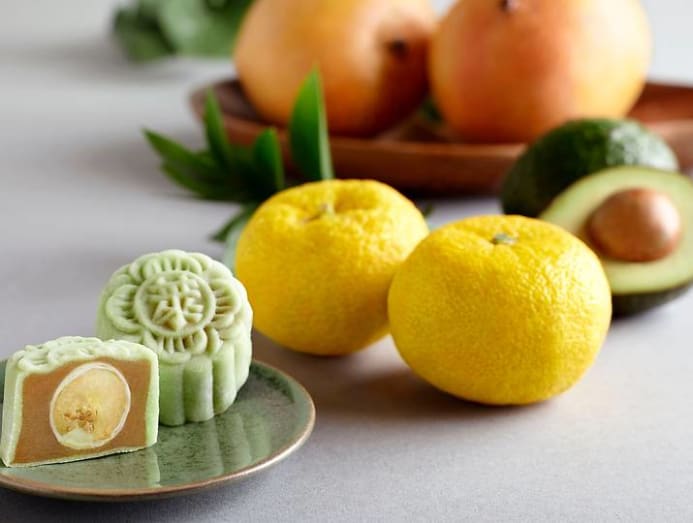 AVOCADO AND MANGO YUZU MOONCAKE AT RAFFLES HOTEL
The flavours of an archetypal hipster breakfast inform Raffles Hotel's new addition to this year's snow skin collection. Enter the Avocado and Mango Yuzu mooncake, which packs the flavours of its title fruits, along with the addition of healthful flaxseeds. It seems only apt to brew yourself a turmeric latte before you sit down to one of these. S$76 for a box of eight.
SALTED YOLK HAE BEE HIAM MOONCAKE AT ANTOINETTE
Given Antoinette's background in elegant French desserts, we figured we would prefer its delicately sized snow skin mooncakes that come in trendy flavours like Salted Egg Yolk Truffle. As it turns out, what we loved best is the baked Salted Yolk Hae Bee Hiam mooncake (S$60 for a box of four), with its generous centre of earthy mashed salted egg yolk and dried prawn sambal. That said, the Ondeh Ondeh Snow Skin mooncakes (S$56.60 for an assortment of eight) are on-point too, with a soft, mochi-like skin dusted with coconut and a white chocolate truffle that oozes gula Melaka when bitten into.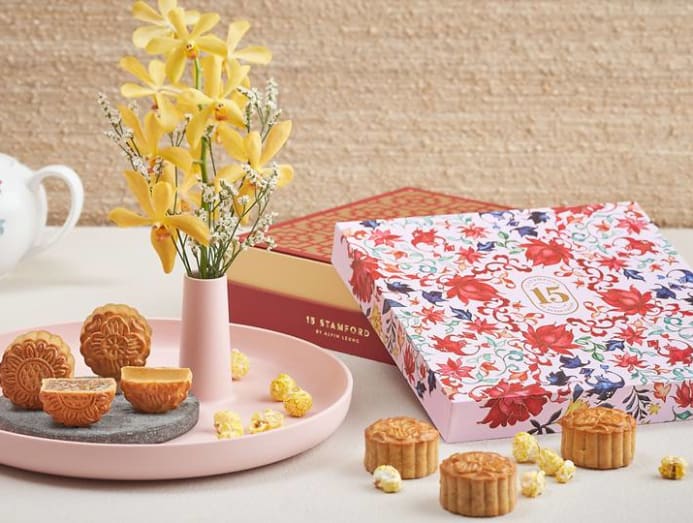 MINI THEATRE COMBO SET AT CAPITOL KEMPINSKI HOTEL SINGAPORE
Popcorn-flavoured mooncakes? Don't knock it till you've tried it. In fact, this was among our favourite riffs on the mid-Autumn staple this year. For his first ever range of mooncakes, Hong Kong celebrity chef Alvin Leung has created what he calls a Mini Theatre Combo set ($64 for a box of eight), inspired by the history and colour of the Capitol Theatre. It comprises four baked Caramel Mixed Nuts and four Mini Golden Corn mooncakes. The latter is filled with a just-sweet-enough lotus seed paste imbued with the scent and flavour of sweet corn. So there's no actual popcorn in it, but its fragrance evokes happy thoughts of honeyed popcorn that young and old alike are indubitably drawn to.